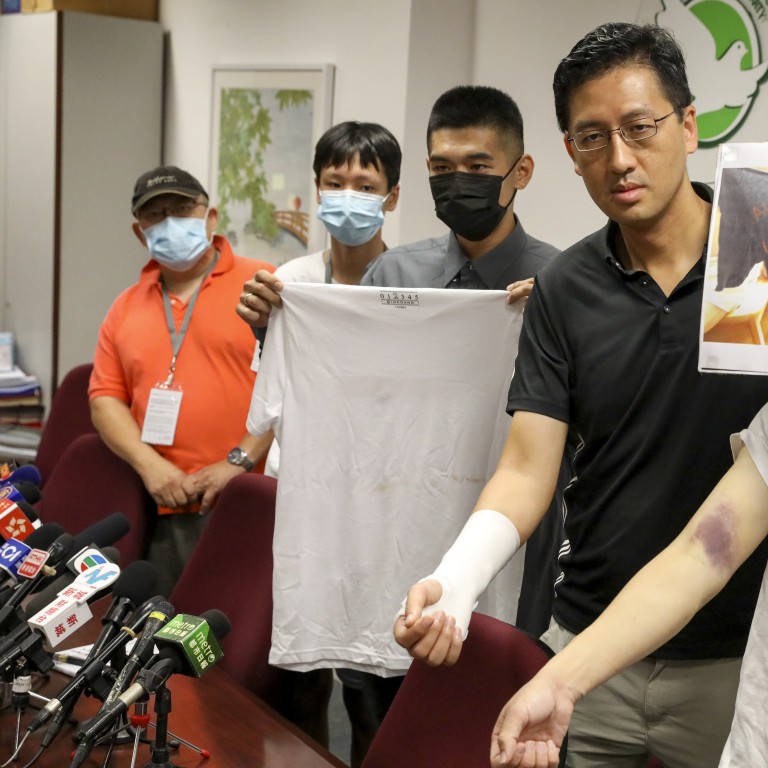 'The whole car smelled of blood': Hong Kong victims describe brutal attack at Yuen Long MTR station; some may sue for damages
Six Hongkongers come forward with details of violent attack by angry mob of men in white T-shirts, one asking: 'Where was the law?'
Another witness says: 'We were just passengers, normal citizens, on the way back home'
Victims of the attack at Yuen Long MTR station said they were left alone to fight off a white-clad mob wielding sticks and metals rods, and some might seek damages for their injuries – from the assailants, the city's railway operator and the police.
All six of the Hongkongers who came forward on Wednesday said they were shaken by the brutal
assault on Sunday night
, which was purportedly aimed at black-clad protesters after an extradition bill rally but also injured regular passengers. Of the victims, aged between 14 and 58, only one said he had attended the day's protest.
The youngest of the group, a secondary school pupil surnamed Kwok, was heading home with his father on the West Rail Line after they had visited a friend in Ma Wan.
When the train stopped at Yuen Long station at 10.40pm, people rushed into the carriage and screamed for help. The panicked group said some people were bleeding from the beatings. At least 45 people were sent or sought treatment at hospitals, according to the Hospital Authority.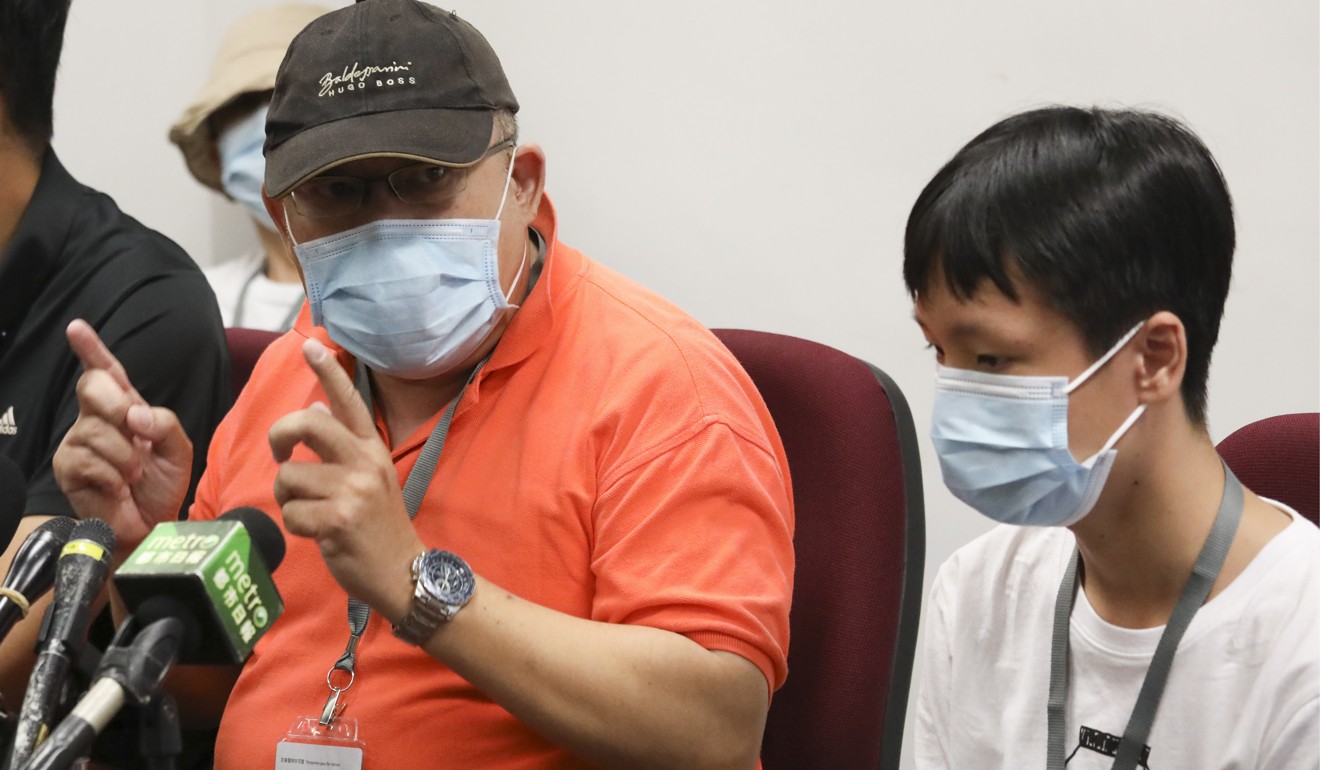 "Then the people in white came to beat us with wooden sticks and baseball bats," Kwok said.
"It is lucky that I stood in the back and did not get hit."
Some 30 minutes later, the train finally moved on from Yuen Long station.
"The floor was bloody, there were many broken umbrellas and sticks. It was chaos," Kwok said. "Where was the law?"
The
MTR Corporation
later said it called police about the violence at the station at 10.47pm. Officers arrived at around 11.20pm, according to witnesses, after the white-clad mob had left the scene.
Police, in response, said the emergency hotline was
overwhelmed with calls
and officers were spread thin dealing with fights in different areas.
"I no longer believe them," said Kwok, when asked if he would seek help from police in the future.
Kwok's father, a 58-year-old driver, called the men in white T-shirts "terrorists". He said there were no police on hand to stop them during what he described as a "life-and-death" situation.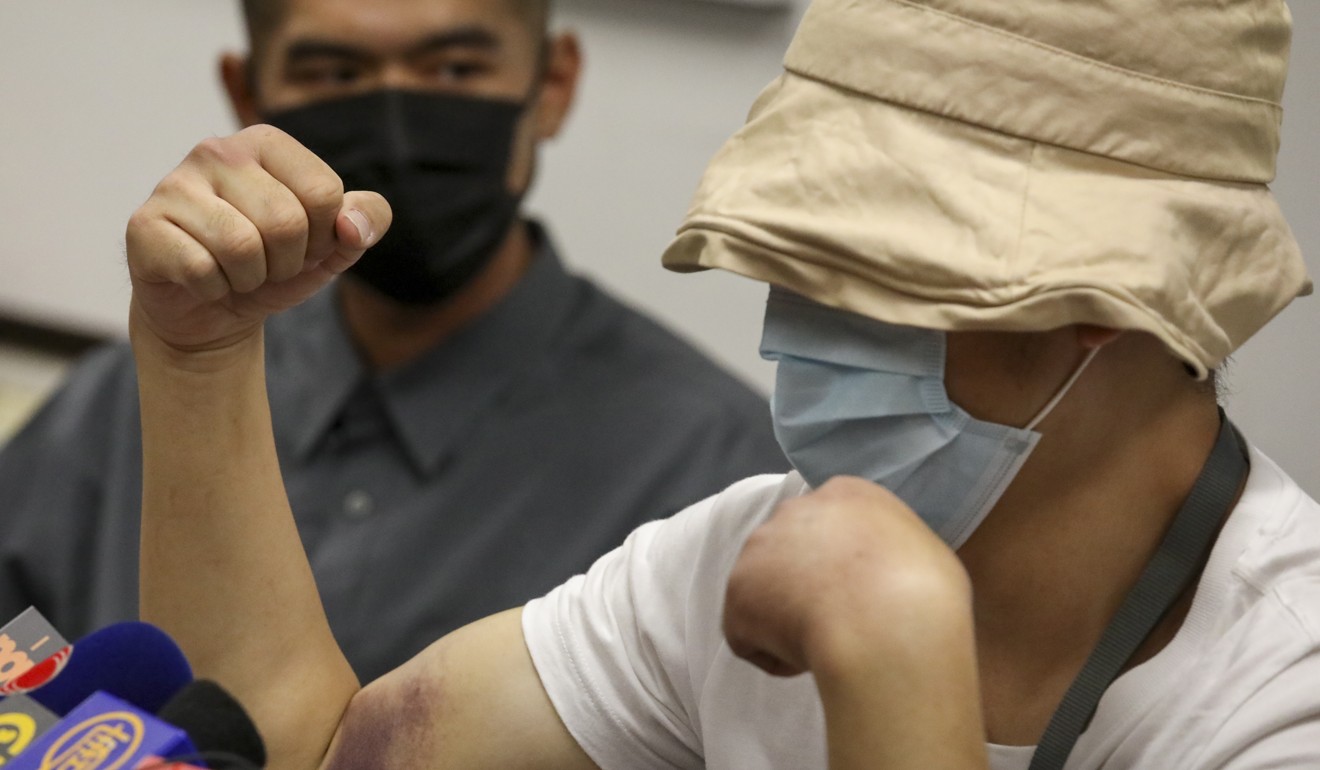 The father said he was angry with comments by the pro-establishment camp that protesters were heading to Yuen Long that night.
"We were just passengers, normal citizens, on the way back home," he said.
He added that he was thinking about suing police and the MTR Corp for emotional distress.
Two of the six, all of whom contacted the Democratic Party, were physically injured during the Sunday night attack.
A 48-year-old man, surnamed Ma, still had a large bruise on his right arm and marks left by wooden sticks on his upper body.
Ma was the only person in the group who attended the march on Hong Kong Island and was dressed in black when he arrived in Yuen Long station at 10.50pm.
"The white-clad people hit me with sticks, on my head, my torso and arms," Ma said, displaying swollen knuckles from protecting his head.
Ma said the right to public assembly is protected by law in Hong Kong and he would seek damages from the MTR Corp. He said he hoped the rail operator
press police to explain
its actions on Sunday.
"I had to be beaten for attending a march?" Ma said.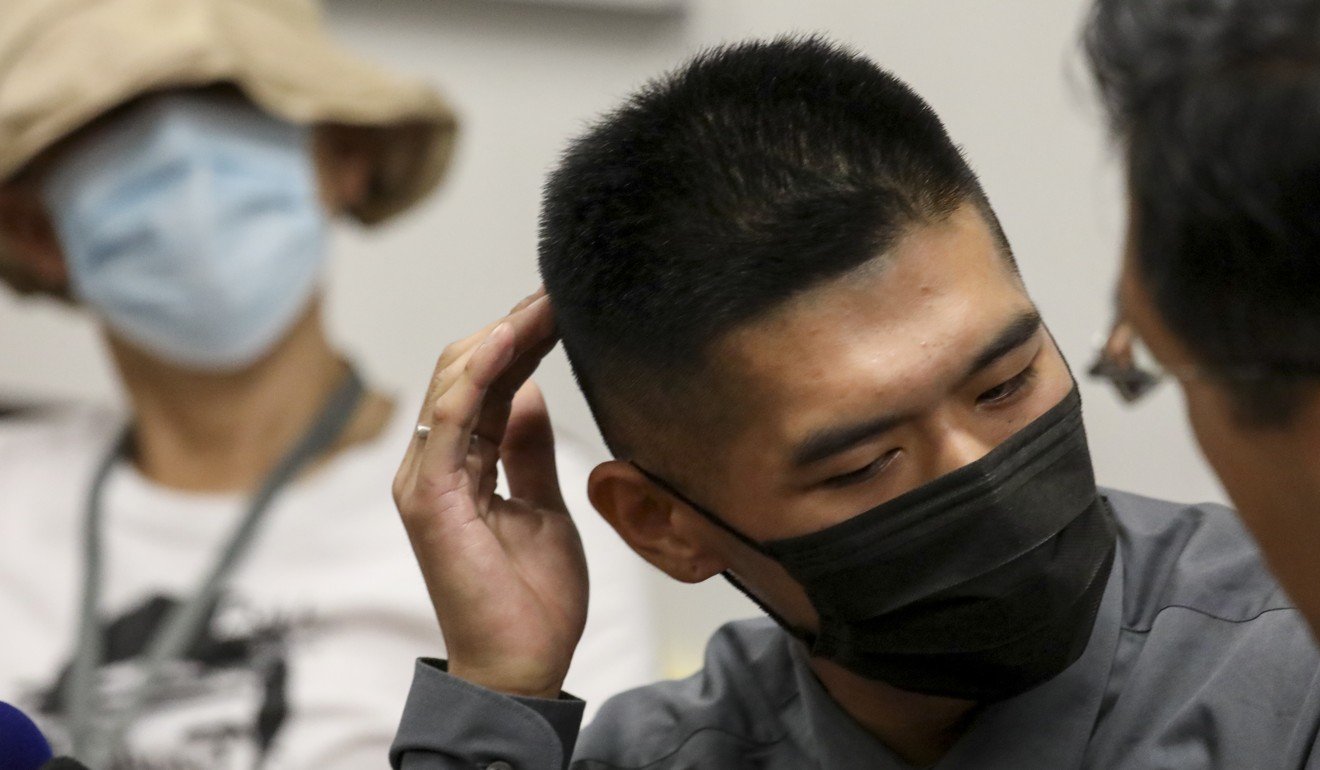 Another injured passenger, surnamed Leung, 32, said he was on his way to Yuen Long to meet friends.
After being warned inside the station, Leung swapped his black T-shirt for a white one, but was targeted nonetheless.
While trying to help a person who had tripped, Leung said he was hit in the back of his head and was chased by the mob into the train.
"Some people begged for mercy, some were crying, some girls were bleeding from their heads," Leung said. "The whole car smelled of blood."
The attack lasted more than 30 minutes without police intervention. Leung said many passengers tried to call the 999 police hotline.
"When I was being beaten, all I could do was look to see if police were coming – but they didn't come."
Leung said when he finally went home to Tuen Mun and called 999 for an ambulance, seven police officers showed up with the emergency vehicle.
Ma and Leung, who both filed police reports, said no one from the force had contacted them for statements.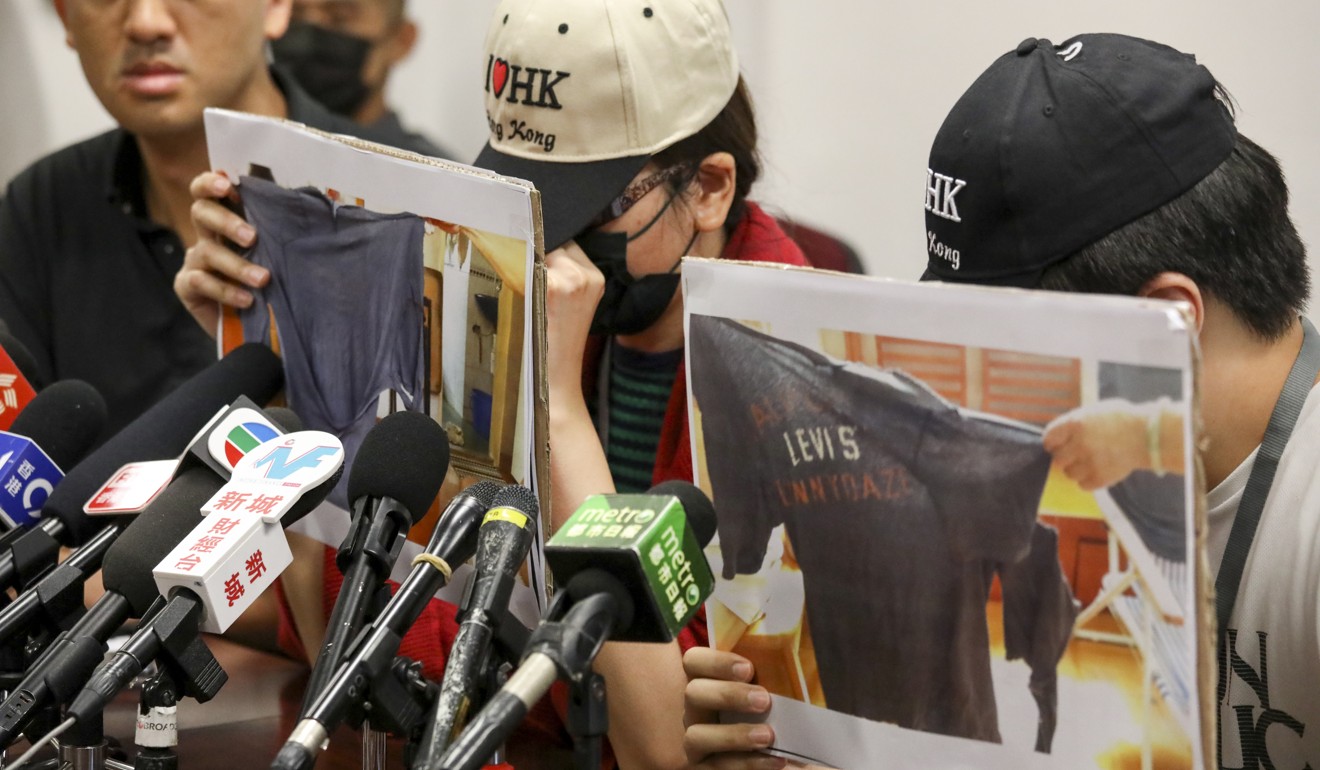 A man and woman said they tried to reach the train captain through the intercom and by banging on the driver compartment's door, but got no response.
The woman, surnamed Hui, said she was on her way home from a meal in Tsuen Wan and was dressed in black.
Hui said passengers had to defend themselves and tried to disguise anyone in black. She also said there were no MTR workers or police to help them.
"We had to save ourselves, no one was there to save us," Hui said.
The MTR Corp said it tried to arrange trains to pick up trapped passengers in Yuen Long station, but it was not possible because some trains were stranded at the station with their doors blocked from closing.
Late on Wednesday, operations director Adi Lau Tin-shing said that staff had called police by a direct line when they noticed something was going on in the station lobby, and that officers paid a brief visit to the site.
Lau said there were only four workers at the station at the time, insisting they were closely following standard procedures.
He noted that asking passengers to leave the train was part of procedures, which stipulated that carriages had to be cleared if the doors fail to close after a period of time.
"At the time, there was no fighting on the lobby or the platform," he said, adding that the clashes only took place minutes after passengers were asked to leave.
Lam Cheuk-ting, a Democratic Party lawmaker who was attacked at Yuen Long station, required 18 stitches for a wound on his face.
Lam said that his party would help anyone seeking damages for the attack, and that he was considering it himself.
He added that police had "allowed" the mob to attack, explaining that the men in white had been gathering in Yuen Long since that afternoon.
"What sort of world is this?" Lam said.
This article appeared in the South China Morning Post print edition as: Victims describe bloody night of terror