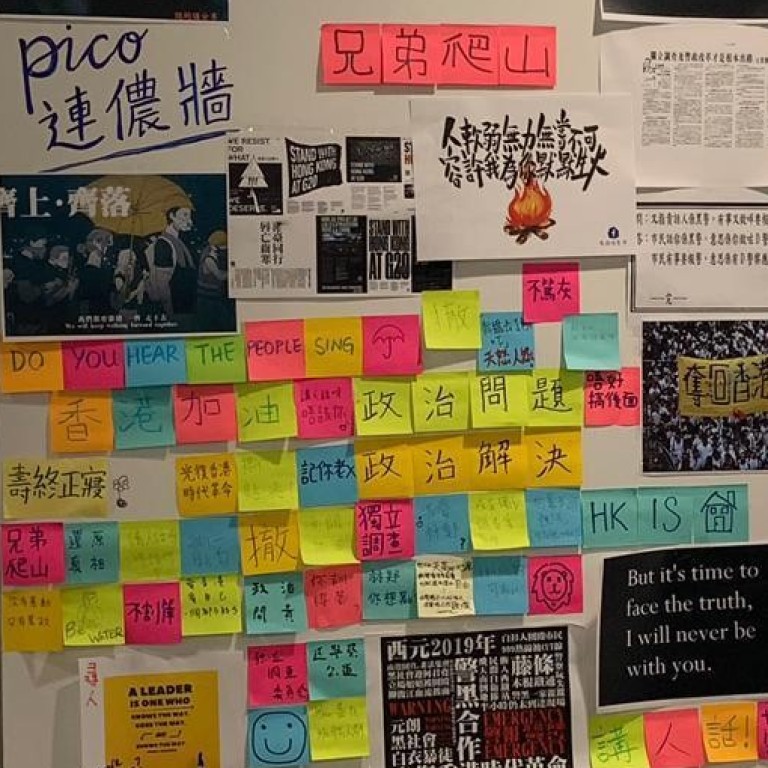 Civil servants threaten strike in frustration over police handling of Hong Kong unrest as 'Lennon Wall' appears in Policy Innovation and Coordination Office
Department is brainchild of city's leader, hiring young researchers as part of her election manifesto to reach out to youth
Heads of five disciplinary forces however pledge support for administration even as online wave of staff resentment rolls
Hundreds of Hong Kong civil servants and government employees have anonymously aired their frustrations against the city's administration and the police's handling of the recent unrest, with some threatening industrial action if their demands are not met by mid-August.
Civil servants from at least 44 departments, including non-frontline officers from the police force, the justice department and judiciary, issued two petitions.
In the first, issued on Wednesday, more than 400 executive officers (EO) from over 30 departments were critical of Chief Executive Carrie Lam Cheng Yuet-ngor for refusing to set up an independent inquiry into clashes into past weeks.
They also condemned the "slow police response" to a violent mob attack in Yuen Long last Sunday.
In a second statement, on Thursday, more than 230 civil servants also expressed frustrations.
"If the government continues to ignore public opinion, we will organise concrete industrial actions, so we can humbly join hands with the community at large and fulfil our responsibility as servants of our fellow citizens," the statement read, with photos of their staff cards attached.
Apart from written petitions, dozens of messages echoing similar calls were posted on a "Lennon Wall" in the office of Policy Innovation and Coordination Office (Pico), a strategic department directly reporting to Lam.
However, the heads of five disciplined forces – immigration, customs, fire, correctional and flying services – pledged in a joint declaration they would stand united to provide "unwavering support" to the embattled chief executive, while 19 associations representing staff and retirees of disciplinary forces appealed to their members to stand fast.
"We also hope Hong Kong can get back on a normal course as soon as possible to remain a safe and liveable city," the associations' statement read.
Three pro-establishment government staff groups also urged civil servants to stay politically neutral.
The backlash from within the government came after a mob of white-clad men indiscriminately attacked protesters and passengers at a railway station in the northern town of Yuen Long on Sunday.
It also prompted staff from Pico, a brainchild of Lam, to post Post-it notes with messages on the display boards, replicating the so-called Lennon Walls that have sprung up around the city.
"After the Yuen Long incident we are all very shocked," said a young Pico staff member.
Pico was part of Lam's election manifesto to replace the Central Policy Unit think tank, and to reach out to the city's youth and involve them in policymaking. The office had recruited 20 young members as researchers.
Civil servants said they were angry about the government's lack of response after weeks of protests.
A veteran employee in the police's internal support section, who identified herself as Enoch Chan, said it was shameful for police to claim they did not have enough resources nor intelligence to stop the Yuen Long brawl.
Another EO, who called herself Tina Lau, said the government must launch an independent inquiry into the clashes or she would consider work by rule or even striking.
"I hope this can put pressure on the top officials, that civil servants do not blindly follow the government," she said.
Joshua Law Chi-kong, the secretary for the civil service, said he appreciated the desire of the staff to express their views over recent events.
"I call on colleagues to continue to maintain professionalism and stand fast at this difficult time, to exercise their duty and serve the citizens," Law said in a Facebook post.
The Government Executive Grade Association, which represents 3,000 EOs, urged the government to take the lead to resolve the current deadlock, but said it did not notice any sign of escalation from EOs
Dennis Ho Chun-pong, chairman of Fire Services Officers Association, said he did not notice any colleagues or association members posting their staff cards online to express political views.
"It's understandable for staff to have individual opinions but this may not be an ideal way to express them," Ho said.
Ho said the recent controversies surrounding police had "more or less" added pressure on the fire services.
"But we are used to pressure as an emergency relief force," he said. "Citizens are our first priority."
This article appeared in the South China Morning Post print edition as: Frustrated civil servants threaten industrial action