LIVE
As it happened: how Beijing expressed 'resolute support' for Hong Kong's government
HKMAO press conference suggests leaders in Beijing have arrived on a view and formulated a response to the crisis gripping Hong Kong
Over the past weeks, escalating protests have thrown Hong Kong into the international limelight and worried investors
Topic |  
Hong Kong extradition bill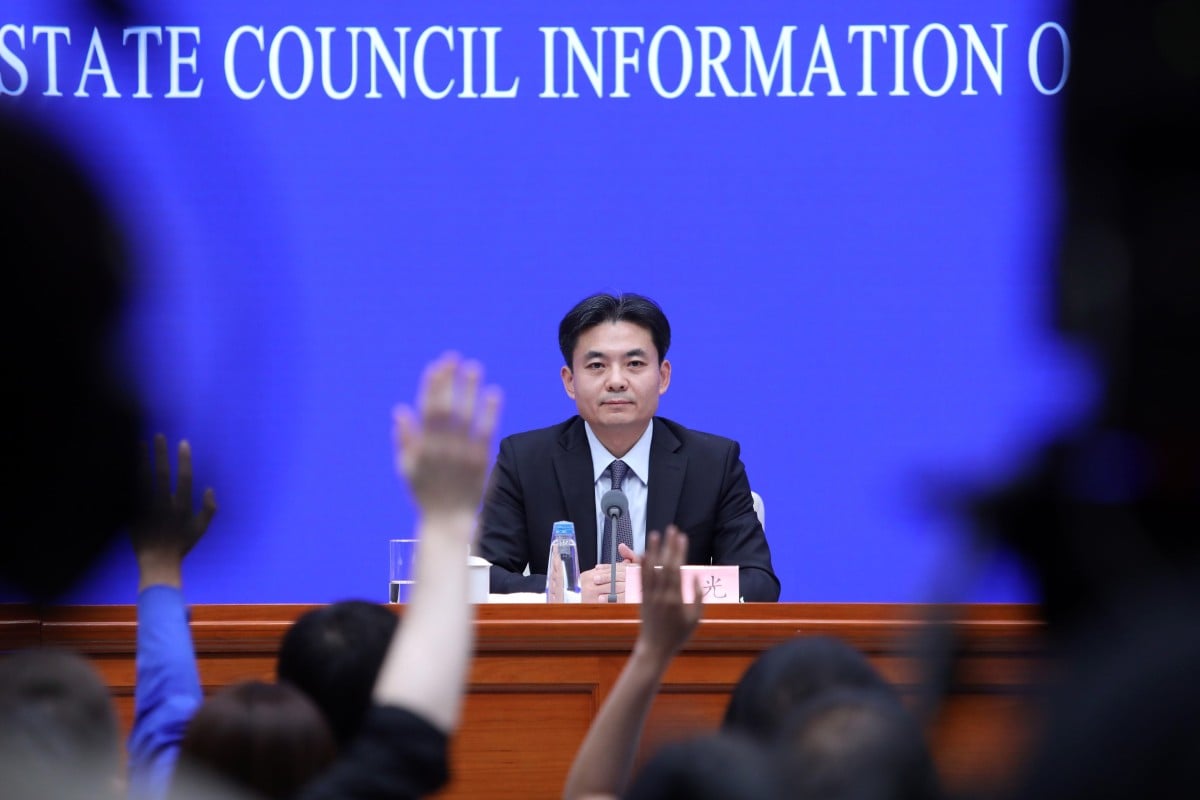 Office spokesman Yang Guang addresses the press. Photo: Simon Song
INTRODUCTION
The controversy over the shelved extradition bill has plunged Hong Kong into its biggest political crisis since its 1997 return to Chinese rule. The city continues to be rocked by mass protests with demonstrators demanding a full withdrawal of the bill. 
As protests have escalated and taken an increasingly violent turn in recent weeks, Hong Kong's police have struggled to restore order while facing a massive public backlash over their handling of demonstrators. The turmoil has not only worried Beijing's leaders but also put Hong Kong under the international spotlight as investors wonder if the financial hub has stumbled.
The press conference on Monday by the Hong Kong and Macau Affairs Office under the State Council, the first by Beijing's top policy office on Hong Kong since the handover, suggested top leaders had arrived at a view and formulated a response to the deadlock. 
Below is the main transcript of the question and answer session with the office's spokespersons Yang Guang and Xu Luying:
Q: What's your view on protesters who use violence?
Yang: "The rule of law is what Hongkongers are proud of. Violence is violence; unlawful acts are unlawful. It doesn't change, no matter what the target is. The central government supports the relevant departments and police to protect the rule of law."
Q: What would Beijing do to assure Hong Kong that "one country, two systems" is in place?
Yang: "This depends on how they understand the situation. It is a complete ideology. There are three bottom lines: no harm to national security, no challenge to the central government's authority and the Basic Law, and no using Hong Kong as a base to undermine China."
Q: What does Beijing think of Carrie Lam's performance?
Xu: "She has done lots of work since taking office. We have noted that the government has done a thorough review of its deficiencies ... The government will be more inclusive and listen to different opinions."
Q: Would the Hong Kong garrison of the Chinese army be deployed on streets?
Yang: "The Basic Law has clear statements on that question, and I have nothing to add."
Q: What are your views towards foreign countries' roles in Hong Kong?
Yang: "Some irresponsible people from Western countries have made irresponsible remarks. I have paid attention to some people's speeches. They have weird logic: they expect empathy for violent and illegal actions, but when it comes to police work in maintaining law and order and stability in society, protesters believe officers should be held accountable and be condemned. This is ridiculous."
Q. Do you support an independent commission of inquiry into police actions, as some have claimed that the Yuen Long attacks were allowed by officers?
Yang: "Hong Kong police in the past month have been under a lot of pressure. They have done their best to protect society and maintain stability, and have made a great degree of sacrifice."
Reporting by Kinling Lo, Jun Mai, Tony Cheung and Kimmy Chung