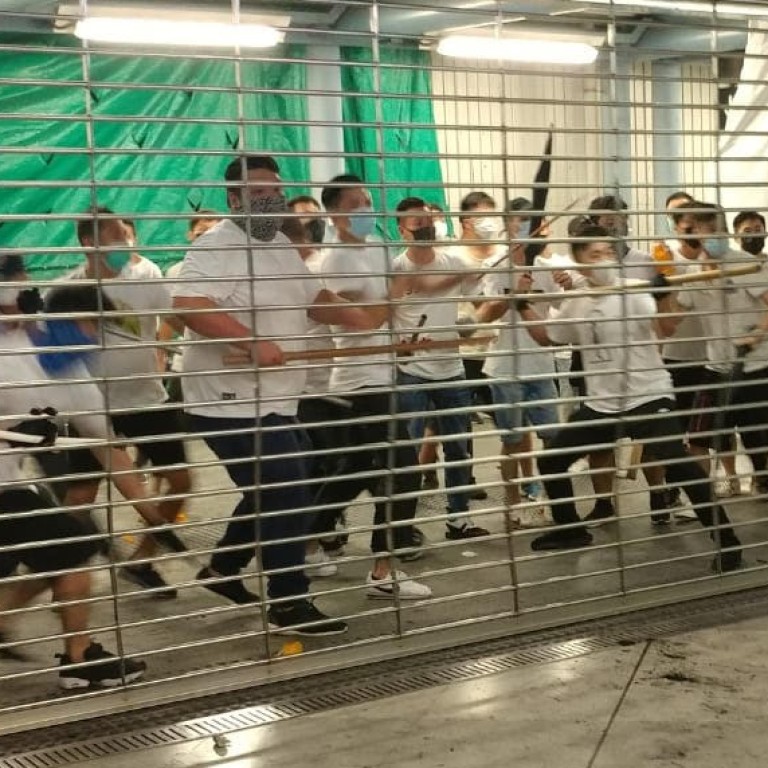 Hong Kong police 'under investigation' by corruption watchdog over failure to protect public during Yuen Long attacks
Independent Commission Against Corruption has set up dedicated group to handle probe
ICAC officers have been collecting security camera footage from businesses in the town
Hong Kong's corruption watchdog has initiated an investigation into allegations of police misconduct over the force's much-criticised failure to protect the public from mob violence on July 21 in the northern town of Yuen Long, according to sources.
The Independent Commission Against Corruption (ICAC) had set up a dedicated group to handle the investigation, sources told the Post on Tuesday, even as anti-graft officers were seen collecting security camera footage from shops and businesses in Yuen Long.
The official probe would be another blow to the morale of the city's embattled law enforcers, who have borne the brunt of public rage over the government's now-abandoned extradition bill, with frontline officers accused of using excessive force while dispersing protest crowds and clashing with radical demonstrators.
Critics have also accused police of colluding with those behind the late-night attacks in the Yuen Long MTR station by gangs of men in white shirts who indiscriminately assaulted anti-government protesters returning from a mass rally as well as bystanders and even terrified train passengers. Some of the attackers were suspected triad gangsters.
Many have questioned why police did not deploy enough personnel in the area after being warned in advance there was trouble brewing, and only arrived at the scene after the attackers had fled.
Top brass have countered that most of their manpower was preoccupied with mass protests on Hong Kong Island that ended in violence the same night, while officers in Yuen Long were busy attending to other emergencies in the district.
Two police officers reached the scene at 10.52pm, but only intervened after reinforcements arrived 39 minutes later.
Officially, an ICAC spokesman would not confirm the launch of the investigation.
"The ICAC has already received complaints from citizens concerning the Yuen Long attacks and will follow up in a serious manner in accordance with the law," was all the spokesman would say.
Staff at a restaurant on Fung Yau Street North in Yuen Long confirmed that ICAC officers had paid a visit at around 6pm on Tuesday, requesting video footage captured by its security cameras.
Opposition lawmaker and former ICAC investigator Lam Cheuk-ting, a vocal critic of police action against protesters, said there was enough proof to suggest that law enforcers in Yuen Long had neglected their duty and deliberately allowed the attackers to go on a rampage.
"I believe there is strong evidence to question whether the police in charge of Yuen Long District, especially the commander, had committed wilful dereliction of duty … that constitutes the offence of misconduct in public office," he said.
"For such a serious accusation, the ICAC has the appropriate power and a role to conduct an investigation."
Also on Tuesday, 44 out of 49 suspects – aged between 16 and 41 – were charged with rioting after they were arrested during an illegal protest in Western District on Sunday, when radical demonstrators armed with bricks and sharpened rods fought pitched battles with riot police who used tear gas to disperse them.
A 24-year-old man was separately charged with assaulting a police officer, while two others were released on bail and the remaining two were temporarily released.
The 44 suspects will appear on Wednesday morning at Eastern Court, where their supporters are expected to turn up in force for another potentially chaotic protest.
Hundreds surrounded the Kwai Chung police station on Tuesday night, ahead of the expected release of the suspects on bail.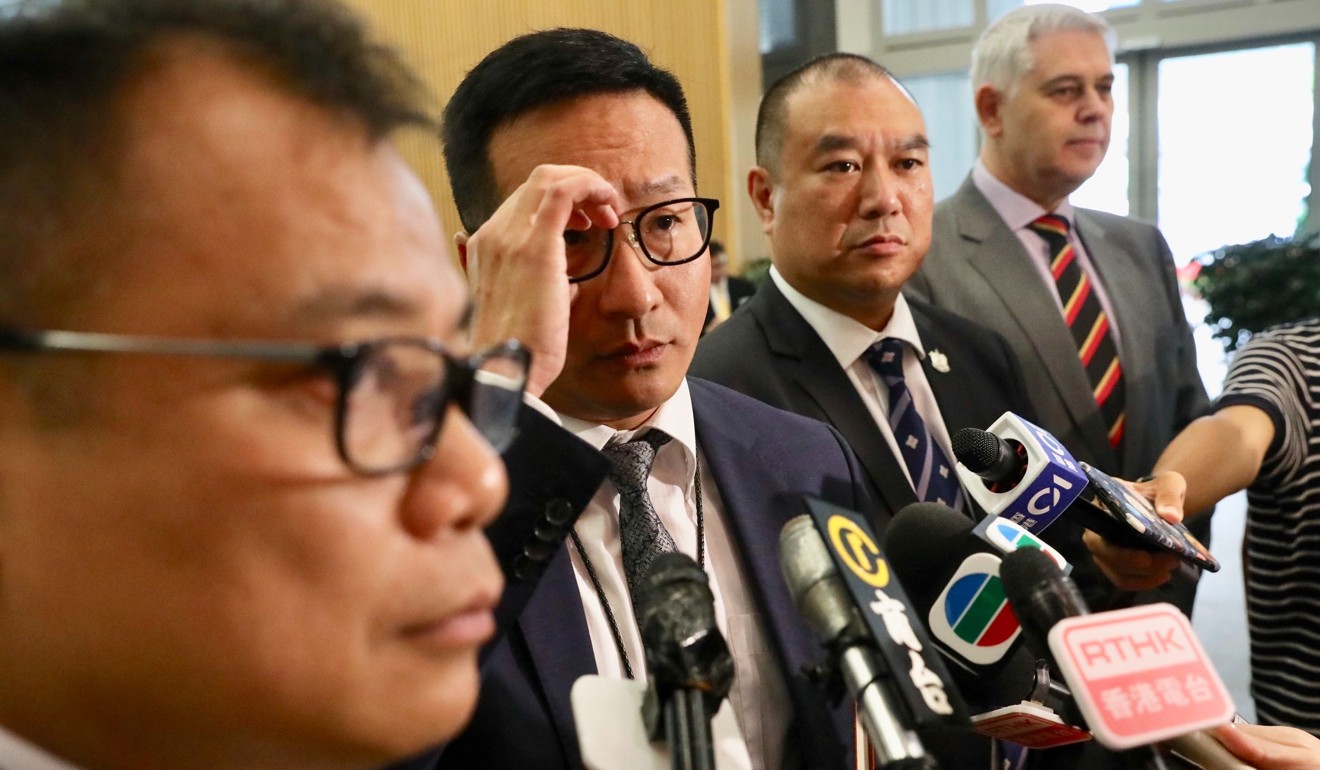 Clashes broke out and police used pepper spray against protesters pelting the building front with eggs from outside the main gate.
Separately, five out of another 14 people arrested over last Saturday's illegal rally in Yuen Long, when the town was rocked by more protest violence, appeared in court on Tuesday to face charges of obstructing police or possessing offensive weapons.
Eight others were released on bail, including activist Max Chung Kin-ping, 39, who was arrested for "organising an unauthorised assembly". The remaining suspect was released with a warning for failing to show identification.
Earlier on Tuesday, groups representing almost all of Hong Kong's police officers demanded that the city's deputy leader make clear to the public what he meant when he apologised for the force's response to the Yuen Long train station attacks.
But one association leader insisted after speaking to Chief Secretary Matthew Cheung Kin-chung that officers stood united with the government.
Police Commissioner Stephen Lo Wai-chung sought Tuesday's urgent meeting after the
No 2 official's apology prompted online protests
by anonymous officers and condemnation from two staff associations which accused the government of throwing them under the bus.
Speaking after the meeting, Ronny Chan Man-talk, chairman of the Superintendents' Association, said he better understood Cheung's remarks, though he did not elaborate on what the chief secretary had said.
"The police are aligned with the government; we are unified," he said.
Cheung's boss, Chief Executive Carrie Lam Cheng Yuet-ngor, continued to avoid public appearances, instead hosting a lunch gathering at Government House with senior officials and more than 40 business leaders.
She urged the foreign and local business community to support her in upholding the rule of law, while pledging to spare no effort in dealing with the crisis as well as to introduce measures to help companies cope with economic uncertainty.
Additional reporting by Jeffie Lam and Cannix Yau
This article appeared in the South China Morning Post print edition as: Protests after 44 are charged with rioting