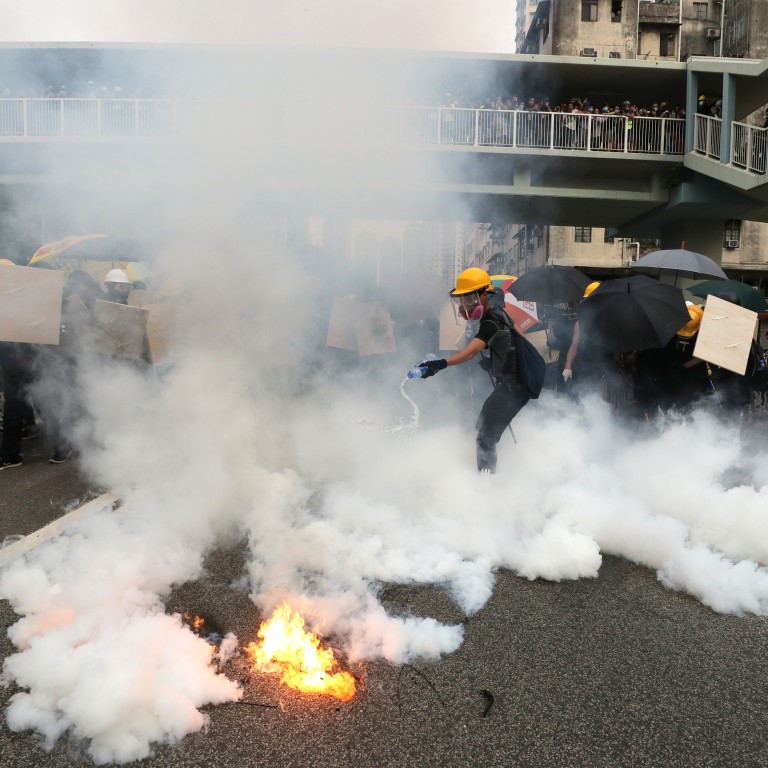 China's propaganda machine uses foreign voices to support its stance on Hong Kong protests
State media rolls out interviews with experts to criticise violence and 'foreign interference' in internal affairs amid unrest stemming from extradition bill
Language used is aligned with comments made by spokesman for Beijing's top policy office on Hong Kong affairs on Monday
Chinese state media has rolled out interviews with foreign experts to criticise violence and claim outside intervention in the continuing protests in Hong Kong, in a bid to present international support for views aligned with Beijing's – a tactic favoured by the mainland propaganda machine.
Amid a tumultuous summer of protests in the city, the official Xinhua news agency ran a report on Tuesday interviewing six experts from around the world to reject the "violent acts of some extreme radicals" who undermined public order in Hong Kong and to criticise "foreign interference" in China's internal affairs.
The language used in the interviews largely echoed
comments made by Yang Guang
, spokesman for Beijing's highest office on Hong Kong affairs, at a news conference on Monday, when he called on all sectors of the city to "firmly oppose violence" and criticised some in Western countries for "irresponsible remarks".
Without giving evidence, the Xinhua report cited Kenyan international relations expert Adhere Cavince, Mexico-based China expert Ricardo Chang, and Afghan journalist Hamidullah Arefi as criticising foreign forces for influencing the events in Hong Kong.
Nadia Helmy, political science professor at Beni Suef University in Egypt, was quoted as saying: "I believe that some foreign forces are secretly fanning the flames in the events in Hong Kong, trying to create chaos to undermine China's sovereign interests."
Also in the same article, written with eight reporter bylines, were supportive sentiments from Sudheendra Kulkarni, chairman of the Observer Research Foundation in Mumbai, India, and Islamabad-based academic Farhat Asif.
The compilation of remarks on Hong Kong come after eight weeks of mass protests in the city, stemming from a
now-shelved extradition bill
that would allow criminal suspects to be sent to the mainland, where critics say there is no guarantee of a fair trial.
Increasing bouts of violence have broken out in clashes between police and protesters, as demonstrators push five key demands, including full withdrawal of the bill and an independent investigation into allegations of excessive police force.
As tensions in Hong Kong have intensified, Chinese state media has selectively published reports on the events in the city, with news of mass peaceful protests censored across the mainland. Instead, state outlets have published reports seeking to paint a picture of an international community rallying to its cause.
On Sunday, Xinhua carried an interview with Jovan Palalic, general secretary of the Serbian People's Party, in which he said the violence in the Hong Kong protests should "not be allowed by any country in the world".
It is not the first time the state news agency has used foreign opinions to give credit to Beijing's stance. A July 5 report by Xinhua quoted foreign experts – including Cavince, Asif and Chang – as saying that Hong Kong protesters had seriously hurt law and social order when they
stormed the Legislative Council complex
on July 1.
Interviewed scholars often hailed from countries with governments that were diplomatically friendly with Beijing, such as Pakistan, Kenya and Egypt.
Another Xinhua piece in March praised the "one country, two systems" model in Hong Kong through interviews with foreign scholars from Turkey, South Africa, Ethiopia, Belarus, Indonesia and Uganda.
Experts from around the globe have also been interviewed by state media to offer supportive quotes on issues such as Beijing's
Belt and Road Initiative
and China's commitments on trade.