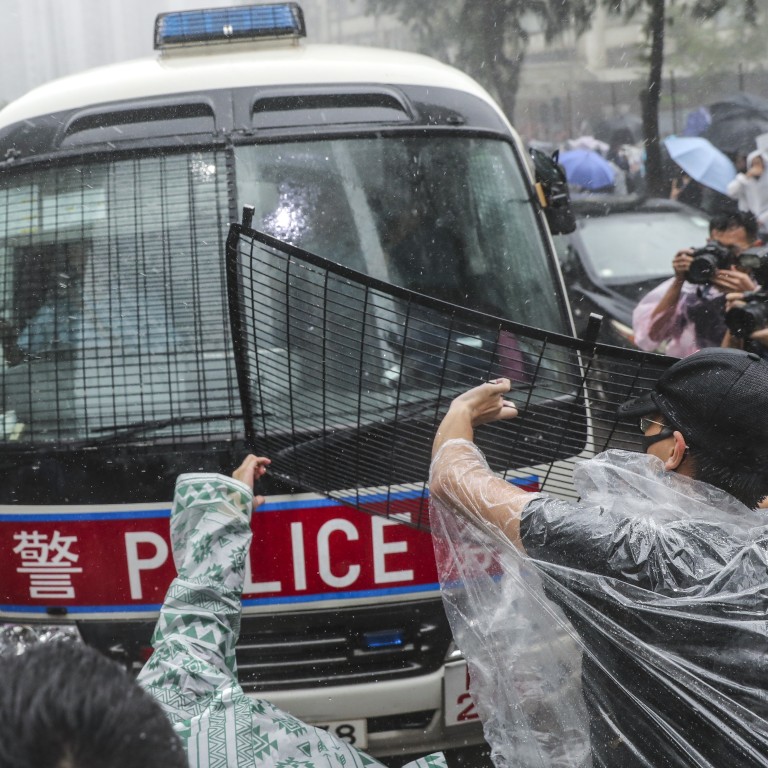 First wave of alleged Hong Kong rioters – including teacher, 16-year-old and Cathay Pacific pilot – released on bail with most handed curfew
Nurse also among 44 charged with rioting following Sunday night's city centre clashes
Supporters outside court chant slogans, saying move against accused would only anger more people and fuel further protests
Forty-three protesters on Wednesday became the first batch of participants of the extradition bill demonstrations to be formally charged for rioting, with all later released on bail and most given a midnight curfew.
Among those who stood in the dock were a Cathay Pacific pilot, a teacher and 14 students, with the youngest being a 16-year-old girl, and the oldest, a 41-year-old woman.
They were charged in connection with Sunday's protests in Central and Western district on Hong Kong Island, which had been deemed illegal as it did not receive police approval and where radical protesters armed with bricks and metal rods fought with riot police who resorted to tear gas to subdue them.
Appearing at Eastern Court in front of a packed gallery on Wednesday, all but two of the defendants were given curfews from or soon after midnight to 6am.
Their appearance in court was greeted by hundreds of supporters waving placards and chanting, a few of whom later vandalised a police van.
But most were largely peaceful, in marked contrast to the previous night when supporters at Kwai Chung Police Station grew restive and took on officers. The crowds were there to receive the accused, who were awaiting bail.
The supporters on Tuesday besieged the station and clashed with police, who later used pepper spray to disperse them after a tense stand-off that lasted well past midnight.
Pictures of a station sergeant pointing a Remington shotgun with beanbag rounds at surrounding protesters renewed criticisms of police brutality.
But the force responded with a statement on Wednesday setting out how the sergeant was assaulted by protesters, who hurled objects at him and snatched his helmet. The force also said demonstrators had thrown corrosive liquid at officers.
Police were further put on the defensive after reports emerged that the city's graft-buster, the Independent Commission Against Corruption (ICAC), was
investigating possible police misconduct
over their slow response to the Yuen Long incident in which a white-clad mob beat protesters and bystanders.
The Junior Police Officers' Association questioned why news of the probe had been leaked, while officers said the ICAC action was another blow to their already battered image.
Lam Chi-wai, the association's president, fired back at ICAC: "If this investigation indeed exists, and that it was leaked, then I believe a probe should be conducted to look into the leak. That is needed to ensure the public's confidence in the confidentiality of the ICAC's probe."
Late on Tuesday night and stretching into the small hours of Wednesday, in another incident that left Hongkongers shocked at the escalating violence, protesters outside Tin Shui Wai Police Station who had gathered there after two people were arrested over a "Lennon Wall" fight, had fireworks thrown at them from a passing vehicle.
Five were sent to hospital and later discharged, while a sixth refused treatment.
Inclement weather
on Wednesday put a dampener on any protest activity in the evening hours, even as plans gathered pace online for a citywide strike on August 5, and a
civil servants rally
for Friday at Chater Garden received a no-objection letter from police.
While the government kept to its low profile yet again, heads from Education University and Hong Kong University of Science and Technology (HKUST), made public their views on the extradition bill crisis that has gripped the city and made international headlines since the first mass protest on June 9.
Since then, marches and demonstrations have continued against the now-shelved bill, often descending into chaos and violent clashes between protesters and police.
Wei Shyy, HKUST president, called on Chief Executive Carrie Lam Cheng Yuet-ngor's administration to "demonstrate its courage and leadership" to launch an independent probe into the clashes.
Education University head Professor Stephen Cheung Yan-leung, called on Lam to satisfy a demand of the protesters by declaring "the complete withdrawal of the bill" – which she had already announced to be "dead" – and set up an "open platform" represented by various sectors to discuss ways to break the impasse.
The city's first chief executive, Tung Chee-hwa also
spoke on the crisis
, putting the blame on interference by Taiwan and the United States.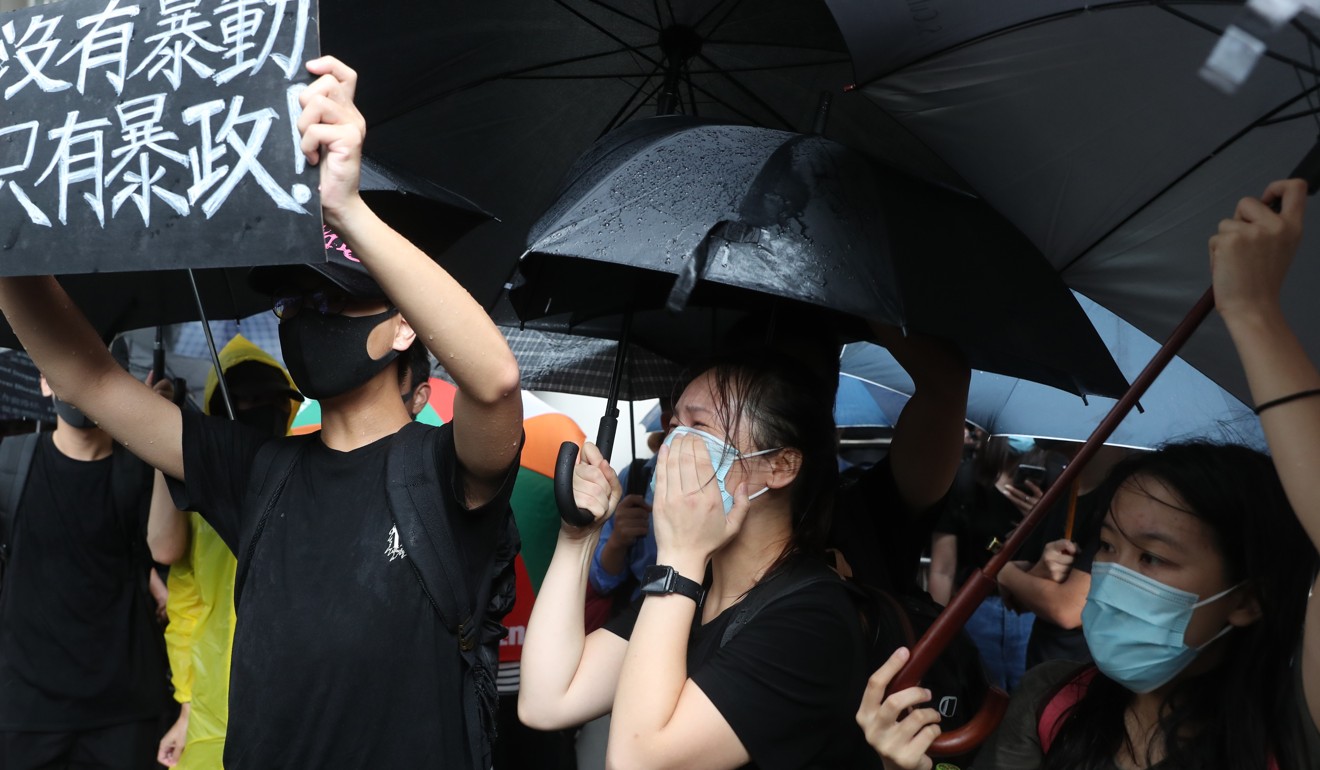 Curfew exemptions were given for two: one to do overnight shifts at a children's home, and the pilot to leave the city for work.
The rioting offence is punishable by 10 years' imprisonment.
A 44th protester charged with rioting, 22-year-old clerk Yan Hoi-ying, did not appear and the magistrate issued an arrest warrant. Another defendant, student Chen Zimou, 24, a mainlander, was not accused of rioting, but charged with one count of possessing an offensive weapon and also granted bail.
The 45 charged – 29 men and 16 women – were among 49 people arrested over clashes between protesters and police after last Sunday's illegal march. No pleas were entered as police need more time to investigate.
Of the remaining four arrested over the clashes, two were released on bail pending further investigation, while another two were temporarily released.
After the hearing, supporters of the defendants vandalised an empty police vehicle that had stopped outside the court building. They banged on the outside with their arms, a rod and an umbrella, and pulled off a metal cover protecting the windscreen.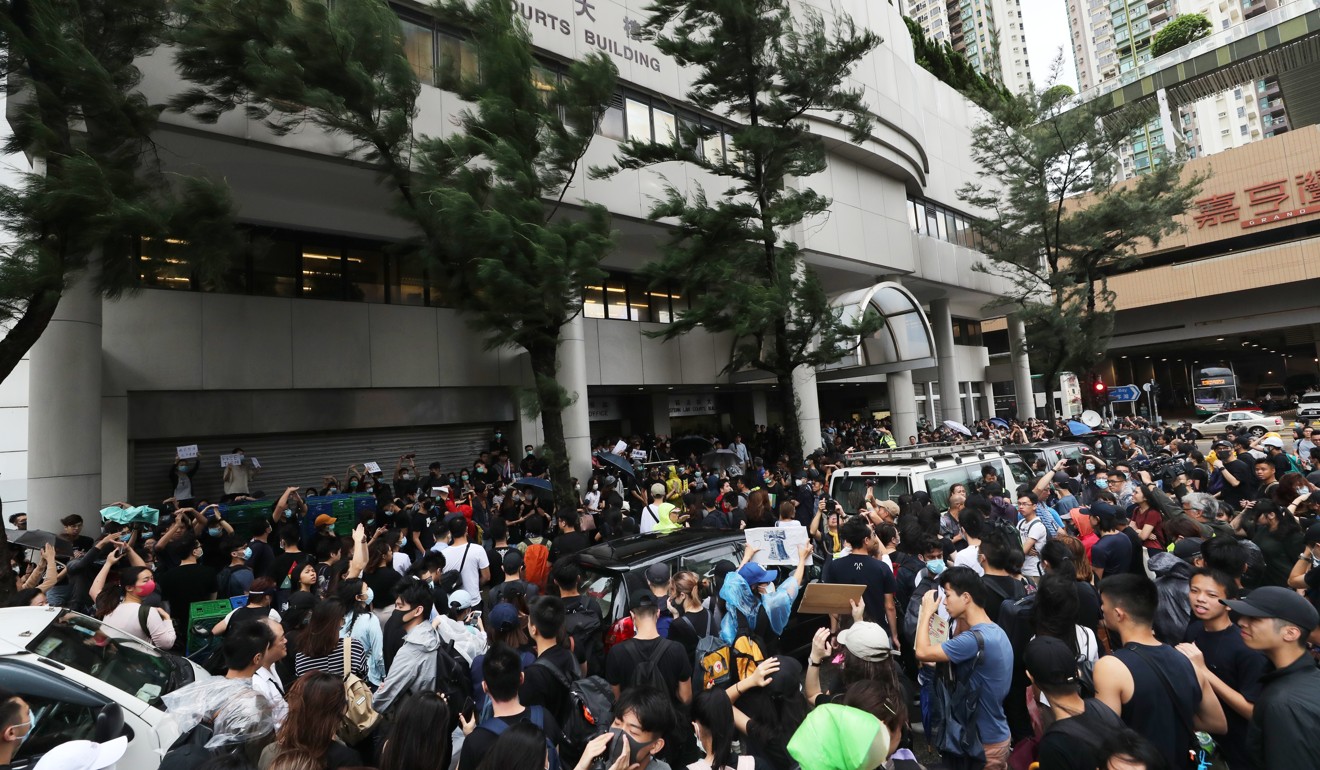 One of the 43 defendants, 33-year-old clerk Mok Cheuk-fai, was also charged with assaulting police.
The group included 14 students and seven clerks. Others had jobs such as being a chef, nurse, electrician and construction worker. Five were unemployed.
The Post learned that most of the defendants were "intercepted" by officers on Des Voeux Road West near Queen Street, Connaught Road Central and Man Wa Lane, during the police dispersal of protesters from 7.45pm to 10.05pm on Sunday.
The prosecution also accused them of being equipped with helmets, goggles, gloves, elbow guards, knee pads, masks, cutters, folding knives, spray paint, respirators, umbrellas, cable ties, metal tongs, scissors and hex keys.
Chen was accused of carrying an extendable baton without lawful authority or reasonable excuse at Shun Tak Centre in Central, according to court documents.
The undergraduate and part-time piano teacher, who has been studying in Hong Kong for four years, later became a target of attack on Weibo – China's version of Twitter. Mainland internet users flooded his account with abuse for what they saw as his allegiance to Hong Kong protesters.
"Revive Hong Kong! Revolution of our times!" some chanted.
Selina Yip, 23, who works in the aviation industry, said the charges would only encourage people to take part in more demonstrations.
"Since [the defendants] are on the front line, and they have been taken away, we can replace them," she said, adding the protests did not need to be physical.
"We should try something new. Not fighting with police. We need new ways to surprise society and the government."
Student Nathan Chan, 23, said the rioting charge was no deterrent.
"It makes me angry and pushes me to do more," he said.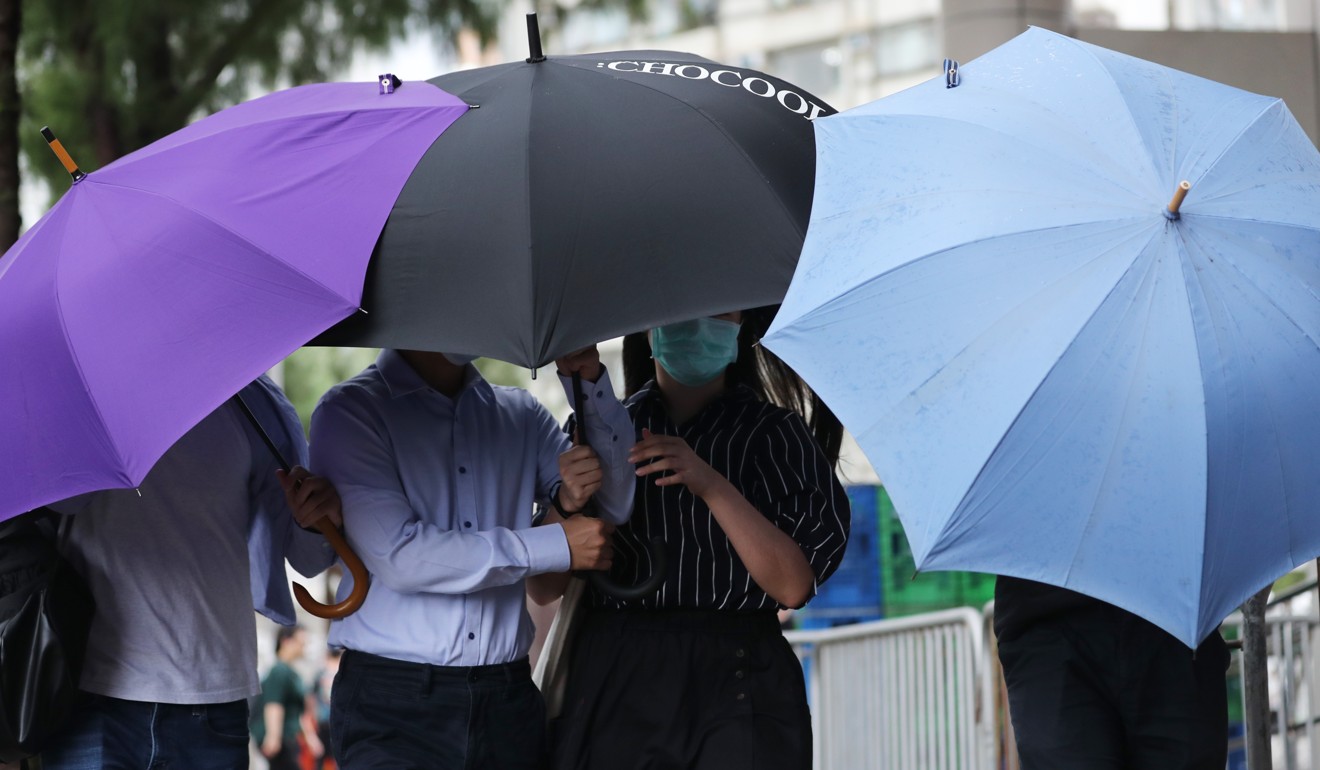 A 22-year-old university graduate who called himself MC Chan said: "Charging 44 people with rioting will not make me protest less.
"But I think it's reasonable to reduce the intensity of actions ... We have caught the whole world's attention and showed our resolve. It's unnecessary to stage more violent acts for this purpose."
Reverend Chu Yiu-ming, a co-founder of the pro-democracy Occupy movement, was also among the crowd.
"They are all very calm and courageous," Chu said, with tears in his eyes.
"It is disheartening to see them arrested, for we aspire to be a civil society, but the government is using police to crack down on our next generation. It's just pathetic."
Chu said the government had done little to respond to the key demands of the public, including an independent inquiry into clashes during earlier protests.
The extradition bill would have allowed the transfer of criminal suspects to jurisdictions with which Hong Kong has no extradition deal, including mainland China, where critics say fair trials are not guaranteed.
Additional reporting by Phila Siu
This article appeared in the South China Morning Post print edition as: pilot and girl, 16, among 43 bailed on rioting charges