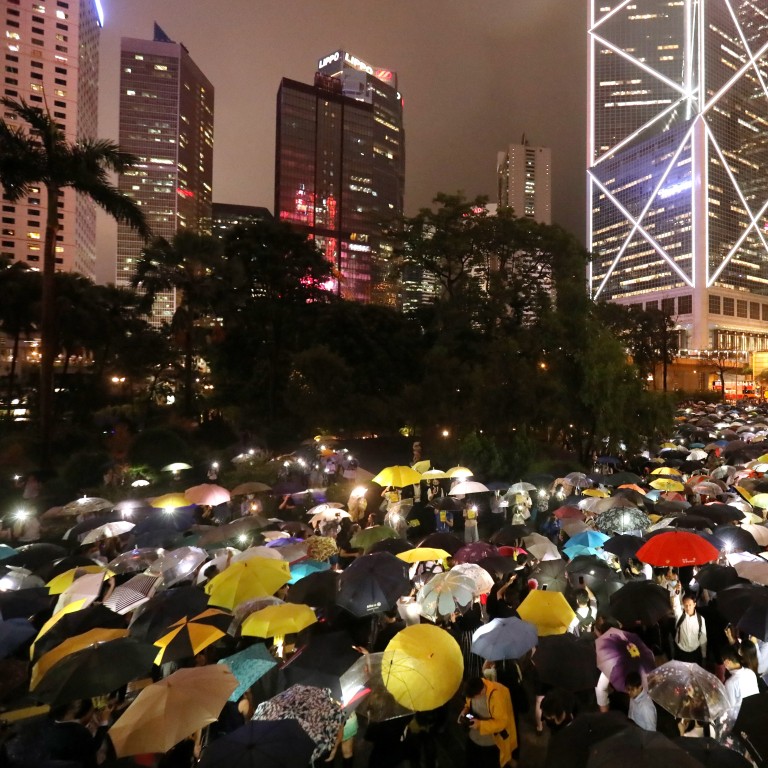 Banker flash mob in Hong Kong as financial sector workers gather in Chater Garden to protest against government handling of extradition bill crisis
Hundreds of office workers join protest against government's handling of extradition bill crisis
On cue, protesters raise phones with flashlight on and chant slogans – then they applaud and disperse
A flashily dressed flash mob converged on a park in Hong Kong's business district on Thursday evening, as hundreds of office workers joined a protest against the government's handling of the extradition bill crisis.
There was none of the violence the city has become used to during
protests against the bill
, which would have allowed the transfer of fugitives to mainland China among other jurisdictions. But the usually peaceful Chater Garden in Central was a little rowdier as the gathering chanted anti-government slogans, before marching the short distance to the IFC Mall.
Many said they were responding to an online campaign calling on those working in the financial sector to join the protest after work on Thursday.
Supposedly
a leaderless movement
, others were there distributing face masks and placards to participants. They all declined to be interviewed.
Likewise, there was no organiser to confirm a headcount, though some participants estimated there were at least 600 people there.
One person claiming to be an organiser told the media on Telegram, an encrypted online forum popular among protesters, that 4,300 turned up.
Irene Lau, a clerk at a trading company in Tsim Sha Tsui, said she left work early to join the protest.
"It's important for Hong Kong people to take every opportunity to voice their discontent with the government," she said. "The police have been too violent suppressing the young protesters."
Ivan Ho, a bank teller in Central, said he had also asked to leave early.
"My supervisor didn't ask many questions. We knew what it's for," Ho said.
"The bad weather doesn't matter. We have umbrellas," said an attendee, who declined to give her name.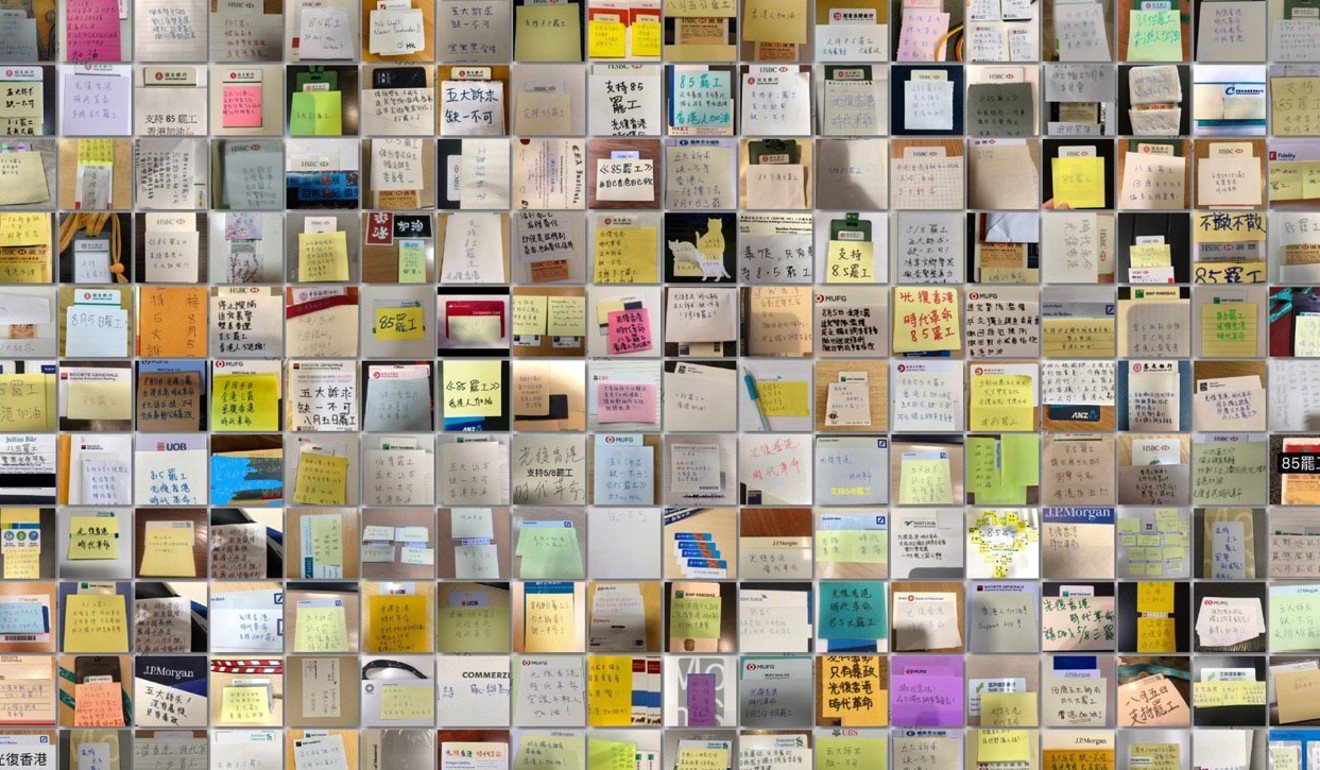 The crowd started building around 7pm, about half an hour before the scheduled start. They stood around, chatting with friends and looking at their phones.
At about 7.30pm, the protesters raised their mobile phones with the flashlight function turned on and chanted slogans that have become battle cries of the protest movement: "
Hong Kong people, add oil
"; "Revolution of the era, reclaim Hong Kong"; and "No rioter, only tyranny". Their shouts echoed from the district's skyscrapers.
Living up to its flash mob label, the protest was brief. The attendees concluded it by thanking each other and applauding.
While most of the protesters left after the rally, about 100 marched about 1km to the IFC Mall. No police officers were seen during the protest.
Additional reporting by Sum Lok-kei
This article appeared in the South China Morning Post print edition as: After-work objectors