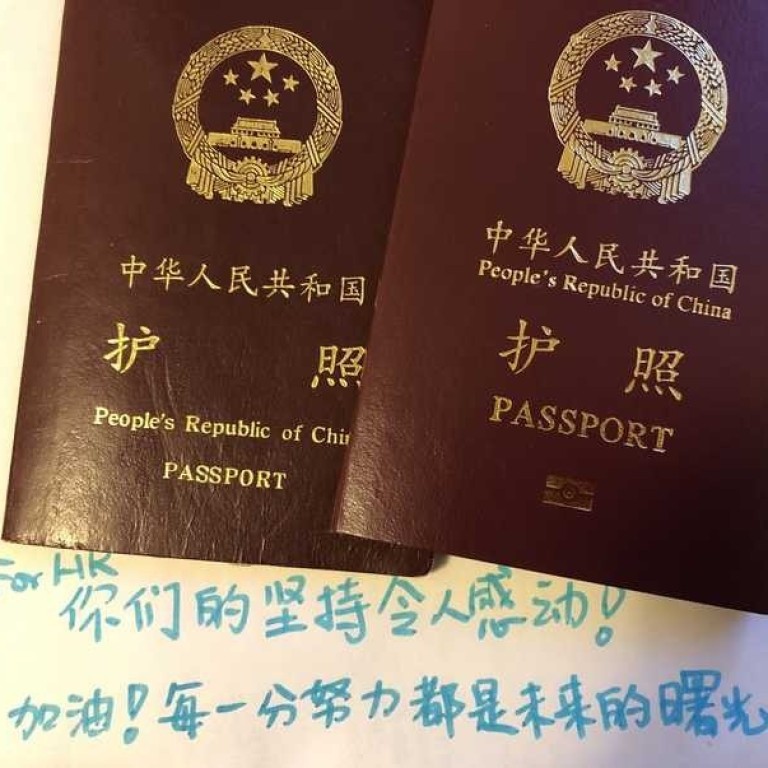 Hong Kong extradition bill protesters win rare support from mainland China as supportive social media posts go viral
Gestures of solidarity comes as Chinese state media criticises violent acts by protesters and endorses police
Meanwhile, in Taipei, space for a Lennon Wall has been reserved and sponsored by nine city councillors
Hong Kong's ongoing protests against a now-shelved extradition bill appeared to have won rare support from mainland China as more than 10 pictures of ID cards and passports decorated with supportive stickers went viral online on Thursday.
In Taipei, meanwhile, nine city councillors reserved space in a city centre pedestrian tunnel to build a Lennon Wall for residents to post messages of support for Hong Kong. Colourful collages of Post-it notes have sprang up in more than 70 locations in Hong Kong during the protests.
The gestures of solidarity came as Chinese state media continued to criticise
violent acts by protesters
while endorsing Hong Kong's police.
Photos shared on LIHKG – a Reddit-like online platform that has served as a virtual main stage for the extradition bill protests – showed mainland Chinese citizen ID cards and passports along with handwritten messages.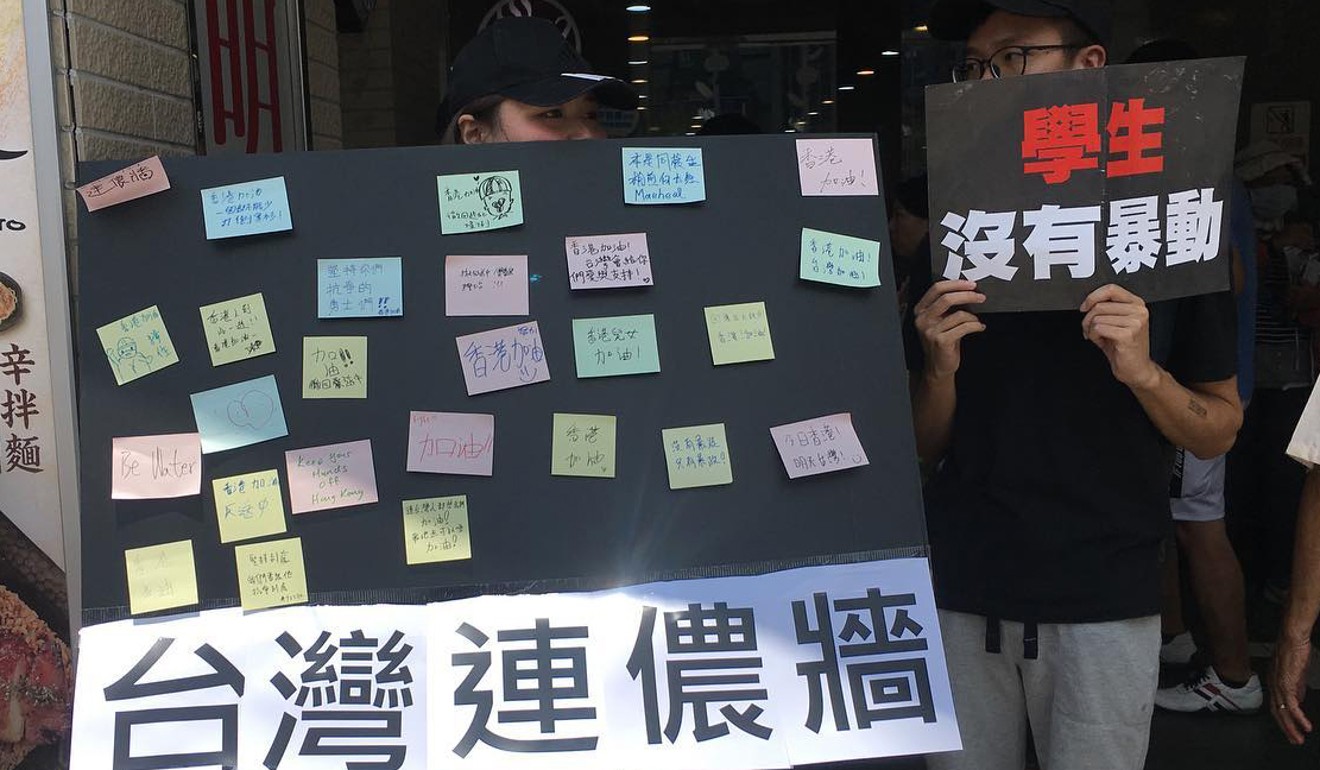 "Support 'no extradition to China'. Support Hong Kong people's just fight," one said.
"For [Hong Kong], your perseverance is so touching. All your efforts will become sunshine in your future," another said.
A handwritten poem, with the footnote Xian, in simplified Chinese characters – only used in the mainland, unlike Taiwan and Hong Kong which use traditional characters – read "Don't grieve for our sorrow … We are born in such darkness. Endless darkness envelops our past, present and future."
The Post could not verify the authenticity of the photos.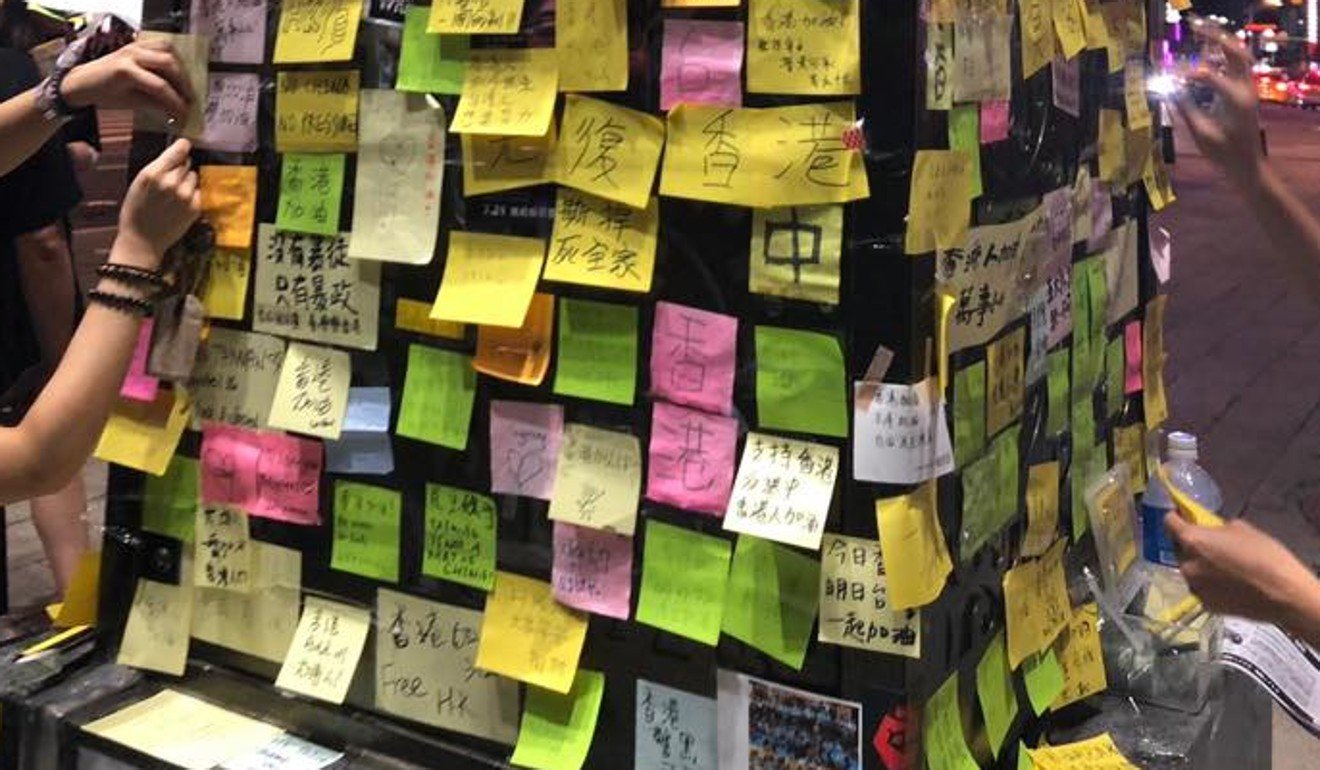 The bill would have allowed Hong Kong to transfer suspects to jurisdictions with which it does not have an extradition agreement,
including mainland China
.
While the bill has been declared "dead" by Hong Kong's leader, protests against the government and police have been going on for nine weeks.
One mainlander who was not part of the action and had been following news about the bill since March said the photos did not mean a sizeable number of mainland Chinese people shared the sympathy because "it is easy to gather a number of ID cards on the mainland".
The person, who gave his name as Buzz, admitted he would hide his sympathy for Hong Kong and echo his friends' criticism as the city increasingly became an inevitable and controversial topic in conversation.
"I will not say things that betray my principles because I know we cannot have normal discussions here [in mainland China]," he said.
"In our news, the Hong Kong protesters are labelled as separatists and dumb. Meanwhile, many comments urge Beijing to deploy the military and associate the cause of the movement with Hong Kong's slow economic growth."
Across the strait in Taiwan,
a Lennon Wall
would be built between August 2 and 21 in a pedestrian tunnel in Taipei under the junction of Xinsheng South Road and Roosevelt Road after a pro-Beijing group destroyed one under the city's commercial heartland Ximending last week.
The wall space was reserved and sponsored by nine Taipei city councillors and would be managed by Hong Kong Outlanders, a newly established group of Taiwan students in Hong Kong.
One of the group's founders Chiang Min-yen said Taiwan had been highly concerned about protests in Hong Kong and calls to donate helmets to protesters received a surprisingly active response under the increasingly felt "China threat".
"[Chinese President] Xi Jinping has proposed a Taiwan version of 'one country two systems', but we can all see what has happened to Hong Kong under '
one country two systems
'," said Chiang, an economics graduate from the University of Hong Kong.