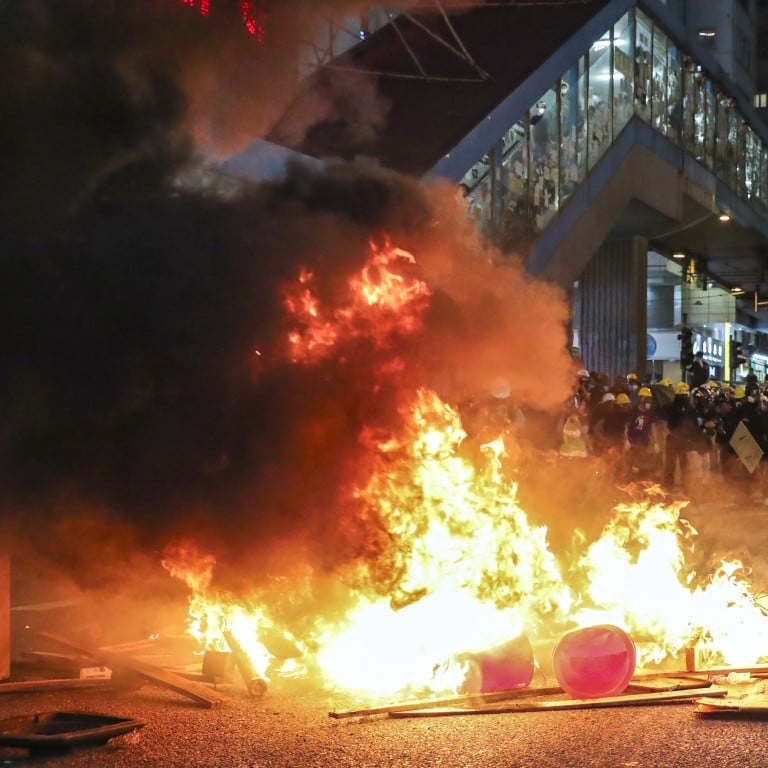 Hong Kong police play catch-up as anti-government protesters wreak havoc across the city
Causeway Bay, Tseung Kwan O and Kwun Tong among array of areas hit, with roads blocked and tear gas fired
Highly organised demonstrators create enough chaos to draw out police before moving on to another target
Tear gas filled the streets of Causeway Bay on Sunday as Hong Kong's premier shopping district became the latest battleground for repeated clashes between police and anti-government protesters who seized key roads, sparking chaos that continued to spread across the city late into the night.
Protesters, many of them young radicals who have declared war on the embattled police force, shut down the Cross-Harbour Tunnel, a key link between Hong Kong Island and Kowloon, for the second straight day, unleashing traffic bedlam on the eve of a citywide strike that could be even more chaotic, with an expected turnout of half a million.
After two hours of tolerating the mayhem they wrought – confronting police and putting up metal and water barricades along the two main traffic arteries running through Causeway Bay and Wan Chai, Hennessy Road and Gloucester Road – riot police swooped in, kicked away the barricades and fired multiple rounds of tear gas.
Protesters embarked on a new tactic of advancing and retreating on a moving battlefield that stretched from Tseung Kwan O to Causeway Bay and Kennedy Town and the Cross-Harbour Tunnel.
Before midnight, they also attacked and vandalised police stations in Kwun Tong and Lam Tin.
The method to the mayhem appeared to be creating enough chaos to draw out the police before moving on to another target, leaving the force to play catch-up.
In Causeway Bay, they blocked traffic, causing long lines of trams to stall on their tracks, buses packed with passengers to be left on the roads with no route out, and shoppers to quickly leave the potential trouble spots.
The protesters overturned bins, two of which were set on fire; some burned wooden planks in a bin and flung it at police lines.
After wreaking havoc in Causeway Bay, they went to block the tunnel and then returned to the shopping district.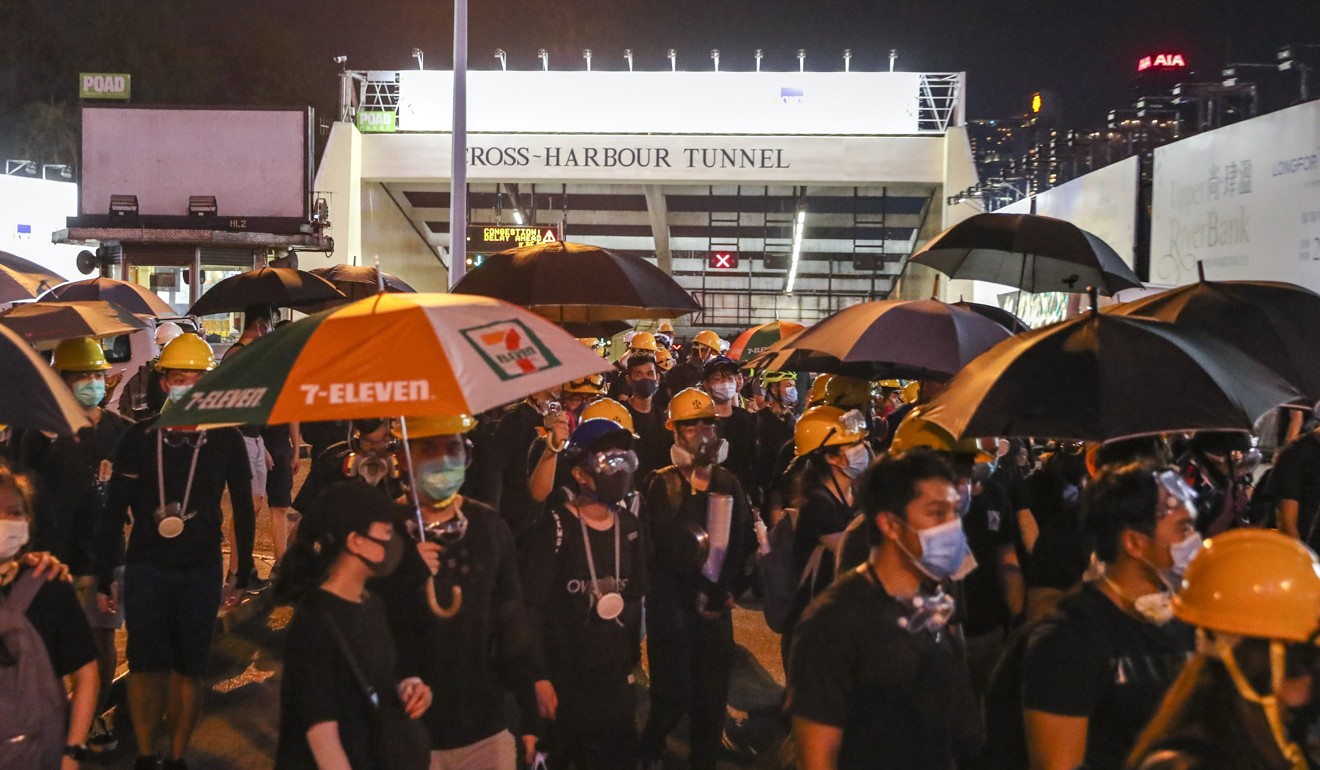 One group splintered off to Wan Chai, heading for Golden Bauhinia Square, a site popular with mainland Chinese tourists, where they spray-painted its eponymous golden statue with the words "The heavens will destroy the Communist Party" and "Liberate Hong Kong".
Some groups returned to Causeway Bay yet again, while others debated moving on to Wong Tai Sin, the scene of pitched battles between police and protesters – as well as residents who turned against the law enforcers – on Saturday night.
Protesters also descended on the middle-class neighbourhood of Kwun Tong, while Tseung Kwan O became a flashpoint once again with protesters taking over the roads and confronting police.
After midnight, hundreds of protesters and local residents in Wong Tai Sin started gathering near the disciplined services quarters – where emergency service workers live with their families – scene of rancorous exchanges just a day earlier.
By 1.30am, police had taken control of the area. But in Mei Foo, hundreds were still occupying roads near the bus terminal.
While the force issued one statement after another to condemn the protesters, the government again warned against the "wanton destruction of public peace".
"Such acts have already gone far beyond the limits of peaceful and rational protests which the government and general public will not condone under any circumstances," it said in a statement. "Otherwise they will push Hong Kong into a very dangerous situation."
Sunday's protests began in Tseung Kwan O with a peaceful rally and march that soon, in what has become a pattern, descended into violence as groups broke away to deface the police station in the neighbourhood with graffiti and eggs.
As riot police warned them off, the crowds dispersed. But later several hundred returned and continued to loiter outside the station well into the evening.
Over on Hong Kong Island, police had banned a march for organisers of a rally in Kennedy Town that began at 5pm. But just an hour after the speeches began, crowds took over roads and put up barricades.
Police acted swiftly with tear gas, prompting protesters to pile into the MTR station at Kennedy Town to board trains to Causeway Bay.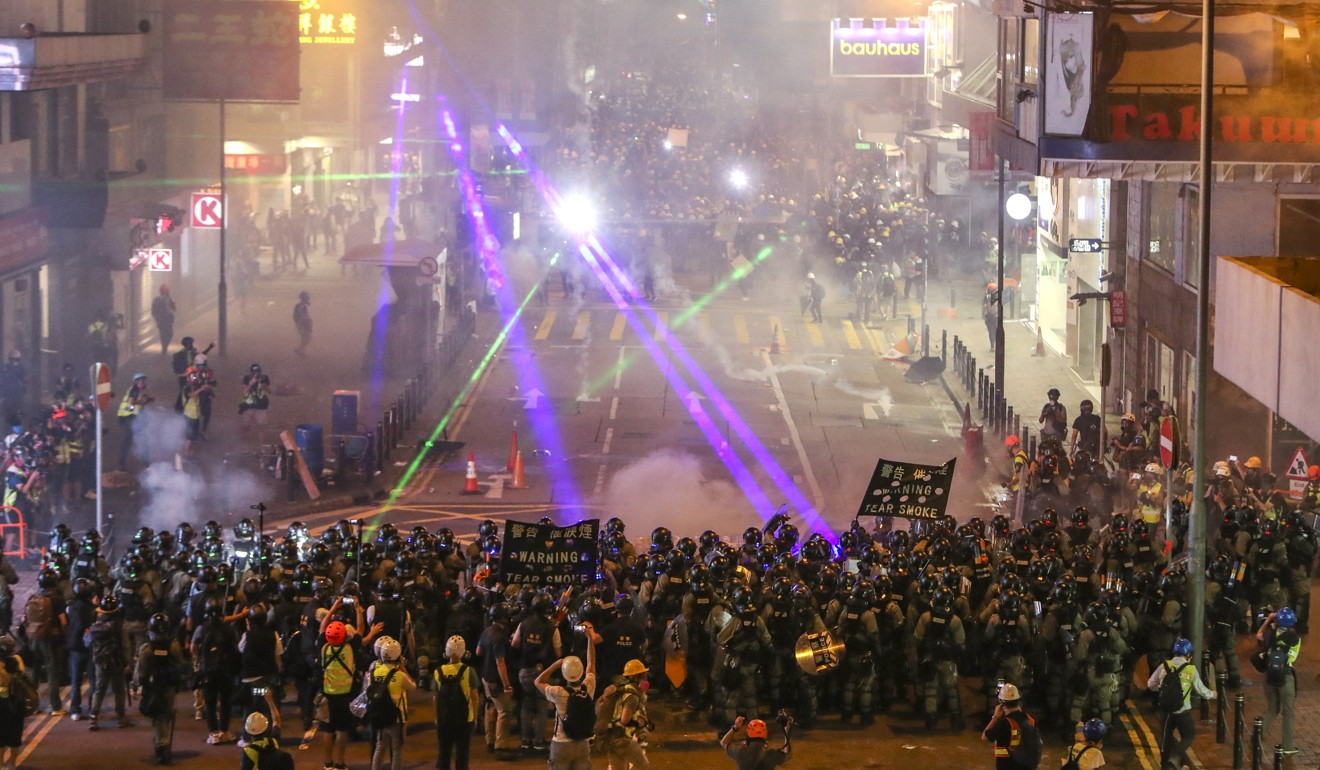 Within half an hour, they occupied the shopping hub's main roads, causing traffic to seize up and leaving a long line of trams stuck on their tracks, while they put up metal and water barricades they had sequestered from construction sites nearby.
Shoppers in the area were taken by surprise by the sudden convergence of masked and helmeted people in black clothes and body armour, but for the most part ceded the roads and pavements to the protesters.
After bringing traffic to a halt in Causeway Bay, groups of protesters targeted the Cross-Harbour Tunnel, blocking traffic in both Kowloon- and Hong Kong-bound lanes.
They parted to allow some vehicles to pass, including an ambulance flashing its lights.
When riot police arrived, the protesters fled, and Kowloon-bound traffic resumed soon after.
Their actions followed the Saturday blocking of the tunnel, from the Kowloon side.
On Sunday evening, police warned they had incorporated into their arsenal a new portable spraying device that would use edible dye to identify protesters.
According to a police video on Facebook, the force was doing so to cope with the increasing number of protests.
"When a person is sprayed at a protest site, the colour may stay on his or her clothes or skin. This helps officers identify who was at the scene, if necessary," the video stated.
Sunday's protests followed Saturday's scenes of violence in Kowloon in several shopping areas and the neighbourhood of Wong Tai Sin, where residents turned on riot police who used tear gas to disperse them.