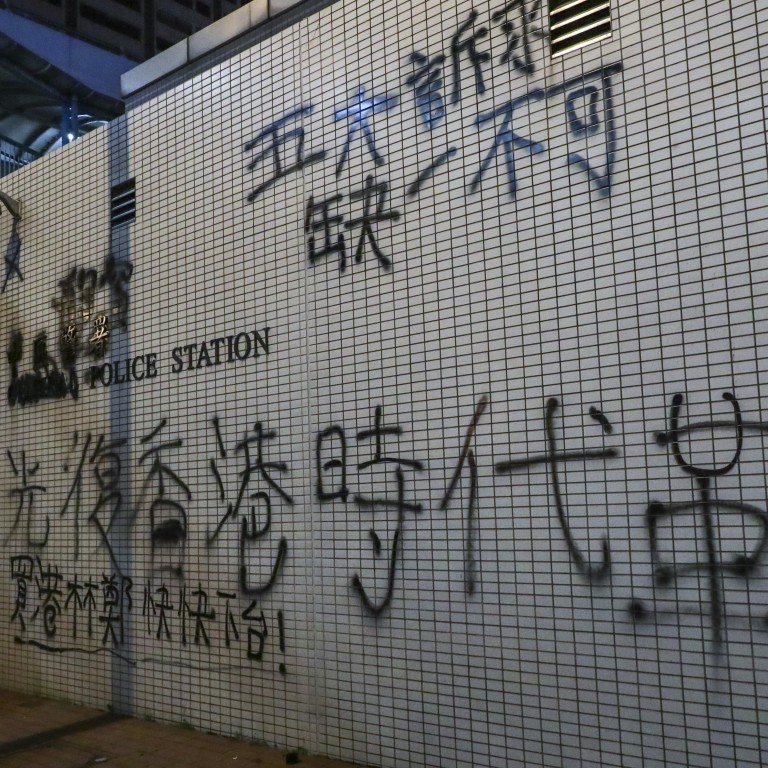 'Liberate Hong Kong; revolution of our times': Who came up with this protest chant and why is the government worried?
First conceived as a localist election slogan in 2016, 'Liberate Hong Kong; revolution of our times' took awhile to resonate fully with discontented residents
Now the rallying cry has become the most commonly heard chant in the city amid anti-government protests
When pro-independence activist Edward Leung Tin-kei first declared his election slogan "Liberate Hong Kong; revolution of our times" in 2016, not many could relate to it, let alone understand what it meant.
But over the past week, the rallying cry of the now-jailed student leader has become the most commonly heard chant in the city as
long-running protests
against the extradition bill have morphed into a full-blown anti-government movement.
Black-clad young protesters in balaclavas, masks and helmets have been leaving their imprint wherever they go by spray-painting the catchphrase since July 21 – the night scores of them vandalised Beijing's liaison office in Sai Ying Pun and defaced the national emblem on the front entrance.
"They … called for a revolution to liberate Hong Kong. These actions challenge national sovereignty, threaten 'one country, two systems', and will destroy the city's prosperity and stability," she said.
Leung, then the spokesman of pro-independence group Hong Kong Indigenous, had once revealed in a rally that in crafting the slogan he had been struggling between "Revolution of the generation" and "Revolution of our times" but eventually opted for the latter as his election slogan for the legislature in a 2016 by-election.
"An era is not categorised by one's age. Even if you are old, you would belong to a new era as long as you believe in and embrace freedoms. But you would be in the old era if you can't get rid of the old framework, even if you are very young," he declared.
Leung, now serving a six-year jail term over his role in the 2016 Mong Kok riot, said he was representing an era of people who were willing to use their "blood and sweat" to fight for their freedoms.
A 28-year-old protester at a Sha Tin rally on Monday, who only gave her surname Yeung, said she could not relate to Leung's slogan back then as she had no idea what precisely "Liberate Hong Kong" meant – until now.
"The government is so skewed and there is also collusion between the police and the triads," she said, making the allegation based on an incident in Yuen Long on July 21 when police failed to show up in time to stop a mob from indiscriminately attacking passengers and protesters.
"We need to stand up to liberate Hong Kong – solely because we are Hongkongers who love the city very much."
Beijing loyalist Ip Kwok-him, also an adviser to Lam in the Executive Council, said there was no doubt it was a separatist slogan that aimed at overthrowing the central and local governments. "This small group of people still wants to live under colonial rule," he said.
But political scientist Dr Ma Ngok, of Chinese University, said the slogan itself was vague and open to interpretation.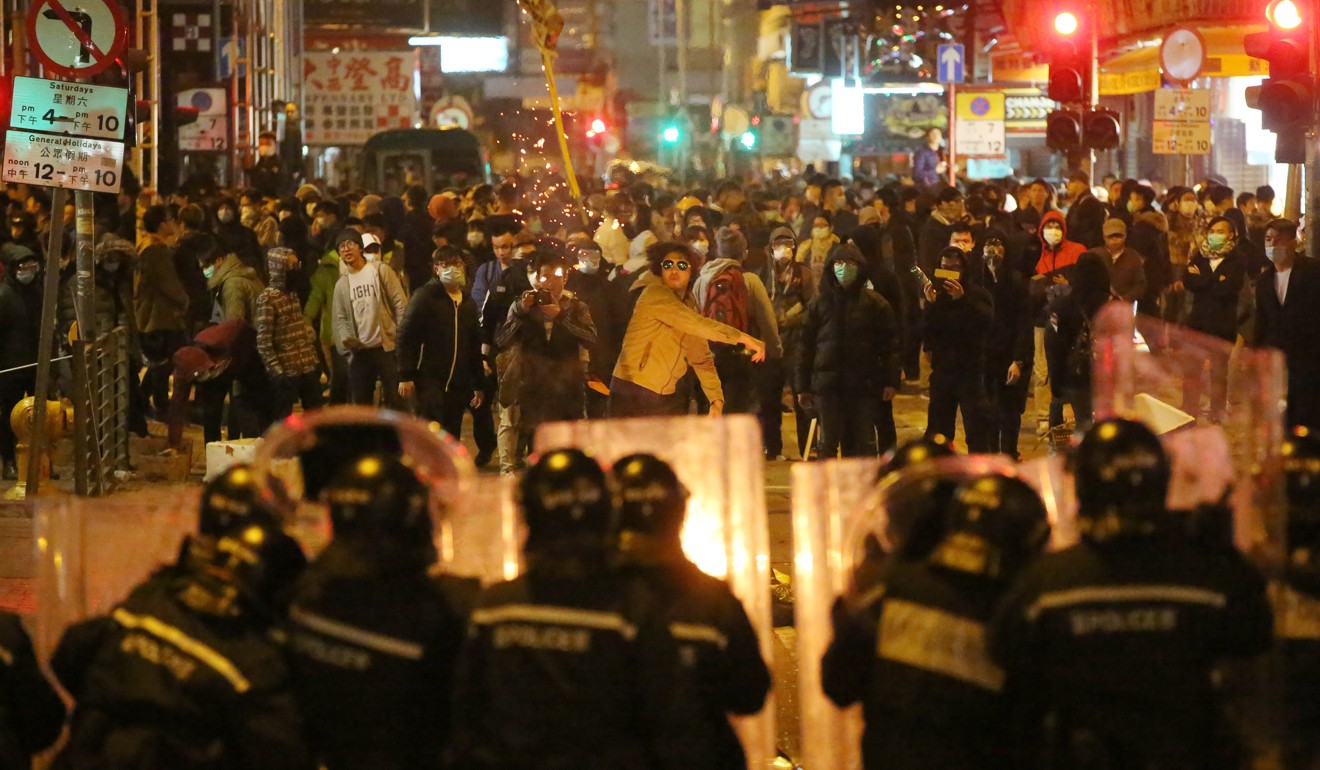 He said people opted for the term "revolution" because they felt Lam's administration had already lost its moral basis to govern. Some also felt they were indebted to Leung because of his jail term, as well as those protesters who were charged with rioting over recent protests, he added.
Engineering worker Tony Cheung, 28, who was protesting in Mong Kok on Monday, said he had skipped work to support the movement. Asked whether the movement was turning into a revolution, Cheung said the slogan just meant protesters felt "the government is rotten".
"If we wanted independence, then we would have called for independence," he said.
Matthew Chung, a 29-year-old who runs a music company, said they shouted the slogan because they wanted to revive the Hong Kong spirit and call for freedom and democracy.
Andrew Fung Ho-keung, chief executive of the Hong Kong Policy Research Institute, said Beijing would probably view the slogan as an alarming signal of a growing trend of independence advocacy in the city.
Fung said Lam should tell the central government how to address the current crisis, instead of just pointing fingers at a handful of radicals.
Additional reporting by Gary Cheung, Sum Lok-kei and Kanis Leung