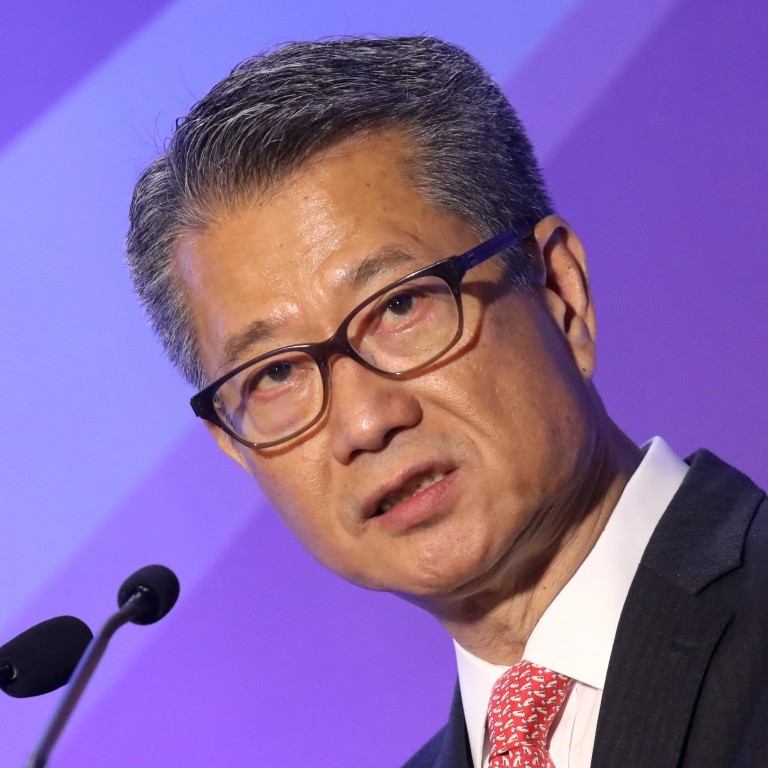 Financial Secretary Paul Chan warns that anti-government protests – paired with US-China trade war – could plunge Hong Kong's economy into recession
Chan warns economy is losing momentum as estimates of losses from Monday's protests range from HK$300 million to HK$2.6 billion.
One economist was blunt: 'In Hong Kong, breaking someone's rice bowl is unforgivable'
Hong Kong's finance chief on Monday urged protesters to step back from their destabilising actions, warning that the city's economy could plunge into recession if it continues to be rocked by the global trade war and escalating turmoil in the streets.
Paul Chan Mo-po issued the grave warning as Hong Kong suffered massive flight cancellations, commuter chaos, traffic jams and service disruptions as thousands of people joined the
largest citywide strike in decades
to protest against the government's extradition bill crisis.
Economists on Monday gave a wide range of estimates on the economic cost of the day of protests – from HK$300 million to HK$2.6 billion (US$38 million to US$332 million).
"Hong Kong's economy is facing a very difficult situation," Chan said. "It is facing very big downward pressure as it has to deal with the ongoing
US-China trade war
and internal challenges at the same time."
The US-China trade tensions are worsening again after US President Donald Trump announced a 10 per cent tariff on US$300 billion worth of Chinese goods from September 1, blaming Beijing for not buying enough American farm products.
Chan said the
anti-extradition movement
that has plunged the city into chaos for two months has had an adverse impact on Hong Kong's economy.
He said: "Many shops, restaurants, and retailers have indicated that their businesses have suffered from the social unrest. As mentioned by the chief executive, some shops have been forced to close down intermittently."
Hong Kong recorded economic growth of 0.6 per cent year-on-year for the
second quarter of 2019
. Chan argued, however, that on an adjusted quarter-to-quarter comparison the GDP had in fact decreased by 0.3 per cent.
"In other words, Hong Kong's economy is losing its momentum. It would 'technically' fall into economic recession if the negative growth continues in the third quarter," he said.
He also pointed to dropping retail figures, warning that sales in June had already slumped by 6.7 per cent.
Chan urged Hongkongers to consider the impact of their movement.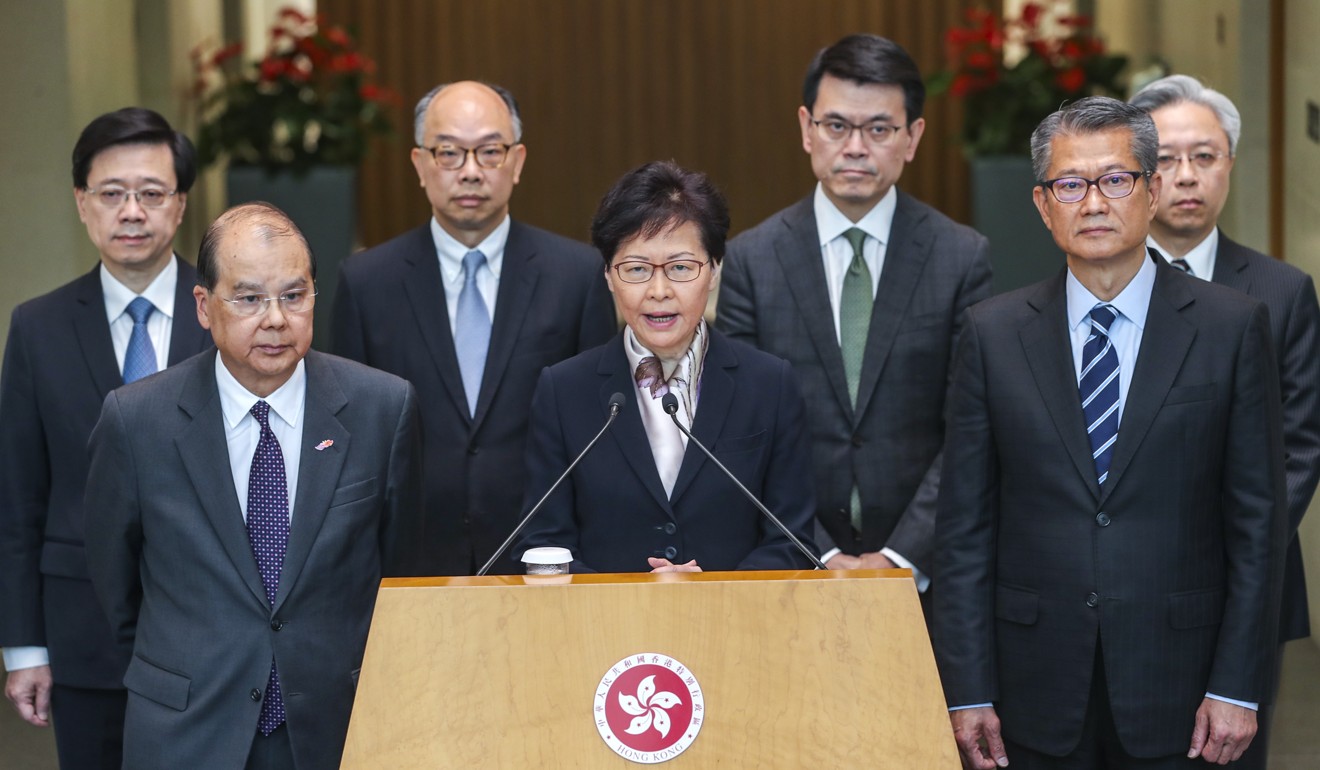 "We have listened to the dissatisfaction over our handling of the bill and also our governance. We will listen and communicate more with different sectors and improve ourselves," he said. "I hope people will think twice as they carry on their movement."
Andy Kwan Cheuk-chiu, director of the ACE Centre for Business and Economic Research, argued that if the government was determined to resolve the current political crisis by addressing the grievances and
demands of the protesters
the city's economy could easily rebound.
"The government's inaction has aggravated the confidence crisis by investors who may start to move their investment to somewhere else. This will be a blow to Hong Kong as an international financial centre," he said.
"If the government is willing to address the problems and the legitimate demands from the protesters, which in fact are not something difficult for the government, then Hong Kong's economy could easily gain momentum."
Iris Pang, an ING Greater China economist, said it was inevitable that the city's economy, especially the retail sales sector, would suffer as a result of the crisis.
"We can see that the protests are getting more frequent and a lot of shops have been forced to close down to avoid them, which may lead to the loss of income and reduction of staff," she said.
Pang said she did not question the protesters' movement, but she called on them to consider the
economic consequences
before taking any drastic action.
"The protesters need to ask themselves two key questions – whether their movement originates from the right mindset, and whether it would affect the livelihoods of ordinary people," she said.
"In Hong Kong, breaking someone's rice bowl is unforgivable," Pang said.
Kwan estimated the economic loss from Monday's strike, transport stoppage and street clashes would be in the hundreds of millions of dollars.
"It's hard to measure. One day's GDP is about HK$7 billion to HK$8 billion [US$893 million to US$1 billion]. Given that many of them took part in the strike in the form of taking sick leave or holiday, and some may work longer hours tomorrow to make up for the loss of productivity, I estimate that the economic loss will not be more than HK$300 million [US$38 million]," he said.
But Pang said given the number of shops that closed, a rough estimate of the economic loss could be about one-third of one day's GDP based on the latest figures – about HK$2.6 billion (US$332 million).
This article appeared in the South China Morning Post print edition as: City facing threat of recession, Chan warns