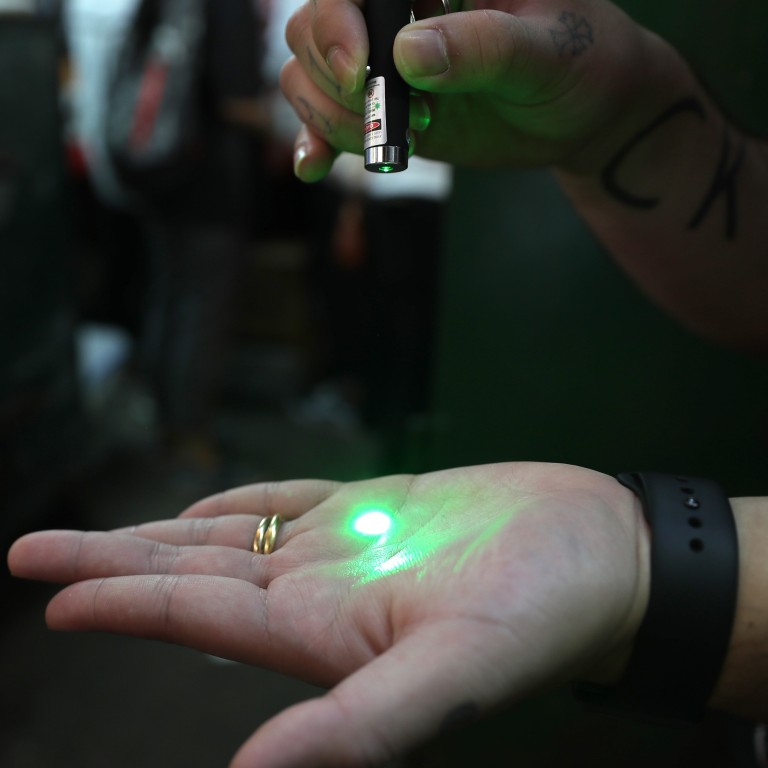 Laser pointers are in the spotlight in Hong Kong's protests and selling briskly. But are they 'offensive weapons' and can you be arrested for carrying one?
After student leader was detained for carrying the devices, protesters besieged a police station then arranged a 'stargazing event' the next day
Police demonstrate how laser beam can set sheet of paper alight, though Post unable to get same result using a laser pointer bought in Sham Shui Po
Laser pointers were selling fast in Sham Shui Po's well-known electronics flea market on Wednesday, a day after a university student leader was arrested there for having several of the devices which the police branded "offensive weapons".
Laser pointers emitting green and blue beams of light have been used widely in recent extradition bill protests, apparently to confuse police officers and deter passers-by from taking photographs that might help identify protesters.
Ahead of a
"stargazing protest" in Tsim Sha Tsui
on Wednesday, nine stalls in Apliu Street reported brisk sales of laser pointers. Some said stocks of larger laser pointers had sold out, but smaller laser pointers, which they called "stargazing pens", were still on sale.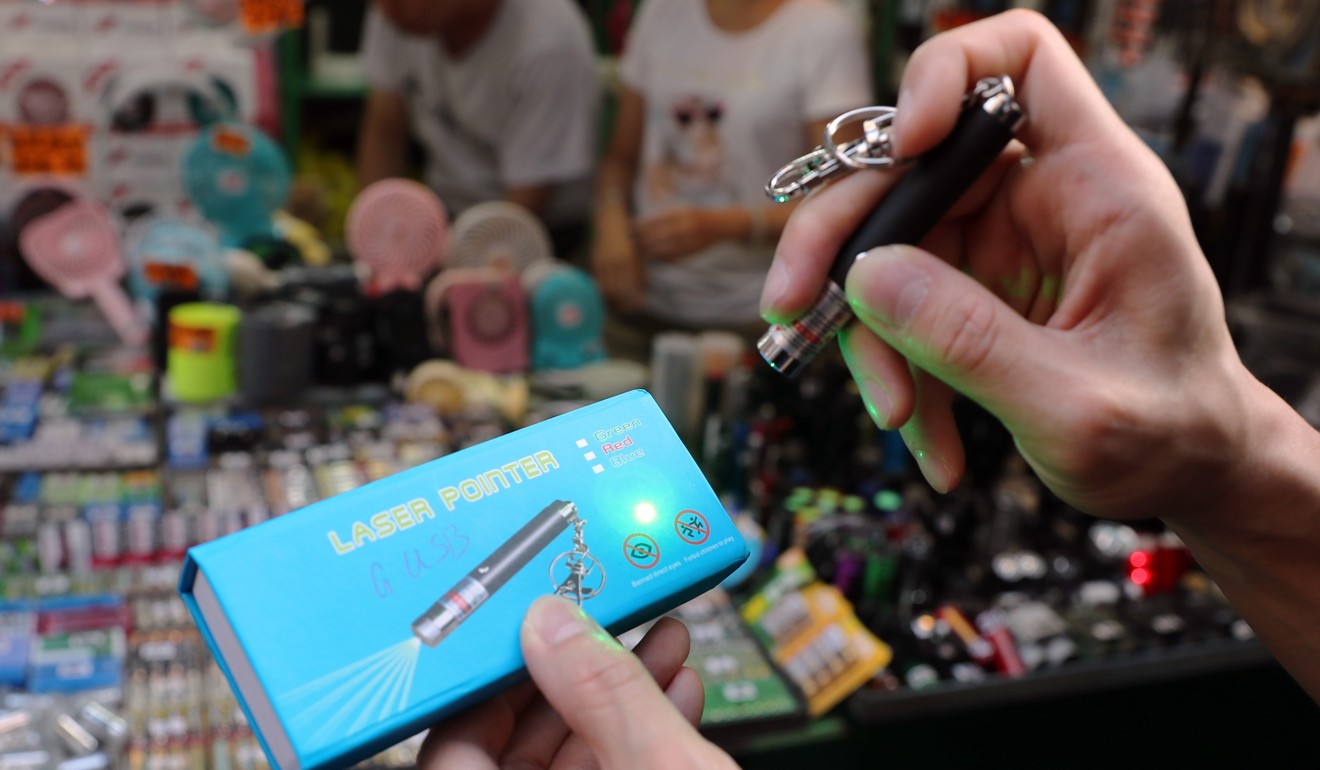 "We only sell two types, and they are both only 1.6 milliwatts," said one stall owner. "Of course, you don't point it into people's eyes." He declined to say how many he had sold.
There were long queues in front of stalls selling laser pointers at about HK$60 apiece. Bigger ones with red beams were also available, at HK$150 each. The queues disappeared as the stalls ran out of stock.
To meet demand, one stall keeper was seen modifying torch lights by unscrewing the top layer of glass, which disperses light, to create a single, focused beam.
Other stall owners, who enthusiastically waved customers over and explained the difference between the laser pointers on sale, turned unfriendly when the Post approached them, apparently aware that laser pointers had become a sensitive subject.
Laser pointers remain available on e-commerce site Taobao.
Referring to the laser pointers as "laser guns", police said three officers needed medical treatment after protesters pointed beams at them.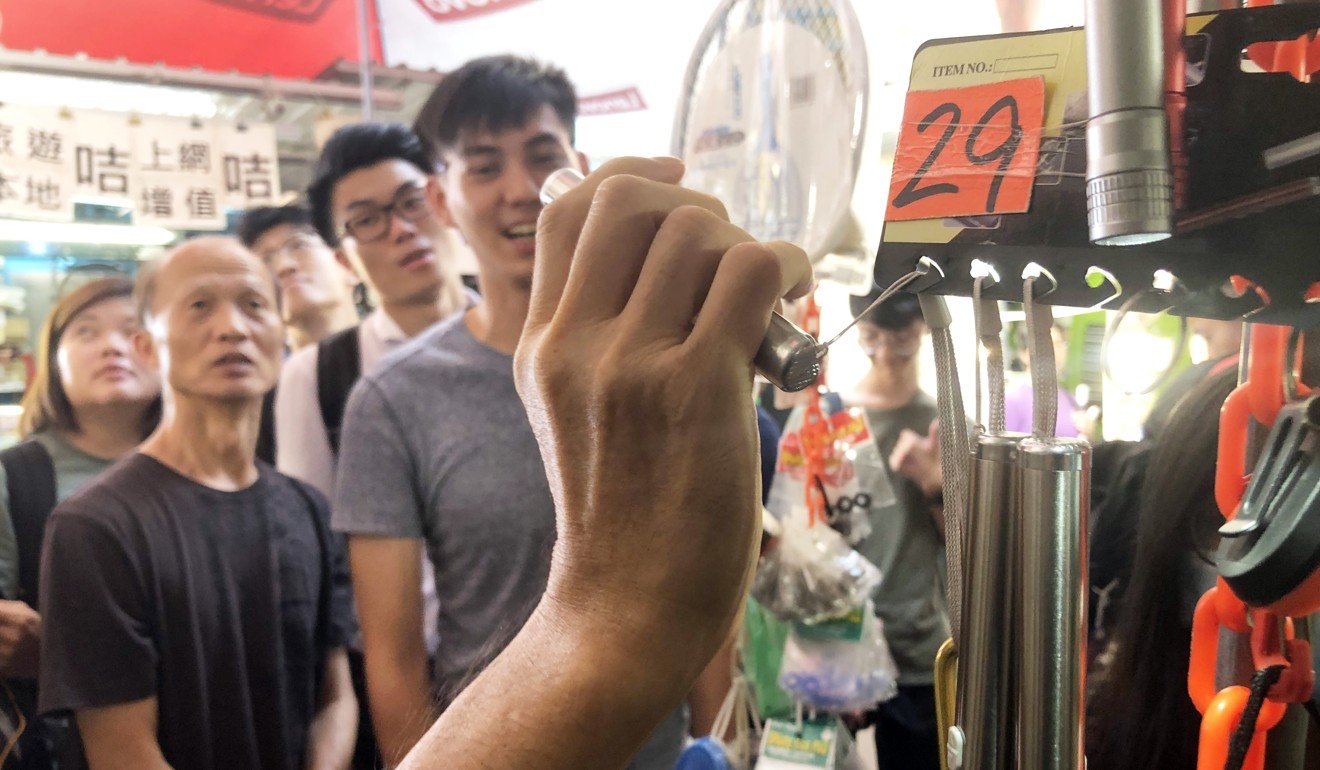 "Laser pointers, especially those with high power, can burn one's skin and cause permanent injury to the eyes," said Dr William Cheung Sing-wai, a former electrical engineering associate professor at the University of Hong Kong.
He said laser pointers used by teachers had a power range of less than 1 milliwatt, but even those could cause an eye injury.
Senior Superintendent Steve Li Kwai-wah of the Organised Crime and Triad Bureau said "laser guns" were not considered prohibited weapons in the city.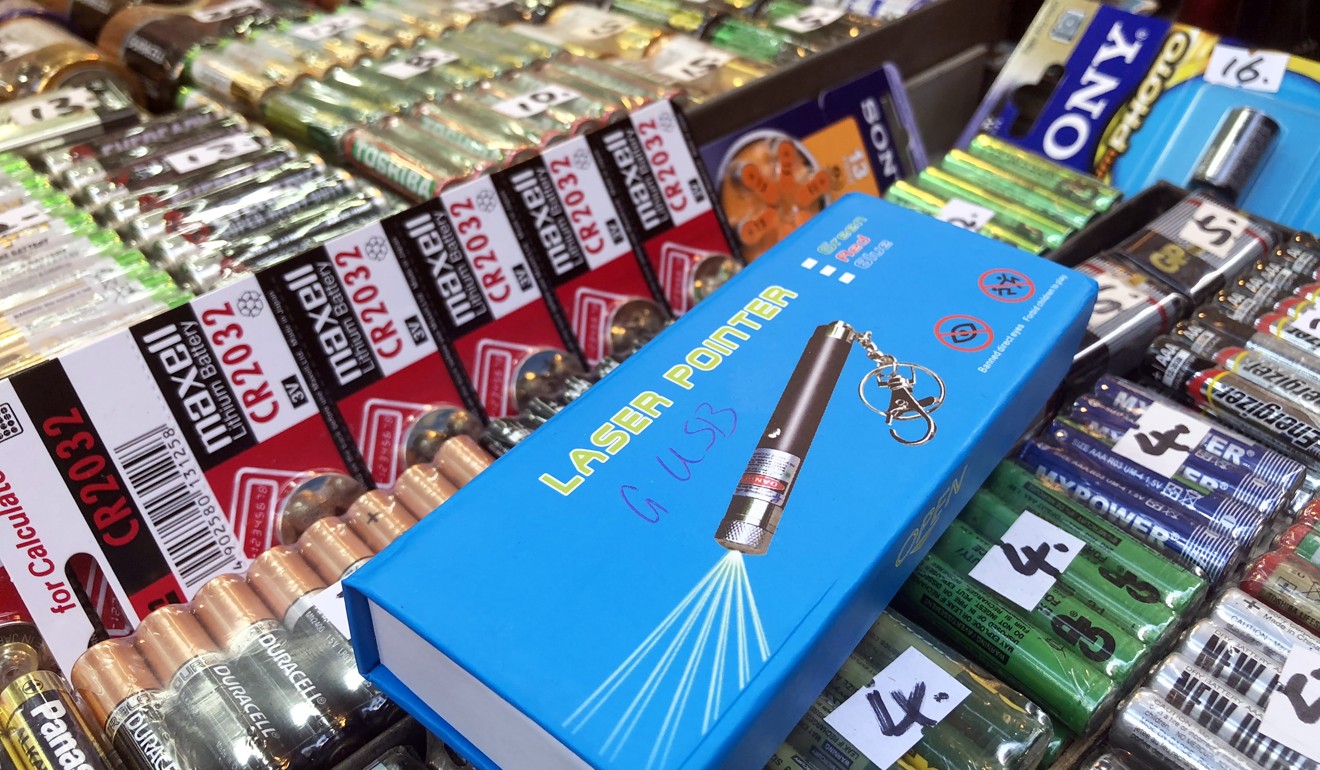 But he said the laser pointers seized by police breached the Trade Descriptions Ordinance for failing to display energy levels or warning labels. The case has been passed to customs officials.
Asked whether people using laser pointers for stargazing on Wednesday night could be arrested if they used them for other purposes, Li said a device would be considered an offensive weapon only when used to harm others.
"If all those people use them for gazing at the stars, they don't need to worry about being arrested," he said.