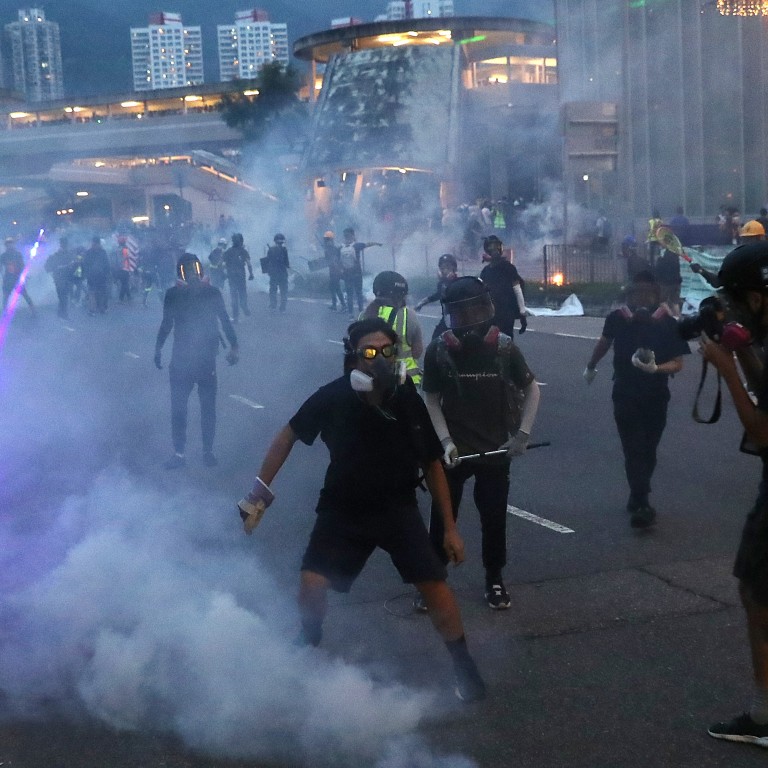 New phase as protesters and police clash across Hong Kong in guerilla-style battles
Officers use tear gas to disperse crowds that once more gathered for illegal rallies, but scale and intensity of skirmishes appears to have lessened
Two sides engage in running battles from Kwun Tong to Tai Po and Cross-Harbour Tunnel, while peaceful sit-in at the airport continues
Months of social unrest in Hong Kong moved into a new phase on Saturday, with both anti-government protesters and police using fresh strategies.
Police again used tear gas, and petrol bombs were thrown by demonstrators, who once more had
gathered illegally across the city
in defiance of protest bans by the authorities. But the scale and intensity of the clashes appeared to have lessened, and there was also a change in how the two sides engaged.
It came after a week when Beijing and the Hong Kong government stepped up support for the city's embattled police force while officers clamped down on those deemed sympathetic to protesters.
Hong Kong's biggest carrier, Cathay Pacific Airways, on Saturday fired two airport employees for leaking police officers' passenger information to protesters and removed a pilot from flying duties after he was charged with rioting.
Meanwhile, former deputy police commissioner Alan Lau Yip-shing, a battle-hardened veteran who oversaw operations during the 2014 Occupy protests and the 2016 Mong Kok riot, was brought back to tackle the escalating protest violence.
On the other side, the protest movement – widely described as leaderless and decentralised – has become more fragmented and unscripted, with the numbers dwindling at battlegrounds mostly scattered across the city's north.
Their demands – stemming from protests against Chief Executive Carrie Lam Cheng Yuet-ngor's
now-shelved extradition bill
that would allow criminal suspects to be sent to mainland China – have also evolved. The "five demands" in relation to the bill and the wave of protests it triggered are now seldom heard.
Instead, from Tai Po to Tsim Sha Tsui, the rallying cry was "Liberate Hong Kong; revolution of our times".
For hours on Saturday, protesters fought guerilla-style battles with police in Tai Po, Tai Wai, Tsim Sha Tsui, Tsuen Wan, Kowloon Bay, Kowloon Tong, Kwun Tong and in front of the Hung Hom Cross-Harbour Tunnel. It followed a pattern – activists taunted police with verbal abuse and hurled projectiles at them, but quickly dispersed once riot police moved in. Police no longer waited to get into formation before charging at the protesters and the skirmishes were fluid throughout the evening.
Tsim Sha Tsui was the exception, where there was a stand-off between protesters and police after a woman was pinned to the ground by officers and apparently taken away. Scores of people surrounded police, demanding she be released.
The scuffles continued well into the night, with at least seven people injured.
Close to midnight, the government issued a statement condemning "violent acts" and adding that demonstrators had damaged public property and blocked major transport links, including the Cross-Harbour Tunnel, as well as having a "severe impact" on emergency services and businesses.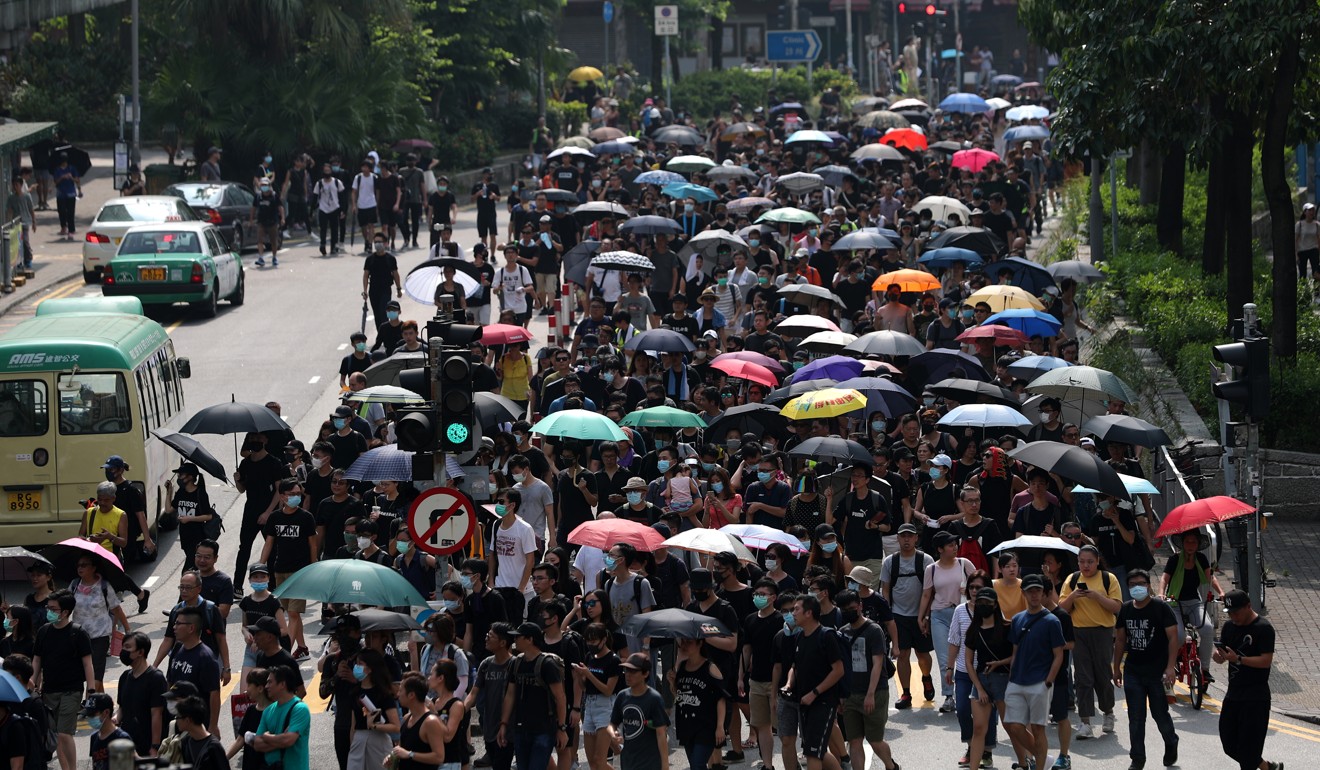 But the day began peacefully. Police had rejected all four protest applications for the weekend – in Tai Po and Wong Tai Sin on Saturday and North Point and Sham Shui Po on Sunday – on the grounds of high risk. The protesters, however, as in previous weekends, were expected to go ahead with their marches.
Tai Po was eerily quiet on Saturday morning, with the wet markets closed and most shops shut. At Wong Tai Sin police dormitory – the site of violent clashes a few days ago – residents were seen putting up wooden panels to protect their windows. While nothing happened there, hundreds of people started to gather in Tai Po soon after lunch at a rally that remained peaceful.
The first skirmish happened at around 6pm, when a few hundred protesters broke off from the main crowd in Tai Po and moved to Tai Wai, where they put up roadblocks and faced off against riot police arriving at the scene. The stalemate lasted until officers fired tear gas at the crowd after repeated warnings were ignored.
Meanwhile, miles away at the city's international airport, hundreds of black-clad protesters were staging a sit-in demonstration that was into its second day. By 3.30pm, an estimated 1,000 demonstrators had joined the handful who spent the night in the airport's arrivals hall.
"I came over at 8pm yesterday [Friday] after I finished my research," said Hing Siu-fai, a master's student at Chinese University of Hong Kong. "Everyone is very tired."
As part of the three-day sit-in, demonstrators covered their eyes or mouths in black cloth, saying they were protesting against Hongkongers being silenced and suppressed, as well as other government moves they considered unreasonable.
Elsewhere, hundreds of
police supporters stepped up their campaign
to boost officers' morale by expressing their thanks in person – days after Beijing reiterated its confidence in the force amid escalating anti-government pressure.
Members of the Safeguard Hong Kong Alliance, which organised the campaign, and pro-police supporters visited police stations in Central, Kwun Tong and Kwai Chung to show their solidarity with officers. Police stations have become regular targets for protesters.
The alliance's campaign and other pro-police efforts were underscored by an open letter on the front pages of local newspapers calling for an end to the chaos, signed by political and business heavyweights such as Tam Yiu-chung, Rita Fan Hsu Lai-tai and Victor Li Tzar-kuoi.
For a few hours, there was a faint hope that Hong Kong might see a return to a normal Saturday – but it was soon shattered as, once again, officers and protesters fought from district to district.
This article appeared in the South China Morning Post print edition as: guerilla-style skirmishes mark new phase in protests