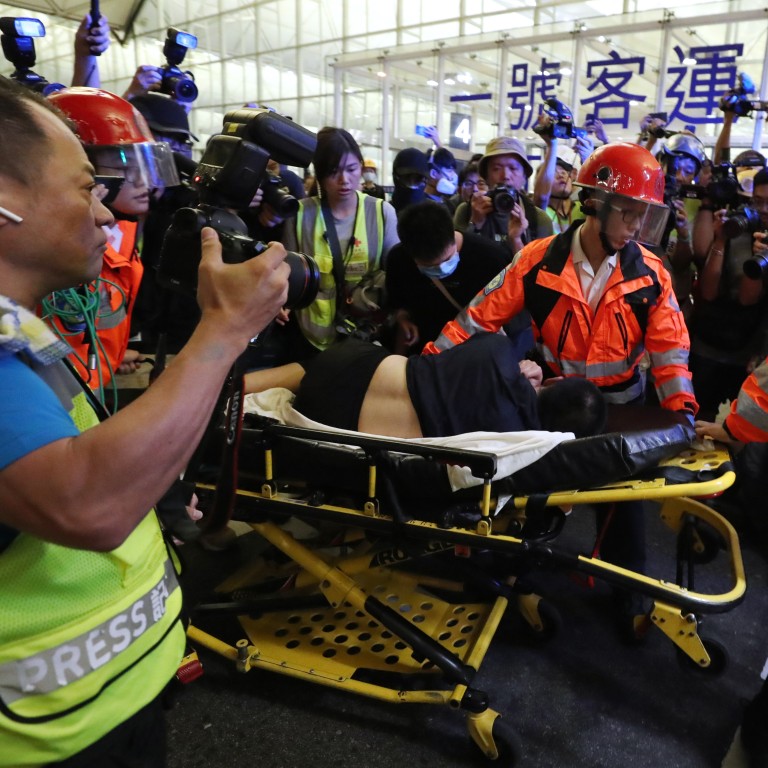 Hong Kong airport protest: how a terrifying night unfolded as demonstrators turned on mainland Chinese men and fought police
Previously peaceful demonstrations at terminal descended into acrimony on fifth day as protesters tried to prevent passengers from reaching departure gates
Two mainlanders accosted by protesters, beaten, bound and denied medical treatment before being ferried onto ambulances
Winfred Leung, 18, arrived at Hong Kong International Airport on Tuesday at 9.30pm after finishing work at his summer job for a logistics firm.
Just inside the doors of the departure hall, the student, who is starting university in September, found a crowd of people surrounding a man they accused of being a mainland Chinese police officer.
Later, after 11pm, he and other protesters identified a second man who they felt was acting suspiciously. He was wearing a fluorescent vest of the sort worn by the press and was speaking English with a Mandarin accent.
"We politely asked him what media organisation he was working with but he wouldn't tell us," Leung said. "A few became emotional and tied him up."
The protesters became outraged when, having ransacked his bag, they found a light-blue T-shirt with the slogan "I love Hong Kong police", documents showing he was from Tianjin and working in the media.
They searched his name online and believed he was working for the Chinese state tabloid Global Times. They then started beating him, with the man heard in a recording of the incident asking them to go ahead and hit him.
Leung said he stepped back from the melee and tried to ask the others to stop beating him but to no avail.
"I don't want to beat people up, just like we hate policemen beating us up," he said. In each case, after repeated heckling and swear words heaped on them, the protesters bound the two mainlanders' hands and feet with multiple cable ties, beat them and then tried to prevent paramedics from attending to them. The scenes were carried live on television as the protest movement reached another shocking turning point in the level of violence being resorted to.
Leung was one of the thousands of protesters who had taken part in a peaceful demonstration at the airport – one of the world's busiest transport hubs – last week, a protest that would eventually descend into a violent mob on Tuesday. After occupying the airport for five days, the protesters crippled operations and caused flights to be cancelled on Monday afternoon. On Tuesday, they showed up again and blockaded departing travellers, causing tempers to fray, as various people who needed to fly remonstrated with them. They included a woman with a heart condition.
Yet, Leung said that while he was opposed to such actions, including the tying-up of the two mainland men, he would not break with his fellow protesters. He had to stay true to the principle of staying united or "bat gok chek" – literally, "don't cut ties".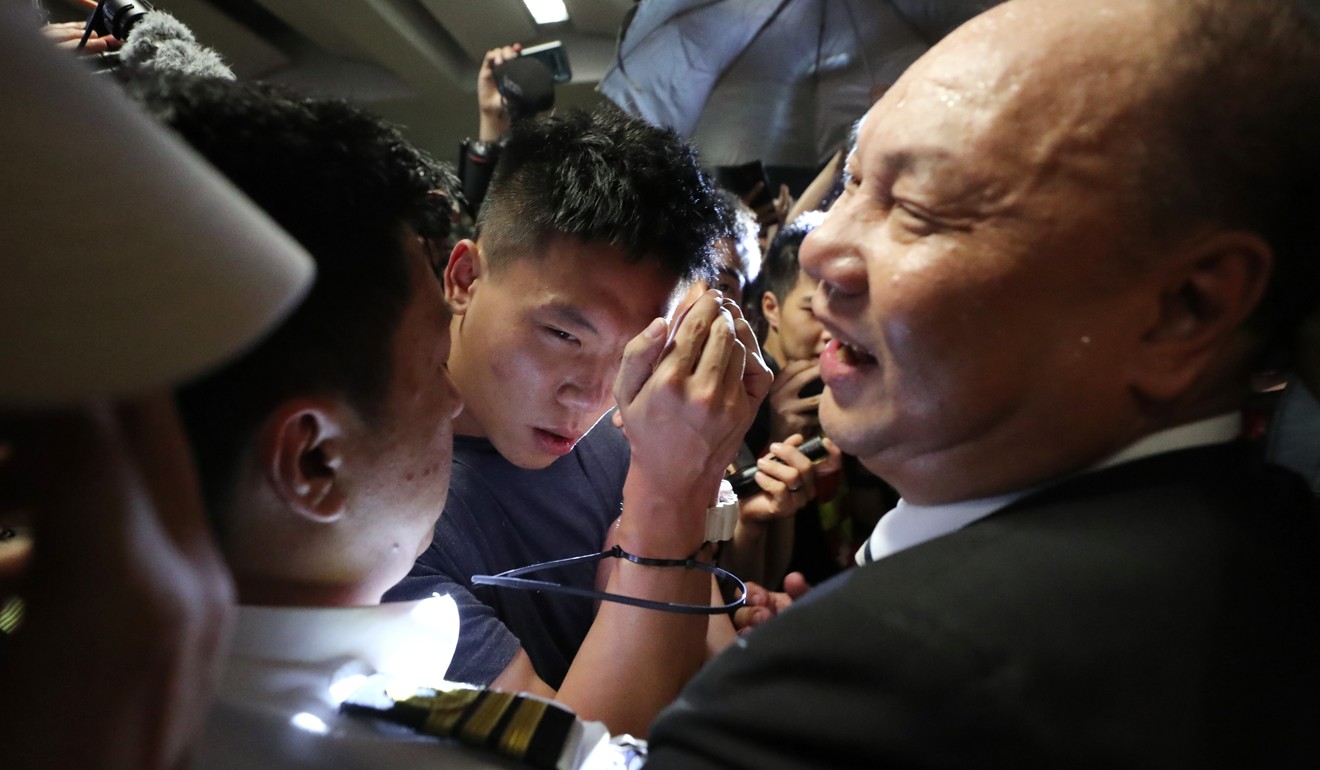 "I understand where the emotions came from. The government hasn't responded to us after we have protested for two months," Leung said, adding that the fact police disguised themselves as protesters to arrest others had stirred up mistrust among the demonstrators.
The serious disruption to the city's air traffic followed demonstrators escalating their action by swamping the departure halls and boarding areas on Monday, rather than staying in the arrivals hall where they had been on previous days.
The late-night chaos was triggered by the protesters' detaining a young man they accused of being an undercover agent from the mainland at the check-in area in the departures hall.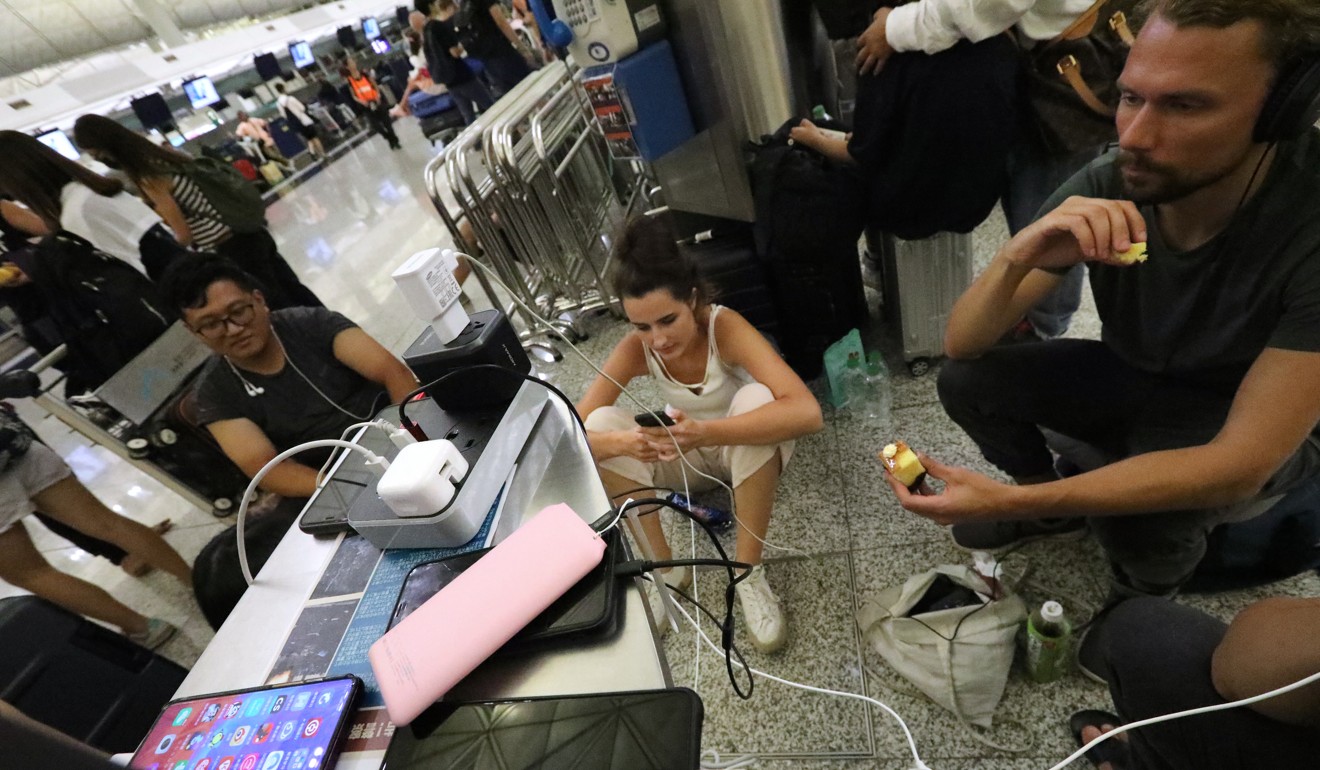 They first surrounded the man at 7pm at terminal one after finding wooden sticks connected with a metal chain on him and started hurling abuse at him. They searched his belongings and found his ID card and travel documents, which they claimed matched the name of an officer from Futian police station in Shenzhen.
He was later led away by Airport Authority staff, but ran into another group of protesters at 9pm and a heated argument ensued. He was seen later surrounded by protesters, his hands bound with cable ties. The protesters would not let paramedics take him away after he lost consciousness at around 10pm. There then ensued a long stand-off as paramedics and a group of police negotiators, dispatched to the airport for the first time since the protests began, tried to persuade the protesters to let the detained man receive treatment.
It was another hour before he could be ferried onto a waiting ambulance, but there was more trouble outside the terminal as protesters turned on police who were there to help the ambulance leave. Police vehicles were attacked and windows smashed.
A small contingent of fully equipped riot police and elite officers from the Special Tactical Squad fought off the protesters, using pepper spray and batons.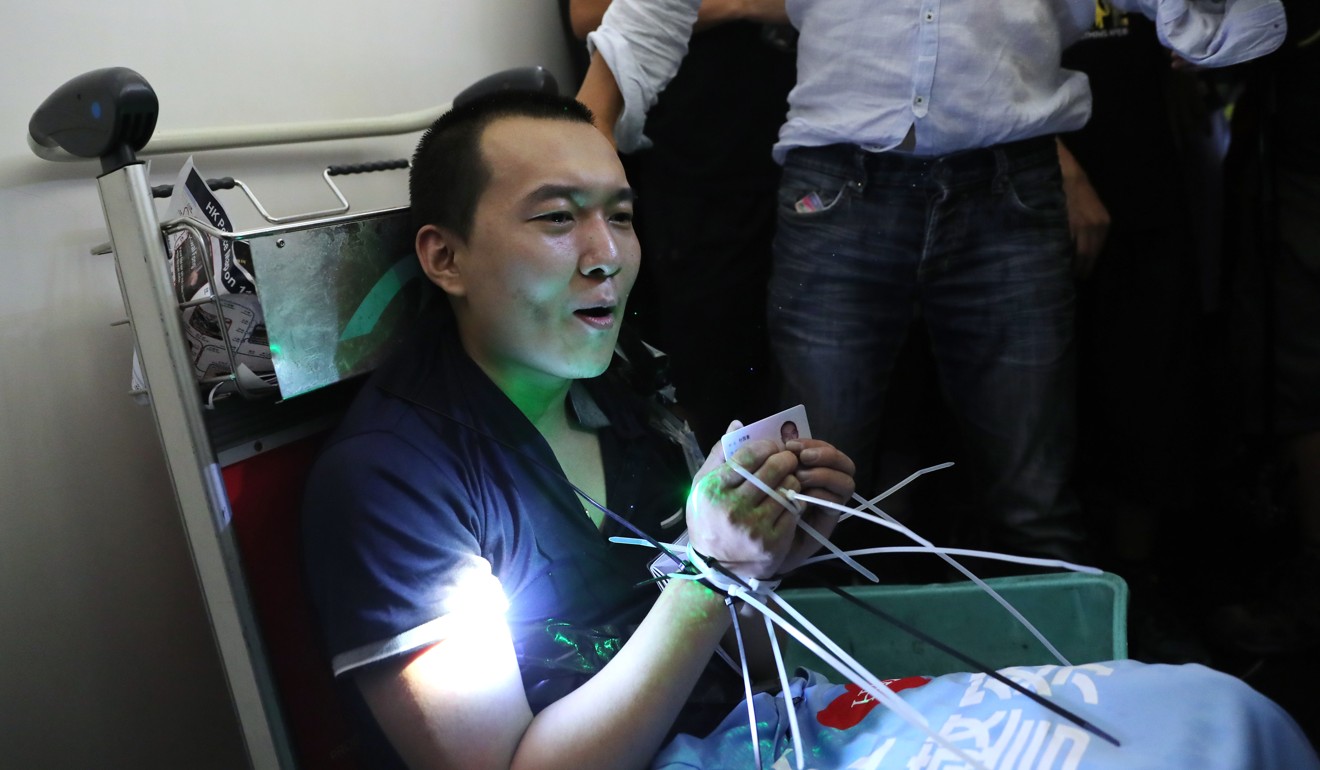 Police then chased protesters into the terminal. As they clashed, protesters pulled a baton from an officer who had pushed a young, casually dressed woman to the ground – it was unclear if she was a protester or a traveller – and began beating him with it. Cornered against the glass, the policeman fell to the ground and drew his gun in self-defence, sending the protesters fleeing.
Police also discharged pepper spray to quell the angry crowds, at least twice outside the terminal and once inside.
At about 11.45pm, protesters then turned on the Global Times journalist, beating and tying him to a luggage trolley. Initially, protesters accused him of being a fake journalist, but later found his credentials and a T-shirt emblazoned with the slogan "I love Hong Kong police".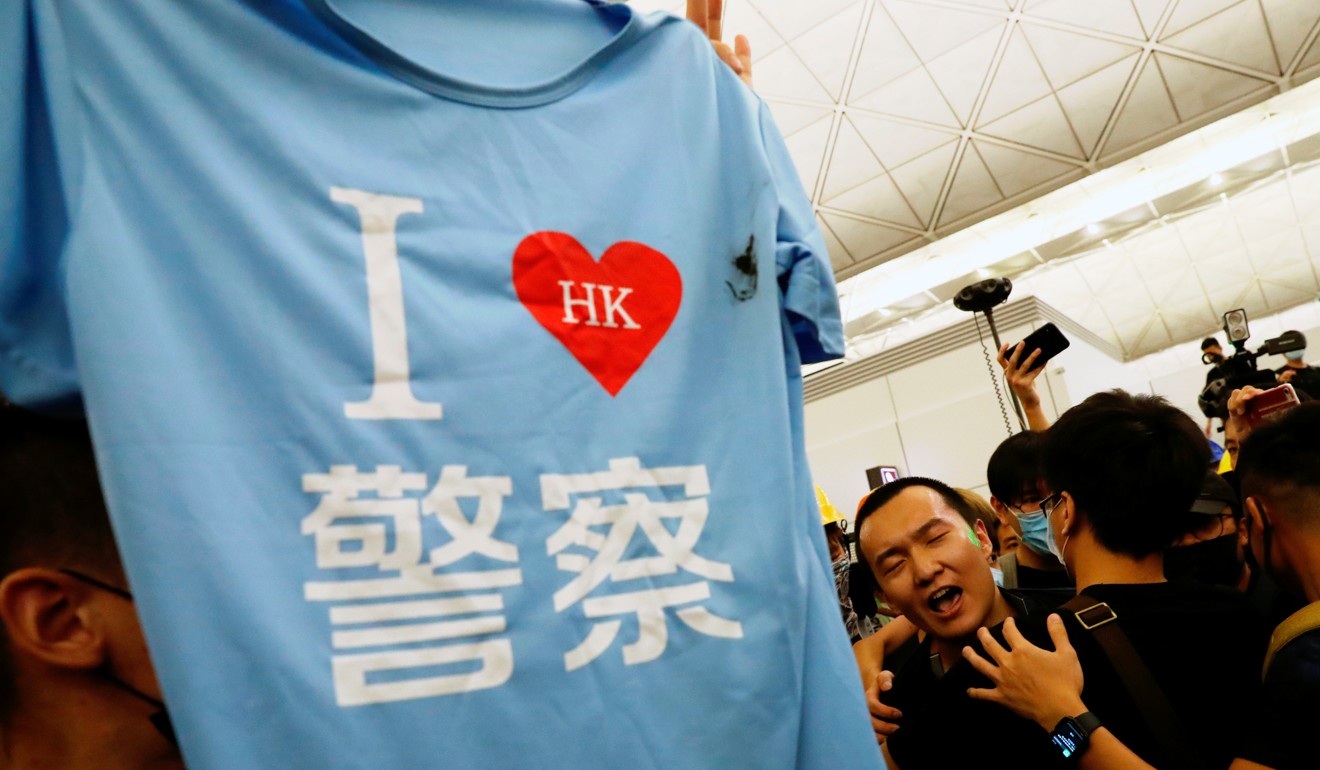 The light-blue T-shirt was similar to those worn by pro-establishment supporters at police station demonstrations on August 10. The man was held for just over half an hour before being evacuated to hospital, but not before he was kicked from the trolley and had projectiles thrown at him while he was on the stretcher.
Five protesters were arrested in ensuing scuffles, charged with unlawful assembly, possession of offensive weapons, assaulting the police, and breach of the peace.
During the occupation and violent clashes, scores of travellers were driven to tears of anger as protesters denied them passage through to the departure gates to catch their flights.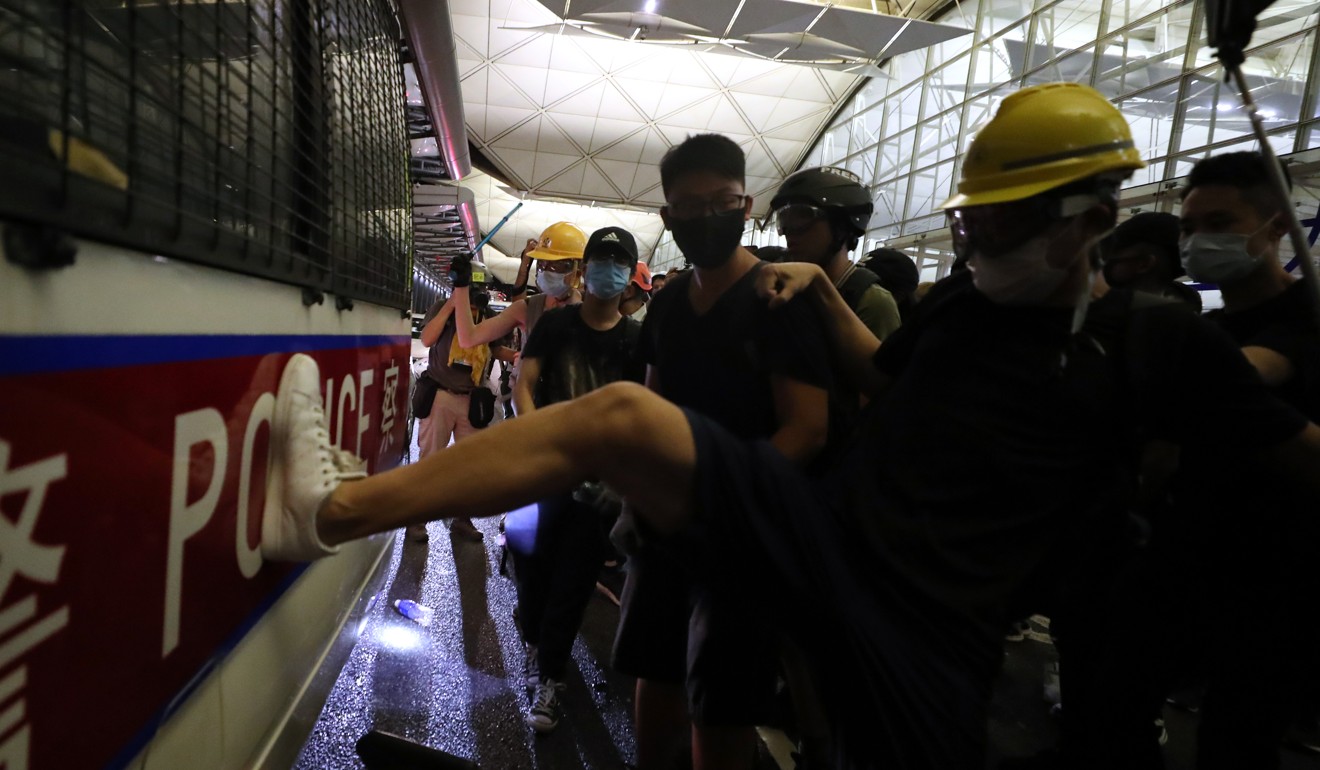 Carol and Samuel Wong, flying home to Melbourne with their one-year-old child had their boarding passes torn up by airline staff as the Airport Authority announced the suspension of check-in while they were being processed.
Samuel said he was surprised by the protest. "I thought it was done yesterday and no more," he said. "This is too much. People's patience is not limitless."
Carol said that though she understood the protesters' cause, it paled in comparison to the inconvenience in real life for people. "Passengers have different reasons. What if they miss the chance to say farewell to a dying loved one because of this?"
A group of five passengers flying back to Australia, including two elderly people in wheelchairs, had to make a U-turn as protesters occupying the departures floor refused to let them approach the gate despite appeals by Australian consular staff.
One of the group, Helina Marshall, broke into tears of frustration. "We have got an old lady here, 84 years old and she has heart problems. So they can't let her through to go back home?" Marshall said.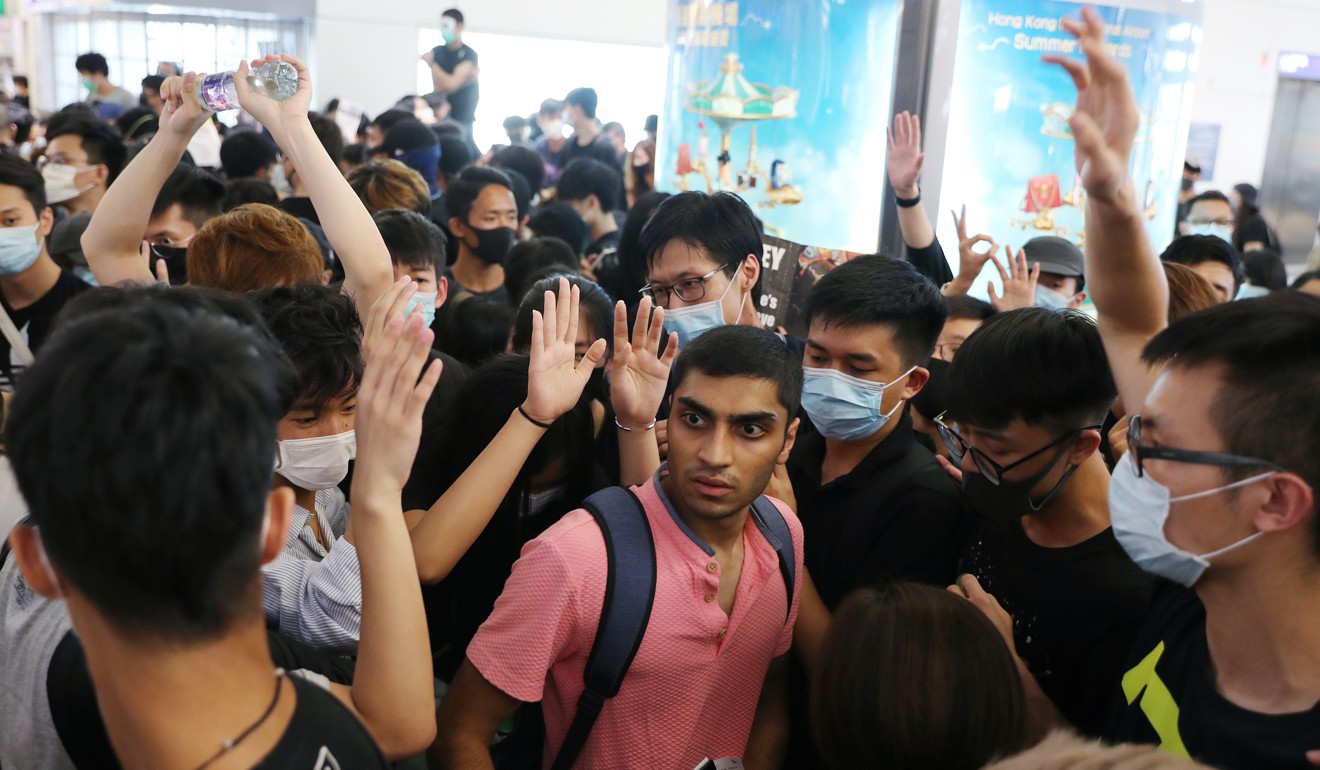 The elderly lady, Barbara Hill, said: "I was sympathetic … but I think they are harming their cause by stopping passengers getting through."
Nursery teacher Chan Chun-sun, 46, was flying back to Britain and, like many passengers, came to the airport only to be told he could not check in and catch his flight, as he was greeted by a jam-packed terminal full of black-clad protesters.
"We could barely hear the message on the tannoy for passengers advising us to leave the terminal building. But where the hell do we go? This is ridiculous," he said. "I feel people have lost sight of what they are trying to do and how they are trying to achieve it."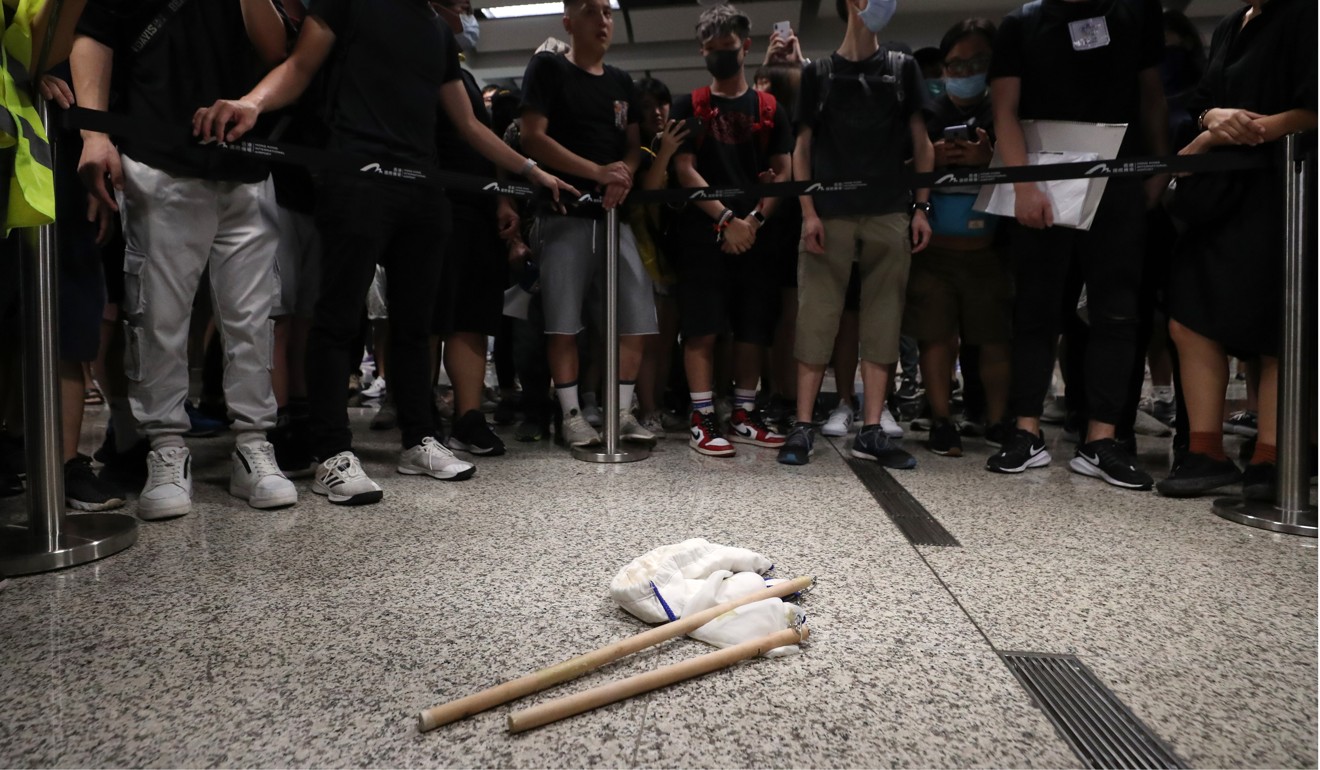 Irishman Darragh Martin, 28, who was also flying to Britain, saw his enthusiasm for Hong Kong wane as the protests escalated and flight disruptions grew.
"I was excited to come to Hong Kong at first, but now I want to leave, I want to get home. If this is it, is it going to be like this, for how long?"
The Hong Kong police condemned the "radical and violent acts" at the airport.
Pan-democratic lawmaker Fernando Cheung Chiu-hung, who was at the scene when protesters surrounded the Global Times reporter, said the actions of protesters were just too much and he disagreed with them.
"What happened at the airport yesterday was going beyond that [peace]. I guess because the violence employed by the police on August 11 was so horrible, yesterday there was [a sentiment] of an eye for an eye and a tooth for a tooth," he said.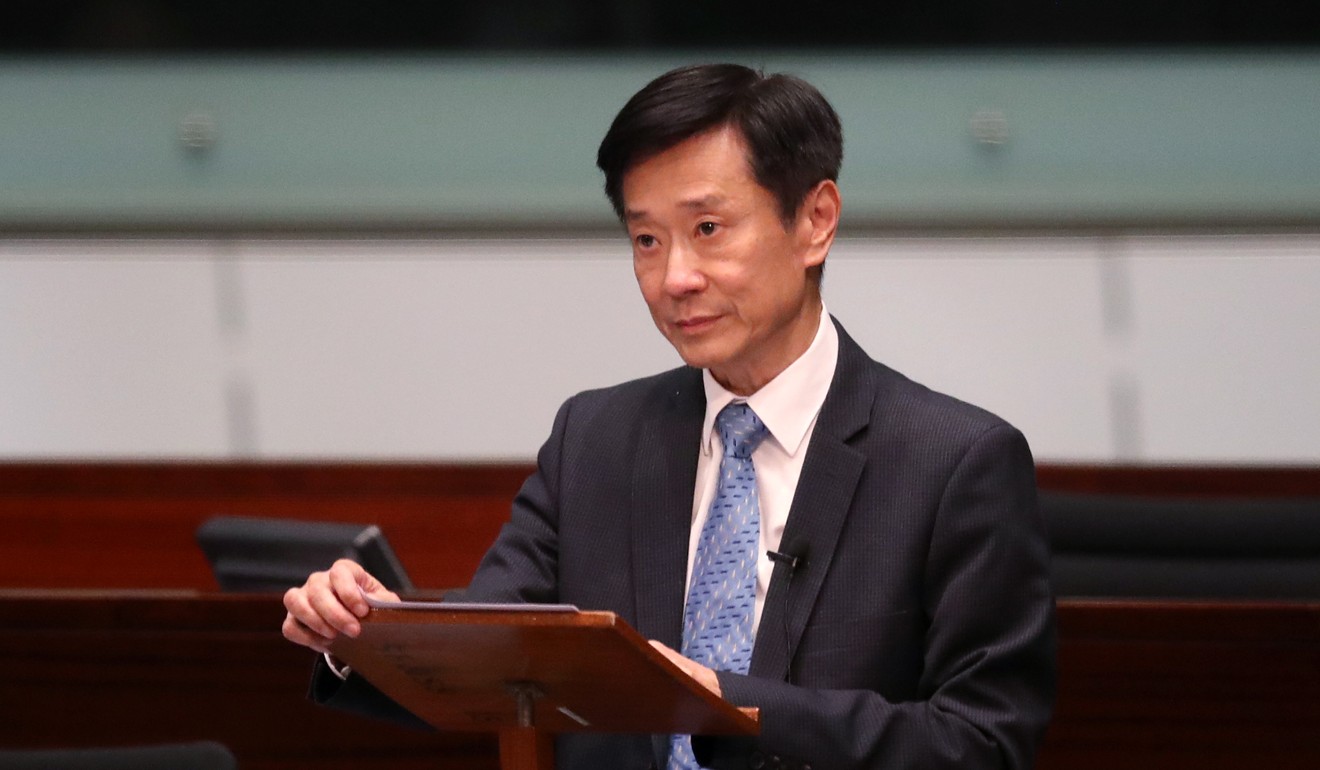 Tourism lawmaker Yiu Si-wing condemned the attacks on the two mainlanders, saying the scenes and other airport disruptions had dented Hong Kong's international image.
He expected tourist arrival figures would drop in July and estimated the numbers in August to drop over 30 per cent from the same period last year given what happened at the airport.
"It may bring a chill to the 700,000 to 800,000 employees working in tourism-related industries," he said.
Cheung Shu-wang, chairman of the Staffs and Workers Union of Hong Kong Civil Airlines, slammed the Airport Authority's "inadequate response". "The Authority knew in advance about the protests, but still did not send enough staff to maintain order or request help from police. They have a lot of questions to answer about last night's violence," he said.
A source close to the authority's management said: "This is the worst crisis to have hit the airport in its history … The airport did not expect the protests to escalate this far."
Lau Siu-kai, vice-chairman of The Chinese Association of Hong Kong and Macau Studies, a semi-official think tank, said the protesters' actions risked losing support from members of the public who abhorred violence.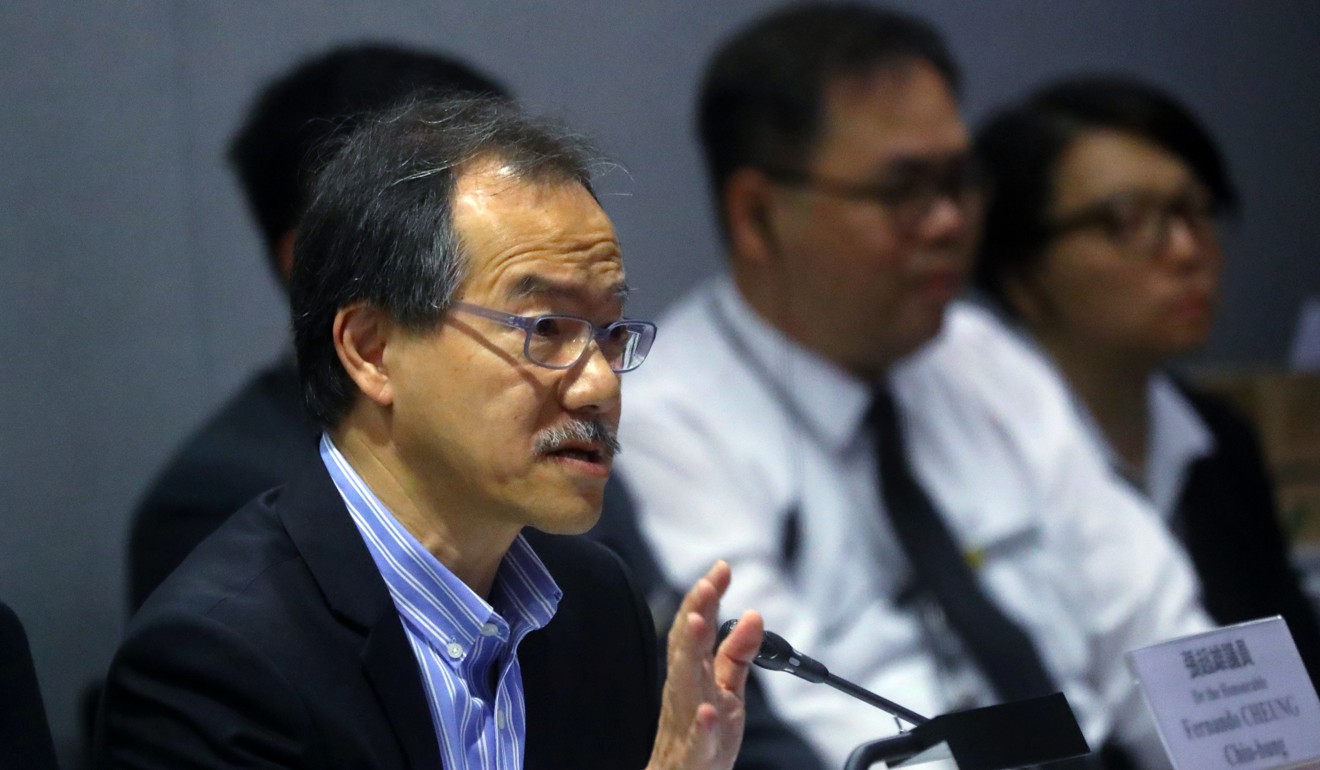 "Some radical protesters have hijacked the movement, and may reduce public support for the peaceful protesters too, as they won't cut ties and distance themselves from the more extreme group," said Lau, adding the central government would be under greater pressure to take an even more hardline stance against the city's protesters after an outpouring of support for the two assaulted mainland men on Weibo, the Twitter-like social media platform in mainland China.
Student Winfred Leung believed the tactics of blocking tourists from leaving needed to be reviewed.
"When we block the MTR, residents can still switch to buses. But here, tourists need to pay much more if they miss their flight," he said. "And some families really have only one chance to travel in the whole summer. I don't think we should obstruct them from checking in."
The young protester, who also appeared at the front during clashes with police, believed the next move should be to resume peace.
Although he thought the airport was a key battle to let the world know what was going on, he believed protesters could also make their voices heard by reinforcing their message across different districts.
Mak Chin-ho, assistant commissioner of police in charge of operations, said the officer who drew his gun and pointed it at the protesters did so because he was being assaulted.
"A group of enraged protesters cornered and assaulted him. They even took away his baton and pepper spray. His life was seriously threatened and thus could only draw his gun and protect himself," Mak said.
"My colleague's decision was absolutely right, totally legal and reasonable. His action was heroic, decisive and restrained.
Mak accused the protesters of not letting the officers and their vehicles leave the airport after the officers helped paramedics get the first assaulted mainlander into an ambulance.
He added that the police did not deploy any undercover agents disguised as protesters during Tuesday's events.
During the press briefing, acting district commander of airport district Lau Wing-kei was asked why some officers were wearing unusual uniforms that did not display their police numbers. He replied that they were from the Airport Security Unit and they were receiving training in different uniforms when they were instructed to report to the airport.
The situation was urgent so they had no time to change into other attire.
Additional reporting by Kanis Leung and Kimmy Chung