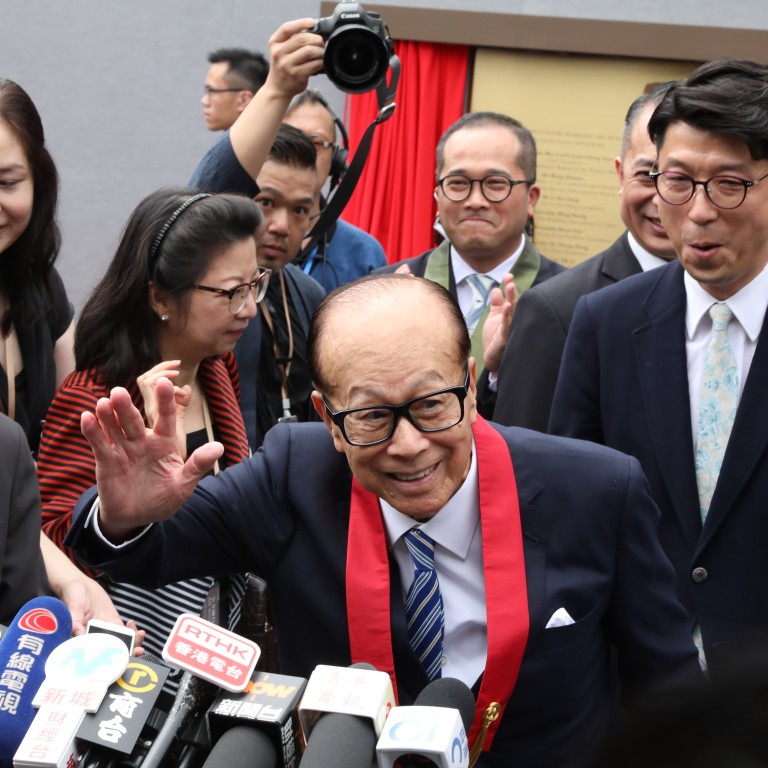 Hong Kong tycoon Li Ka-shing invokes poetry in call for end to protests and violence
In a statement, he says 'the melon of Huangtai cannot bear the picking again' – meaning something has suffered so much that further attack would ruin it
It didn't go unnoticed in the mainland, with hashtag #LiKa-shingSpeakingOut one of the most searched-for phrases on Weibo – until it was disabled
If ambiguity in politics is an art, Hong Kong tycoon Li Ka-shing has once again proved to be a master of it.
The city's business leaders have gone public one by one to condemn chaos and violence triggered by the massive anti-government protests. On Thursday, the 91-year-old, Hong Kong's richest person, took out advertisements in some of the city's newspapers.
Two full-page statements – one in colour and one in black and white – were both signed off with "a Hong Kong resident Li Ka-shing". The colour one was more direct and straightforward, dominated by the Chinese word for "violence" with a cross through it, flanked by slogans about loving China and loving Hong Kong. At the bottom, it said "stop anger and violence in the name of love".
But the advertisement had an interesting header that said "the best of intentions can lead to the worst outcome". It did not specify what "the best of intentions" referred to.
The black-and-white full-page statement was minimalist in style. Apart from the header and signature, it contains only eight Chinese characters, which literally translate as: "The melon of Huangtai cannot bear the picking again."
Li's first public statement on the protests has not gone unnoticed in the mainland. The hashtag #LiKa-shingSpeakingOut was one of the most searched-for phrases on Weibo, China's Twitter, with about 1.95 million searches by about 1pm on Friday. By the afternoon though, the hashtag was no longer available for searches on the social network and neither was #LiKa-shing, but users could still do a keyword search for the tycoon's name.
With the hashtags disabled, it no longer appeared on Weibo's list of hot topics, but users could still post their reactions – some calling him "an old fox" for his ambiguity.
The message may have seemed cryptic to many, but it is rich in meaning and open to interpretation. It is also not the first time that Li – nicknamed the Superman for his Midas touch – has used the phrase.
In fact, this has become his favourite line in addressing contentious political issues. The last time Li, the city's most influential businessman, used the line was in 2016, when he was asked whether then-Hong Kong chief executive Leung Chun-ying would run for a second term. Leung did not enter the race in the end.
The phrase – derived from a Tang dynasty poem – means that something has suffered so much that any further attack would completely ruin it.
Li issued a statement to media on Friday through his spokesman, who said Li had shared his thoughts because he believed Hong Kong's prosperity hinged on the principle of "one country, two systems".
He said the tycoon believed the most pressing issue for the city was to stop the violence and maintain the rule of law.
"The road to hell is often paved with good intentions," the spokesman quoted Li as saying. "We need to be mindful of unintended consequences."
He said Li believed violence in thought and actions should not be the way to achieve any vision, "because they misrepresent".
"We need to cherish ourselves, our identity as Chinese and a Hong Kong citizen, just as we treasure freedom, empathy and rule of law," Li's statement said.
When asked why Li put out two different adverts on the same day, the spokesman said that Hong Kong's situation was complicated and it was difficult to communicate to every side with the same message and language.
The spokesman said Li believed this meant "learning from the Lotus Sutra, which teaches us that a method of communication with beings of different levels and different types [must vary accordingly]". "In my opinion, today there is no single message [that fits] different types [of people]," the spokesman quoted Li as saying.
Li said the government had heard the message from the protesters "loud and clear" and was trying to think of solutions.
"The young always fear they may not have a stake in the future. Investing in our next generation will always bear fruit for our city," he said.
Hong Kong people must treasure the unique time and space created by "one country, two systems", Li said. "Time is an endless river in constant flux, but we cannot step in the river twice. Let's pray we never let today's passion becomes tomorrow's regret."
Li's spokesman also urged the public not to "read too much" into his words. "Mr Li's statement is in line with the mainstream values of Hong Kong. There is no need to read too much into it," he said.
On the surface, Li's reference to the melon of Huangtai seemed an apt description of Hong Kong, torn by violence and radical views.
But it also carries another layer of meaning.
The poem was written by Li Xian, the crown prince of the Tang dynasty who lived between 654 and 684AD.
The sixth son of emperor Gaozong and the second son of the legendary empress Wu Zetian, Li Xian was known as an intelligent and capable prince. As his brothers fell one by one in a Byzantine court intrigue, he was installed as the crown prince and the heir apparent.
But his ambitious mother concentrated all of the power in her hands as her ailing husband succumbed to illness. She became suspicious of Li Xian and put him under house arrest.
In desperation, Li wrote the poem as a subtle protest to his mother.
Here is a rough translation:
Growing melons beneath Huangtai,
Hanging heavily, many grow ripe,
Pick one, the others will be fine,
Pick two, fewer are left on the vine,
If you want to get yet another one,
That's where we must draw the line,
For if there is any more reaping,
You will end up with an empty vine.
The prince's lament did not move his mother. The empress accused Li Xian of treason and he was sent into exile. In 684, shortly after his father's death, empress Wu forced her son to commit suicide.
The melon of Huangtai, however, became a popular expression in Chinese culture, symbolising suffering in the face of persecution.
Pacific Century Group, chaired by Li Ka-shing's younger son Richard Li Tzar-kai, also issued a full-page statement that simply said "oppose violence, maintain social stability and resume rational discussion".
This article appeared in the South China Morning Post print edition as: Li Ka-shing's poetic message a masterpiece of ambiguity