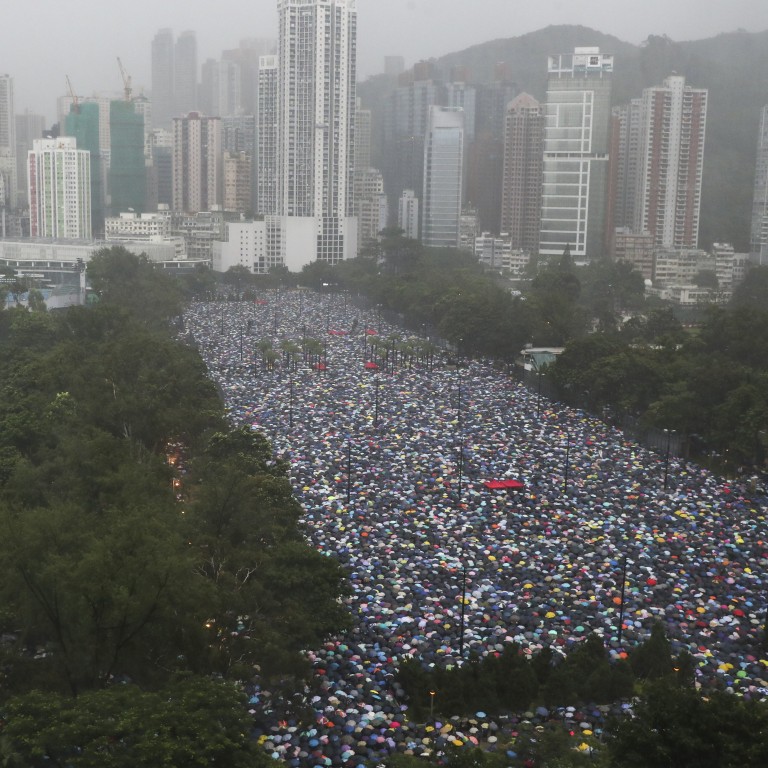 Peaceful march was change of strategy for Hong Kong protesters, giving government less room to act against them
Outlawed demonstration draws a massive turnout, but goes off without incident – contrasting with chaotic violence at airport earlier in week
Move represents a change of tack for protesters, although some say radical action should not be abandoned entirely
Hong Kong protesters avoided violence in Sunday's massive anti-government march, a change of strategy that gave the authorities less room to act against them, observers said.
Political scientists and some protesters said the peaceful march was also the result of reflection over their conduct at Hong Kong International Airport last week, which drew a strong backlash.
Last Tuesday, protesters were criticised for assaulting two mainland Chinese men they believed were undercover agents.
The incidents happened on the fifth day of a mass sit-in at the airport, which resulted in the cancellation of hundreds of flights and inconvenience to thousands of travellers.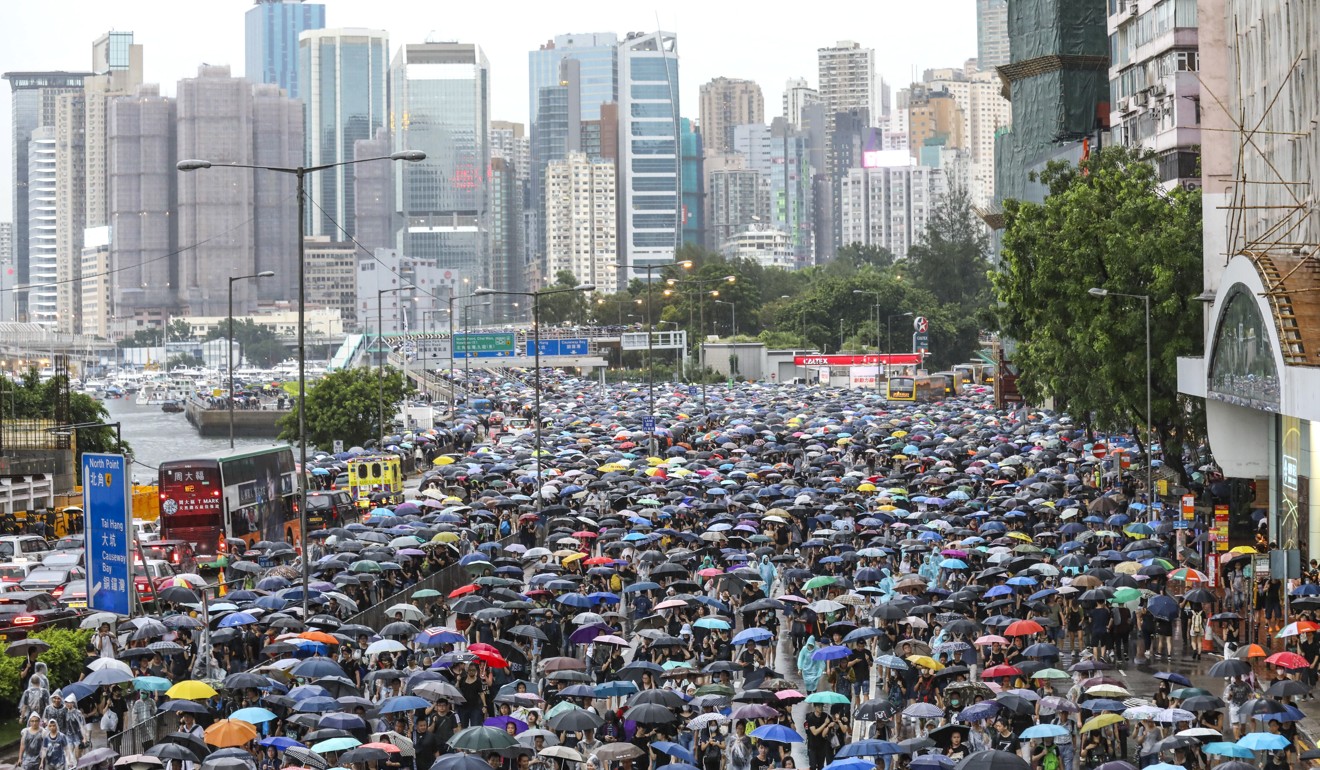 On Wednesday, the protesters admitted they had overreacted by attacking the men and apologised for the disruption at the airport.
In the wake of the airport chaos, it is important to keep the protests peaceful, said retail industry worker Tonny Chan, 32, on Sunday.
"The whole world is watching our struggle now and no one likes to see violent clashes," he said. "I also do not want to see our young people giving up their futures to defend us."
Political scientist Ma Ngok, of Chinese University, said the sheer turnout on Sunday sent a signal to the Hong Kong government and Beijing that public opinion had not changed despite last week's events and repeated warnings by the authorities that some actions of the protesters displayed "sign of terrorism".
On Sunday afternoon, a black-clad protester wearing a balaclava held up a placard urging people not to draw a line between radical and peaceful protesters.
"To those supporters of non-violent actions, it is our turn to join your peaceful [rally] today," the placard read. "Thanks for not leaving us behind and for being our staunch support even though you may not entirely agree with our approach."
John Lee, a 21-year-old Chinese University student, said that in light of what happened at the airport, protesters need to reflect on their strategy.
A protester who had taken part in rowdy demonstrations said those who advocate a more aggressive approach should still carry on if the movement is to succeed.
"It will only work when peaceful and radical protesters are both allowed to do their thing," added the masked man, who said he was in his early 20s and declined to be named.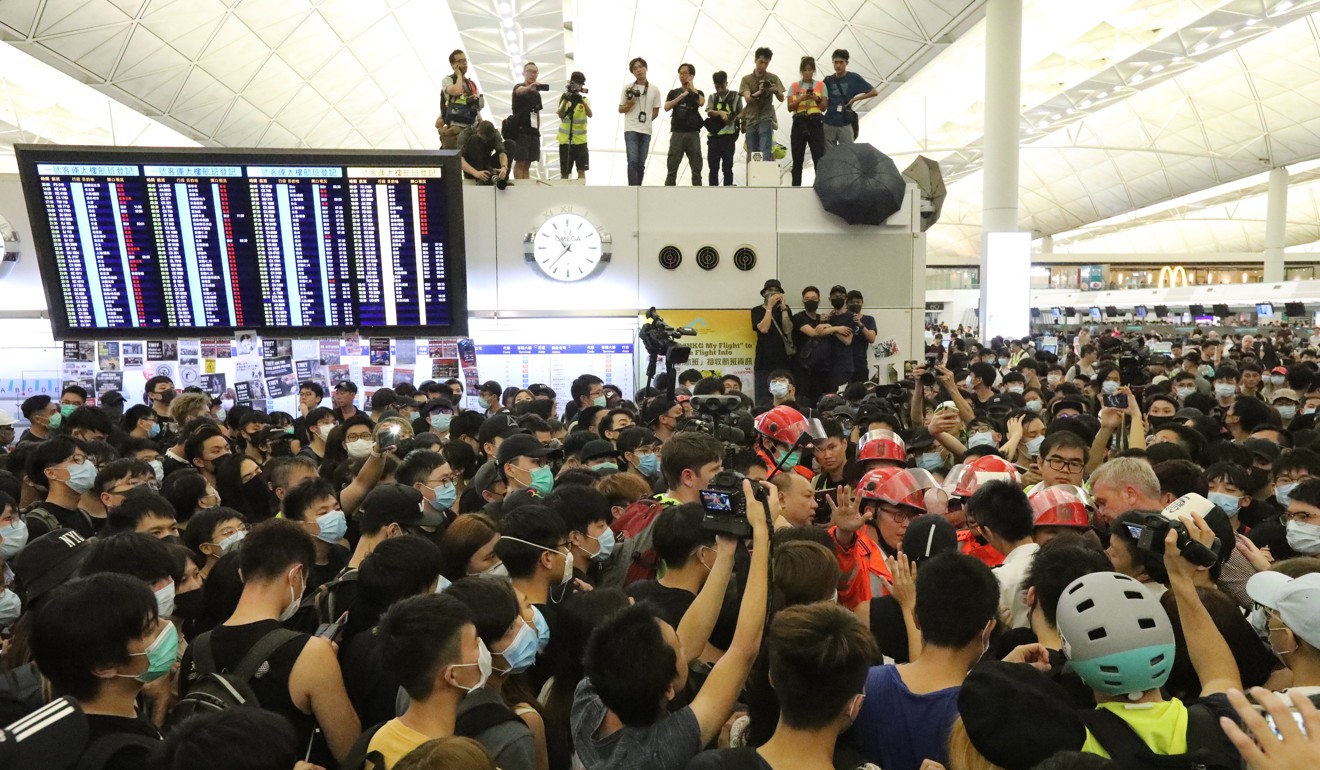 He said the admission by the police last week that they had sent undercover officers into the protesters' ranks had spooked protesters and left him and his comrades feeling their hands were tied.
"Now everyone thinks you are a 'ghost' when you suggest radical ideas," he said, using the Cantonese term for an infiltrator. "So it is difficult to convince others to do what we used to."
Indeed, a suggestion to besiege the Beijing liaison office in Sai Ying Pun was voted down overwhelmingly on the Reddit-like site LIHKG, which has been the virtual command centre of the protest movement.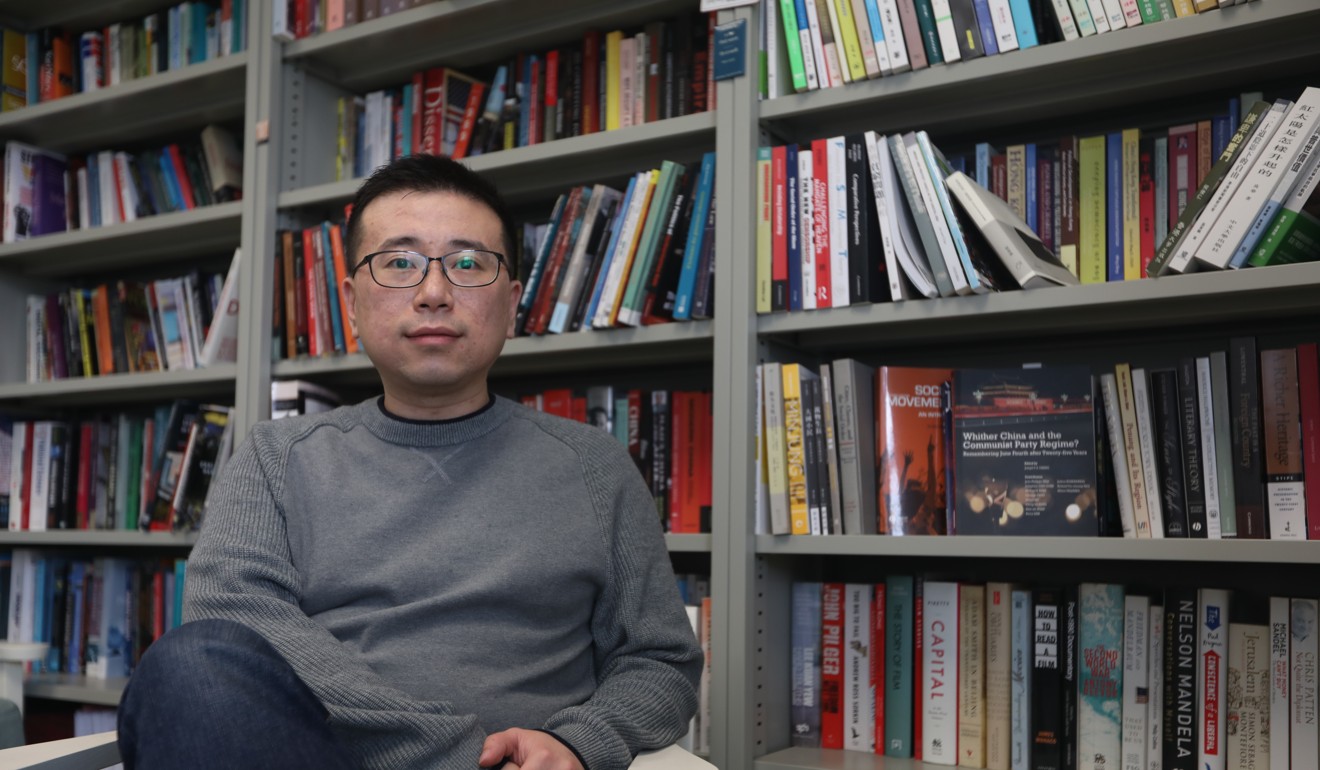 Political scientist Ma said the protesters' change of strategy was mostly a response to government and police tactics, including the police infiltration of protesters' ranks.
"Protesters know there are a lot of spies among them after what happened last week. They know they shouldn't fall into the trap of the regime, which apparently wants to create violent clashes," he said.
Baptist University academic Dr Edmund Cheng Wai noted the intense discussion on LIHKG over last week's events and said the non-violent approach on Sunday showed the movement's "reflective mechanism" at work.
"What happened at the airport crossed the line even in the eyes of foreign media," he said.
Cheng said keeping the protests peaceful would make it difficult for the government to dismiss the movement as violent.
While he believed people might be more likely to opt for peaceful protests in the coming days to sustain the movement, violent clashes might still happen.
"It also depends on their interaction with the police," he said.