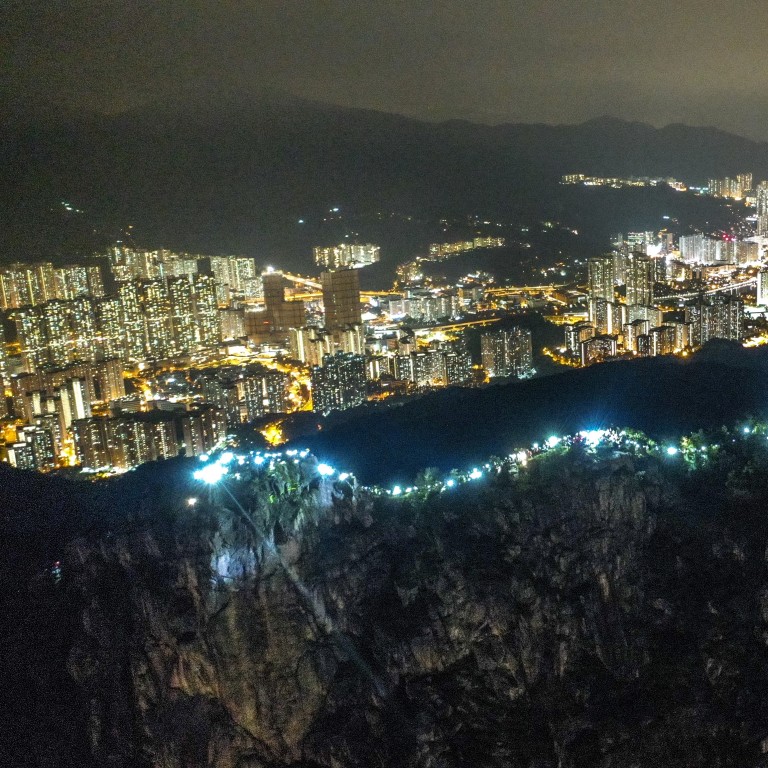 Demonstrators offer sparkling visions of unity as an estimated 210,000 people form 60km of human chains to encircle city in 'Hong Kong Way'
Starting from 7pm, human chains stretched across city to push for five core demands the government has rejected
Hongkongers also trek up Lion Rock where they chanted 'Hongkongers, add oil!' and 'Liberate Hong Kong, revolution of our times!"
Anti-government protesters formed long human chains across Hong Kong on Friday night, standing on pavements in snaking lines that stretched along three railway lines in an unprecedented event they dubbed the "Hong Kong Way".
They began at 7pm, flocking outside MTR stations and lines and at other gathering points, from where they spread out over a couple of hours to stand side by side in human chains extending from Kennedy Town to Causeway Bay, from Kowloon Tong to Yau Ma Tei, along the Tsim Sha Tsui harbourfront, and from Tsuen Wan to Lai King, as well as further east along the Kwun Tong line.
"Hongkongers, add oil!" they chanted, "Liberate Hong Kong, revolution of our times!"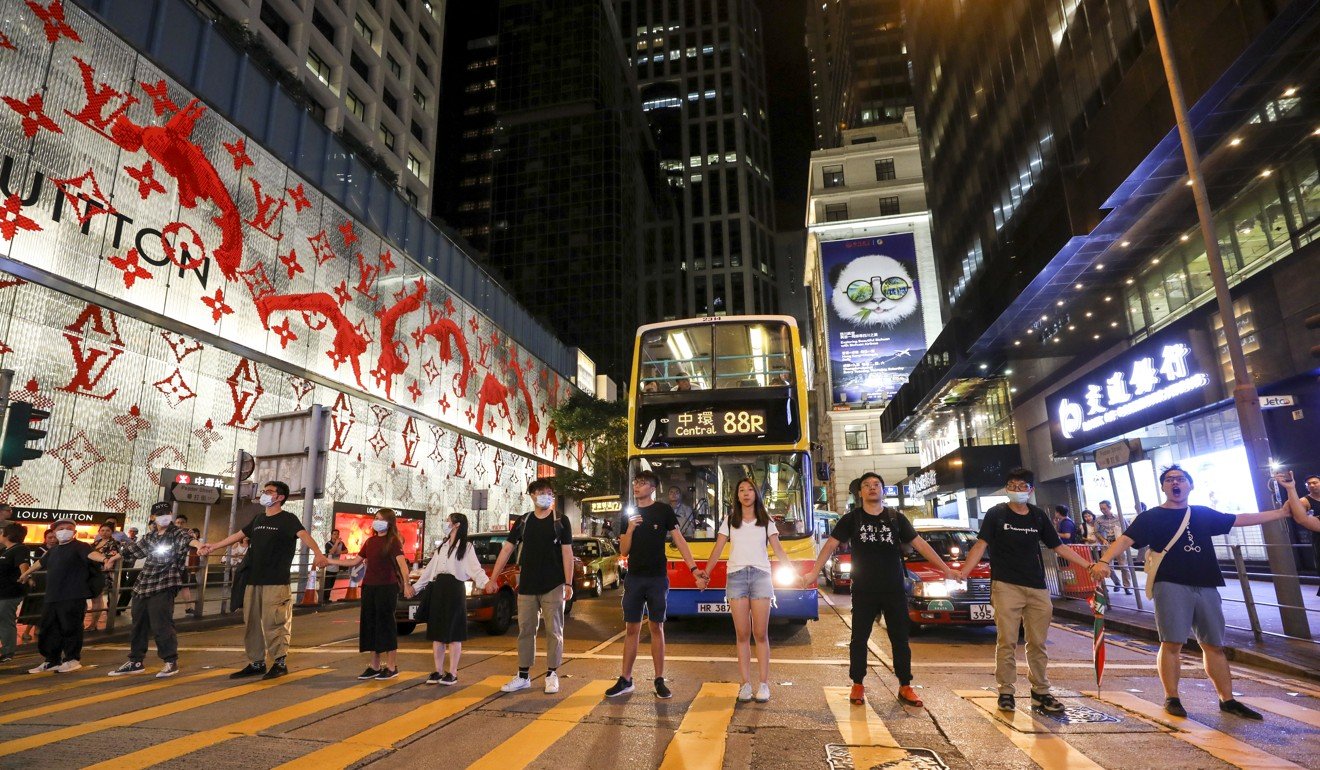 Organisers said the turnout exceeded expectations as more than 210,000 people joined hands across districts. This was a revised figure announced the next morning from the original of 135,000.
The length of human chains measured 60km (37 miles) in total.
Social worker Tom Tse, 42, said he wanted to invoke the "Lion Rock spirit" of Hongkongers' tenacity and perseverance during hardship.
At nine years of age, Shanna was one of the youngest to make it all the way up. "My mother forced me to come," she said.
A 33-year-old civil servant who asked to remain anonymous said, "It takes time and stamina to climb up Lion Rock, just like the hardships we are going through in this movement."
Organisers had estimated that 44,000 people were needed to form a 45km Hong Kong Way and attract global attention to their campaign.
They were pushing for their five core demands which the government has rejected so far: a formal withdrawal of the now-abandoned extradition bill which first sparked the current crisis; amnesty for those arrested; a commission of inquiry into the use of force by police; a retraction of protests being characterised as riots; and the revival of the city's stalled political reform process.
They were also marking the 30th anniversary of the Baltic Way mass demonstration, when about 2 million people from Estonia, Latvia and Lithuania formed a human chain spanning about 680km across the three states in their push for independence from the Soviet Union in 1989.
In 2013, an estimated 1.5 million people also came together in Spain to form the 400-kilometre Catalan Way as they called for the independence of Catalonia.
However, the Hong Kong Way participants said they were not calling for the city's independence from China – Beijing has drawn a red line against separatism.
Protesters on Hong Kong Island formed a continuous human chain stretching from Kennedy Town to Shau Kei Wan.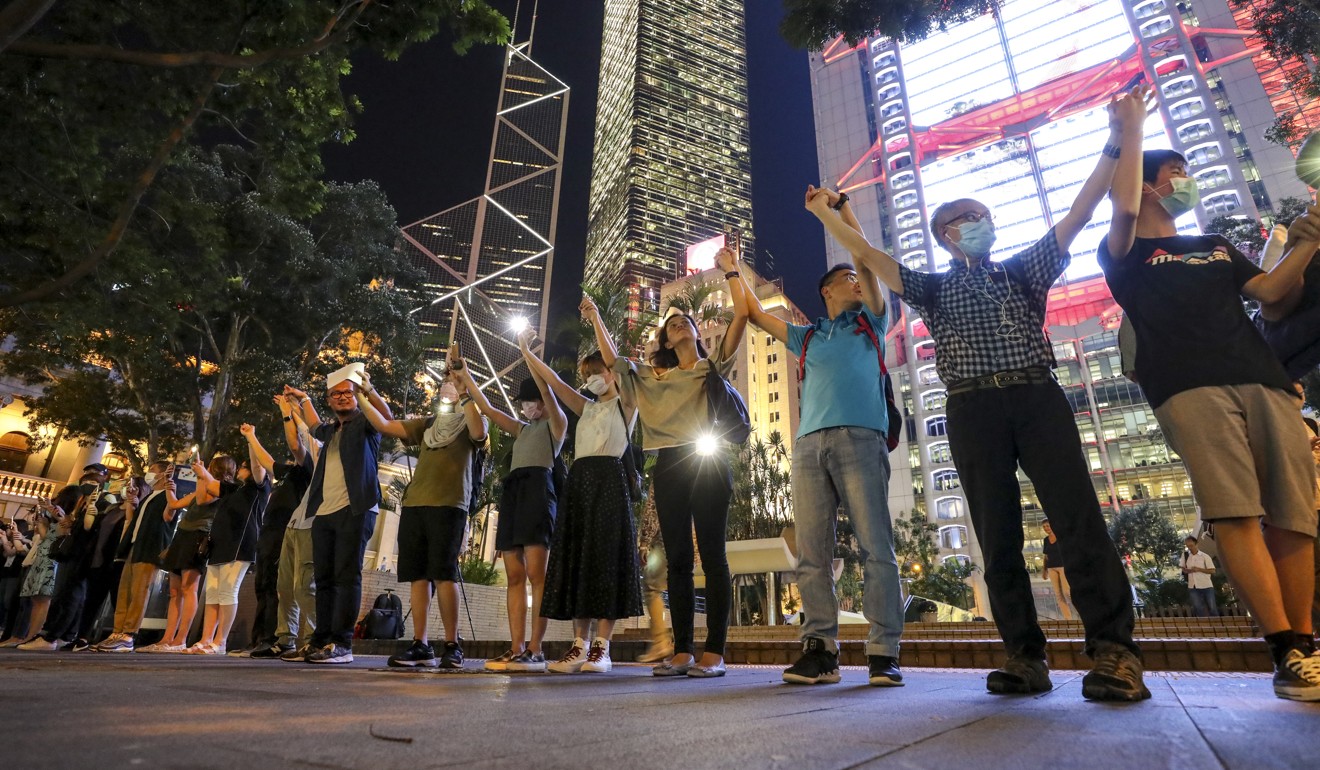 At 9pm, many responded to online messages to cover their right eye while chanting, "Black cops, return the eye!"
They were referring to the case of a young woman who has become a rallying symbol of the anti-government movement after she suffered a severe eye injury during a protest outside Tsim Sha Tsui Police Station.
Tim Chan, a 28-year-old banker, said he was aware of the historical context of the Baltic Way protest and the sensitivities where Beijing was concerned, but he insisted the Hong Kong Way was more about the five demands of the protesters.
"Beijing has labelled protesters as independence seekers but most of us just want the government to safeguard Hongkongers' rights and freedoms," he said.
Social worker Fish Yu, 60, said, "Beijing knows that most of us are not asking for independence. It was just their excuse to smear our protests."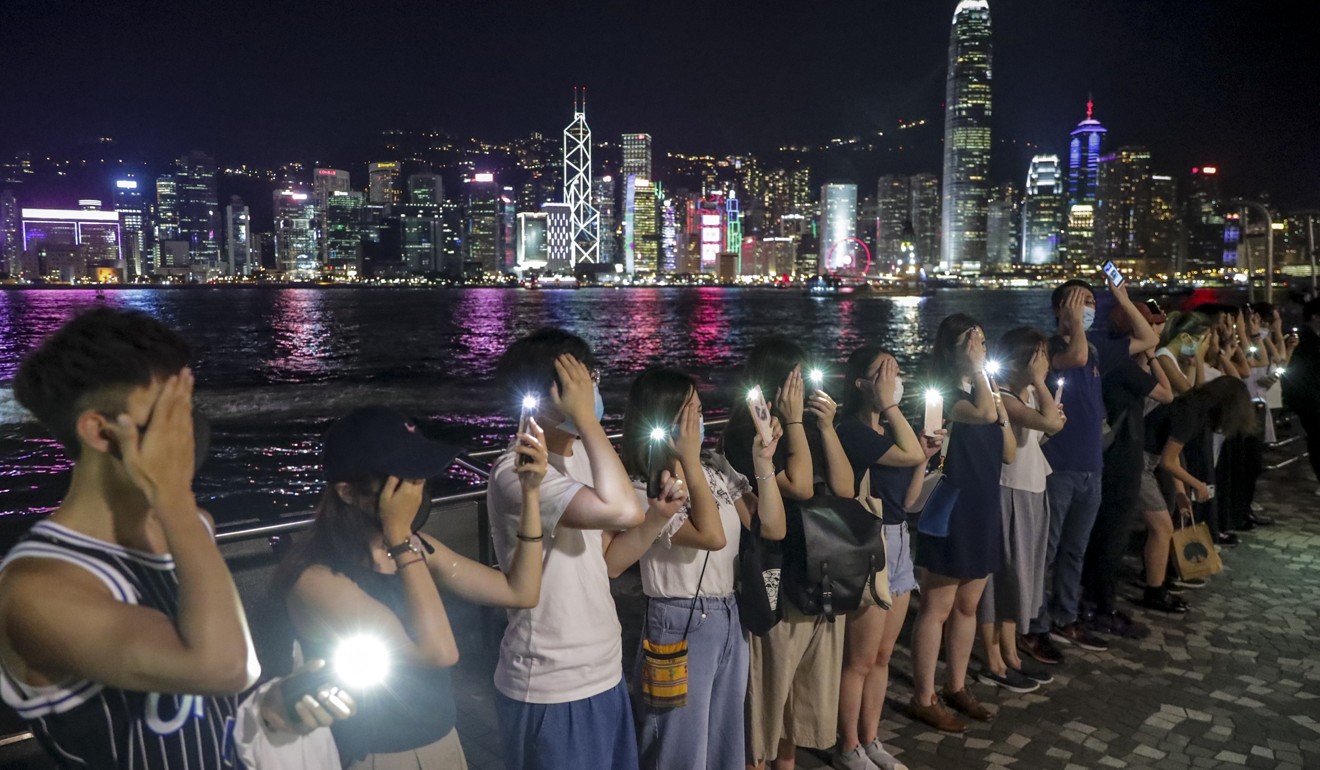 Lau Siu-kai, vice-chairman of The Chinese Association of Hong Kong and Macau Studies, a semi-official think tank, said Beijing and mainland Chinese were likely to find the Friday protest "provocative".
"Beijing is wise enough to know that not everyone who came out understands what the Baltic Way was about, or supports Hong Kong independence," he said.
"But the Baltic Way triggered the dissolution of the Soviet Union; Beijing would see this symbolic protest in Hong Kong as a way to attract attention and a sympathetic response from Western countries and media."
Lau suggested the Hong Kong Way would reinforce Beijing's impression that the opposition camp had been colluding with external forces and local separatists in orchestrating the protests.
Additional reporting by Alvin Lum, Michelle Wong and Zoe Low
This article appeared in the South China Morning Post print edition as: 'Hong Kong Way' forms human chains across city