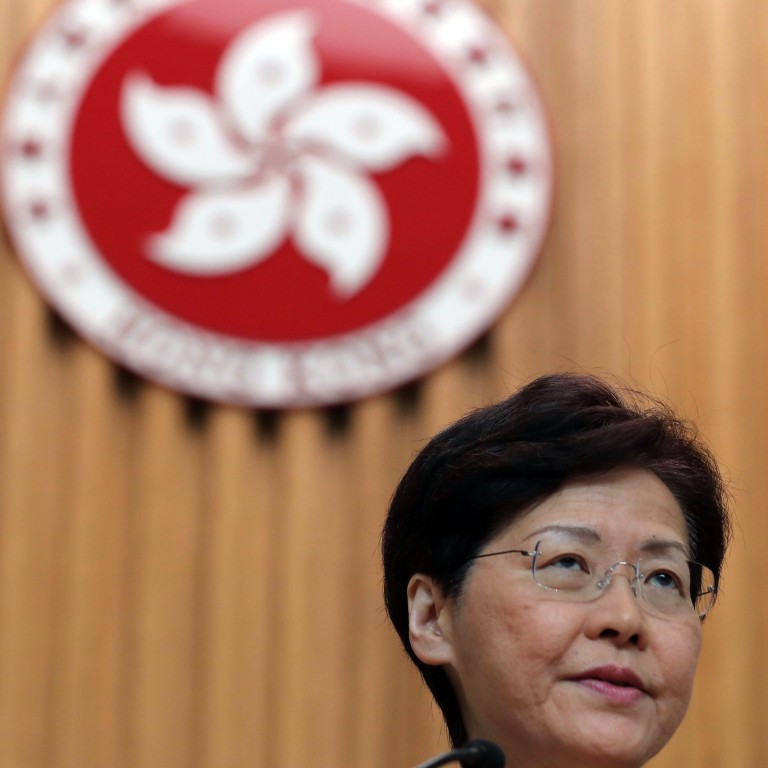 Hong Kong leader Carrie Lam meets young people a day after unprecedented violence as police vow to match force with proportionate response
Lam, accompanied by education minister Kevin Yeung and home affairs chief Lau Kong-wah, holds closed-door meeting with about 20 people
Police top brass defend officer who made headlines when he fired a warning shot during chaos in Tsuen Wan on Sunday
Hong Kong's beleaguered leader
Carrie Lam Cheng Yuet-ngor
sought to reach out to young people on Monday, a day after unprecedented violence shocked the city as police vowed to match escalating force with a proportionate response.
Lam, accompanied by education minister Kevin Yeung Yun-hung and home affairs chief Lau Kong-wah, held a closed-door meeting in the afternoon with about 20 people, mostly in their 20s and 30s, who did not appear to have any political affiliations.
A source who attended the meeting said it was initiated by Beijing's liaison office. Lam spent an hour at Youth Square in Chai Wan, while her ministers stayed for three hours. The session took place two months after university student unions rejected her offer to have a dialogue with her amid the political crisis that has engulfed the city since June.
Around the time when Lam was meeting them, police top brass defended an officer who made headlines when he fired a warning shot during the Sunday
chaos in Tsuen Wan
, saying at a press briefing that he acted with courage and restraint.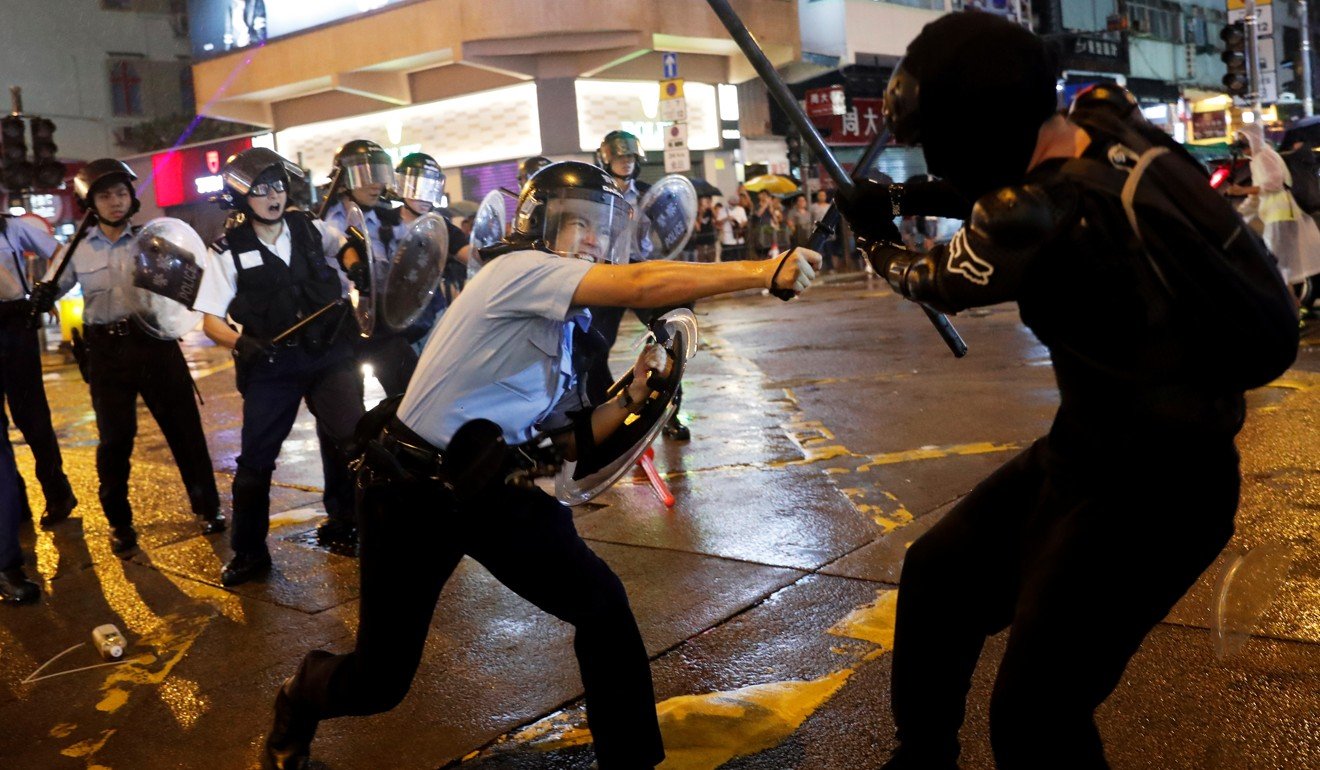 They also criticised protesters for using deadly weapons and acting with intent to kill one of their men who had fallen to the ground in the fierce melee.
Late on Monday, a group of protesters gathered in Sham Shui Po and shone laser pointers at the police station but were quickly dispersed by officers in riot gear.
Since June, Hong Kong has been roiled by
protests
sparked by the government's now-abandoned plans to pass a bill that would allow criminal extraditions to mainland China. Even though Lam has declared the bill "dead", defiant protesters have raised five main demands, including the formal withdrawal of the legislation and an independent judge-led inquiry into police actions.
According to a source at the meeting, some attendees told Lam it was not necessary for her to satisfy the five demands all at once. But Lam could consider completely withdrawing the bill first and establishing the independent inquiry, they told the chief executive.
Lam responded that it would be difficult to completely withdraw the bill but stopped short of elaborating on the reasons, the source said. She also said the police had already been under huge pressure from the protesters' accusations of excessive use of force.
According to one attendee, Casper Wong Chun-long, deputy chairman of centrist group Third Way, Lam was mostly listening and taking notes at the meeting.
"She said, 'I fully accept all your views and criticisms'," Wong said.
On Monday afternoon, Terence Mak Chin-ho, the assistant commissioner of police in charge of operations, urged Hongkongers to stop keeping quiet amid escalating violence because protesters would take their silence as a nod to the actions.
"Their radical acts have intensified with the use of more dangerous and sometimes deadly weapons, including bricks, metal poles, long sticks and petrol bombs," Mak said.
"It is the police's duty to maintain law and order, protect citizens' safety and their properties. In the face of illegal actions, police must resort to using proportional force. I hope the public can understand this."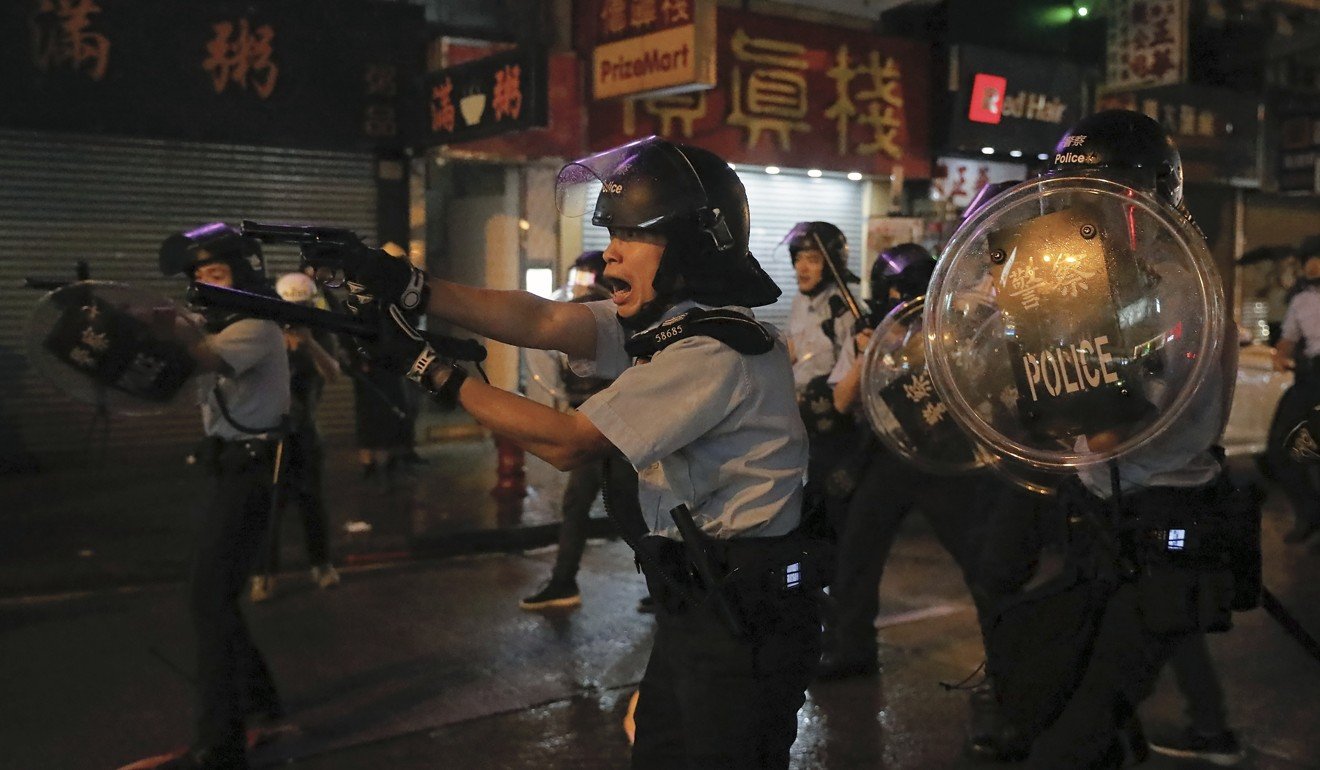 Mak made the remark a day after officers fired 145 rounds of tear gas, 50 rubber bullets and 13 sponge grenades to disperse protesters in Tsuen Wan. Fifty-four protesters, aged 12 to 51, were arrested on suspicion of taking part in an illegal assembly, assaulting officers and being in possession of offensive weapons, among other actions.
At one point, on Sha Tsui Road, police said that about 100 protesters assaulted several officers who were not equipped with full riot gear but pepper spray, revolvers, shields and batons.
"In one flashpoint, our officer fell down. But rioters still charged at him brutally. There was a clear intention to take his life. Seeing that an officer's life was in danger, and after having given repeated warnings to the rioters, other officers there decided to give up on their batons and chose to use the most appropriate force they have – their revolvers," said Chief Superintendent John Tse Chun-chung of the police public relations branch.
Six officers pointed their revolvers at protesters and passers-by after one fired a warning shot skywards.
"That officer acted with courage and restraint. That use of force was necessary and reasonable," Tse said.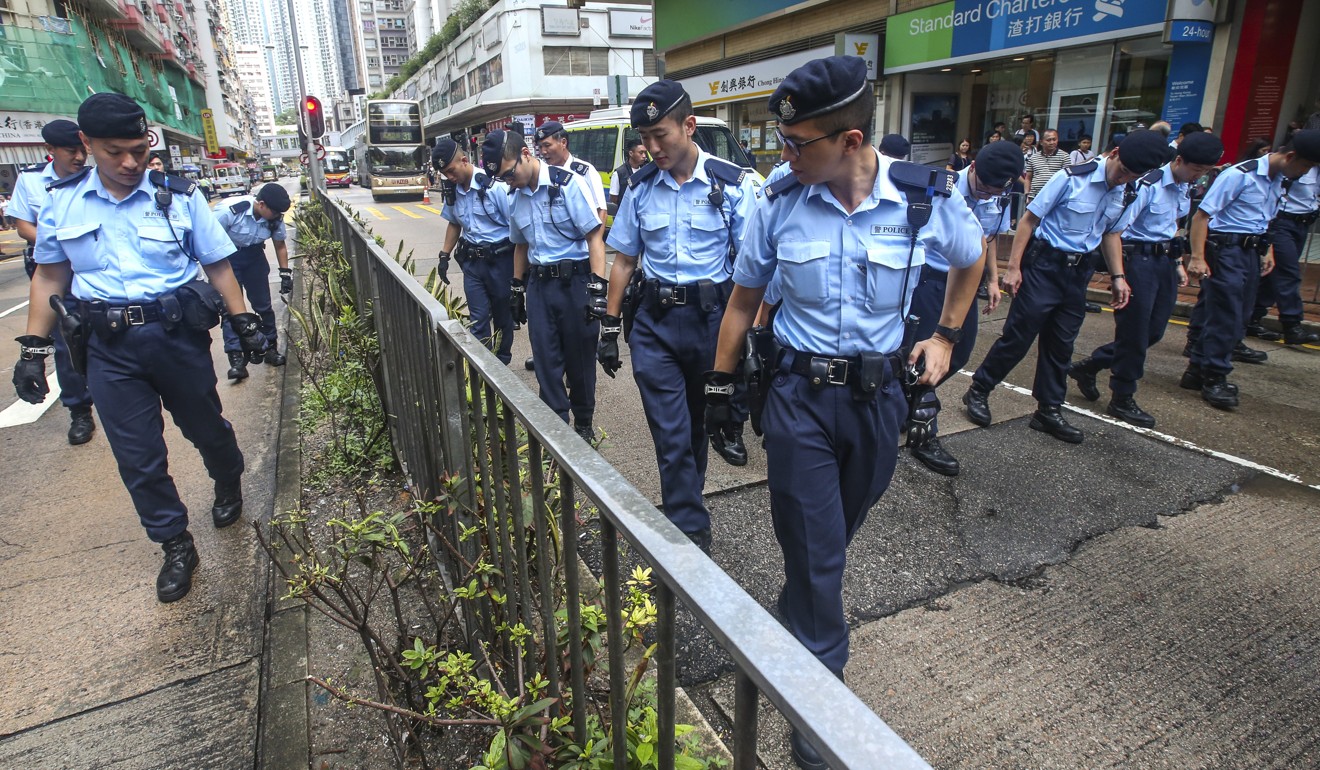 Soon after the shot was fired, an officer kicked a man who had gone down on his knees to beg him not to shoot anyone. Tse defended the move, saying the policeman was trying to push back the protesters at an intense moment and his hands were full, holding a revolver in one and a damaged shield in the other.
Sixteen officers were injured on Sunday, including one who was stabbed in the back by a sharp object. He was still hospitalised on Monday.
During the weekend of mayhem, 86 people were arrested.
On Monday afternoon, dozens of officers scoured Sha Tsui Road for the sole bullet fired but they could not find any trace of it.
In response to a Junior Police Officers' Association suggestion on Monday that the force's management review its operational strategy, Mak promised to conduct a review.
In a separate press briefing, the city's No 2 official Matthew Cheung Kin-chung expanded on the government's plans to meet with young people.
"We hope to find out the deep-rooted conflicts in our society and why some young people are so radical," he said.
Suggesting the path ahead without elaborating, he added: "The government had drawn reference from the French government's response to 'yellow vest' protests. They held about 10,000 town hall meetings."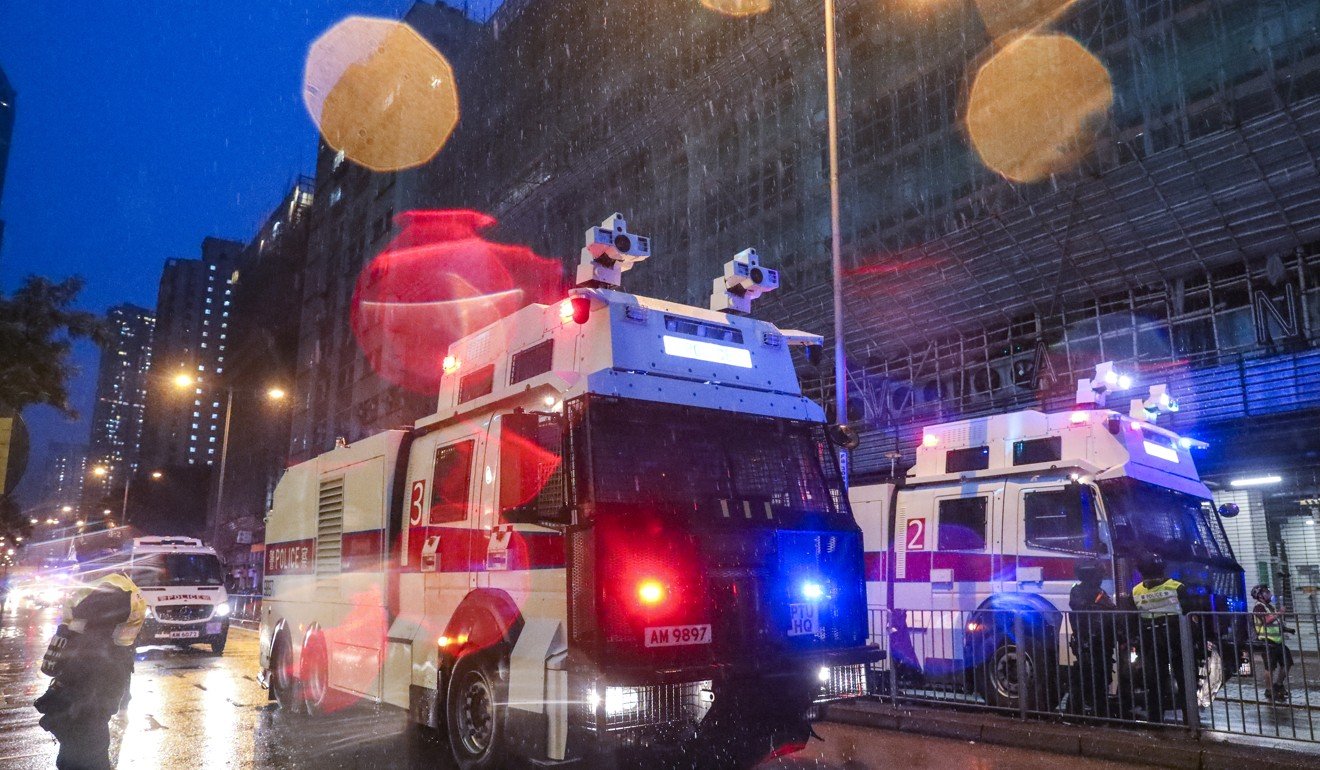 In response to weekend rounds of rioting that last December made parts of Paris resemble war zones, French President Emmanuel Macron launched a two-month consultation that included town hall meetings across the country.
On Monday evening, Hong Kong protesters held a press briefing to say that they escalated their use of force merely for "self-defence" purposes in the face of police violence.
"It was because police have escalated the use of force in the first place, using, for example, water cannons. We need to do more to protect ourselves," said a masked protester who identified himself as Chris Chan and as being in his 30s.
"The use of petrol bombs is also meant to create separation, as we're fearful more protesters will be arrested."
Claiming he represented 100 radical protesters, and was in touch with total of 300, Chan said the groups had no intention of holding a dialogue with the government. Previous discussions had only led to protesters losing out, he said.
He cited a high-profile televised debate between ministers, headed by Lam, and student leaders during the start of the Occupy demonstrations in 2014.
Four student leaders were later arrested in separates cases.
Additional reporting by Fiona Sun