LIVE
As it happened: violent clashes escalate in Hong Kong as protesters corner officers in Sha Tin MTR control room
More than 10 riot police quickly on the scene to rescue colleagues who had been making an arrest
Night-time escalation comes after a day of relative peace, with pre-emptive measures allowing airport to operate smoothly
Topic |  
Hong Kong protests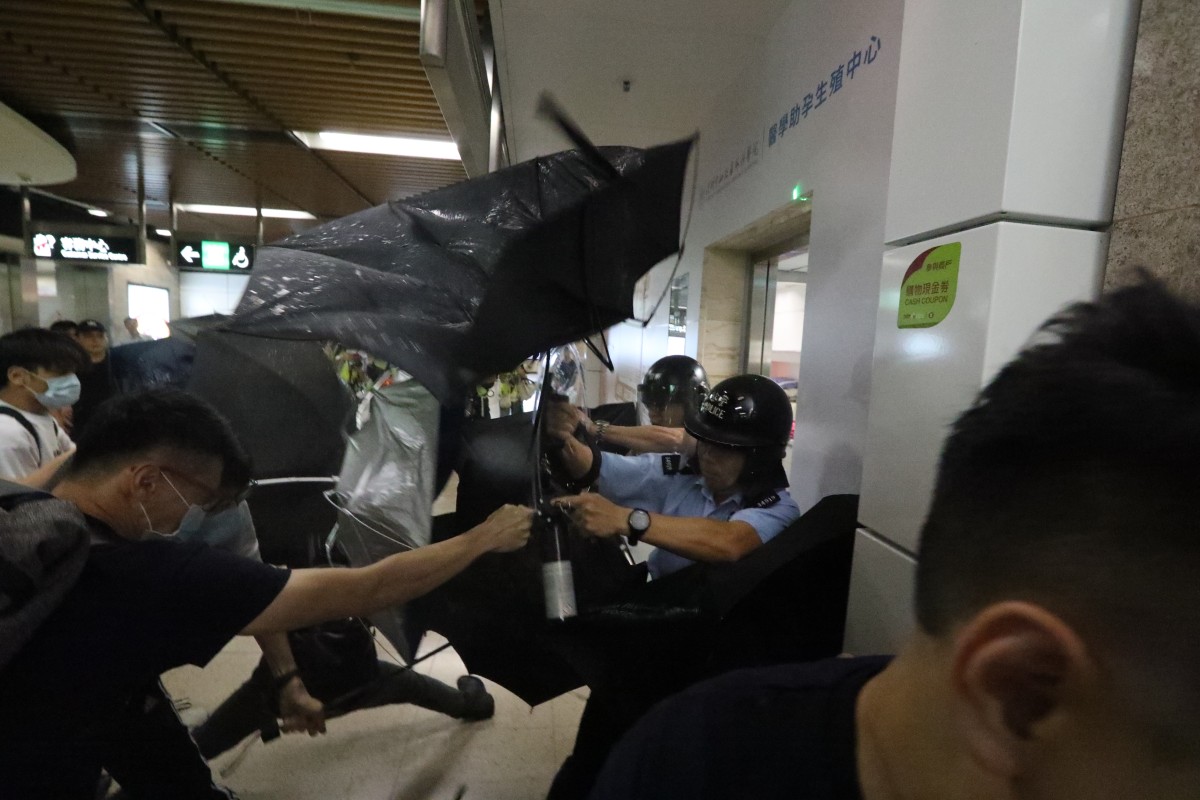 Police officers are forced to retreat into an MTR control room in Sha Tin station. Photo: Felix Wong
INTRODUCTION
Hong Kong is enduring its 14th weekend of protests on Saturday, a day after police fired multiple rounds of tear gas to disperse protesters in Mong Kok.
The battleground has shifted from earlier threats to besiege the airport – effectively snuffed out by pre-emptive police and government action – to malls owned by the city's rail operator, the MTR, before winding up on the increasingly familiar turf in Mong Kok.
Hundreds of civilians are in a stand-off with police on Nathan Road and a large fire was lit outside Mong Kok Police Station. Both Prince Edward and Mong Kok MTR stations have been closed for the second night running.
The latest action comes despite the city's leader Carrie Lam Cheng Yuet-ngor on Wednesday announcing she would formally withdraw the extradition bill that sparked the political crisis. Protesters have vowed to fight on until all five of their demands, including a judge-led inquiry into police's handling of the protests, are met.
Reporting by John Power, Kanis Leung, Linda Lew, Cissy Zhou, Phila Siu, Kimmy Chung, Karen Zhang, Danny Lee, Lam Ka-sing, Sarah Zheng and Mimi Lau.