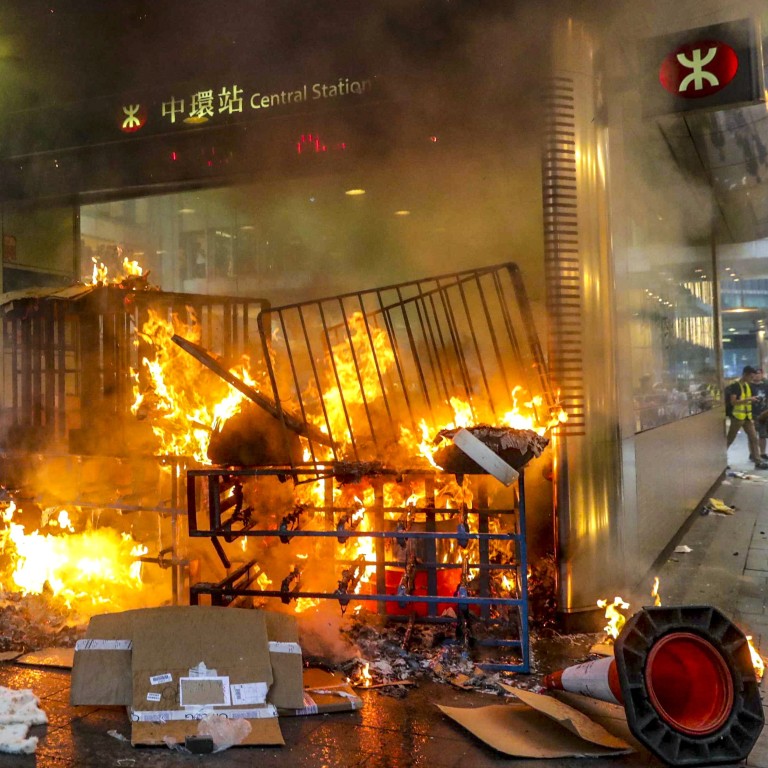 Hong Kong protests: peaceful pleas for United States' support quickly descend into usual mayhem as tear gas fired and MTR station trashed and burned
Thousands rally in city's business district to march to American consulate calling for help from US President Donald Trump
But radical faction breaks away setting fire to an entrance at Central MTR station before spreading chaos across Hong Kong Island and Kowloon
Thousands of protesters joined a peaceful march to the US consulate in Hong Kong on Sunday, urging American officials and politicians to support their cause by taking diplomatic action against the city's government, while radicals broke away from the main rally to unleash chaos once again.
Smaller groups of protesters forced some MTR stations to close as they vandalised entrances and set fire to one, while police responded with tear gas, baton charges and arrests.
All four stations – Central, Wan Chai, Mong Kok and Prince Edward – were reopened for service on Monday morning.
Separately, youth leader and anti-government activist Joshua Wong Chi-fung was arrested at the city's international airport as he was leaving for Germany and the US. Wong said he was wrongly accused of violating bail conditions, which allowed him to travel overseas after he was arrested in August on charges of organising, inciting and taking part in an illegal assembly during a siege of police headquarters in Wan Chai in June.
While thousands rallied at Chater Garden and marched up to the American consulate in the Central business district, appealing for help from US President Donald Trump, others were out looking for a fight.
The march began at 1pm, but trouble broke out around three hours later inside Central MTR station as riot police subdued and took away three men.
The MTR shut down the station, as small groups of radicals began vandalising the entrances, smashing glass panels, painting graffiti on the walls and throwing large potted plants down escalators.
One mob piled up wooden barricades at a station entrance and started a large blaze which was later put out by firefighters. In a later statement, the MTR strongly condemned the destructive acts and said an employee was struck by hard objects thrown by protesters. It was unable to say whether Central station would be reopened by Monday morning.
Stranded commuters had to join long lines for ferries to cross the harbour.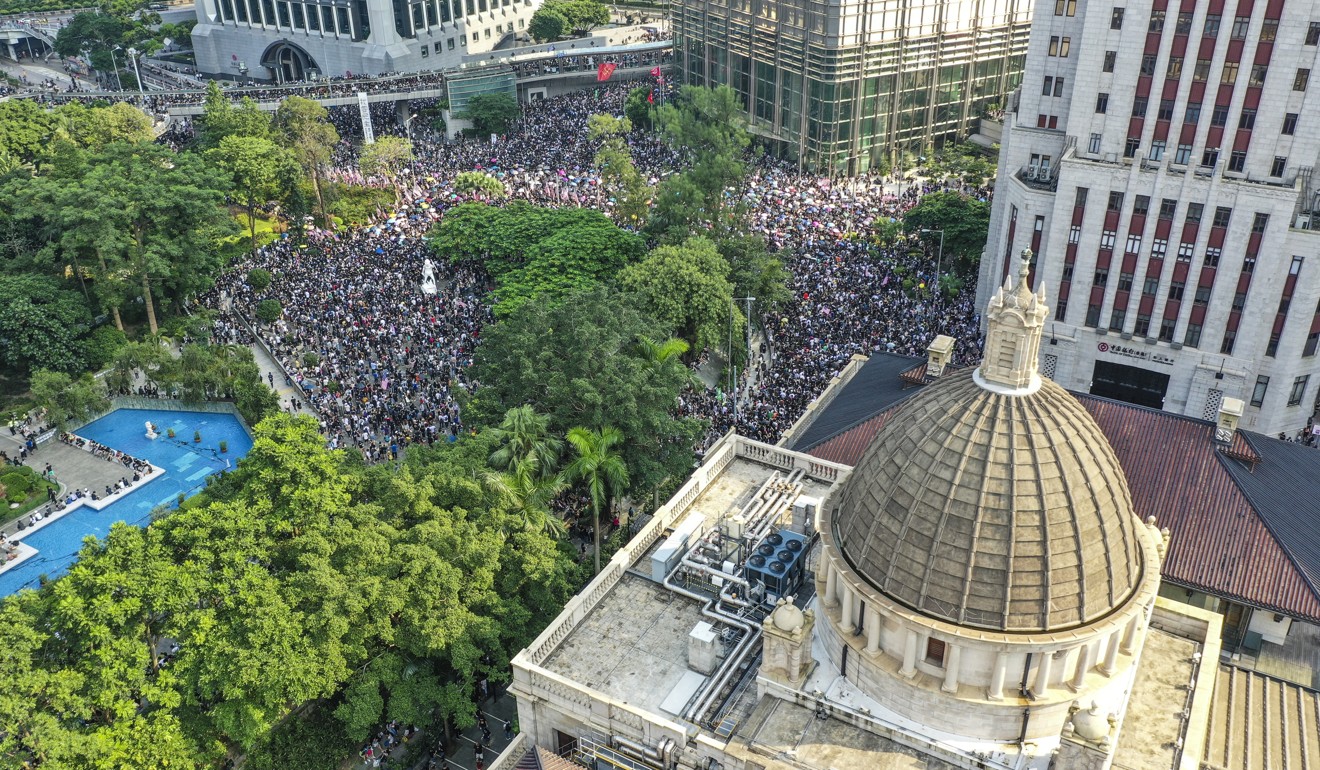 Protesters then spilled out onto multiple roads in Central, occupying Pedder Street and Des Voeux Road and starting a fire at the junction, as shops pulled down their shutters.
But as the riot squad moved in to disperse them, they moved on to Admiralty where there were more confrontations and stand-offs with police in the MTR station.
Next they descended on Wan Chai, with more acts of vandalism forcing the MTR to close another station, then continued onwards to Causeway Bay where a large crowd took over Hennessy Road.
Night had fallen when police fired multiple rounds of tear gas at protesters from an MTR entrance near the Sogo department store, a major shopping zone. Officers were also seen beating protesters trying to escape up an escalator.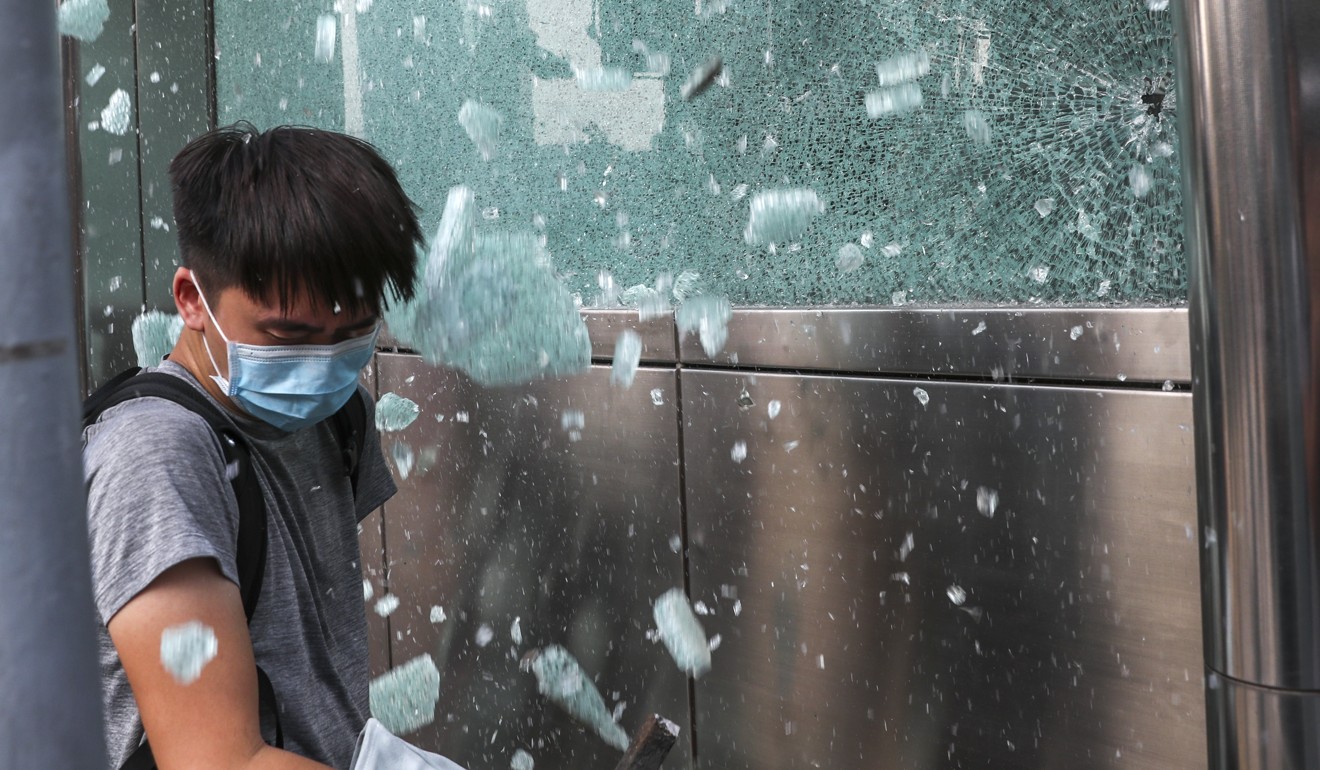 Amid the chaos in Causeway Bay, Canto-pop star Aaron Kwok Fu-shing was seen struggling to drive away from the area in his supercar.
As the night dragged on, the chaos spread to Mong Kok and Hung Hom.
Prince Edward and Mong Kok MTR stations were closed yet again as a big crowd took over the road intersection outside Mong Kok Police Station.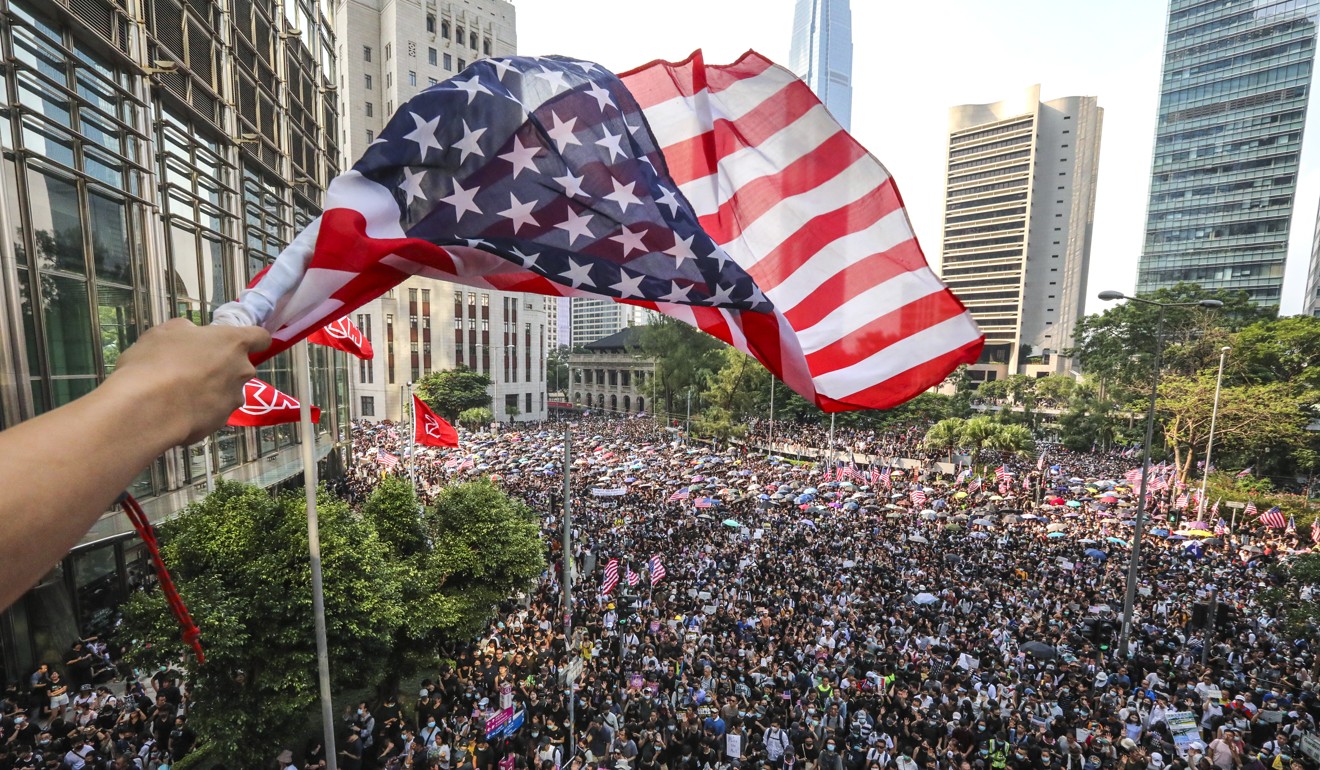 The protesters kept retreating every time police charged at them, only to regroup and confront them again.
From 9pm, protesters blocked carriageways at Nathan Road near Prince Edward Road West in Mong Kok, briefly paralysing the traffic with barricades made of trash bins and debris. Others hurled hard objects at the police station.
Earlier during the day, thousands of protesters formed a sea of black as they gathered at Chater Garden in Central and marched up Garden Road to the US consulate, many waving American flags.
"We are here to urge the US government to pass the Hong Kong Human Rights and Democracy Act," a 22-year-old graduate from Polytechnic University, who declined to be named, said.
"We are not selling out Hong Kong but defending the Basic Law, which promises us democracy and human rights."
Protesters are encouraging US lawmakers to pass the act, a piece of bipartisan legislation that could pave the way for Washington to sanction mainland Chinese and Hong Kong officials as well as strip the city of its special status as a separate trade and customs entity from the rest of China.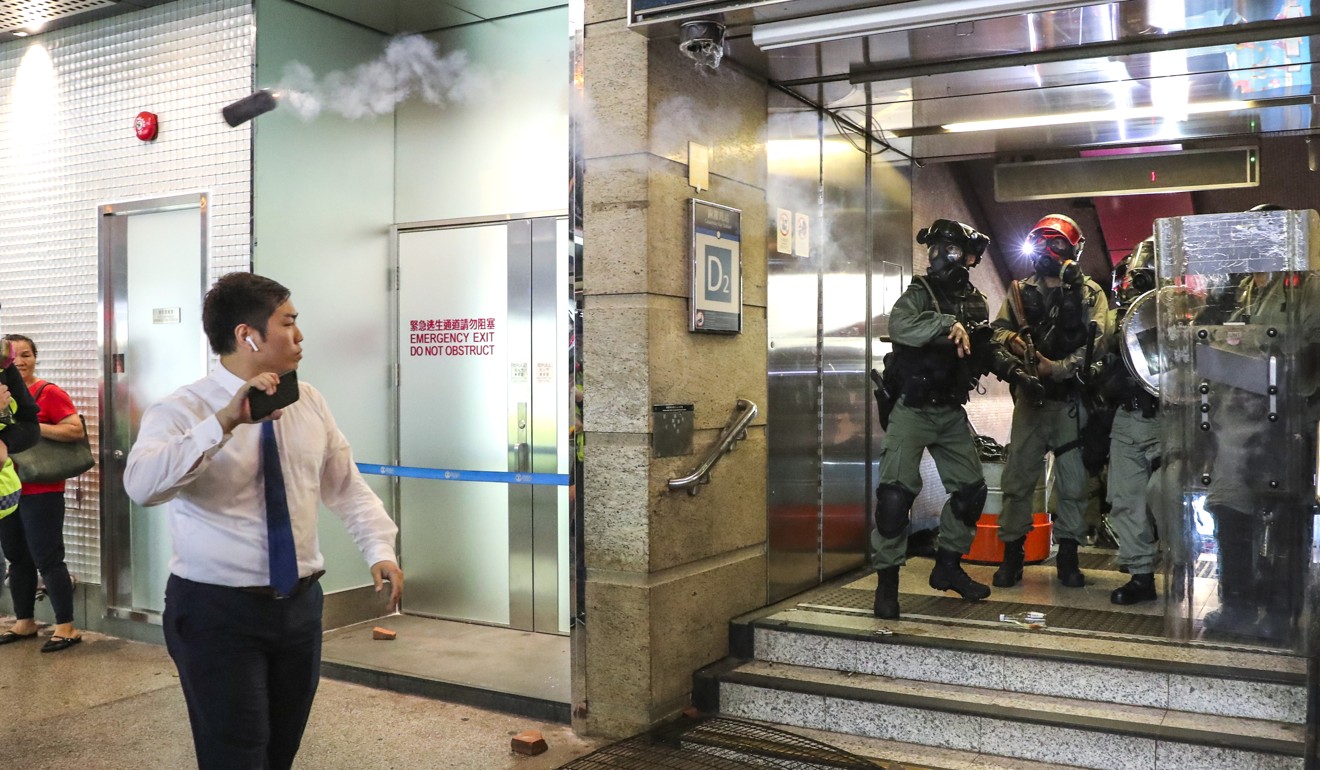 The bill would require Washington to assess the city's political autonomy each year to determine whether it should continue to be given that special status under the US-Hong Kong Policy Act of 1992.
Many at Sunday's rally said they were far from satisfied by Chief Executive Carrie Lam Cheng Yuet-ngor's decision last Wednesday to formally withdraw the controversial extradition bill that sparked the ongoing protest crisis.
They reiterated that it was "too little, too late" and only one of the protest movement's core demands, which include setting up a commission of inquiry to investigate the conduct of the police force and restart the city's stalled political reform process so that Hongkongers can elect their own leader.
"We are waving the American flag and we have come to this rally because we think this is the best way to get the attention of the international community and the US," said David Wong, a 30-year-old finance professional.
Andy Leung Chi-kin, 64, said he joined the march because he felt a sense of duty to support young protesters.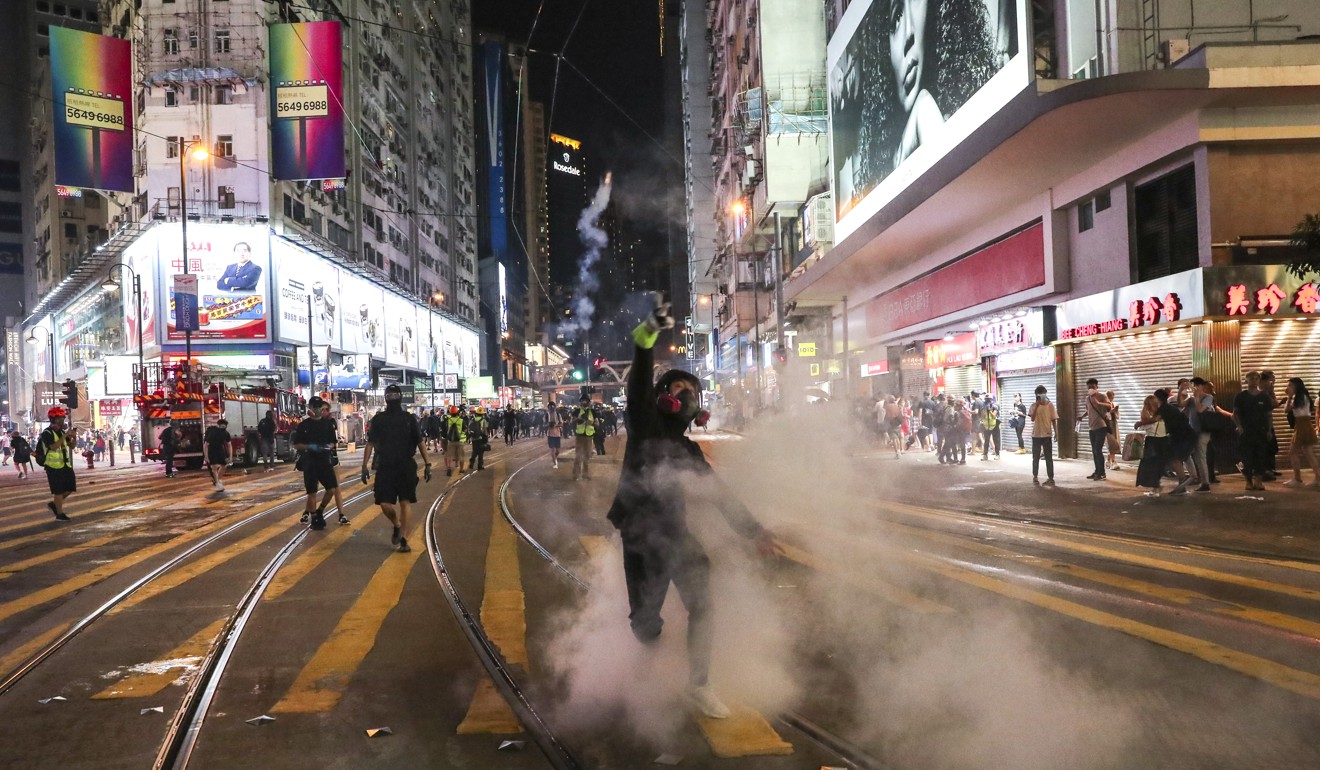 "If there's one country that can restrain the Chinese Communist Party, it will be the US," he said.
A heavy police presence kept the protesters away from the US consulate's main gate and a representative from the mission accepted their petition at a designated point.
"Resist Beijing, liberate Hong Kong," they chanted, playing the US national anthem to hammer home their message.
Others held a prayer session back at Chater Garden.
Among them was Pastor David Cheung from the Narrow Church, who said he was pleased to see Hongkongers exercise their freedoms guaranteed by the Basic Law to organise a religious rally.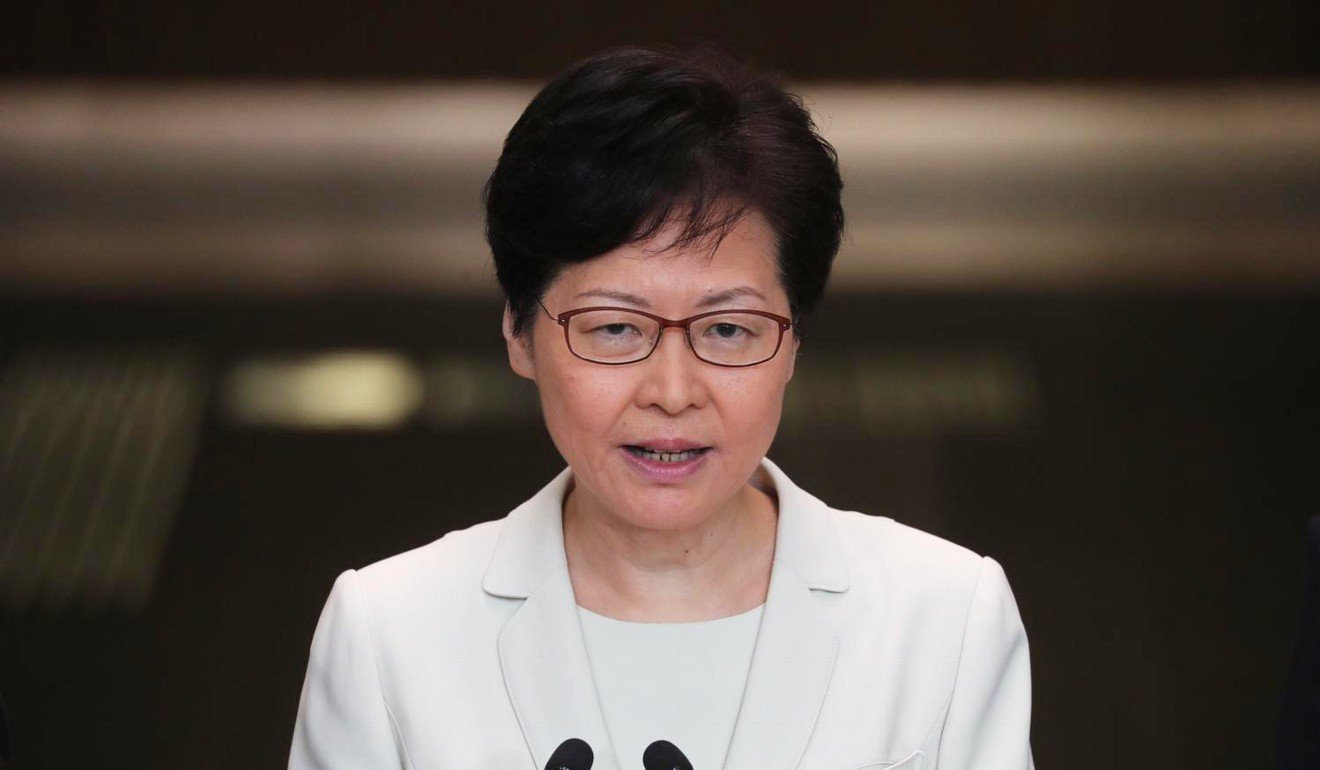 "I believe this prayer meeting can give spiritual strength and support to Hongkongers who have been physically and mentally exhausted by months of unrest," Cheung said.
Ousted opposition lawmaker Edward Yiu Chung-yim, who was also at the rally, rejected concerns that the US flag-waving protest would play into Beijing's hands by challenging its sovereignty.
"Beijing will cry wolf and decry foreign interference at every opportunity, but the fact of the matter is we only demand the international community uphold one country, two systems, and the promise of democracy and freedom, which is enshrined in an international treaty," he said.