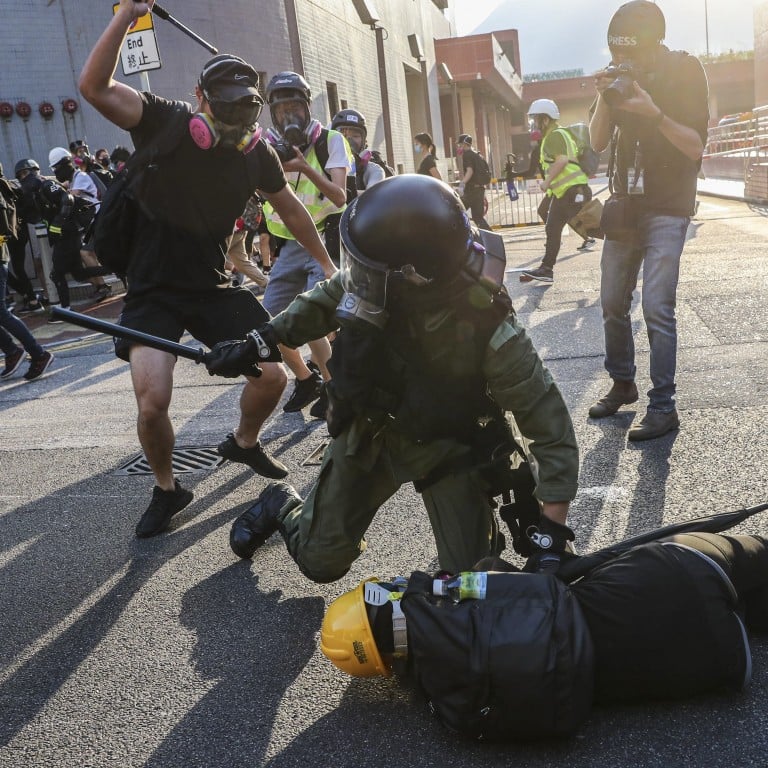 Hong Kong protests: police use court orders to obtain protesters' digital fare payment details in another weekend of petrol bombs, tear gas and fires on the streets
The city's largest bus company KMB was required to hand over transaction records from Octopus cards in Hong Kong
Order includes night of September 3 when police boarded a bus in Kowloon Bay and checked bags and ID cards of around 20 people
Hong Kong police have used court orders to obtain digital fare payment details and CCTV camera footage of anti-government protesters from the city's largest bus company, according to sources.
The revelation came on Saturday as the city entered its 16th straight weekend of protests sparked by the government's now-withdrawn extradition bill, with more clashes between radicals throwing petrol bombs and police firing back with tear gas and sponge grenades.
A senior police source said the court orders required the KMB bus company to hand over Octopus e-payment card transaction records and footage for specific bus routes on certain days over the past months.
"The court orders are case-specific. One of the cases involves protesters getting on a KMB double-decker on route 42C heading to Lam Tin station on September 3," the source said.
That was the night protesters boarded a bus in Wong Tai Sin after a rally at Tamar Park. Police entered the bus in Kowloon Bay to check the bags and ID cards of around 20 people.
Another source said KMB had already surrendered the required information, which did not include the actual names of the Octopus users, only their card numbers, meaning police would have to seek further details from the card company itself.
On Saturday afternoon, thousands joined a short march from San Wo Lane Playground in Tuen Mun to the district's government offices.
Having won an appeal to overturn a police ban against the march, organiser Michael Mo Kwan-tai said it was a show of solidarity against official inaction to fix an alleged prostitution problem in Tuen Mun Park.
"Our demand is very local, it's all about Tuen Mun damas, the middle-aged women singing songs in Mandarin using an amplifier and megaphones, in public areas of the park," Mo said.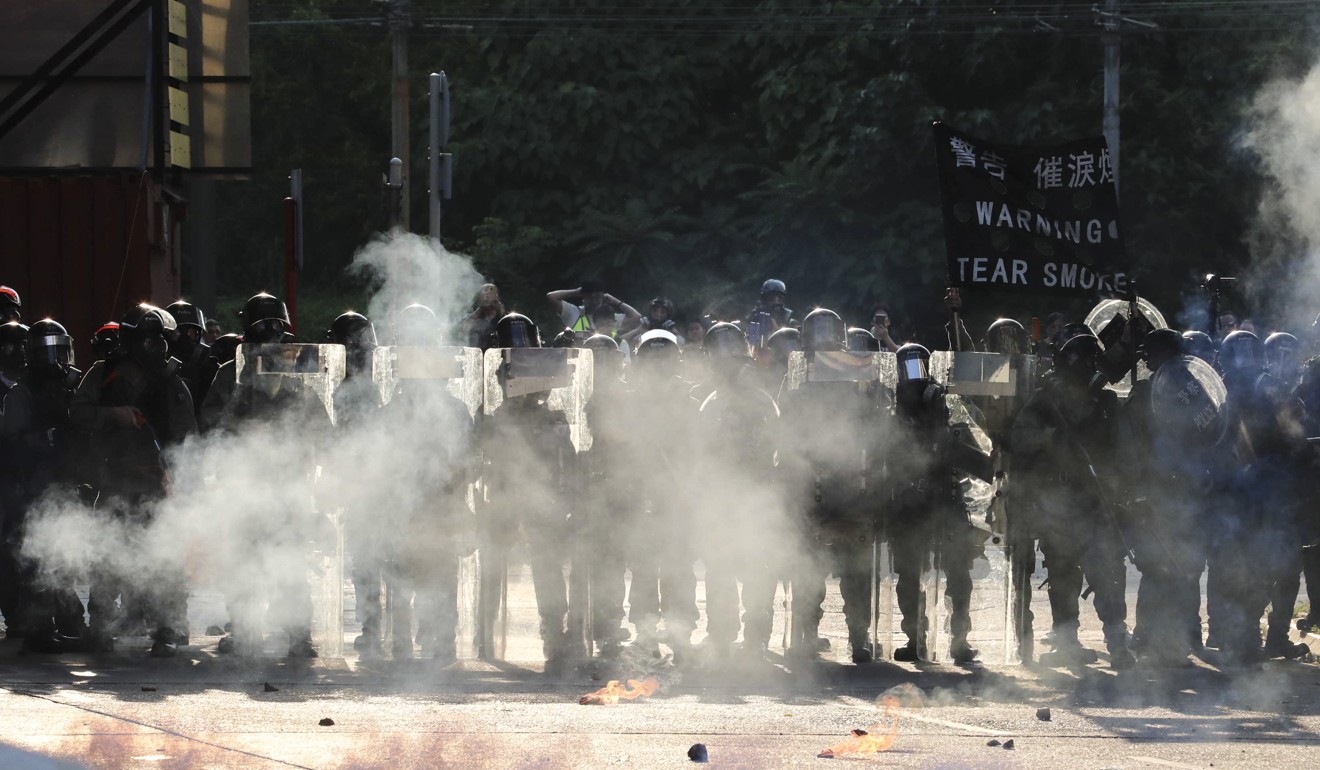 Turning their ire yet again on the city's rail operator, which had earlier announced the closure of Tuen Mun and Yuen Long MTR stations, protesters began trashing facilities at Tuen Mun Light Rail station before spilling onto area roads, tearing down metal barriers and setting up barricades.
Their actions caused severe traffic disruption as well as light rail route changes and service suspensions.
Rocks taken from the rail tracks were hurled at police from behind the makeshift barriers, on Tuen Wui Street and Tuen Mun Heung Sze Wui Road, outside the Tuen Mun Town Plaza shopping centre.
In other outbursts of violence, anti-riot police making arrests occasionally became targets for other protesters, with images showing the radicals using hiking sticks and umbrellas to assault officers.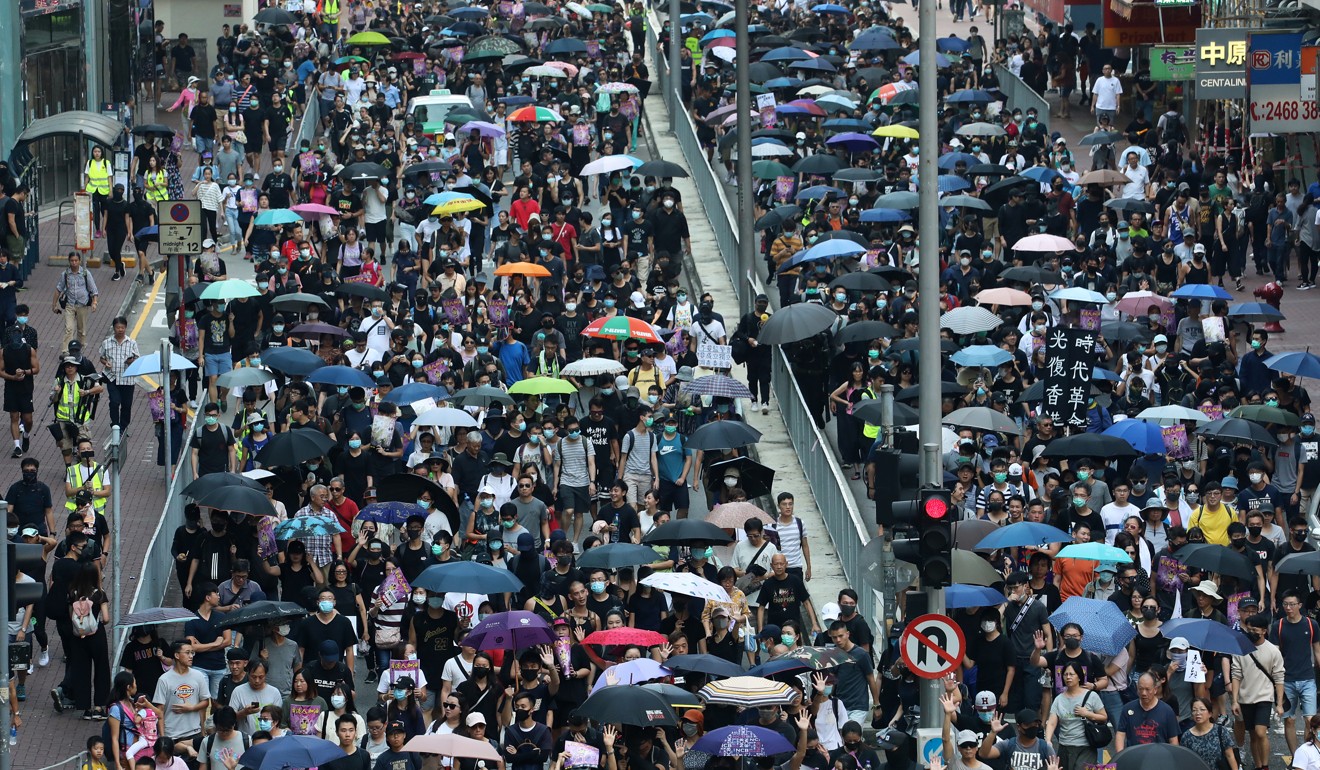 Just after 4pm, the official march arrived at Tuen Mun government offices. The organiser then announced the protest was over, the quickness of the call surprising some.
Mo explained that the demonstration got away from its initial purpose. He said police raised a warning flag, asking them to stick to the road just 10 minutes after they started the march, a stricter request than had been made in previous marches.
The premature early warning incited the escalation of violence, Mo said.
By 5pm, hard-core protesters were throwing petrol bombs and police were answering them with rounds of tear gas.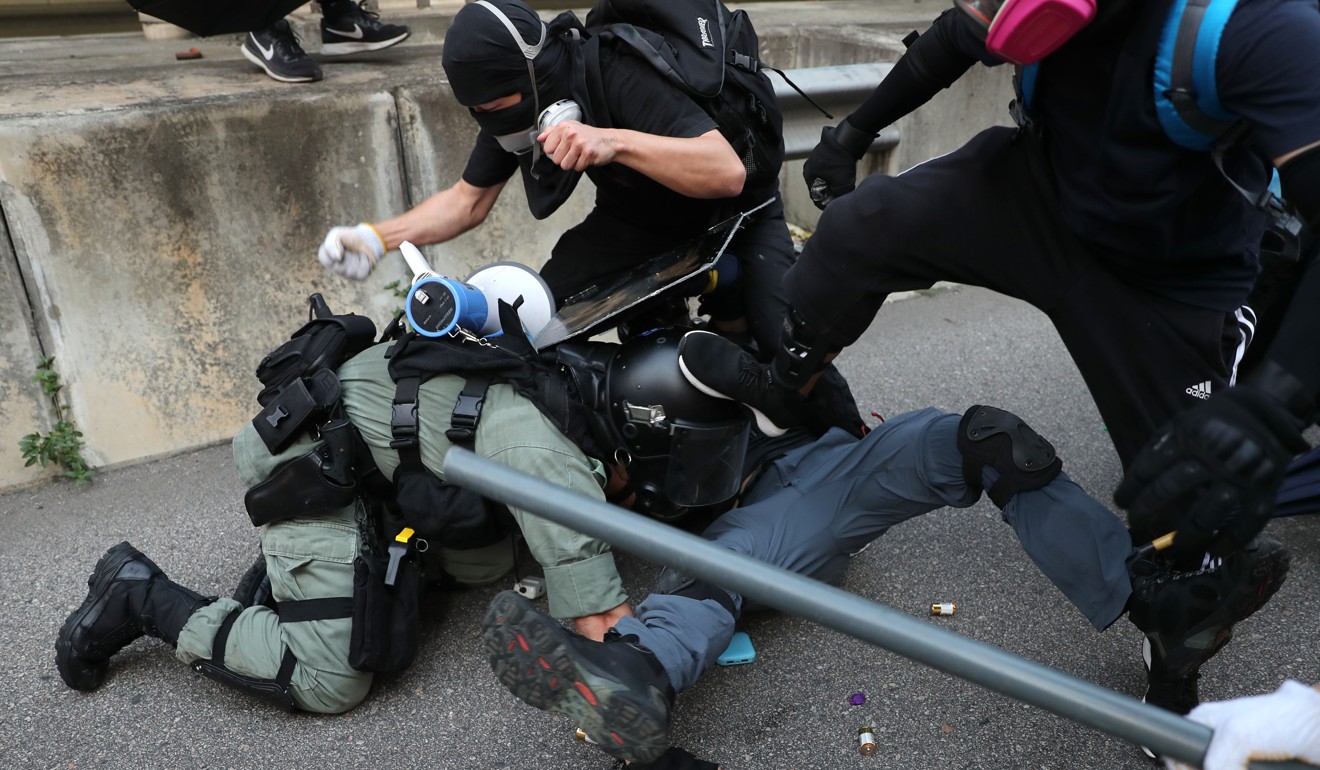 A lull followed as the demonstrators moved to their next location, Yuen Long MTR station, to mark the two-month anniversary of a violent mob attack on protesters and commuters.
More than 50 shops had closed by 7.30pm in Yoho Mall, which is connected by a bridge to the MTR station. Hundreds of people gathered to sing the movement's de facto anthem, Glory to Hong Kong.
Protesters tried to damage both the bridge and MTR entrance, then blocked roads in the vicinity before starting fires and throwing petrol bombs at police vehicles.
During the dispersal operation from 5pm, police said some extreme protesters repeatedly threw petrol bombs at them.
One officer was attacked with unidentified hard objects in Tuen Wui Street and protesters tried to take his revolver, the force said.
Police condemned the violent protests and said they had fired rounds of tear gas and 40mm react rounds.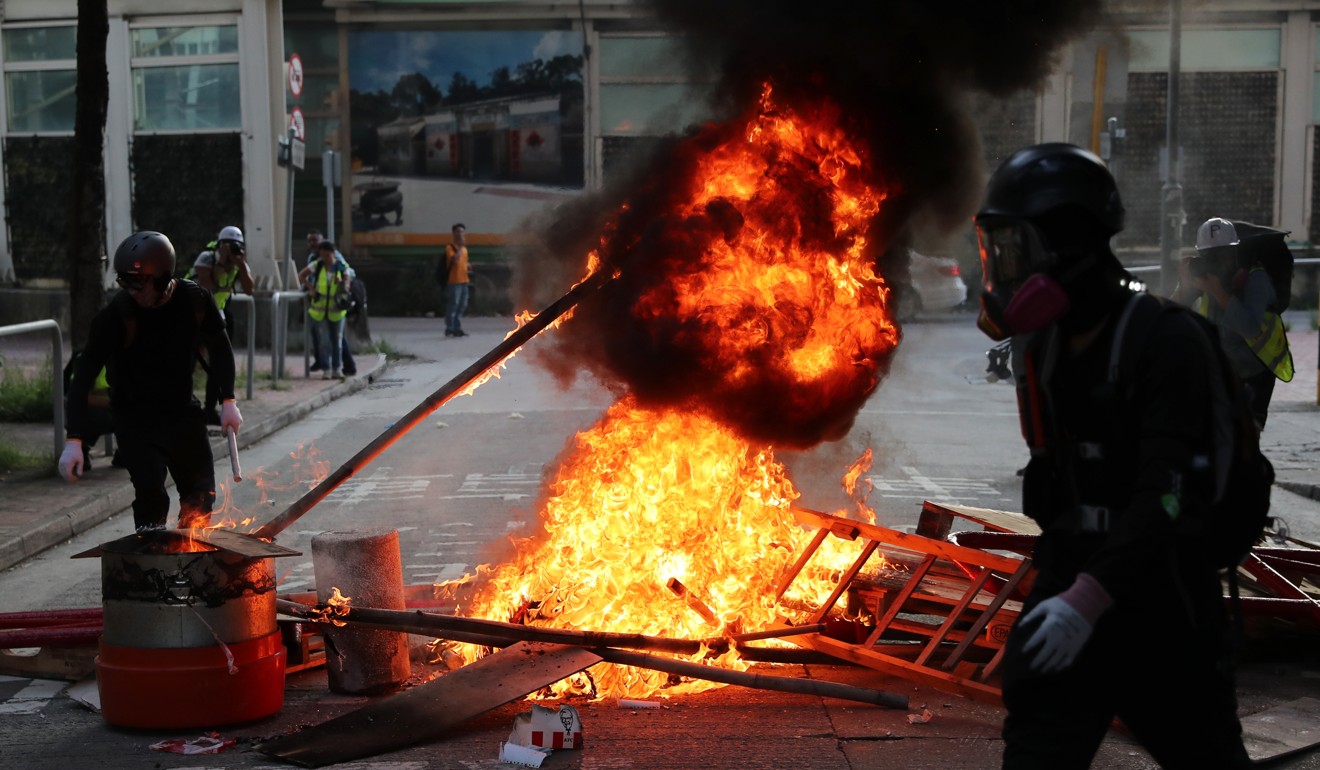 As of 7.30am on Sunday, 15 people were taken to hospital with injures. Among them were 14 men and one woman, eight of whom have been released.
One of the injured men remains in serious condition, while six more of those hospitalised are in stable condition. The nature of their injuries are unclear.
The MTR Corporation also condemned violence.
Ahead of the Tuen Mun march on Saturday afternoon and a planned sit-in at Yuen Long that evening, the rail operator closed Tuen Mun and Yuen Long stations on the West Rail line and later suspended some Light Rail services.
The company said radicals damaged the Light Rail stops of Town Centre, Yau Oi, On Ting and Siu Lun.
They vandalised ticket machines, Octopus fare processors, CCTV cameras and passenger information display panels, while also defacing station facilities with graffiti, the MTR Corp said.
It added trespassers got onto the track area of the Town Centre stop on the Light Rail, threw items onto the railway and damaged trackside signalling equipment.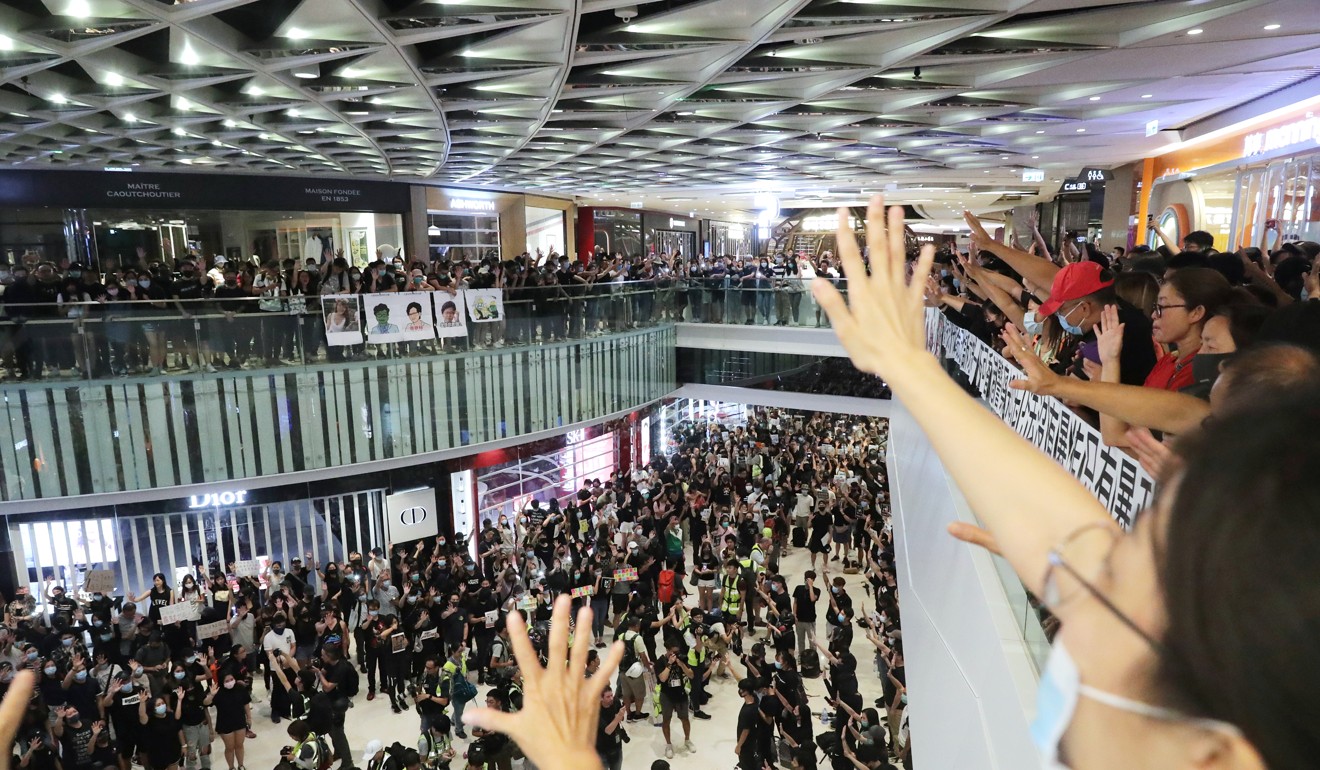 Earlier in the day, pro-Beijing groups sought to "clean walls and cleanse people's hearts" in a citywide clearance of "Lennon Walls", led by outspoken lawmaker Junius Ho Kwan-yiu.
Ho, a hate figure for the protest movement, dialled down his "Clean Up HK" campaign at the last minute, instructing participants not to tear down notes on the walls but to pick up surrounding rubbish.
Despite a few scuffles and arguments taking place, no major clashes occurred at the walls.
Protesters, who had vowed to fight back if they were attacked, simply returned later to plaster them with fresh Post-it notes.
The city faces the prospect of more chaos on Sunday, as protesters plan a citywide "stress test" on that day targeting the international airport and railway network. The stated intention is to block road and rail access to the airport starting at noon, in defiance of a court injunction forbidding such action.
The MTR announced on Saturday night that trains on the Airport Express would not stop at the Kowloon, Tsing Yi or AsiaWorld-Expo stations, and downtown check-in services would be available only at Hong Kong station.
Reporting by Christy Leung, Danny Lee, Kimmy Chung, Peace Chiu, Sum Lok-kei, Karen Zhang, Dewey Sim, Mimi Lau and Lam Ka-sing