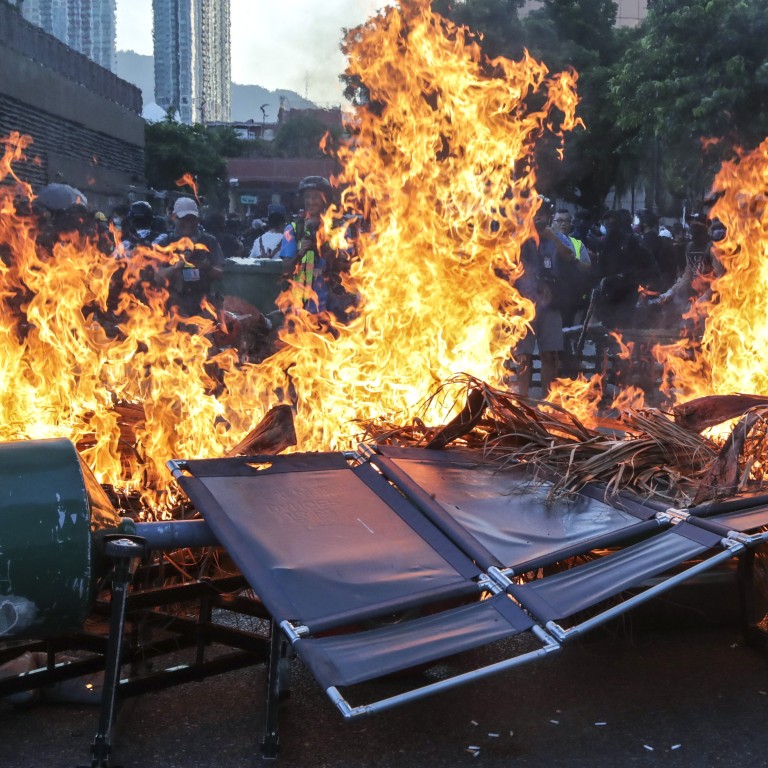 Anti-government protesters rampage through Hong Kong as police struggle to keep up
Activists target shopping centres and MTR stations in series of quick strikes as officers fire tear gas and rubber bullets
Chinese flag desecrated and several fires started as clashes carry over from previous day
Anti-government protesters went on an escalated rampage across Hong Kong on Sunday, taking over shopping centres where they targeted mainland Chinese-linked businesses and vandalised shop fronts, trashing metro stations, blocking roads, hurling bricks and petrol bombs at police, setting fire to barricades and desecrating China's national flag.
Police fired tear gas and rubber bullets at them and made several arrests, but diehard activists mostly stayed one step ahead of them, descending on one location and swiftly retreating to strike at the next, as the city marked the 16th straight weekend of protest chaos.
The protesters had planned to cripple the city's international airport by blocking access routes, but were thwarted by a heavy police deployment along road and rail approaches.
The Airport Express train service would only take passengers with flight tickets from Hong Kong station directly to the airport, skipping stations in between to avoid protesters.
Police also set up a cordon at a toll plaza leading to Tung Chung, stopped vehicles for inspection, and boarded buses to check passengers.
Protesters vented their frustrations yet again on MTR stations, vandalising the facilities and forcing four of them to shut down.
In an escalated campaign, they also occupied shopping malls – New Town Plaza in Sha Tin, V Walk in Sham Shui Po, Metroplaza in Kwai Fong, and Elements in West Kowloon.
"This is damaging to our business and the city's international reputation," an Israeli resident at Elements said, complaining the government was unable to end the crisis and he was relocating to Singapore.
At New Town Plaza – run by Sun Hung Kai Properties, which joined other developers in condemning protest violence last month – they started with playfully defiant group activities such as singing and impromptu games, before resorting to vandalism and intimidation.
They marched around the mall, targeting businesses with mainland connections, or those known to have criticised protest violence.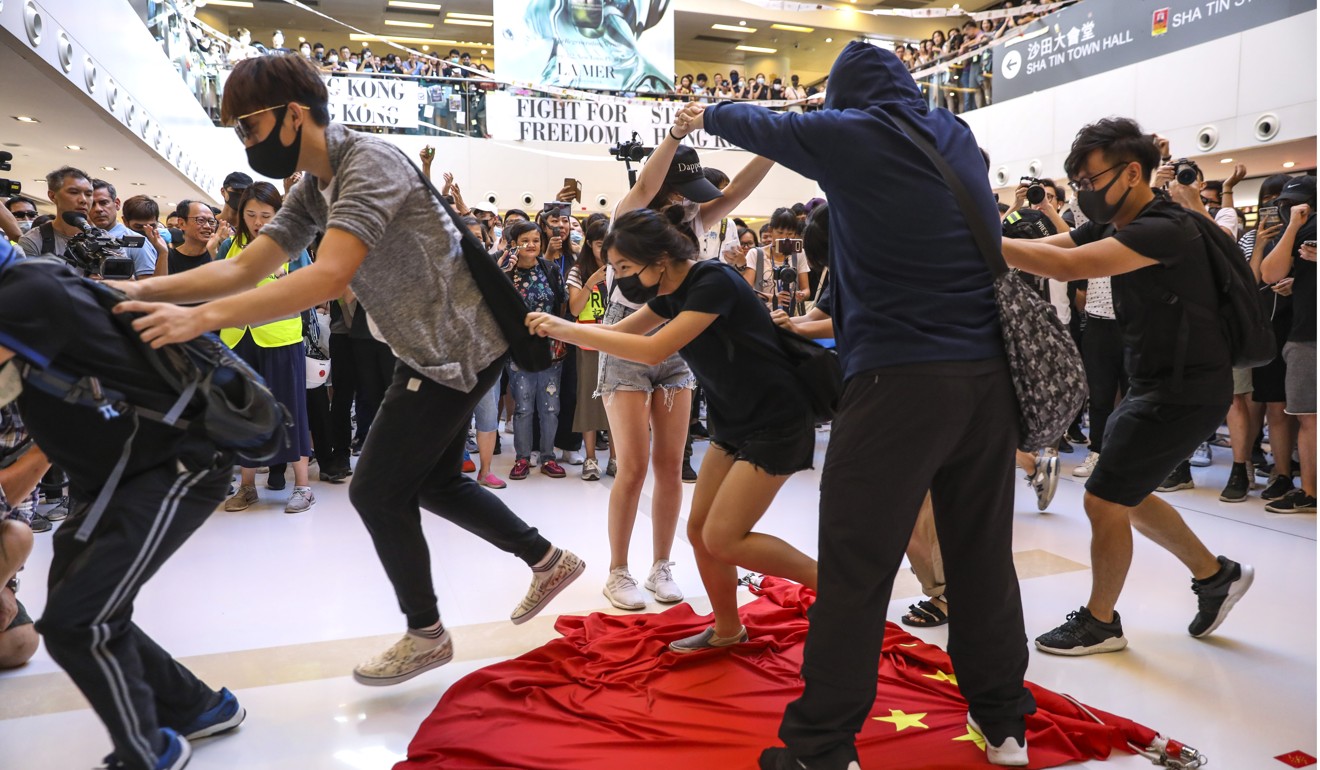 They painted graffiti and posted stickers on store fronts, prompting outlets run by Huawei, Best Mart 360, and tea shop chain HeyTea to pull down their shutters.
They also went after food outlets operated by the Maxim's Group in the mall, such as Starbucks, Simply Life, Jade Garden and Peking Garden. The restaurant group has become a target after its founder's daughter, Annie Wu Suk-ching, called protesters "rioters" who did not represent Hongkongers.
"When conflicts happen, it's the public who become collateral damage," said a mainland visitor who found the Apple store closed.
In another show of defiance aimed at Beijing, which sees the desecration of national symbols as a direct challenge to its sovereignty, protesters trampled over a Chinese national flag snatched from a pole outside Sha Tin Town Hall. The flag was later thrown into the nearby Shing Mun River.
They proceeded to trash the shopping centre, overturning rubbish bins, blocking escalators with debris, soaking the floor with a water hosepipe and smashing television screens. They also vandalised the connecting MTR station, destroying security cameras and ticketing machines, and forcing a shutdown.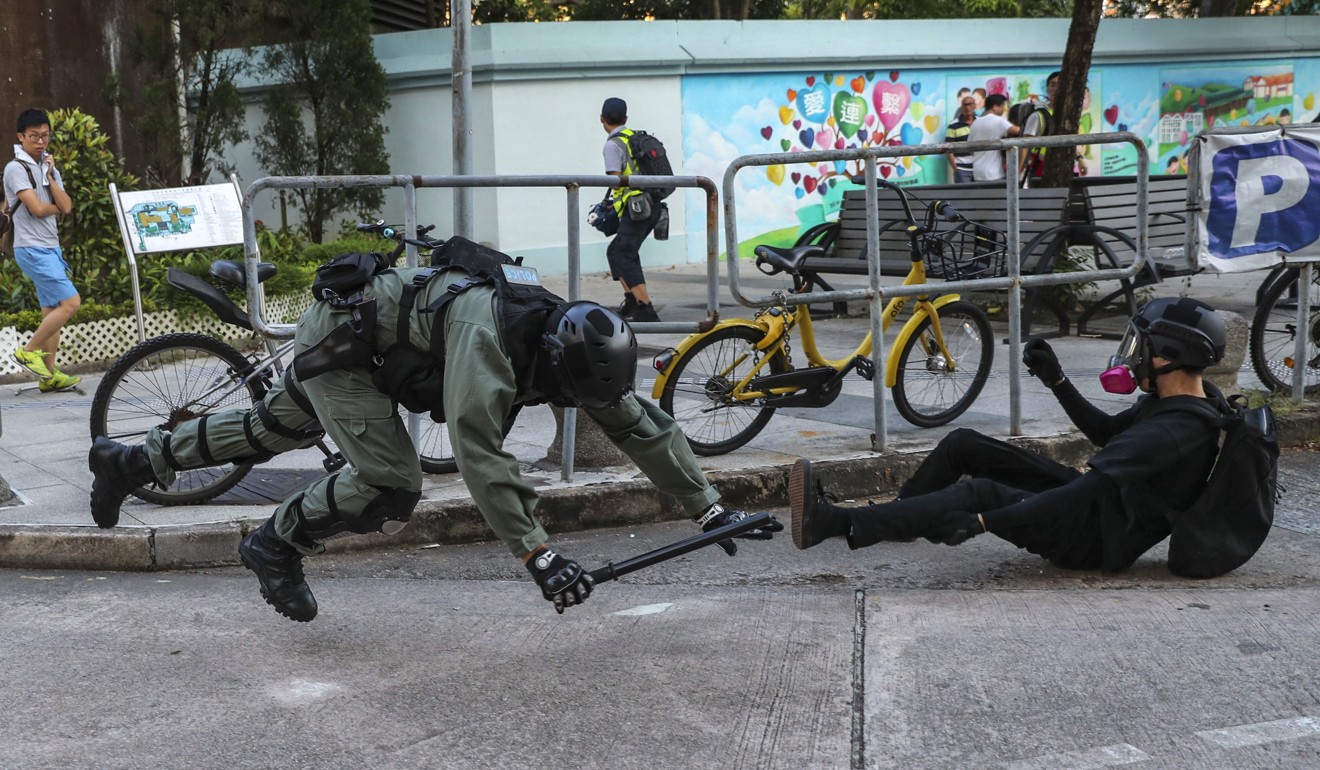 The protesters then took to the streets outside the mall, setting up barricades and starting fires.
They similarly vandalised Nam Cheong, Kwai Fong, Tsing Yi, and Kowloon stations, leading to the closure of the last three. They retreated each time police arrived to disperse them.
The Tung Chung line was disrupted for nearly an hour late in the afternoon when the MTR reported that some protesters had illegally rushed into the driver's compartment of a Tung Chung-bound train at Nam Cheong station when the doors opened for passengers to board or alight. Protesters also placed an emergency ramp on the tracks.
At Tsing Yi station, protesters sprayed water and set off fire extinguishers, but avoided clashing with police.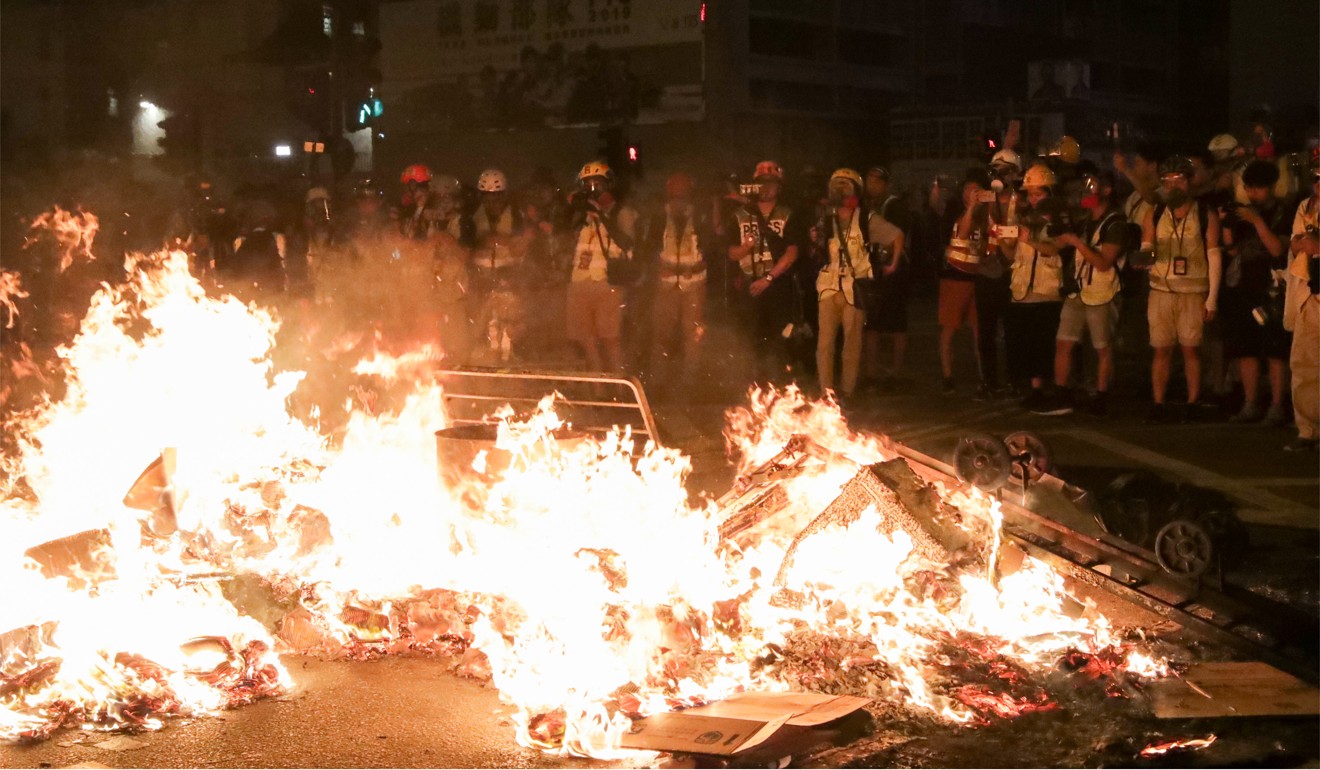 Others made their way at night to the Times Square shopping centre in Causeway Bay, where they unfurled a 30-metre banner reading, "Glory to Hong Kong", the popular protest anthem.
As the protests continued into the night, Prince Edward and Mong Kok MTR stations were closed. Pepper spray was used on protesters besieging the neighbourhood police station. There had been a stand-off outside Mong Kok Police Station, where officers fired beanbag rounds and pepper spray at protesters. The riot squad then had to disperse protesters shortly after firefighters put out a blazing barricade near the police station. Several protesters were intercepted.
But the trouble did not end there and shortly before midnight there was a scuffle between police in riot gear and a crowd whose anger was stoked after officers snatched a man who had been verbally abusive. Pepper spray was again used, and journalists were among those hit. The man was taken into a police vehicle.
At a stand-off near Tuen Mun Police Station, an elderly man was handcuffed and taken away after he approached officers in riot gear with an umbrella. He was pinned down and had injuries on his legs. Nearby, a dozen protesters built a barricade on Pui To Road and yelled: "Release him. Release him."
In a repeat of Saturday's violence, there were also reports of people being beaten up by protest mobs for challenging or provoking them.
In Kwai Fong, a group of around 30 surrounded a young man, accusing him of being a mainland spy, pointing lasers at him and hitting him.
Television footage from a day earlier showed outbreaks of extreme violence, with individuals being attacked by groups of protesters with metal rods, wooden poles, hammers and umbrellas.
Radicals also attacked a police officer trying to make an arrest, snatching his baton and beating him with it, and also attempting to grab his service revolver before he was rescued by his colleagues.
Late on Sunday, a spokesman for the government said it strongly condemned radical protesters' violent and vandalistic acts in various districts and police would follow up in accordance with the law to bring lawbreakers to justice.
The removal and desecration of the national flag in Sha Tin was a challenge to national sovereignty and might have violated the National Flag and National Emblem Ordinance, the government added.
Police later said a 21-year-old man was arrested for removal of the flag.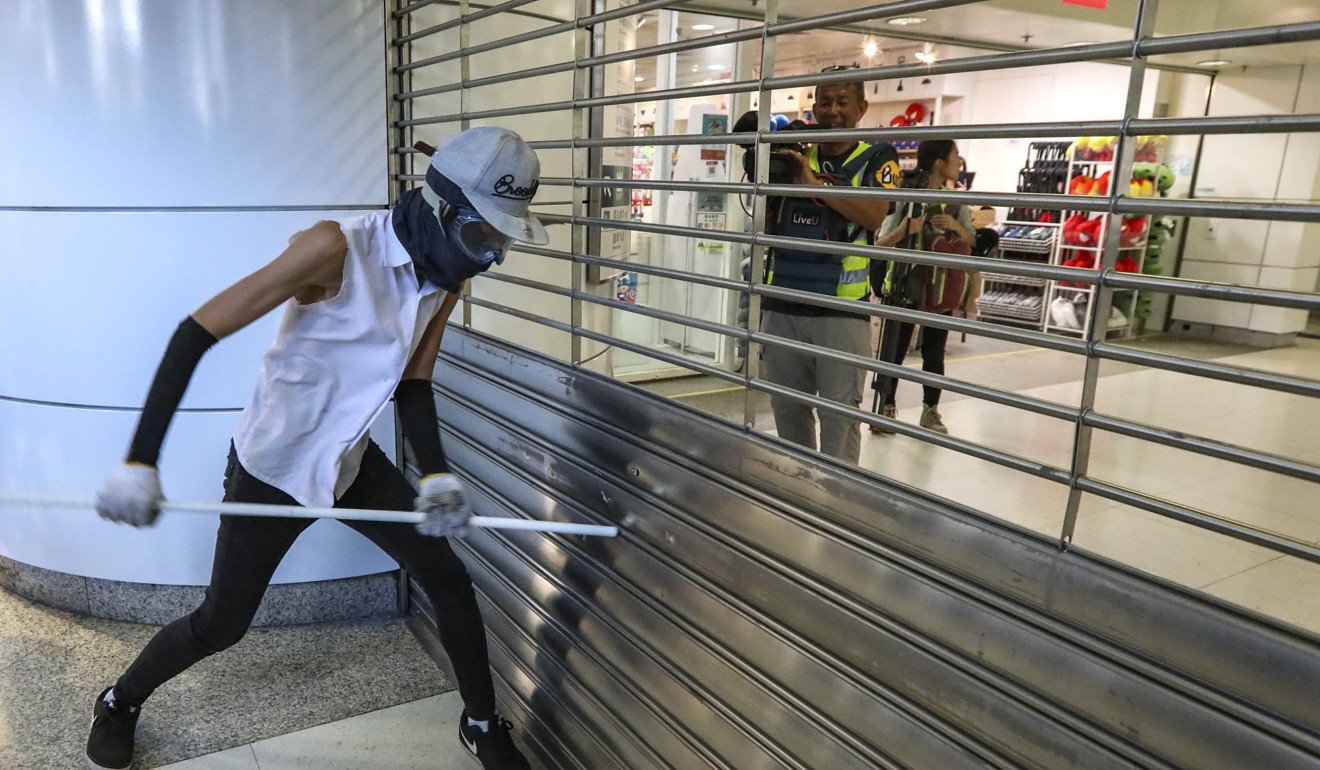 The MTR Corporation said it strongly condemned the vandalism of railway facilities and the intentional misuse of equipment on trains by protesters. Such illegal acts endangered the safety of other passengers, staff and train operations, it warned.
It also said it was deeply concerned about a suspected arson case at Siu Ho Wan Depot at 3am on Sunday. A 52-year-old employee reported the incident after hearing a bang. A 13cm by 8cm battery was found in the depot. A patch of grass was scorched and there was a damaged cable. No one was injured. The incident has been reported to police.
Earlier on Sunday morning, the city's embattled leader, Chief Executive Carrie Lam Cheng Yuet-ngor, vowed that her government would spare no effort to end the violence and restore order, as she attended an event organised by the pro-Beijing Federation of Trade Unions.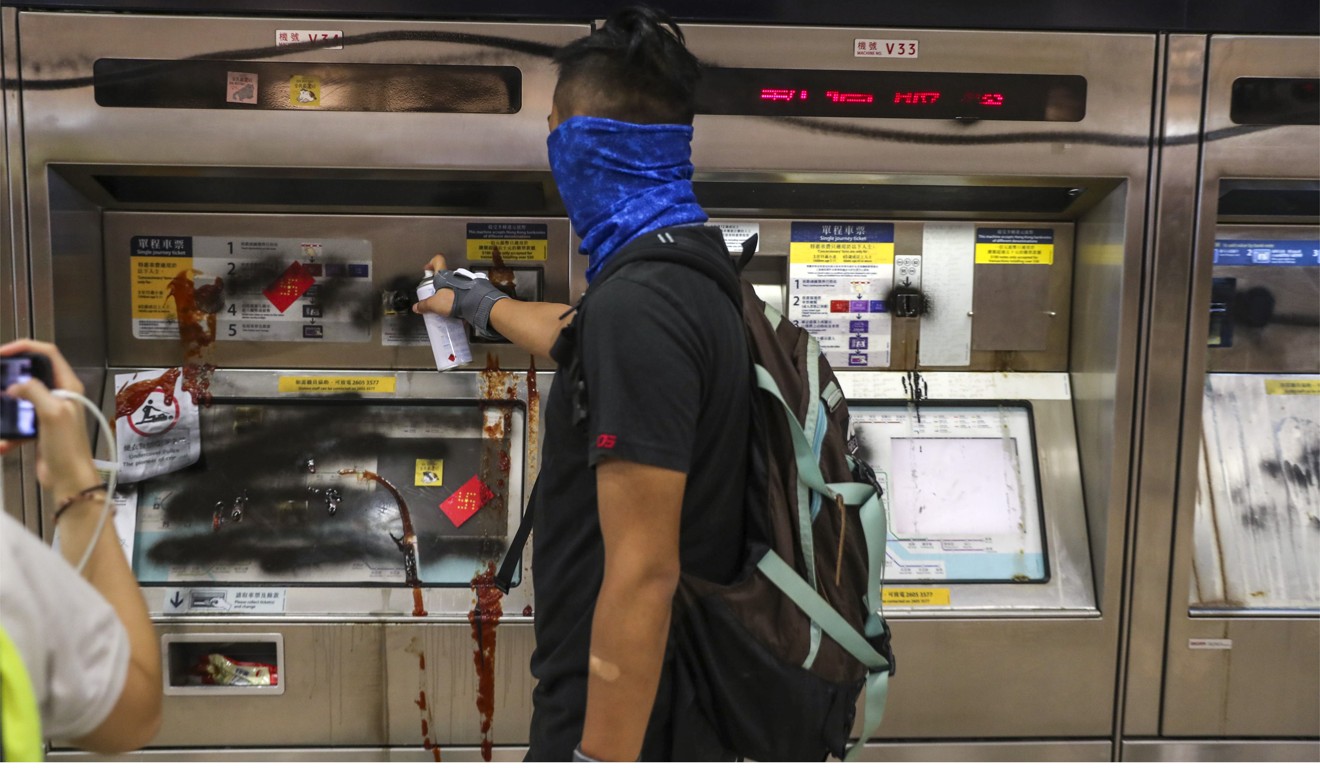 But more than two weeks after she announced the formal withdrawal of her extradition bill, which would have allowed the transfer of fugitive suspects to mainland China, the crisis shows no sign of abating.
Protesters first took to the streets in June over fears the bill would be used to victimise Beijing's critics, but they are now demanding more than its withdrawal, including an independent investigation into the use of force by police, amnesty for those arrested, and the resumption of the city's stalled political-reform process.
Reporting by Yujing Liu, Linda Lew, Ng Kang-chung, Simone McCarthy, Karen Yeung, Laurie Chen, Jeffie Lam, Zoe Low and Danny Mok
This article appeared in the South China Morning Post print edition as: hit-and-run radicals cut a swathe of destruction