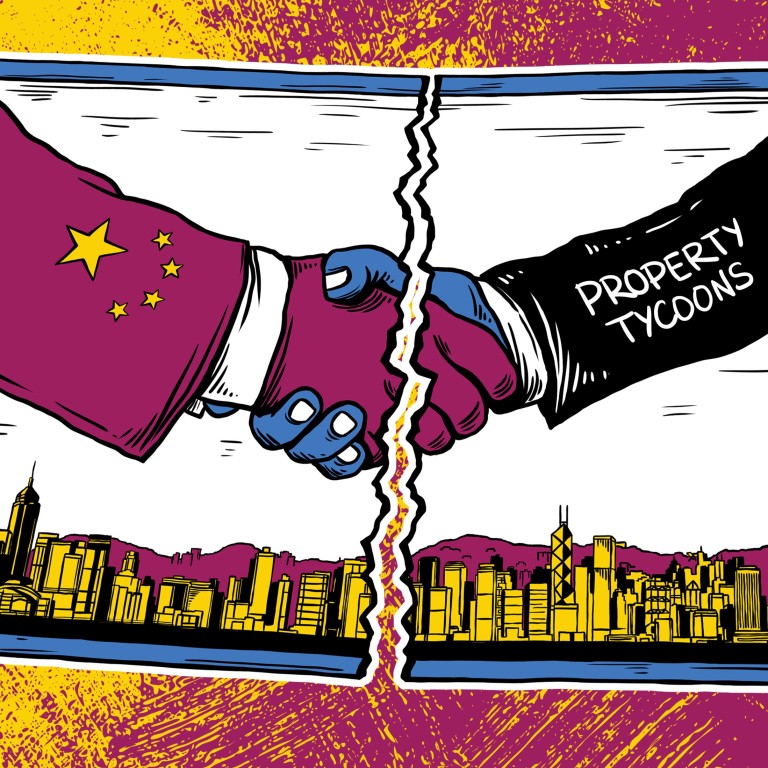 Exclusive

|
Scapegoats or scoundrels? Why ties between Beijing and Hong Kong's property tycoons are unravelling amid protest crisis
In a new series delving beyond the social unrest in Hong Kong to survey the city's deep-rooted problems, the Post is focusing on the role of housing in causing great disaffection in society
In this second instalment, we examine the close ties between the city's property tycoons and Beijing, and how a recalibration might be due
In January 1996, when Jiang Zemin crossed the vast expanse of a crowded room to shake Tung Chee-hwa's hand, the Chinese president set off a storm of speculation that the shipping magnate would be Hong Kong's first chief executive.
Exactly 11 months later, Tung was elected by a small committee to the top job. But the Post learned recently that well before the famous handshake, Jiang received a letter in late 1995 recommending Tung for the post when the city was returned to China in 1997 after 150 years of British colonial rule.
The letter was penned by the colony's richest man,
Li Ka-shing
, and Beijing princeling Larry Yung Chi-kin, head of Citic Pacific, one of the first mainland Chinese companies to set up shop in Hong Kong.
A source close to Beijing who told the Post about the letter said Jiang viewed its contents positively.
That Li could confidently offer his view to the Chinese leader revealed just how close Hong Kong's tycoons and the Beijing elite were at the time. Yung's father, Rong Yiren, was China's vice-president and on good terms with the late paramount leader Deng Xiaoping.
Indeed, from as far back as the early 1980s, when talks with Britain on Hong Kong's future began, the property tycoons were Beijing's main political allies. As the handover neared, Beijing's main preoccupation was to ensure Hong Kong's continued stability, and that meant retaining the confidence of the business community.
"Winning the support of major property developers was its top priority," said Anthony Cheung Bing-leung, former secretary for transport and housing.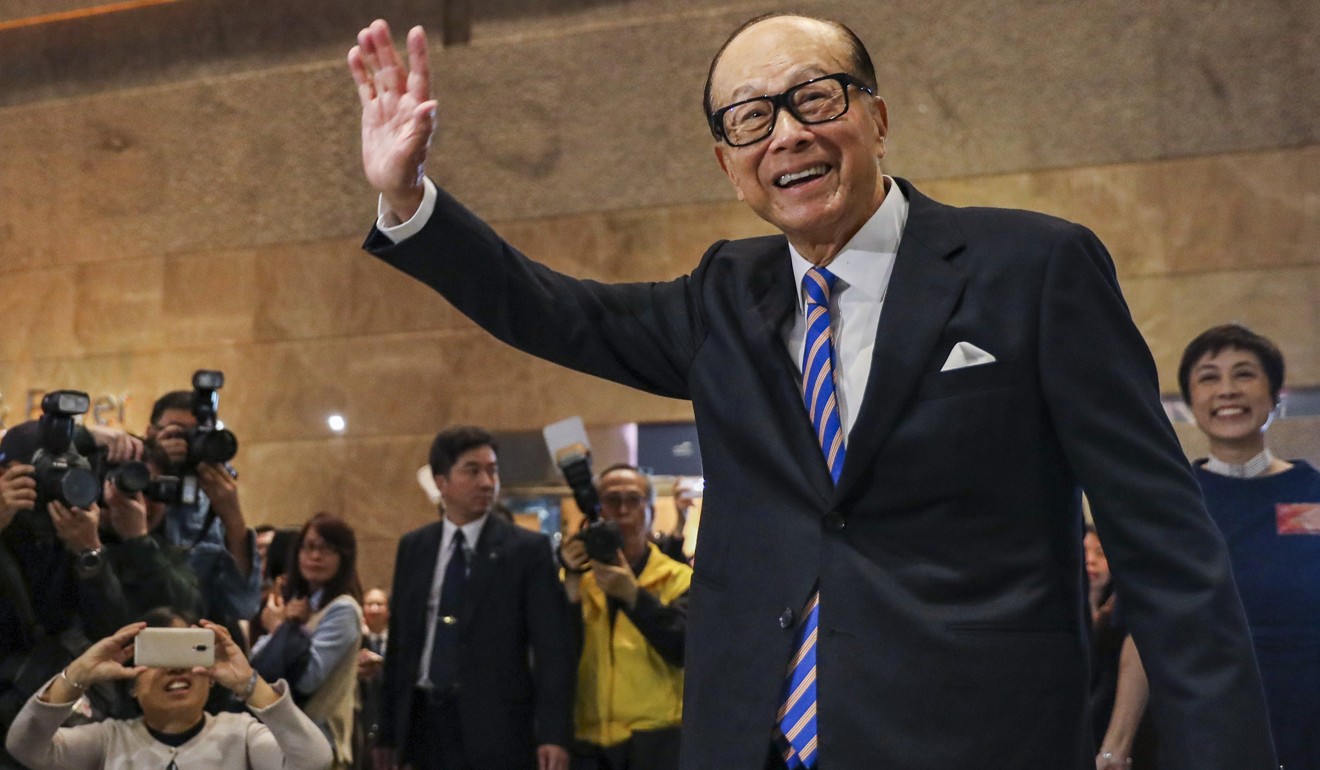 But two decades later, the relationship is coming under strain. If Beijing once looked to the property tycoons to help keep Hong Kong stable, it now appears to believe that they have failed to deliver.
There are signs that the partnership has become untenable amid skyrocketing property prices and a severe shortage of affordable public housing in Hong Kong.
Recent commentaries and editorials in China's state media indicate Beijing is convinced Hong Kong's housing crisis is to blame for the increasingly violent anti-government protests now in their fourth month.
Developers owning massive land banks have found themselves targeted by China's state media, with tycoon Li himself coming under fire. The 91-year-old drew swift criticism earlier this month for
urging those in power to "provide a way out"
for Hong Kong's mostly young protesters, whom he described as "masters of our future". He also said on political issues, justice might have to be tempered with mercy.
An article published on September 13 in an official WeChat account of Beijing's political and legal affairs commission seized on his phrase "provide a way out" and equated showing leniency to lawbreakers as being "nothing more than condoning crime".
As a major developer
, it said, Li should be the one instead to provide "a way out" for Hongkongers struggling over the lack of housing.
Unfazed, Li
hit back
, saying it was regrettable his remarks had been misinterpreted, and that "tolerance does not mean connivance and disregarding any legal procedures".
Commentaries also published on September 13 by the official Xinhua news agency and
People's Daily
, and an editorial in the tabloid
Global Times
, singled out unaffordable housing
as a "root cause" of the protests
.
The message seemed all but clear: the tycoons need to play ball and back the chief executive and the government's policies or risk some unspecified consequences.
Soon enough, state media then endorsed a proposal by the Democratic Alliance for the Betterment and Progress of Hong Kong (DAB), the city's largest pro-Beijing party, for
Chief Executive Carrie Lam Cheng Yuet-ngor
to invoke the Lands Resumption Ordinance and take back large swathes of unused rural land to tackle the housing problem.
The Xinhua commentary accused some groups with vested interests of obstructing the government's bid to boost land supply, by either hoarding or raising prices.
Taking a tougher line, a bylined People's Daily commentary said: "For the sake of the public interest, it is time developers show their utmost sincerity instead of minding their own business, hoarding land for profit and earning the last penny." Ironically however, even as Beijing has been beating the drum on housing, the issue did not figure prominently among younger Hongkongers polled in a territory-wide random telephone survey conducted last month by the Hong Kong Public Opinion Research Institute, headed by former University of Hong Kong pollster Robert Chung Ting-yiu.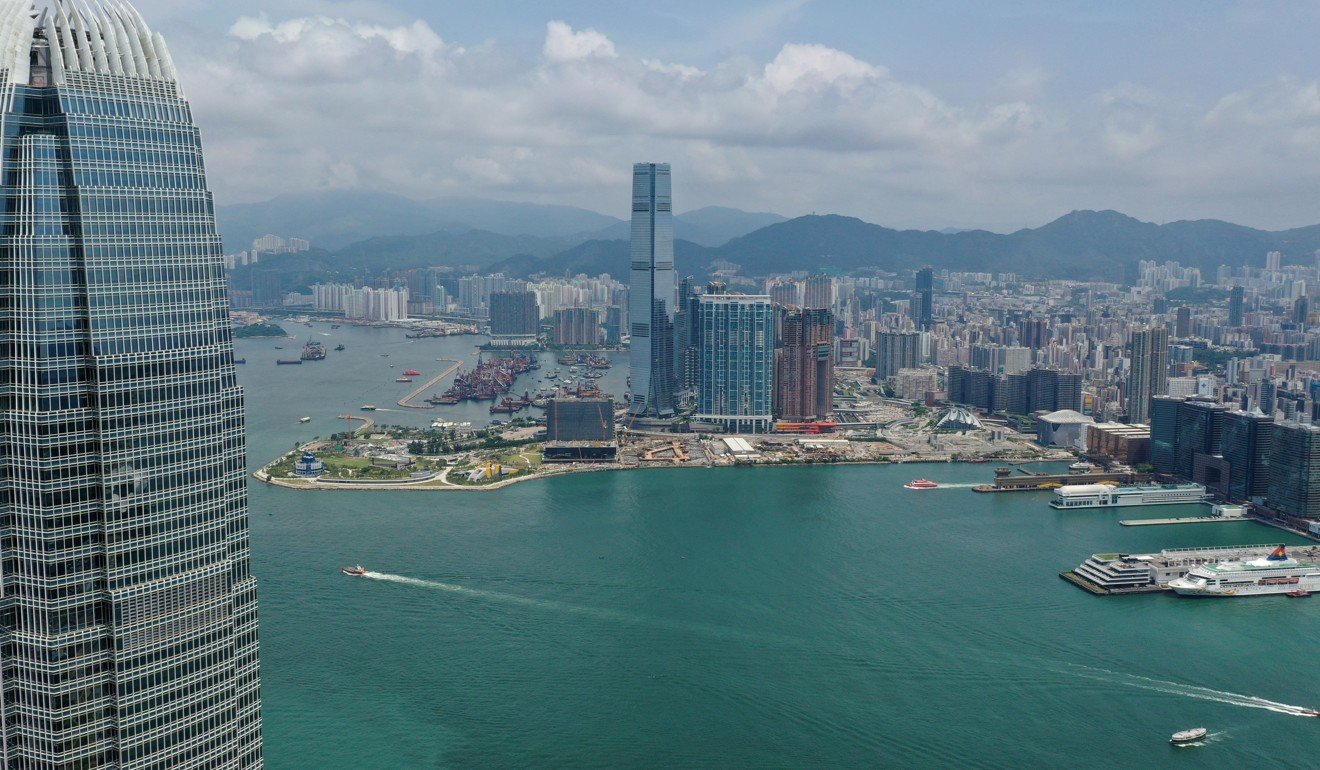 Only 58 per cent of respondents aged 14 to 29 said their discontent stemmed from housing problems, whereas 91 per cent cited distrust in Beijing, 84 per cent said they distrusted city leader Lam, and 84 per cent said they were moved by the "pursuit of democracy".
A person familiar with the central government's views on Hong Kong said Beijing was unwilling to make concessions to Hongkongers' calls for democracy and thus preferred to step up efforts to alleviate social ills, focusing for now on the
housing shortage
.
In this approach, a mainland Chinese expert familiar with Hong Kong said Beijing was not off the mark as there was a consensus among various sectors in the city itself that the government badly needed to tackle deep-rooted problems like unaffordable housing and the lack of social mobility for the young.
Asked if Beijing was demanding that Hong Kong developers do more to fix the housing problem, the expert, who declined to be named, said: "We are now talking about social responsibility. It is a matter of fact that developers are key players in Hong Kong, but protecting their legitimate rights and granting them unreasonable favours are entirely different things."
So, will Beijing succeed in forcing the developers to recognise their "social responsibility" and how will the relationship be recalibrated?
A person close to property developers said Beijing's liaison office in Hong Kong was behind the DAB's call to invoke the Lands Resumption Ordinance to take back unused rural land.
"Many developers know that Beijing can't offer any meaningful solutions on political issues in Hong Kong. So it is shifting the focus to deep-seated problems like housing," the person said. "The developers feel helpless as they can't do much given Beijing's growing assertiveness."
Lawmaker Abraham Razack, who represents the real estate sector in the Legislative Council, believed the government intends to invoke the Lands Resumption Ordinance more frequently to show it was "doing something" to arrest the decline in its popularity.
Another source close to developers, however, felt that the government was just making property developers the scapegoat of the protest crisis.
How powerful are Hong Kong developers?
There is little doubt that developers wield considerable influence in Hong Kong's political system.
Former minister Cheung, a political scientist, said the post-handover political system was designed to protect the interests of the business sector.
The four-sector committee which selects the chief executive comprises the city's business elite, professionals, unionists and politicians, and developers are represented strongly among them.
Research by the Post showed that the 1,194-strong Election Committee which selected the chief executive in 2017 included 96 members directly representing property developers and their business associates. This figure did not include those with indirect and less obvious connections with the property giants.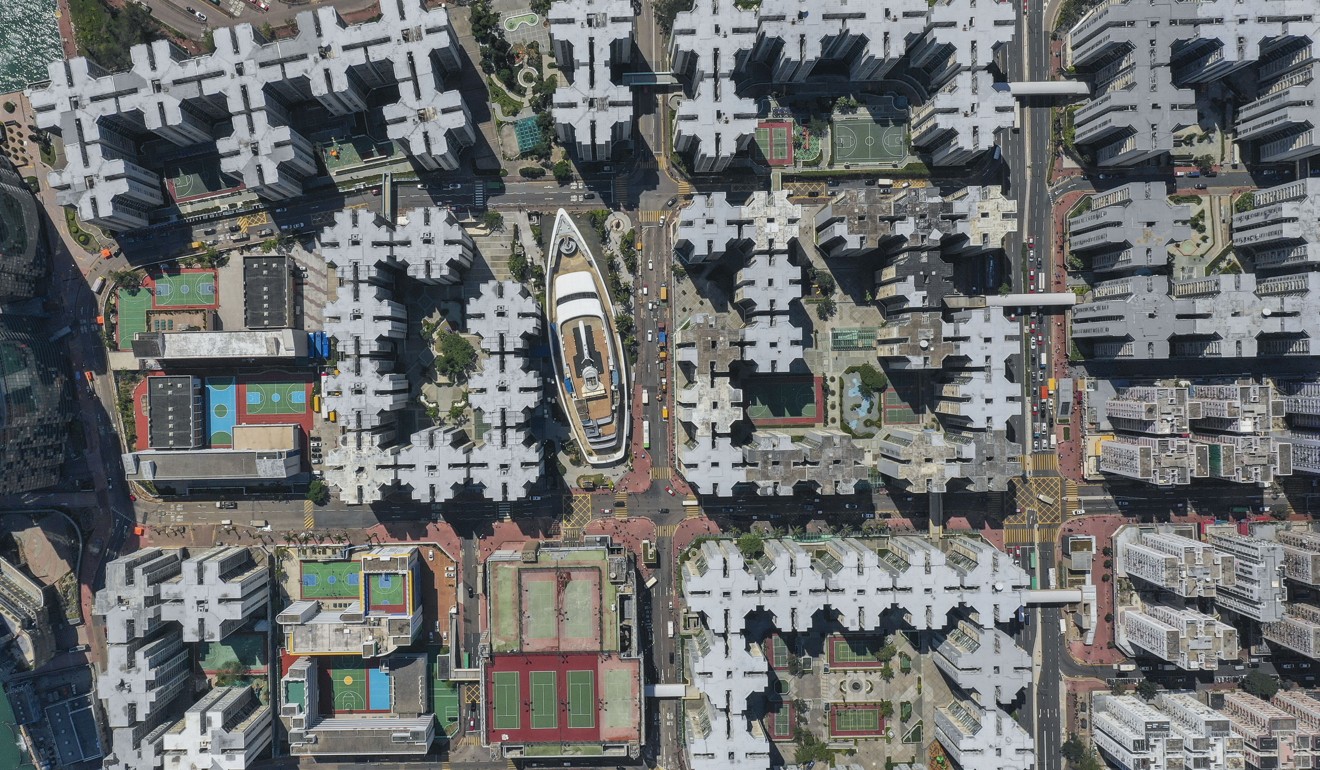 Forty-three of the 96 with direct links to developers were directors, employees or business associates of six major developers – Sun Hung Kai Properties (SHKP), CK Asset Holding, Henderson Land Development, New World Development, Wharf (Holdings) and Sino Land.
Developers and their associates were represented not only on the real estate and construction subsector of the Election Committee, but also in other subsector groups like those for transport, hotel, finance and wholesale, as well as retail.
This sprawling influence reflects their dominance of Hong Kong's economy, with their conglomerates involved in everything from telecommunications to public utilities and supermarkets.
For example, three of Hong Kong's four mobile phone network operators are connected to developers: Hutchison Telecommunications is a unit of CK Hutchison, chaired by Li's son Victor Li; Hong Kong Telecommunications (HKT) is a unit of PCCW, chaired by his younger brother, Richard Li Tzar-kai; and SmarTone Mobile Communications is owned by SHKP.
Housing's dreadful decade
How did developers rise to such a level of power and influence, and how did Hong Kong's housing situation become so dire?
One of the first things Tung Chee-hwa did on becoming leader after the handover was to announce ambitious housing targets: 85,000 flats a year, comprising 50,000 public and 35,000 private units.
But the Asian financial crisis followed and hit the property market so hard that Tung was forced to declare in 2000 that his plan for 85,000 flats a year no longer existed.
By then, too, the government had introduced an "application list system" through which it published a list of available sites for sale each year. Interested developers could make private offers to the government, and a public auction was arranged if the offers met the undisclosed reserve price.
"This system allowed developers to take the initiative in controlling land supply," said Stan Wong Hok-wui, a political scientist at Polytechnic University who has studied the political influence of the real estate elite.
The system was abolished in 2013.
Tung's government also suspended indefinitely the Home Ownership Scheme, which provided subsidised flats for sale to lower-middle-income applicants.
"It was a tragedy for Tung to close down the public housing programme and allow developers to shrink the supply of private housing," said Leo Goodstadt, head of the colonial government's Central Policy Unit think tank from 1989 to 1997.
That move rescued private developers from the acute pressure of the market in the wake of the financial crisis, he said. But it also removed the element of government competition that came when subsidised public flats provided an alternative to those built by private developers.
Goodstadt said: "Tung is a businessman and shared what the property developers believed. It's quite likely that when property developers raised the issue, he agreed with them."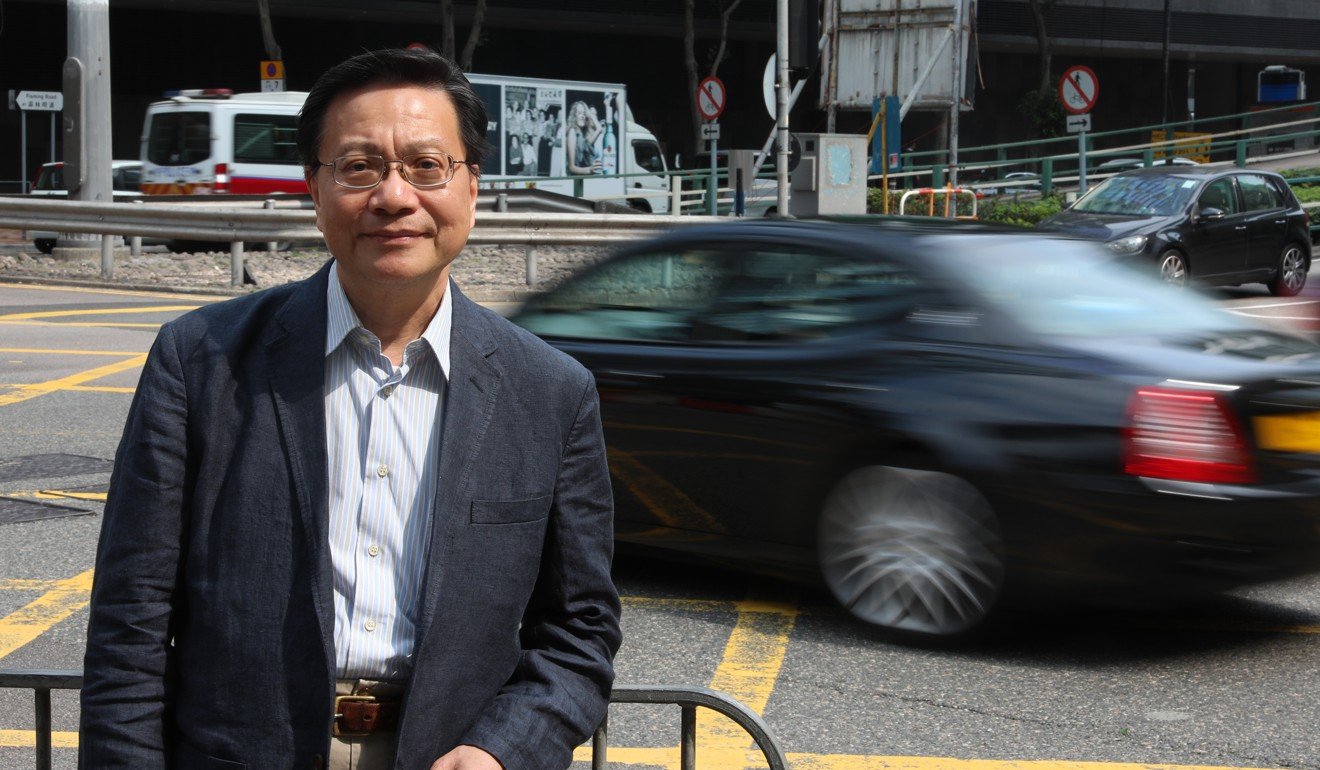 Anthony Cheung said Tung had no choice but to cut housing supply in the wake of the Asian financial crisis, which resulted in a substantial number of cases of negative equity.
"It would also threaten the banking system if the situation got worse. To be fair, anybody who was in that position had to do something to stabilise the property market."
The government went on to tighten supply during the administration of Donald Tsang Yam-kuen, the city's second chief executive. The annual housing supply of private, subsidised and public rental flats was more than halved from 59,800 units in 2006 to 25,700 by 2016.
A government source familiar with land matters said on hindsight, it was too late for Tsang to resume the Home Ownership Scheme in 2010, eight years after it was suspended. But it is clear that the impact of the further tightening under Tsang is still being felt to this day.
Another source closely involved in the land mechanism said the government's hands were tied over land supply because it had scaled back land production more than 10 years ago. "We are now scrambling hard to catch up," the person said.
Cheung said Leung Chun-ying, who succeeded Tsang as chief executive in 2012, spared no effort in boosting land supply. "Leung was also never hesitant to take on developers when it came to reining in the red-hot property market," Cheung added.
Leung also revived the city's long-term housing strategy, under which private and public housing targets are set and reviewed annually.
Leung set an ambitious pledge to provide a total of 480,000 public and private units by 2025, of which 200,000 will be public rental flats, 90,000 will be subsidised flats for sale and 190,000 will be private homes. He failed to meet the target for public housing and was out after one term.
The ensuing shortage caused home prices to soar over a decade right until the end of last year.
A massive private land bank
Today, there is little dispute that developers have the upper hand in land ownership.
The "Big Four" major developers, SHKP, Henderson Land, CK Asset Holdings and New World Development hold a total of 83 million sq ft in Hong Kong, according to their annual reports.
A recent report by Bank of America Merrill Lynch said they also held a total of 107.3 million sq ft of farmland – nearly 1,000 hectares – in the New Territories. That is nearly 25 times the size of the waterfront West Kowloon Cultural District.
Henderson Land is tops in terms of the farmland it owns, with 45.9 million sq ft, followed by SHKP with 31 million sq ft, New World Development with 17 million sq ft, and Li's CK Assets with 13.4 million sq ft.
More than a million public flats could be built on the farmland held by the four developers, but the government has yet to identify land to build 67,000 public housing units to meet its 10-year housing supply target.
Currently, there are 256,100 applications for public rental flats alone, with a waiting period of 5.4 years.
Goodstadt said senior Beijing officials responsible for Hong Kong affairs must have been looking at what was wrong with the city in the wake of the anti-government protests.
"What could be causing people to protest like this, in such large numbers? One thing that is dreadful in Hong Kong is housing," he said.
Does Beijing's recent tirade against the Hong Kong developers signal that a 40-year honeymoon is coming to an end?
Ray Yep, a professor with City University's department of public policy, does not believe so. "Beijing just wants to rally their support in putting an end to the violence in the city," he said.
But others point out that Beijing began cooling its ties with developers well before the current protests, ever since Xi Jinping became president in 2012.
They note that Beijing leaders hold fewer meetings with Hong Kong tycoons when they visit the city these days compared to the past, to avoid criticism that they care only about the rich.
In the past Li Ka-shing's close ties with Jiang were well-documented. Li played host to the former president during his visits to Hong Kong in 1997, 1998 and 2001. Jiang stayed at CK Assets's Harbour Grand Hotel in Hung Hom and would have breakfast with Li and his sons.
Such private meetings came to an end when Xi took the helm.
In the ongoing social unrest, Beijing has made plain its dissatisfaction with property owners who appear to waver over where their loyalties lie.
Last month,
Global Times
editor Hu Xijin lashed out at the popular Harbour City shopping centre in Tsim Sha Tsui for
"kowtowing" to protesters
by banning police from entering the premises unless a crime was committed.
Referring to the notices put up by mall owner Wharf Real Estate Investment, he asked in an article posted on Weibo: "Are you trying to turn Harbour City into a lawless land that is subject to the will of the rioters?"
The source close to Beijing noted that today, the central government was not at all worried about alienating or offending Hong Kong's developers.
He pointed out that Beijing was in a much more powerful position now than in the 1980s when it needed the developers' support in an uncertain period, and where its own international standing had yet to be firmly cemented.
Former Hong Kong minister Cheung said Beijing could see that the ongoing protests as largely a youth-led movement must have deeper underlying causes that needed fixing to prevent it festering into the future.
But Cheung suggested Beijing might not be doing a thorough enough assessment. "I hope Beijing will analyse Hong Kong's deep-rooted conflicts in a comprehensive way, rather than reduce the root of the crisis to unaffordable housing," he said.
Ellen Lau, a 24-year-old university employee who has participated actively in the protests since June, said she was more concerned about Carrie Lam's poor governance and, more recently, allegations of police brutality.
"Unaffordable housing seldom comes to my mind when I take part in the protests," she said. "My grievances and those of many friends of mine would not be eased even if the government tackles housing problem effectively."
But Edmund Cheng Wai, a political scientist at Baptist University, felt housing woes did affect some protesters, particularly those born after 1990.
He noted that 48.4 per cent of more than 6,100 demonstrators interviewed by a research team from Chinese, Baptist and Lingnan universities since June were aged between 20 and 29, the so-called "post-90s generation".
"Many suffer from lower social mobility and their career prospects can't compare with that of the older generations," he said.
Steve, a 24-year-old civil servant, said he had attended most of the protests since June to vent his anger at "property hegemony", a catchphrase used to describe the tycoons' stranglehold over Hong Kong. Young people like him cannot afford a home and feel left out of the system, he said.
"And the government is powerless in the face of the property hegemony," Steve added.
"The present political system is tilted in favour of property developers. The government is unable to tackle housing issues because property developers wield tremendous influence in the Election Committee and functional constituencies in Legco.
"Many young people feel they don't have a stake in society. Some even feel they have nothing to lose."