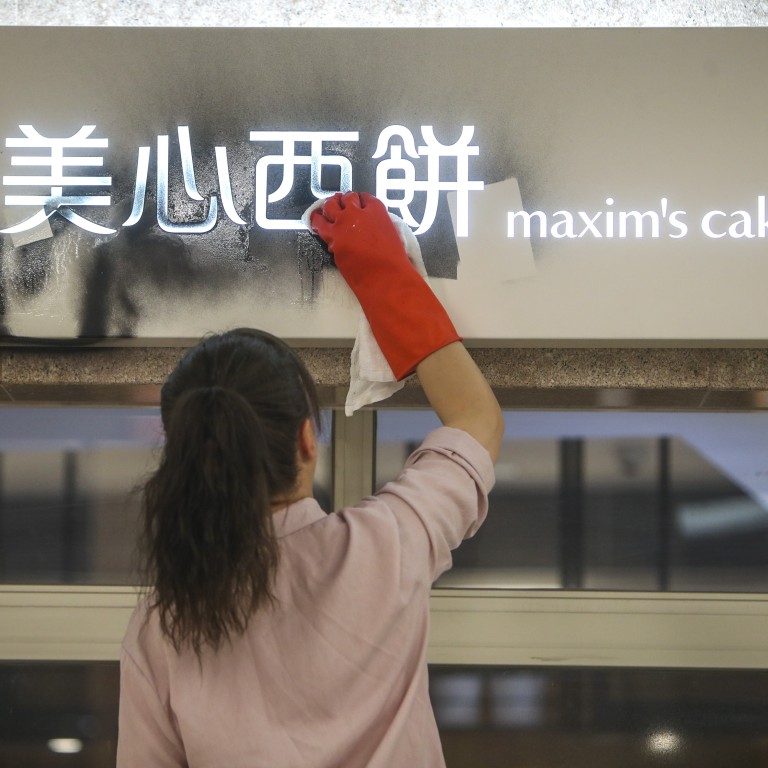 Hong Kong protests: Maxim's Group distances itself from 'rioters' comments by founder's daughter after Sha Tin restaurants targeted
Annie Wu said protesters did not represent Hong Kong
In response, food group's businesses were targeted during Sunday rally in New Town Plaza
One of Hong Kong's largest food and catering firms has issued emergency guidelines to staff and apologised to customers after restaurants under its ownership were targeted by anti-government protesters in Sha Tin's New Town Plaza during a rally on Sunday.
Protesters targeted the Maxim's Group after its founder's daughter, Annie Wu Suk-ching, called protesters "rioters", and said they did not represent Hong Kong.
"Some reports have said Wu is a manager at the company. We hereby state that Wu does not hold any position at the company, nor is she involved in any managerial decisions," Maxim's said in a statement on Tuesday.
On Sunday, protesters marched around the shopping centre in Sha Tin, targeting businesses with mainland connections, or those known to have criticised the protests. They painted graffiti on store fronts and jammed restaurants' digital table booking systems.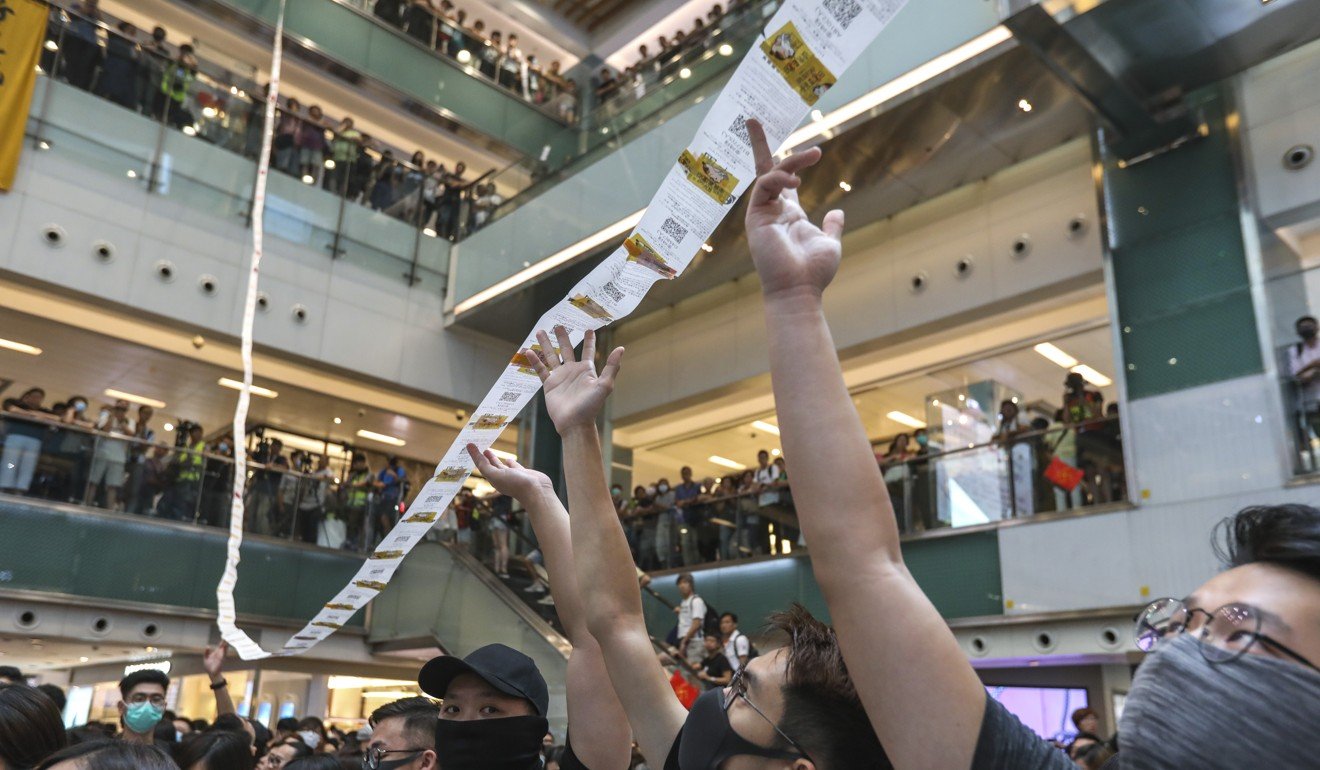 Cafes and restaurants owned by Maxim's, one of Hong Kong's largest food and catering firms, were adorned with stickers saying "support high-ranking officials and police" and "777", which refers to the number of votes Chief Executive Carrie Lam Cheng Yuet-ngor received in the 2017 election.
The firm owns or operates several well-known chains, including the Hong Kong operations for Starbucks, upmarket bakery and cafe Cova, and Chinese restaurants including Jade Garden and Peking Garden.
In its statement, the restaurant group thanked frontline staff and said it had issued "emergency guidelines and assistance" to affected employees, but did not elaborate on what the guidelines included.
"In light of recent social incidents, we hope all parties can resolve their differences and the community can return to normal," the statement ended.
Snack chain Best Mart 360 was also targeted during the rally because online rumours claimed it had ties to the alleged Fujianese gangsters accused of attacking protesters with sticks in North Point.
"It has come to our attention that there are rumours online associating our company with the Fujian gang or triads," the firm said in a statement. "We would like to vehemently deny any links to any form of violence."
The company said it respected freedom of speech and everyone's right to voice their opinions.
Neither company would say how much Sunday's protests had cost them, or comment on the protesters' actions.
Shopkeeper Wing Li, 39, who works in New Town Plaza, worried the protests would affect his income but said he was not scared of protesters.
"Of course it impacted our business, because people usually come out to shop on weekends, so it's a double whammy, but I'm not super against the protesters because the majority of them are rational," he said.
Some shoppers, such as Emily Fung, have visited the mall less often since protests first began in June.
"I now go to the mainland or leave Hong Kong on weekends to escape the chaos. I used to come here every week, either to have meals with friends or buy stuff," said the 59-year-old Sha Tin resident.
Zeng Xueying, 23, a Shenzhen resident who works in e-commerce, said: "I'm worried about my safety. I used to come to Hong Kong to shop every week, but now only once every three to five weeks."
Taishi Iwaizono, 28, a student at Chinese University, said protesters should not unleash their anger on the shops.
"I don't think it makes any sense," he said. "They are just finding anything that can relate to their feeling of antipathy towards the government."
Protesters have threatened to disrupt operations of Maxim's restaurants in Mong Kok on Wednesday night.
This article appeared in the South China Morning Post print edition as: Maxim's staff given guidelines after outlets are targeted