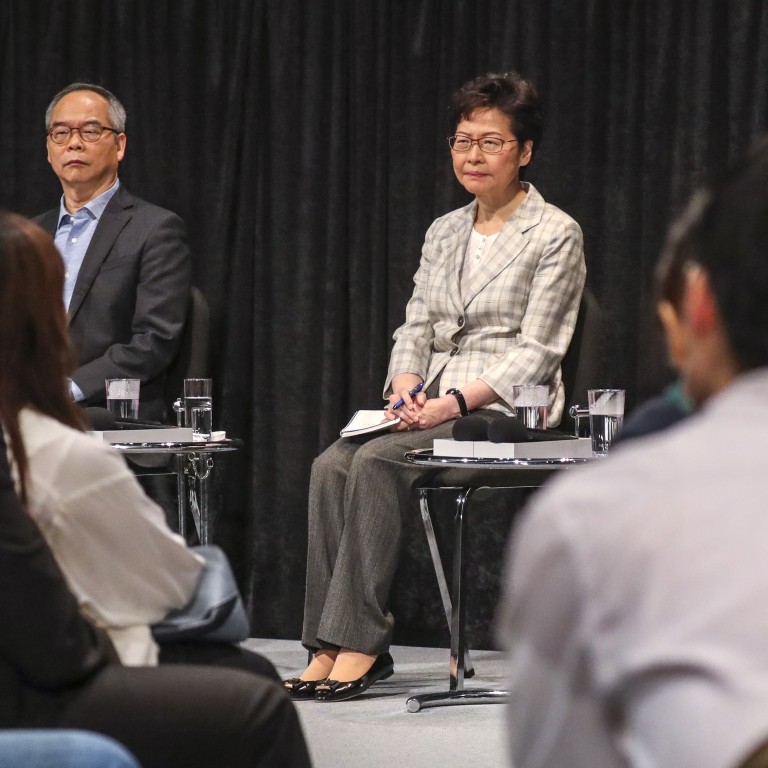 Agony aunt or punching bag: Carrie Lam toggles both roles at first community dialogue as Hongkongers vent anger, reveal hurt feelings but also express love for home
Leader appeared taken aback at times by outpouring of emotion as participants aired their frustrations over failure to resolve political crisis
At the end, participants were divided over the effectiveness of the dialogue
Inside the cavernous hall of Queen Elizabeth Stadium and against a funereal black backdrop, Hong Kong on Thursday evening had its first community dialogue with the city's embattled leader after four months of chaos and conflict.
For participants, it was a chance not just to vent their anger or reveal hurt feelings, but also an opportunity to express love for their home city.
Chief Executive
Carrie Lam Cheng Yuet-ngor
, dressed in a grey, checked suit and well-known for her confidence, appeared taken aback at times by the outpouring of emotions, shaken even when participants aired their frustrations over the government's failure to resolve the
unprecedented political crisis
, which has resulted in multiple injuries and at least 1,556 arrests.
The dialogue by Lam with members of the public was the start of her bid to defuse the tensions sparked in June by the now-abandoned
extradition bill
that morphed into a full-fledged anti-government movement with police as the focus of despair, if not hatred.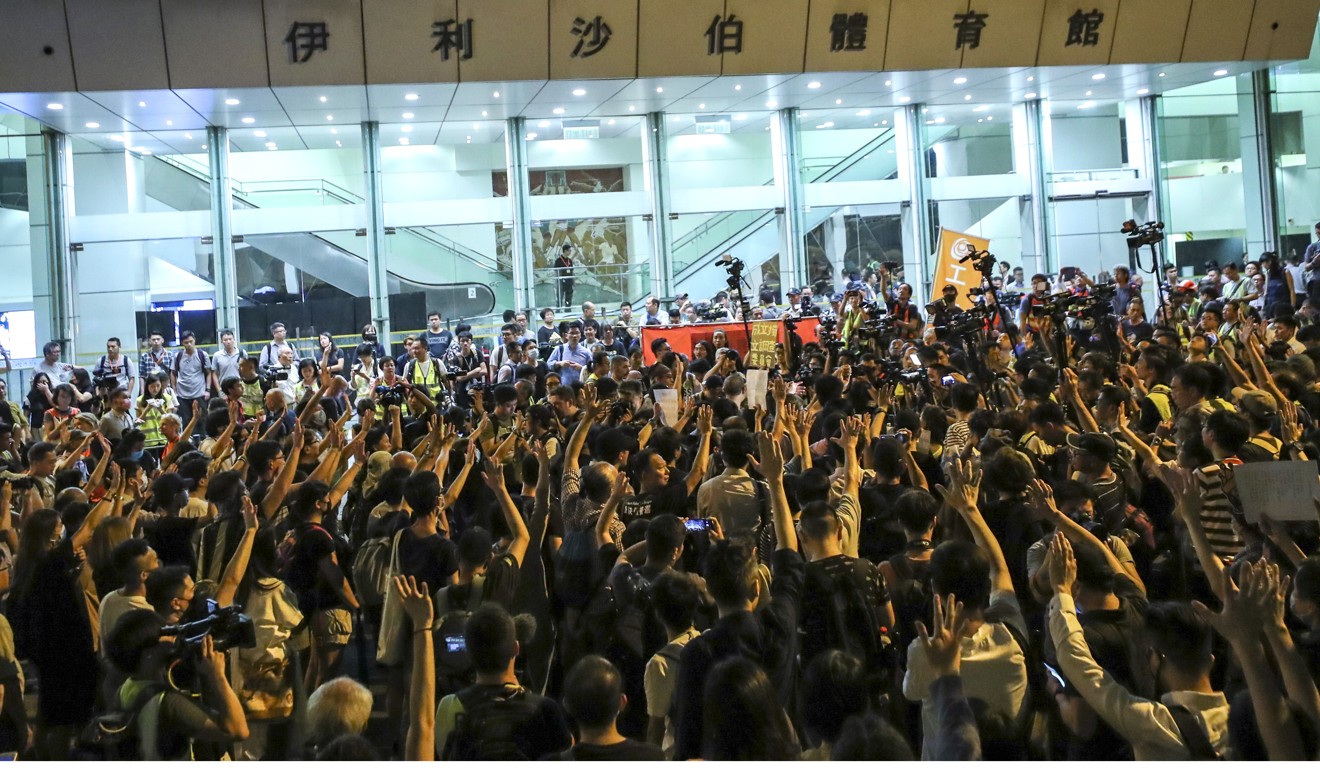 "It's wrong for you to get the police force to resolve political conflicts. Mrs Lam, aren't you worried that there will be people killed soon in the conflicts?" Sam Ng, 38, asked a sober-looking Lam, as he lamented that society was now deeply divided according to the colours of their political affiliation.
"Ninety-seven per cent of people I know are considering emigrating. Do you know how many are scared of police? My youngest son asked me if police could still be trusted, and he is only four years old."
Several middle-aged citizens, who identified themselves as peaceful protesters, also made it clear that they did not want independence. Their humble wish, they said, was a truly functioning "one country, two systems" where the city could enjoy its high degree of autonomy as set out in the
Basic Law
.
"I hope the government upholds 'one country, two systems' and lets it work in the way it is supposed to," said an accounting professional in her 50s, surnamed Cheng. "Your earlier remarks that some protesters have no stake in society … That really hurts."
Another female speaker opened by saying she loved Hong Kong and was sad to see they had "a chief executive who betrays the public, and officials who don't bear responsibility under the political accountability system".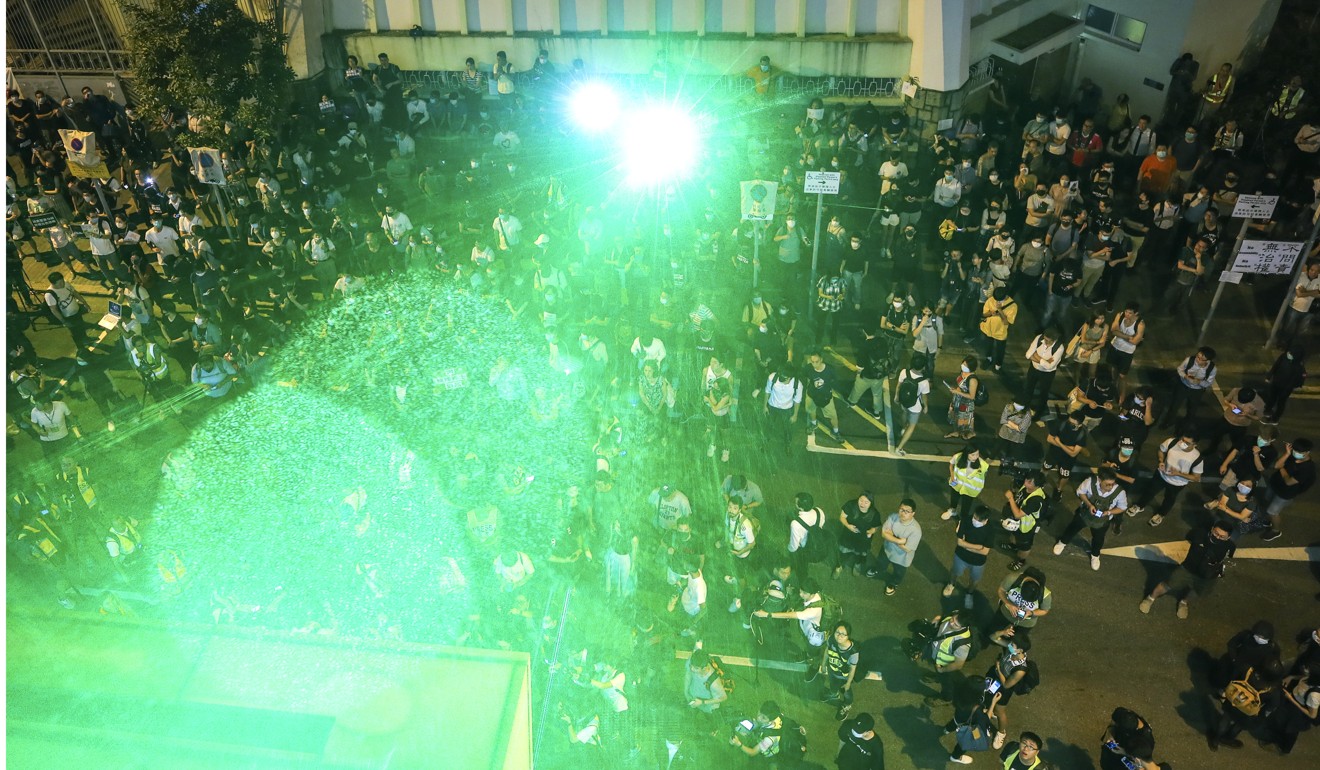 Two participants also took the chance to say cryptically that they would not commit suicide – in an apparent reference to the simmering but unverified rumours that some protesters had allegedly died mysteriously following police arrests.
About 10 per cent of the some 130 attendees in the dialogue were seen wearing masks, with some of them also in black attire, the colour of choice for the protesters.
One man ticked off Lam when he said: "If you answer my question, don't call me a friend. I don't have a friend like you."
Another made a personal plea to her, saying erosions of freedoms would affect him greatly.
"I just checked Wikipedia – you will be 90 by 2047 [when the 'one country, two systems' policy ends], so it won't matter to you by then. But I am 26 now and will be 55 by 2047. Do we have a future after that?" he asked.
While the participants spoke, Lam at times stared down at her little writing pad, not always jotting notes. Her demeanour at times appeared as if she was ready to receive the verbal blows and be a punching bag for the people, as former Legislative Council president Jasper Tsang Yok-sing had earlier said she needed to do to let Hongkongers vent their frustrations.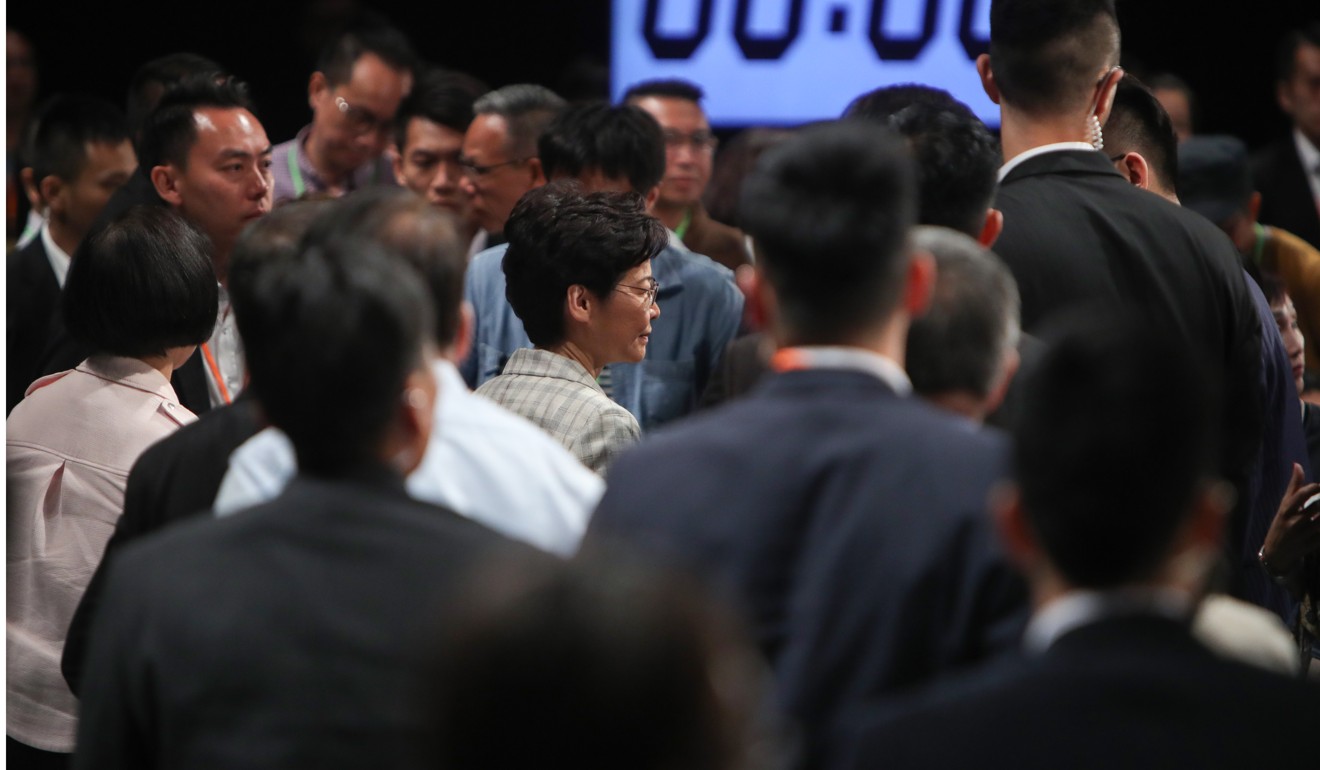 Lam recalled her "we connect" slogan for her 2017 campaign for chief executive.
"I admit I haven't done a good job in this aspect in the past two years and at times there is the problem of disconnection with the people. I understand and know it well. I hope to make improvements," Lam said in a rare show of humility.
Yet, at times Lam remained defensive when addressing the questions as she reaffirmed that there was no room for compromise over violence and sovereignty.
"The future of Hong Kong is in the hands of young people but there is a bottom line. Self-rule and autonomy for Hong Kong is not feasible," said Lam, who also did not set out new solutions on how to break the impasse between the protesters and the government.
Four ministers flanking her on the platform remained silent throughout save for mainland affairs secretary Patrick Nip Tak-kuen who spoke up once, while health chief Sophia Chan Siu-chee broke down in tears when one of the speakers fired a volley of questions.
At the end, participants were divided over the effectiveness of the dialogue.
Ng did not feel that Lam answered a lot of the questions, but believed she was genuine in making some comments.
"She says she feels very afraid that there will be people getting hurt or dying in protests. This point, I feel, was genuine," he said.
But Cheng called the session "a waste of time" even though she was given the chance to speak.
"I just get angrier and more disappointed. She just kept repeating herself," Cheng said of Lam. "She looks down on us Hongkongers, but looks up to Xi Jinping. We are not from the lower part of society. I am educated and I can think critically."