Police battle protesters as they set streets ablaze in central Hong Kong
Plain-clothes officer fires live-round warning shot skywards to drive away demonstrators, while water cannon, tear gas and rubber bullets are also used
Petrol bombs thrown and fires lit as chaos and violence engulf Admiralty, Wan Chai and Causeway Bay, with MTR stations again targeted
Rioting protesters set many parts of Hong Kong's bustling commercial streets ablaze on Sunday as the city saw a 17th straight weekend of unrest.
Chaos and violence
engulfed Admiralty, Wan Chai and Causeway Bay, with riot police battling mobs of protesters for hours. Amid the mayhem, a plain-clothes officer fired a live-round warning shot skywards to drive away protesters who were near him and his colleagues.
More than 100 people were arrested, and as of 10.30pm, 25 had been taken to hospital with injuries.
Sunday's protests were noticeably more violent than the day before, an ominous sign ahead of National Day on Tuesday, when China will mark the 70th anniversary of Communist Party rule.
Protesters have called for a general strike on Monday and vowed to go out in full force on Tuesday to spoil Beijing's celebration. Sparked by a
now-abandoned extradition bill
, the protest movement has broadened, and the central government is a clear target.
The day began with thousands of protesters, in defiance of a police ban, gathering in Causeway Bay to march to the government headquarters in Admiralty. Police warned them it was an illegal assembly and they were obstructing traffic, and just before 2.30pm they fired the first round of tear gas at the crowd.
Many people ran into nearby shops for shelter but quickly regrouped, and the outnumbered riot police eventually pulled back while the protesters pressed on to Admiralty. A National Day billboard was removed from the Pacific Place footbridge and burned in the middle of the road.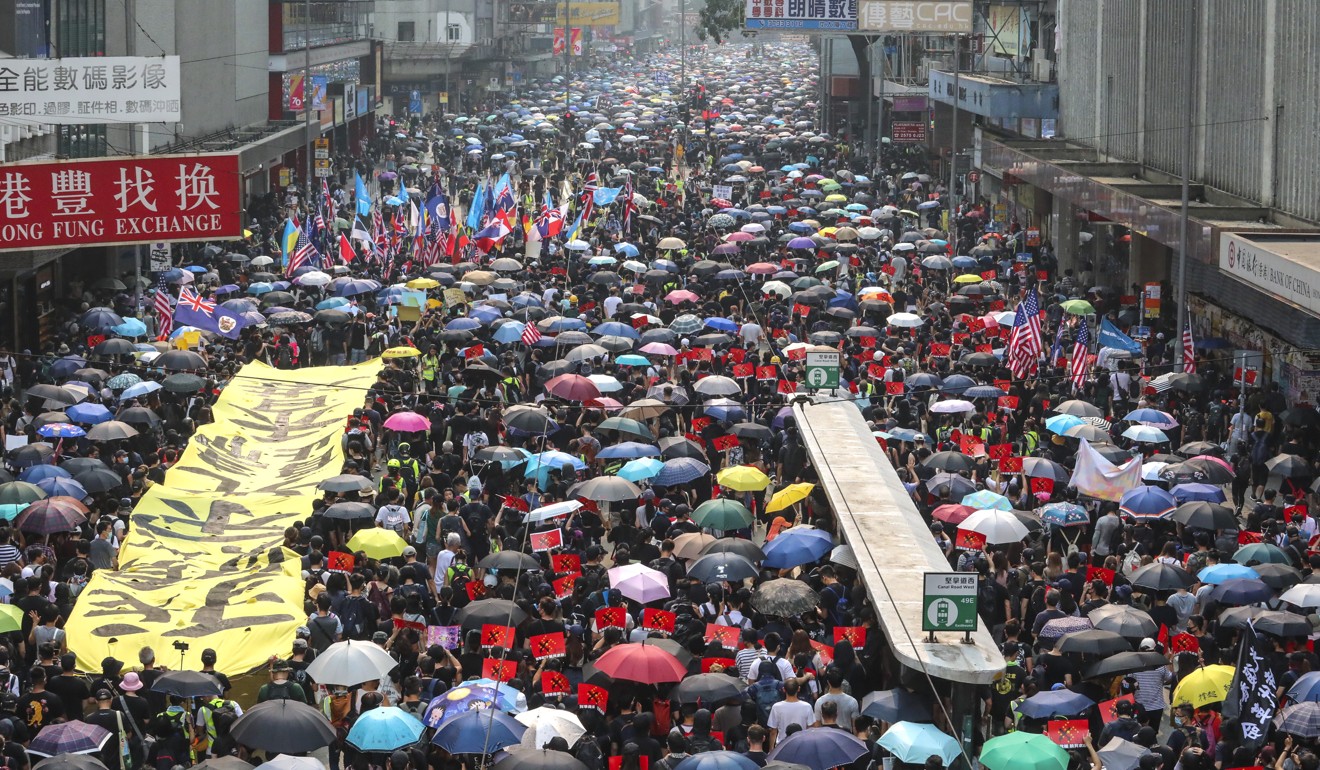 Emotions ran high as they reached the barricaded government headquarters, with some throwing bricks and petrol bombs into it. Police used water cannon to disperse them, and fired tear gas and rubber bullets.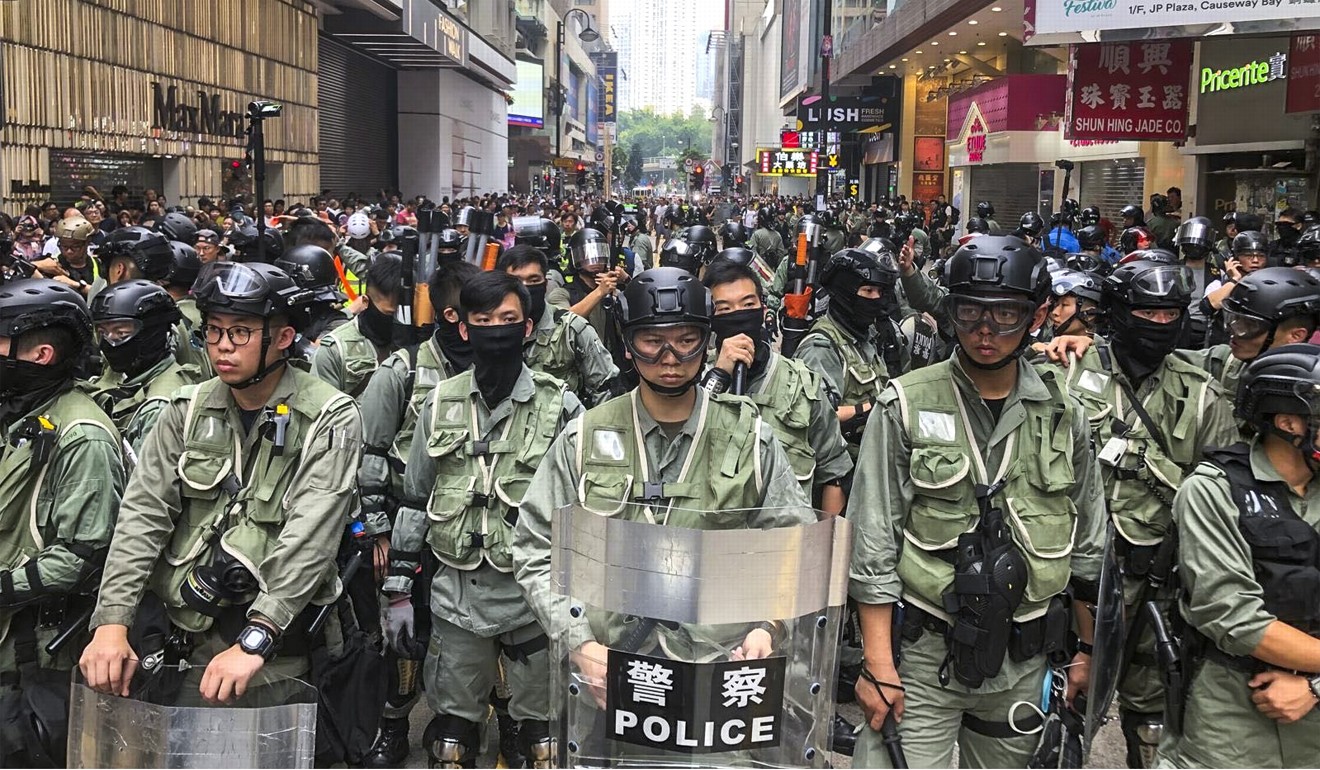 Some protesters headed for Wan Chai, venting their anger at the city's railway operator the MTR Corporation. The company, whose majority shareholder is the government, has frequently been targeted by protesters who say it has colluded with the police. The MTR closed several stations in anticipation of trouble, including Wan Chai.
A mob of protesters smashed the windows at an entrance to the Wan Chai station, throwing at least two petrol bombs inside, and other objects. Unable to force open the shuttered gate, they eventually set the whole entrance on fire, creating a thick plume of black smoke.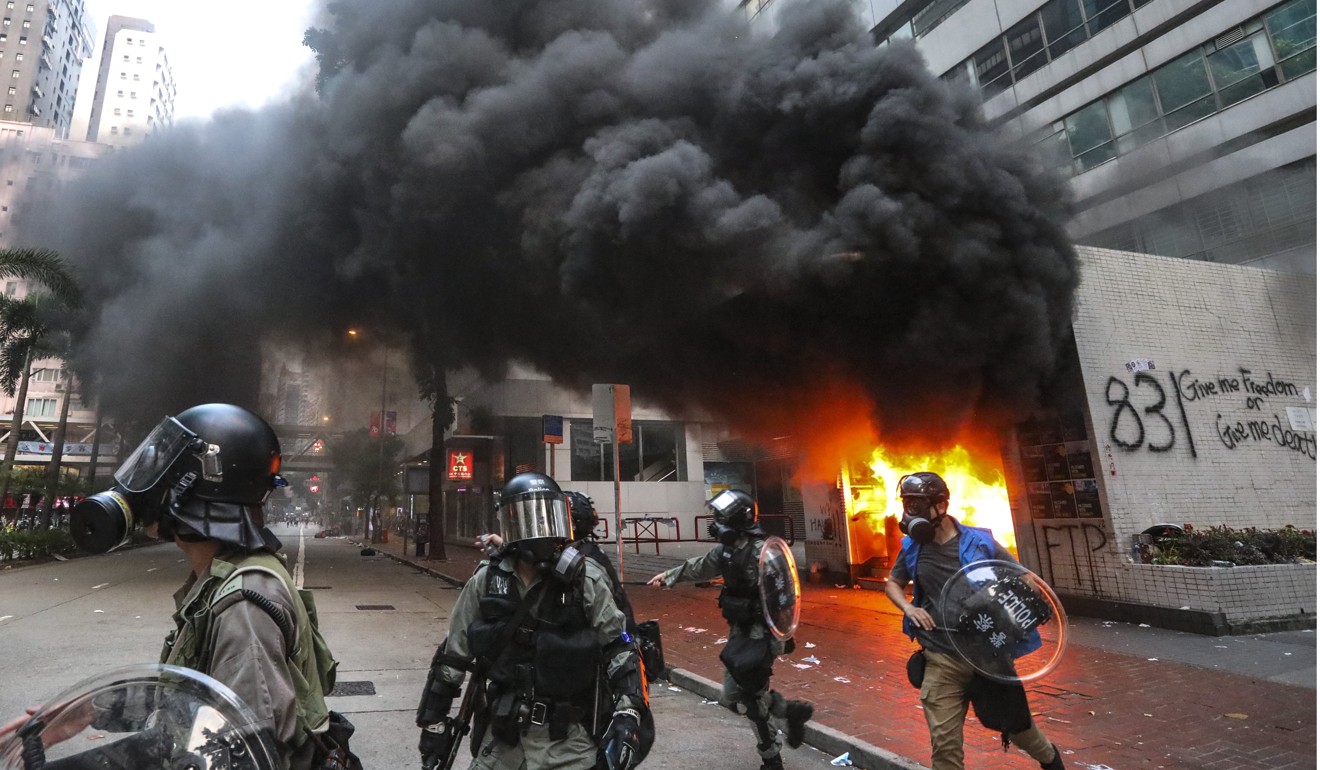 Soon, fire broke out in many other places, from Admiralty to Causeway Bay. Some protesters tried to torch another MTR entrance in Causeway Bay and burned garbage in the middle of the road near the Methodist Church in Wan Chai.
A block away, a huge bonfire was lit on the junction of Fleming Road and Lockhart Road, with riot police watching from the other side. The protesters tried to throw petrol bombs at them but most landed instead in the middle of the road. A shuttered shop around the corner briefly caught on fire.
Police also stepped up their use of force. Tear gas was fired at far more frequent intervals than the day before, which marked
the fifth anniversary
of the largely peaceful Occupy protests in 2014. They also pepper-sprayed many protesters at close range, including lawmaker Eddie Chu Hoi-dick, who was not wearing a mask.
The Special Tactical Squad, also known as Raptors, chased protesters up and down the streets, wrestling them to the ground to make arrests. Just outside Pacific Place on Harcourt Road, police took away at least 37 suspects, and they also rounded up a few dozen on Queensway. The operation continued well into the night.
Police confirmed the firing of a live round in a statement issued early on Monday morning that "strongly condemned" protesters for their violent acts.
The force said that at about 5.30pm, some officers were surrounded and attacked by a large group of violent protesters while executing their duties near Wan Chai MTR station. "With their lives under serious threat, an officer fired one warning shot into the sky to protect their own safety," the statement said.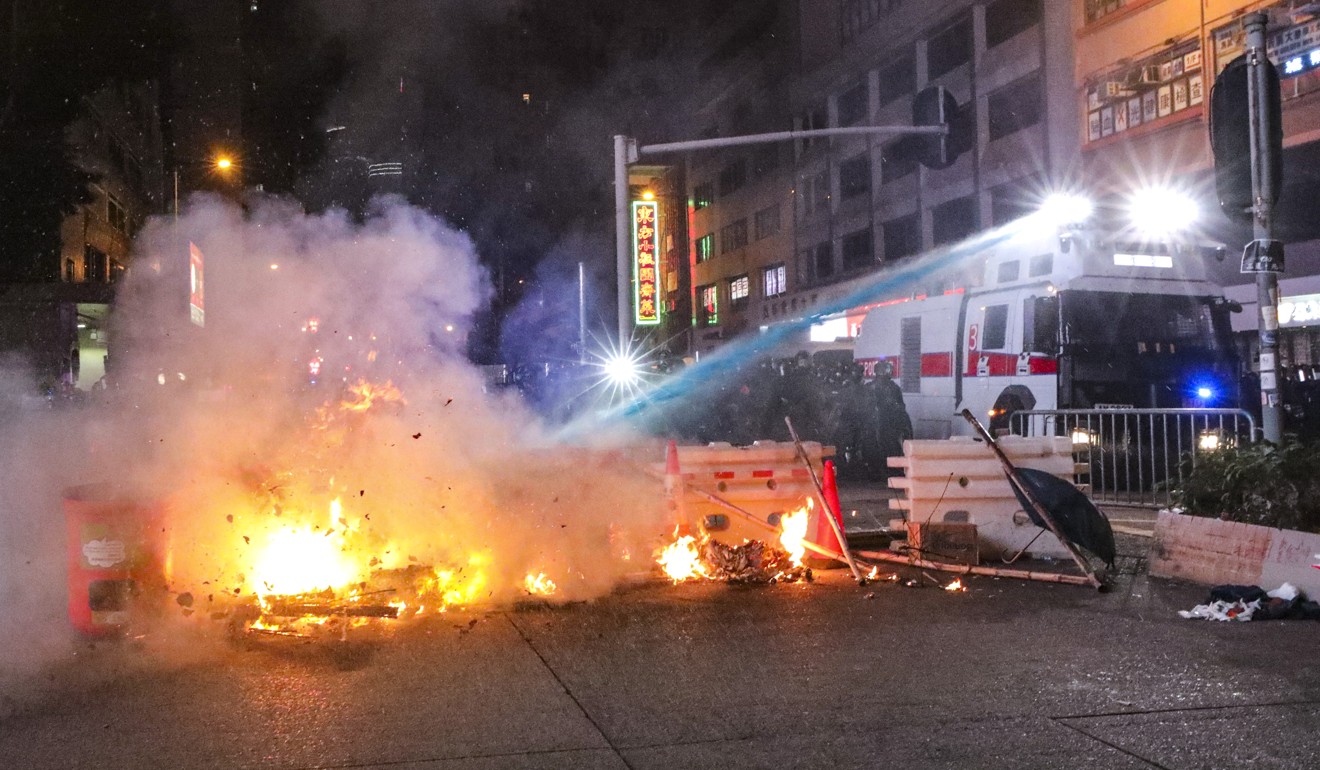 In the evening, scuffles broke out between protesters and people who argued with them. In Causeway Bay, a man in black was kicked and punched by a group of protesters and his shirt was torn. He was knocked to the pavement and suffered head wounds and was eventually escorted away by a Caucasian. The protesters accused him of being a "gangster" from Fujian.
In another incident, a man dressed in white was taken to hospital after he was beaten on the ground by a gang of protesters, who went on to stamp on him.
Also in Causeway Bay, a crowd surrounded a taxi, accusing the driver of speeding, saying he almost hit one of them. Police arrived and escorted the driver away but the crowd then smashed the taxi's windows, vandalised its interior and even destroyed the engine.
Many shops and restaurants with owners considered to be pro-Beijing were also defaced and vandalised.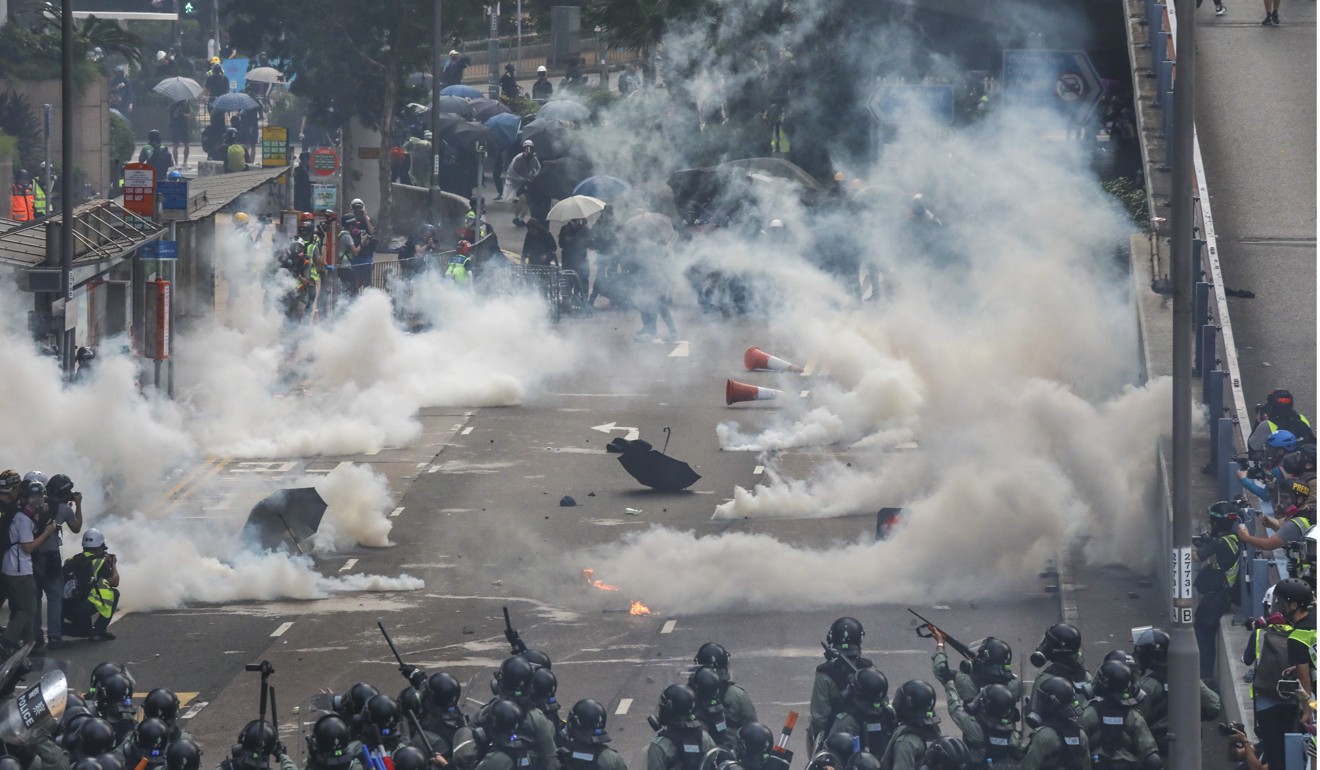 In a statement, the government severely condemned the "serious, illegal acts of radical protesters".
After another weekend of chaos, attention will now turn to Tuesday, when Beijing celebrates the founding of the People's Republic of China.
On Sunday, President Xi Jinping presented
honorary medals to 42 Chinese and foreigners
, including former Hong Kong chief executive Tung Chee-hwa, for their contributions to the country. It was the first time the awards were given out, and Tung was the first person from Hong Kong to receive one – for his outstanding contribution to the "one country, two systems" principle that allowed the city to retain its unique way of life after returning to Chinese rule.
This article appeared in the South China Morning Post print edition as: violence, and chaos and a warning shotViolence, chaos and a warning shot as protests go on