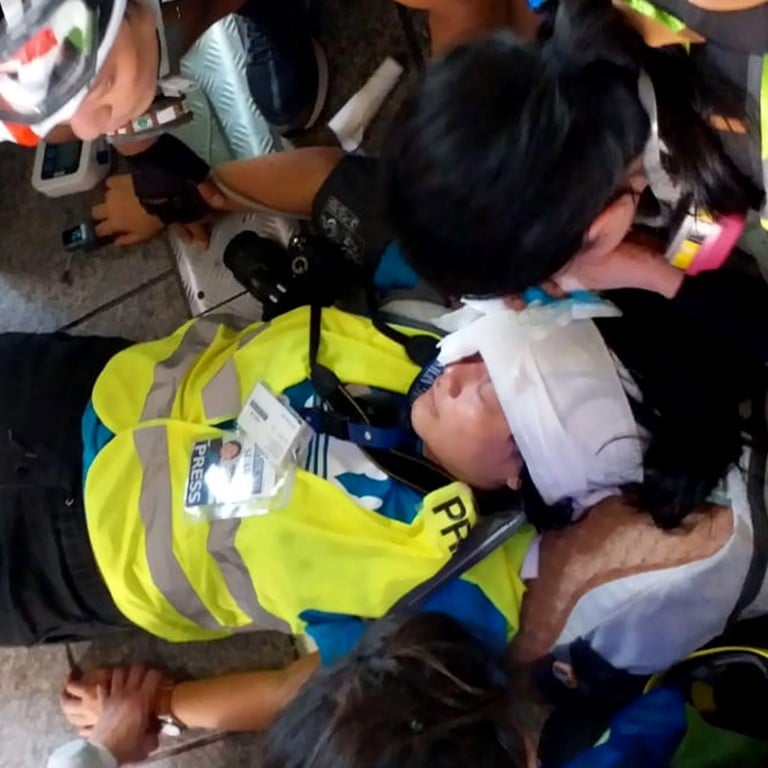 Indonesian journalist demands answers after she was shot in the face with non-lethal round by Hong Kong police officer
Veby Mega Indah, an associate editor with Suara Hong Kong News, says her right eye was injured by a projectile fired by a police officer
It was unclear whether 39-year-old had been struck by a beanbag round or a rubber bullet
An Indonesian journalist who was shot in the face by a Hong Kong police officer has demanded to know why she was targeted while covering Sunday's violent protests in full press gear.
Veby Mega Indah, a 39-year-old associate editor with Suara Hong Kong News, told the Post that her right eye was injured by a projectile during the day's street violence and she needed three stitches near her eyebrow. It was unclear at press time whether she had been struck by a beanbag round or a rubber bullet.
Indah told the Post: "I was wearing a helmet and a pair of goggles. I was standing with other journalists. I heard a journalist shouting 'Don't shoot, we are journalists'. But the police shot."
Indah spoke exclusively to the Post while being treated at the Pamela Youde Nethersole Eastern Hospital in Chai Wan. Suara Hong Kong News is a local newspaper commonly read by Indonesian domestic workers.
"The next thing I know was that I saw a bag coming towards me, and then I was down," she said, as tears streamed from down her face. Her forehead and right eye were swollen and she complained of extreme pain and dizziness.
Indah was hit in her right eye by a non-lethal round as police cleared protesters out of the Wan Chai area on Sunday afternoon. Police officers also reportedly used pepper spray on local reporters in Causeway Bay.
Indah said she was shot on the footbridge connecting the Immigration Tower and the Wan Chai MTR station. Before she was wounded, in her account, police officers were retreating from the footbridge on a staircase when one of them fired in the direction of a group of protesters and journalists.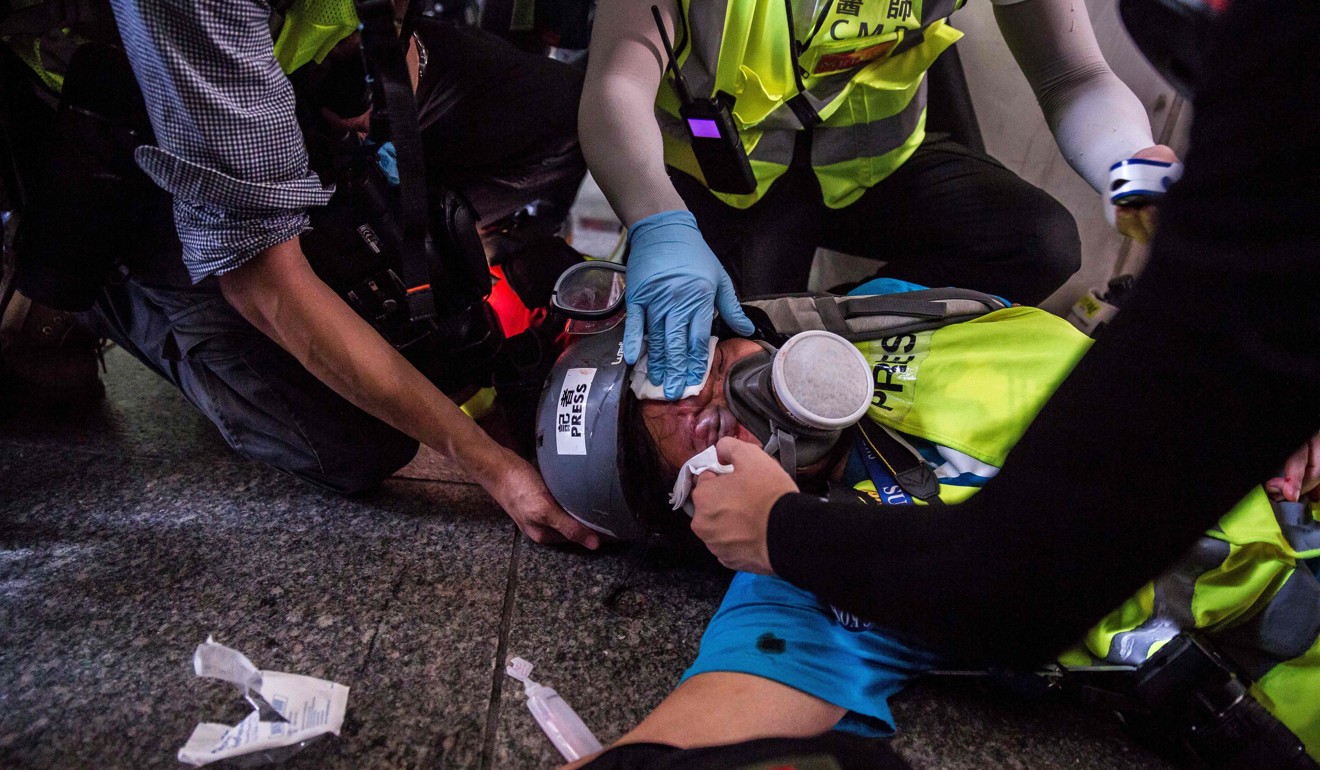 On a video obtained by the Post, a woman was heard screaming and then Indah was seen on the ground surrounded by a group of reporters.
After Indah was injured, she was conscious but was unable to move. Fire services paramedics arrived 20 minutes later to treat her. She was heard telling a paramedic: "It feels very painful in my right eye." She was then rushed to hospital in an ambulance. She also suffered injuries to her forehead.
 The Hong Kong Journalists Association urged authorities to explain why reporters, including Indah, were allegedly targeted by riot police on Sunday.
Chris Yeung Kin-hing, chairman of the association, said the police force need to explain why rounds were fired in the direction of journalists.
"It was almost an attack on journalists," he said. "There were also police officers using pepper spray on reporters on Sunday, and a number of cases of journalists being hit by rubber bullets in the past."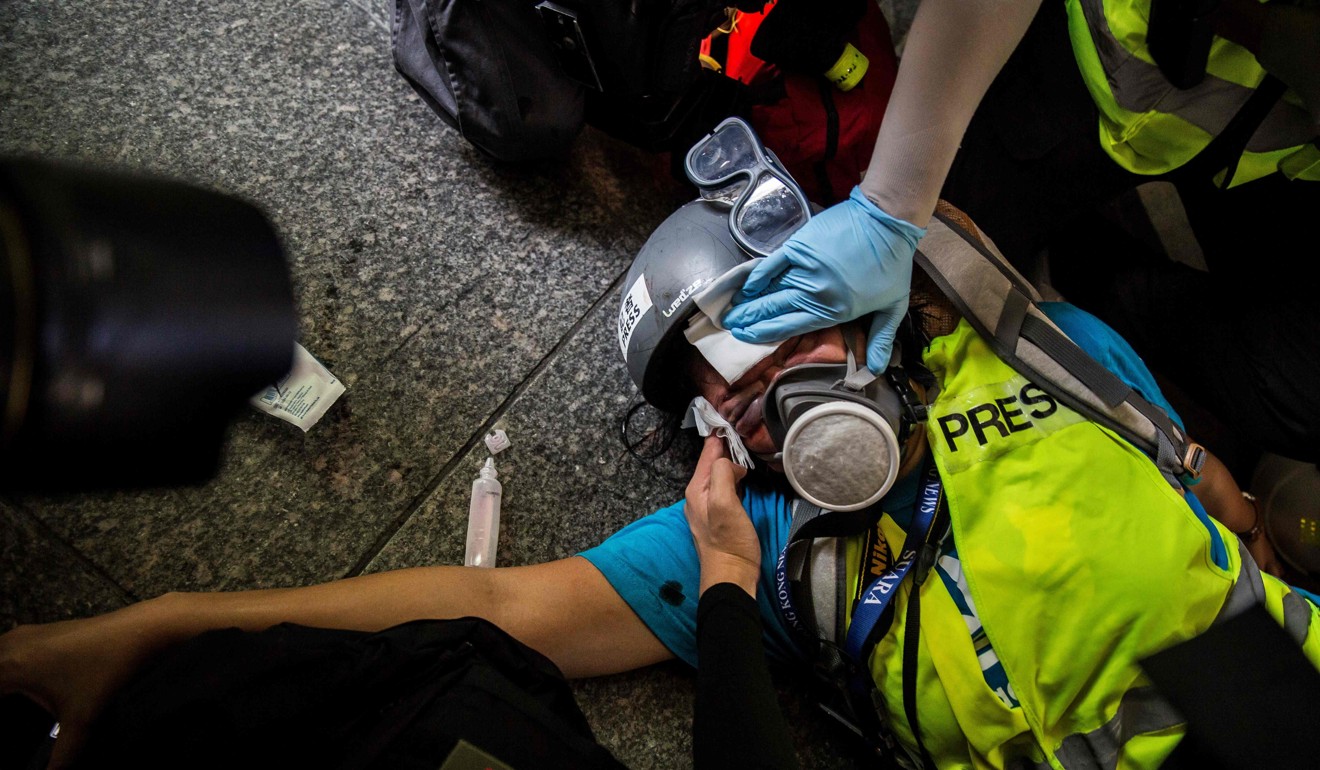 Yeung said he could not understand why journalists were repeatedly wounded by riot police.
"The police need to explain why, instead of making improvement, things have worsened," he said.
Separately, a media officer of the Indonesian consulate in Hong Kong said officials had visited Indah in hospital. She added that the consulate had been in touch with the police and other authorities on the case.
 "Her condition is stable now, but she needs further treatment. We will keep monitoring her condition and will provide her assistance needed," the media officer said.
Jodi Schneider, president of the Foreign Correspondents' Club of Hong Kong, said: "We are concerned about multiple reports of violence against journalists and interference with press access to covering protests on Sunday. We are also looking into reports of injuries to the Indonesian journalist."