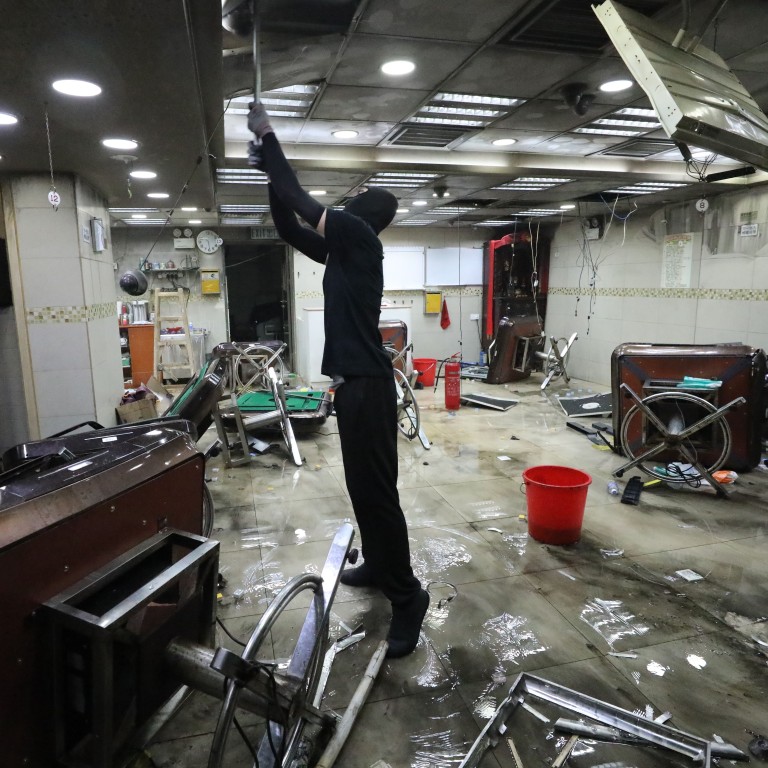 Hong Kong protests: angry mobs go on night-time rampage amid outrage over shooting of school pupil during violent National Day clashes
Radicals dig up bricks, block roads, start fires, vandalise train stations and target mainland Chinese-linked businesses
Earlier in day, thousands took to the streets to protest, with students boycotting classes and demonstrators taking over shopping malls
Groups of radical anti-government protesters went on the rampage across Hong Kong on Wednesday night, this time venting their rage over the shooting of a school pupil during violent clashes a day earlier.
Following the protest violence and chaos that marred China's National Day celebrations on October 1, thousands took to the streets again, with students boycotting classes and demonstrators taking over shopping malls to express outrage over the first use of lethal force by police in nearly four months of civil unrest.
As darkness fell, angry mobs dug up bricks, blocked roads, started fires, vandalised train stations and targeted mainland Chinese-linked businesses.
Police fired tear gas to disperse a large number of diehard protesters in Tsuen Wan, where they unlocked the turnstiles at the MTR station and spray-painted graffiti in the premises, blocked traffic and dismantled railings to set up road blockades.
Others trashed Bank of China ATM facilities and vandalised a China Mobile shop in the district.
Glass fronts and ticket facilities in at least 10 MTR stations were seriously damaged during the carnage. Those targeted included Tiu Keng Leng, Tseung Kwan O and Hang Hau stations on the Tseung Kwan O line and Tai Wai and University stations on the East Rail line.
In Sha Tin, protesters smashed turnstiles and Octopus add-value machines, and sprayed graffiti in the adjoining New Town Plaza shopping centre.
It was more of the same at Tseung Kwan O MTR station, where they invited commuters to go though the turnstiles without paying.
Roads were blocked in districts ranging from Wong Tai Sin to Causeway Bay. A Wong Tai Sin MTR exit was flooded with water from a damaged fire hydrant.
Rampaging protesters also threw petrol bombs at the gate of the New Territories South regional police headquarters in Tai Wo Hau.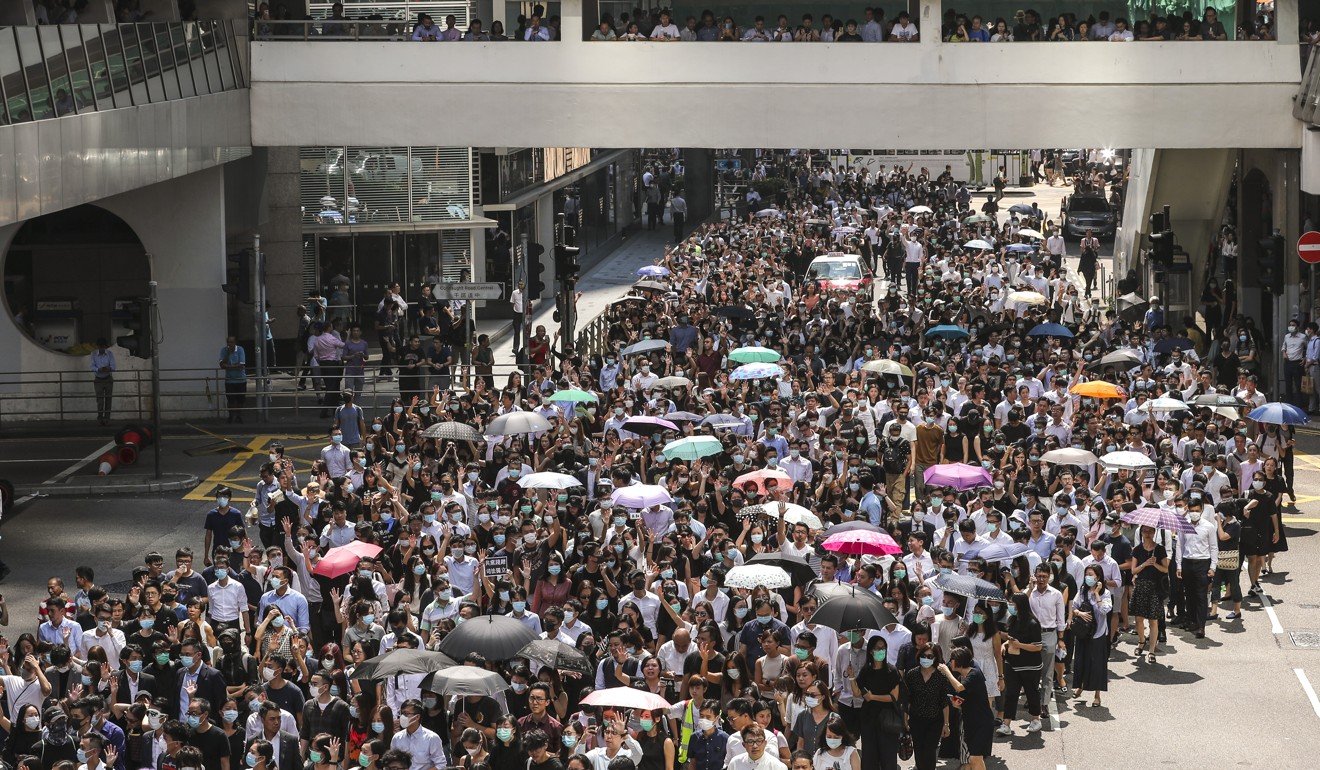 The chaos prompted the MTR to shut down Po Lam and Hang Hau stations at 11.30pm to ensure the safety of passengers and staff. At midnight, Tai Wai, Che Kung Temple and City One stations were closed early.
In the vicinity of Tai Wai MTR station, police raised a black flag twice – on either side of midnight – warning of the use of tear gas following a confrontation. The crowd, mostly locals, had objected to the presence of about 100 riot police. A man was arrested in the chaos.
As police began making their exit in several vehicles at 12.15am, some in the crowd threw large objects including rubbish bins at them. Officers jumped out and fired two sponge grenades at the crowd, without raising a warning flag. They left soon after.
Three fire services officers' associations issued a joint statement to condemn protesters' recent criminal actions, which they complained had slowed down emergency operations and jeopardised public safety.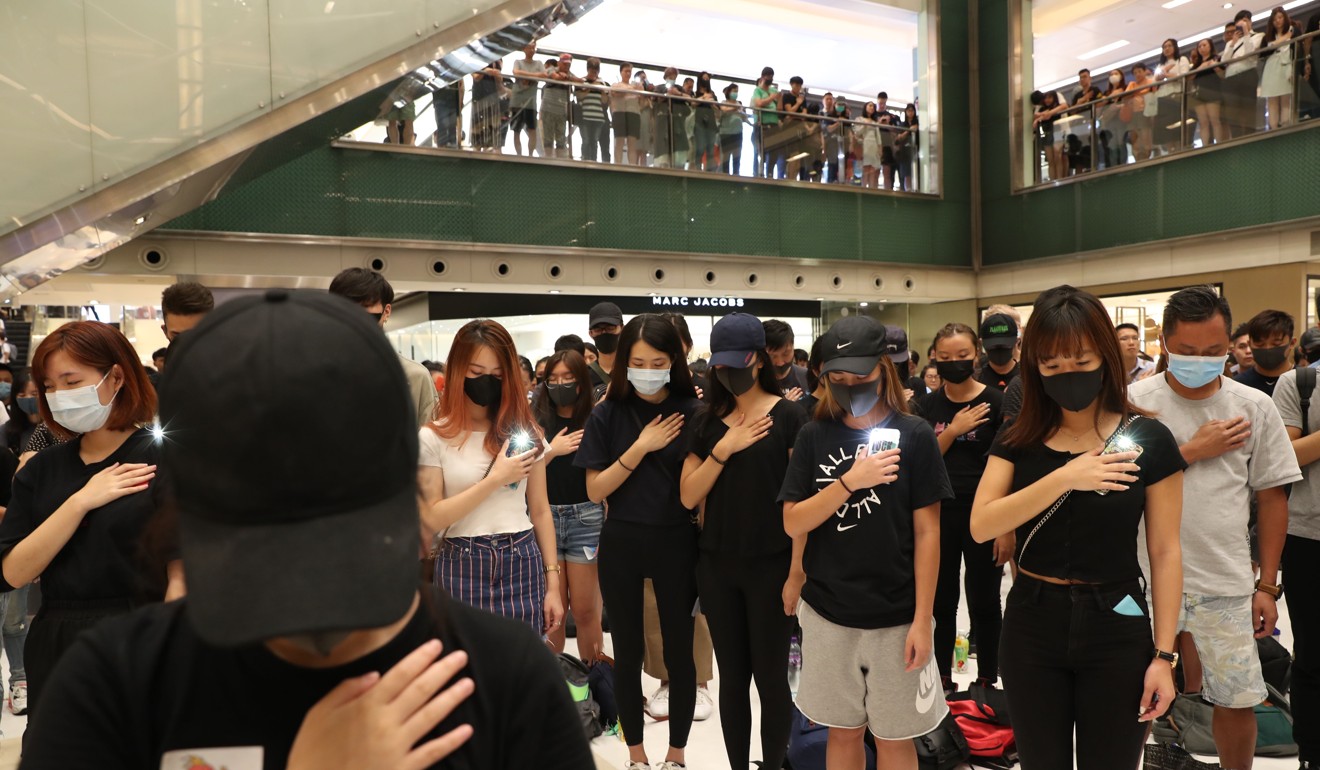 Earlier on Wednesday, police revealed at a press conference that besides shooting 18-year-old Tsang Chi-kin in the chest, officers had fired three of the five other live rounds they used on Tuesday at protesters.
They opened fire twice on protesters who were throwing petrol bombs at them on Sha Tsui Road in Tsuen Wan, but no one was hit.
Another missed shot was fired in Wong Tai Sin under similar circumstances. The remaining two live rounds were fired – but aimed skywards – in Yau Ma Tei.
Deputy Commissioner of Police Chris Tang Ping-keung insisted that the officer who shot Tsang had made the right decision as his own life as well as those of his colleagues were threatened.
Tsang's lawyer, Ng Gene-bond, said: "My client has undergone surgery and is now still receiving treatment in the intensive care unit. At the moment his life is not in danger in hospital."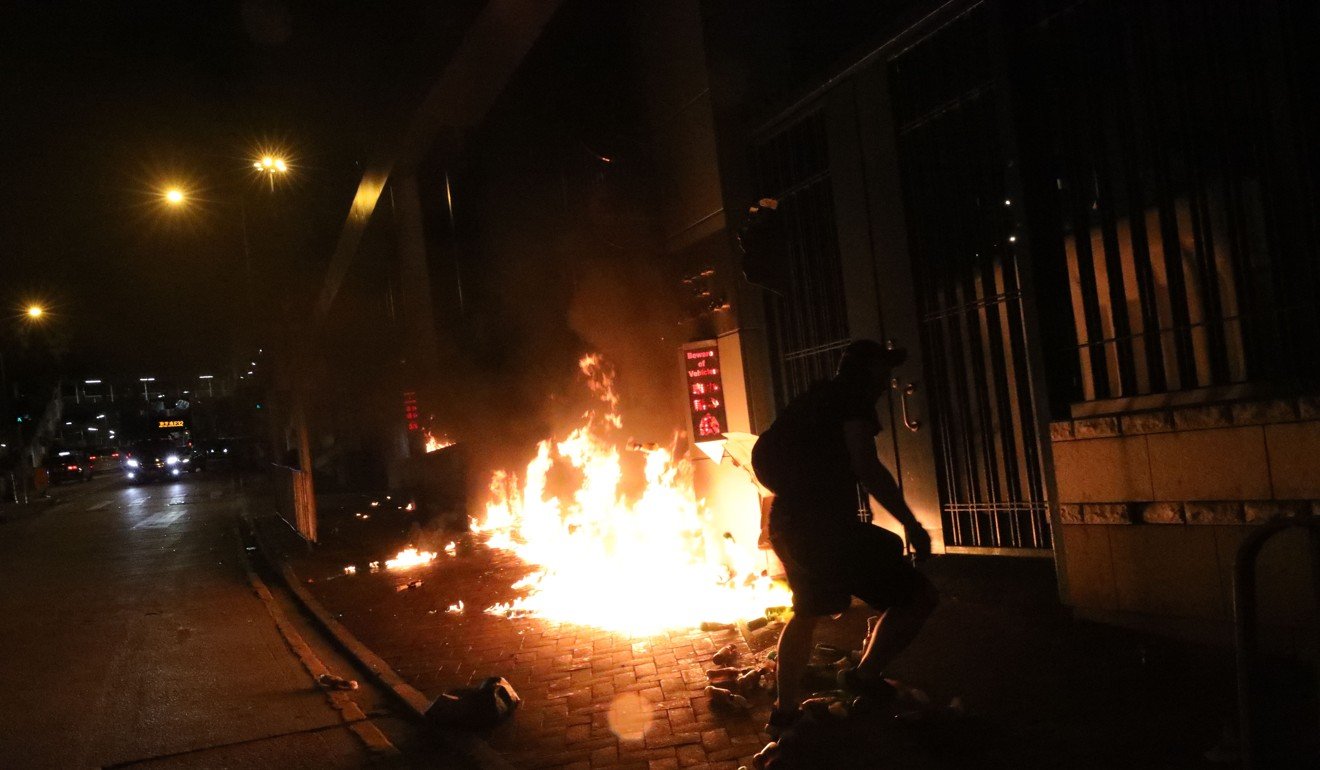 Earlier in the day, hundreds marched on the streets in Central in a spontaneous protest at lunchtime over Tsang's shooting, bringing traffic in the business district to a standstill.
Kathy Chau, 26, who works for a multinational finance firm in Central, said she joined the march even though her company did not support the protests.
"Doing the right thing is more important to me than worrying about what my boss or colleagues think of me," Chau said.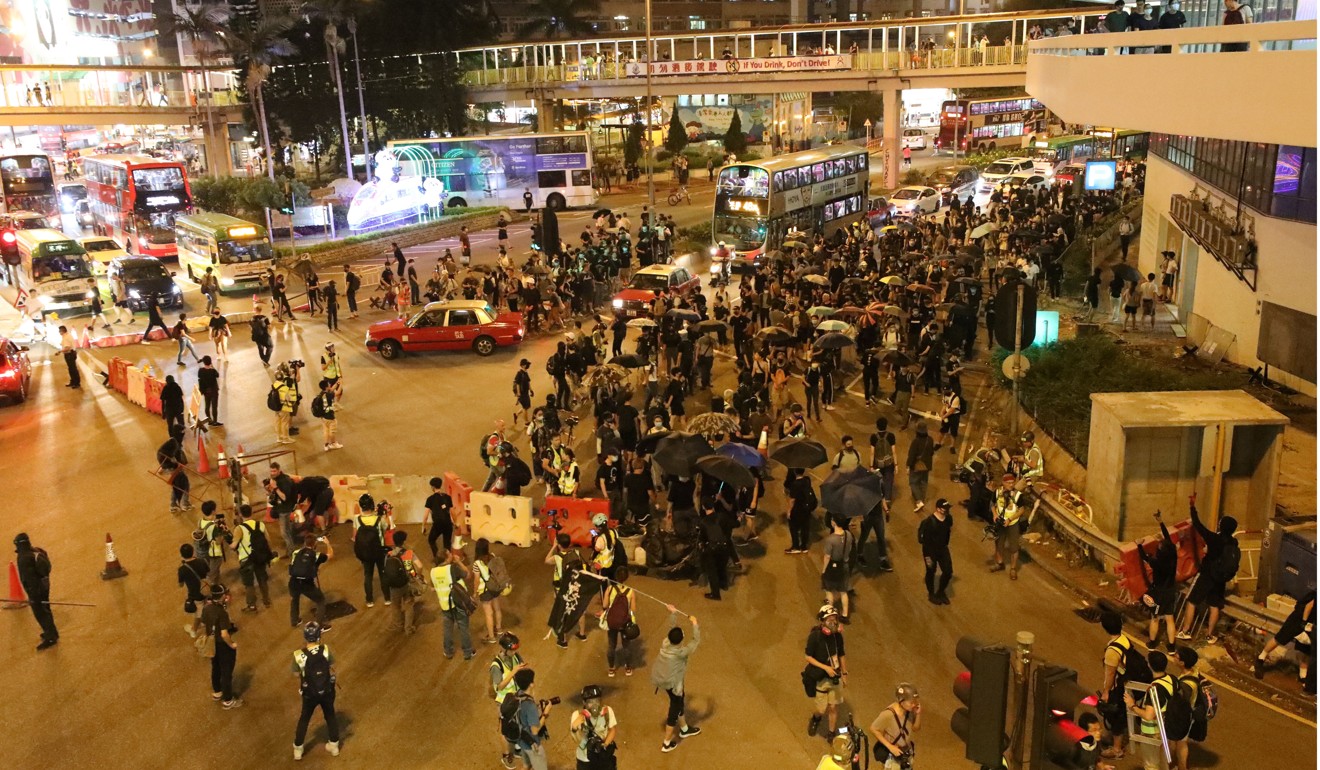 During the day, hundreds of pupils and alumni gathered at Tsang's school, Tsuen Wan Public Ho Chuen Yiu Memorial College, urging the management to condemn police.
They included about 50 students who boycotted classes and joined a peaceful sit-in at a car park outside the school.
Kwan Long-ching, 17, a Form Six student from nearby Liu Po Shan Memorial College, said he believed the shooting was unreasonable, although he did not completely agree with protesters attacking police. He also said he was terrified by Tuesday's incident.
"The next person who may get shot could be me or any of my friends," he said.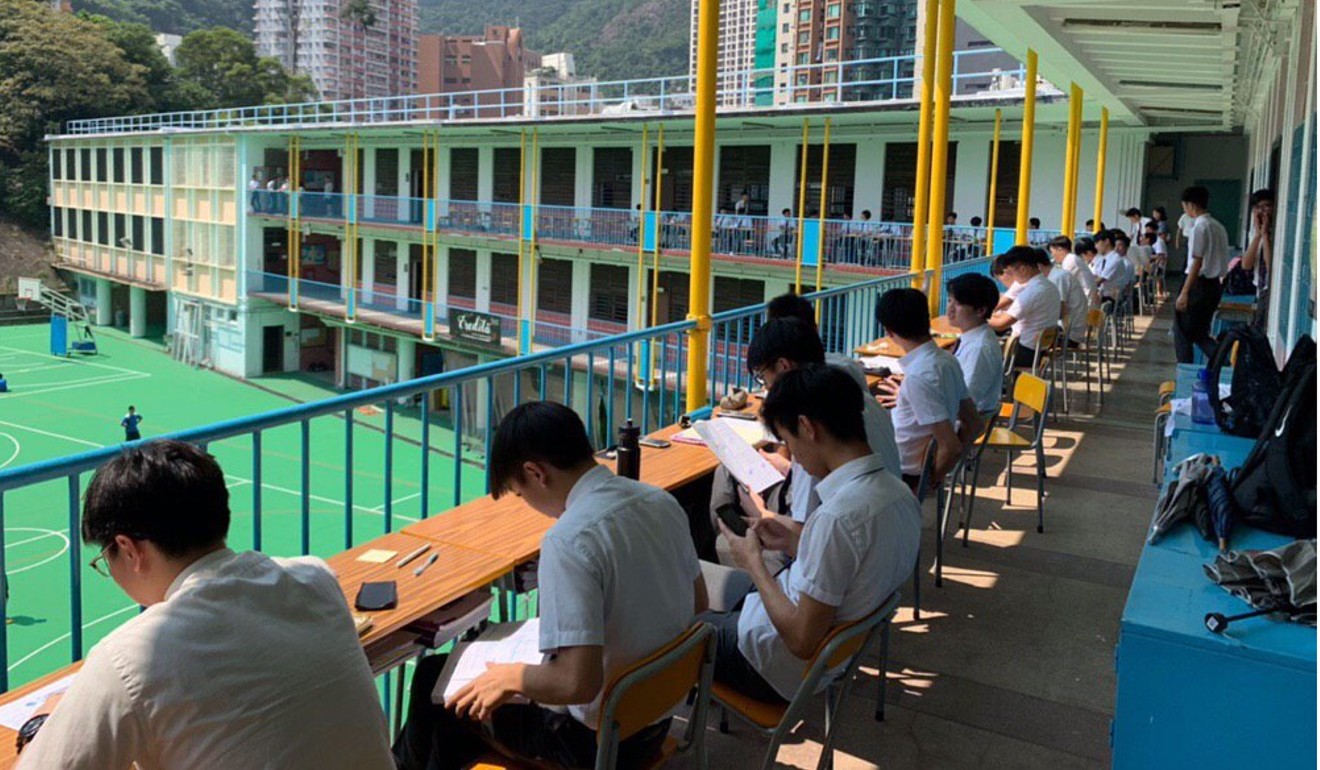 The school's principal, Tse Yun-ming, expressed sympathy for Tsang's family, and had an hour-long meeting with alumni. But the session ended in acrimony after Tse and two vice-principals faced pressure to condemn the officer's use of force.
Non-cooperation action was also launched by students of at least 12 other schools or tertiary education institutions, including the Hong Kong Design Institute in Tseung Kwan O, Wah Yan College Hong Kong in Wan Chai and Sing Yin Secondary School in Kwun Tong, where more than 200 pupils boycotted classes.
About 70 students from Wah Yan College, a prestigious secondary school, also joined in class boycotts to protest against the shooting.
Additional reporting by Yujing Liu and Gary Cheung