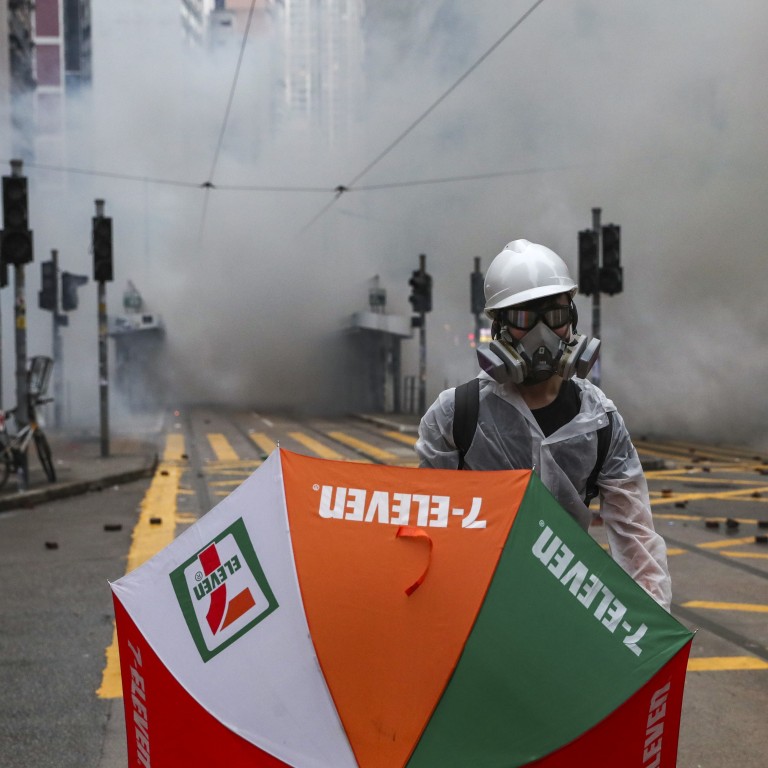 Hong Kong protests: tens of thousands defy mask ban as mobs go on rampage against mainland China-linked businesses and MTR
Masked mobs smash banks, stores and bookshops associated with mainland China and trash government buildings
Most MTR stations remain closed on Monday as rail operator says more time needed to repair damage
Tens of thousands of Hong Kong protesters defied a new mask ban for a third straight day as a radical core went on a wrecking spree across the city, vandalising mainland China-linked property, setting fires and targeting police with noticeably bigger petrol bombs, and engaging in bloody fist fights.
The masked mobs smashed banks, stores and bookshops associated with mainland China, trashed government buildings and started fires at the exits of several MTR stations as they continued their attack on the city's railway operator for allegedly aiding police in their clearance operations.
After a
total shutdown
for 1½ days, the rail operator reopened half of its stations at midmorning on Sunday, only to then close four stations and suspend the services of seven lines later after it became a target yet again. It closed the entire network at 9pm.
The majority of MTR stations remained closed on Monday morning, including Admiralty, Prince Edward and Mong Kok. The whole system would be shut again at 6pm to "allow more time for repair", the MTR Corporation said.
In Wan Chai on Sunday, after a tense face-off and an exchange of petrol bombs and tear gas, police conducted sweeps and detained groups of protesters. Many were then unmasked, revealing their youthful appearance, before they had their hands zip-tied as they were escorted onto a coach that took them away.
For the first time, the People's Liberation Army barracks in Kowloon East issued a warning in Cantonese in the early evening after demonstrators shone laser lights as they walked past the buildings en route to another location. A yellow flag went up at the top of the building warning the demonstrators as several men in uniform were seen filming the protesters and a floodlight shone on them. Nothing more came of the tense moment, however, as both sides soon cleared from the scene.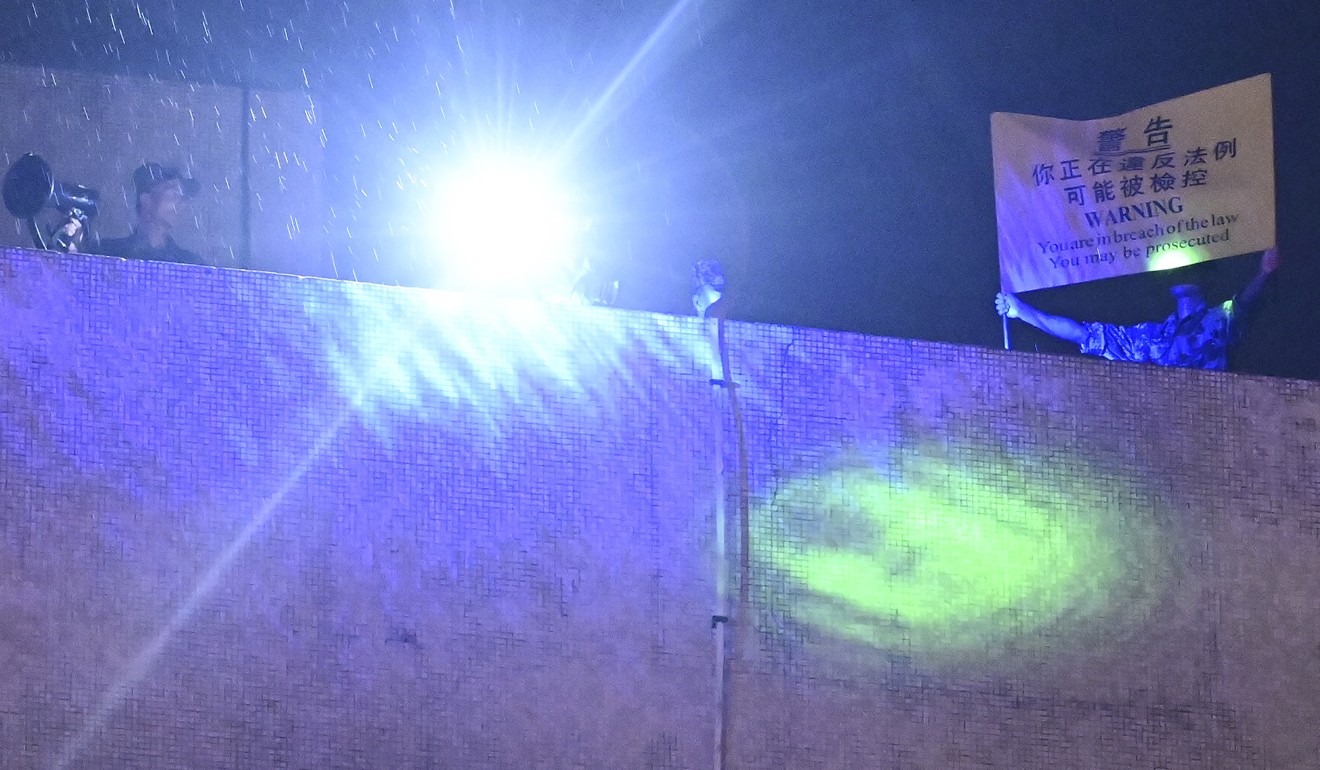 In Sham Shui Po, a taxi driver in his 60s rammed into a crowd of protesters and injured a woman. Angry masked groups then pulled the driver out of the car and beat him, before he was later rescued by firefighters. Beaten unconscious, his face and head were covered in blood while the windows of the taxi were smashed.
Local actress Celine Ma, with blood on her face and chest, also said she was beaten by protesters because she was filming them attacking a Bank of China branch nearby.
The Hospital Authority said that, as of 11pm, 11 people were admitted to hospitals, with three in a serious condition and five stable. The condition of two was unknown, while one was discharged.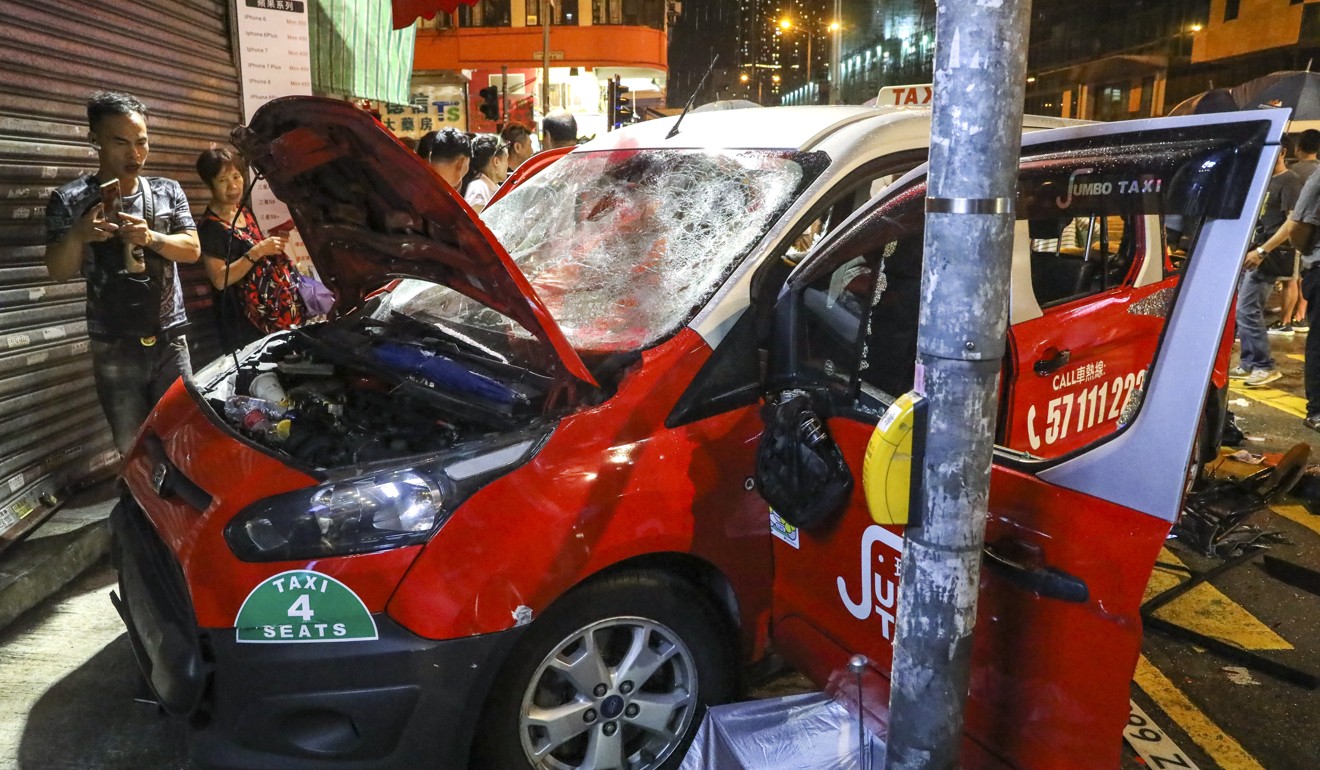 The heightened violence on Sunday – which led to tear gas being fired in four districts – continued late into the night in Mong Kok as a source familiar with the government's thinking told the Post that the new anti-mask law was not targeted at the hard-core front-liners.
"We know well hard-core violent protesters don't care about facing an extra one-year's imprisonment under the anti-mask law as they could be jailed for up to 10 years if they are convicted of rioting," the source said.
Likening the strategy to that of peeling the layers of an onion, he said: "Those in the outer layers may however fear going to jail or criminal convictions. They might think twice if they are still taking part in violent actions."
Breaking the anti-mask law – which officially came into force at midnight on Friday – can lead to a maximum fine of HK$25,000 (US$3,188), and one year in prison.
Police arrested 13 people between midnight on Friday and Saturday for defying the mask ban. Most were also charged with participating in an unlawful assembly.
Social media users reported that, on Sunday, among those arrested and unmasked was a 12-year-old girl, but police did not confirm the action by press time.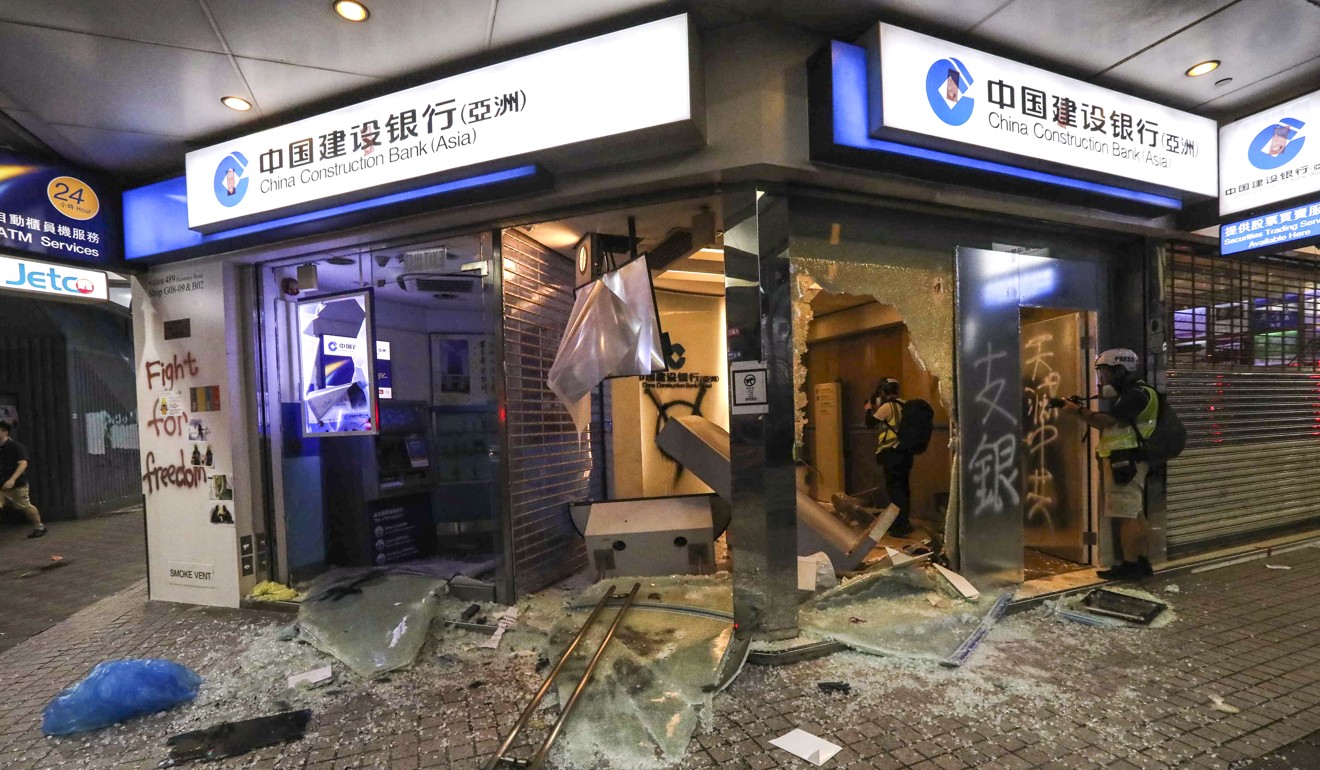 Earlier on Sunday, despite a thundery downpour, tens of thousands of masked protesters gathered for two concurrent marches in Kowloon and Hong Kong Island, openly courting arrest as they defied the ban on face coverings. The crowds were decidedly smaller from protests in recent weekends, as protesters blamed the crippled MTR network as an impediment.
Among those who turned up was a 61-year-old local surnamed Chan, saying the past summer marked his first time joining protests and that the mask ban had made the situation even more urgent.
"With the mask ban, the government is testing the waters," he said. "If no one reacts to this then they can use the emergency ordinance to do anything, including interfering with the coming district elections. If the government can do anything, then Hong Kong is finished."
But the peaceful marches in both areas soon descended into chaos and all-too-familiar stand-offs in several districts, as protesters set up roadblocks with planks, trash bins, bricks and petrol bombs.
At least five MTR stations were targeted by protesters. Projectiles were thrown onto the tracks of Kowloon Tong station, two exits of Mong Kok station were set on fire, while protesters also broke open fire hoses and hurled a petrol bomb into Cheung Sha Wan station through an exit.
The radicals also blocked an exit of Yau Ma Tei MTR station with recycling materials and bamboo scaffolding, as resigned passengers – including the elderly – calmly did a limbo dance-like manoeuvre to go under the poles and get out of the station.
There was no word on whether the MTR would open as normal on Monday but the rail operator said the Airport Express would run as usual, though would not stop at the AsiaWorld Expo station. After 1pm, trains going between Hong Kong station and the airport would not stop at Kowloon, Tsing Yi or AsiaWorld Expo, it said.
In a statement on social media, the police force expressed its strongest condemnation against the protesters whom it called "rioters" for taking the law into their own hands, citing cases of three people – including the taxi driver – who were beaten up by them. "The atrocities committed by the rioters are far beyond the bottom line of any civilised society," it said.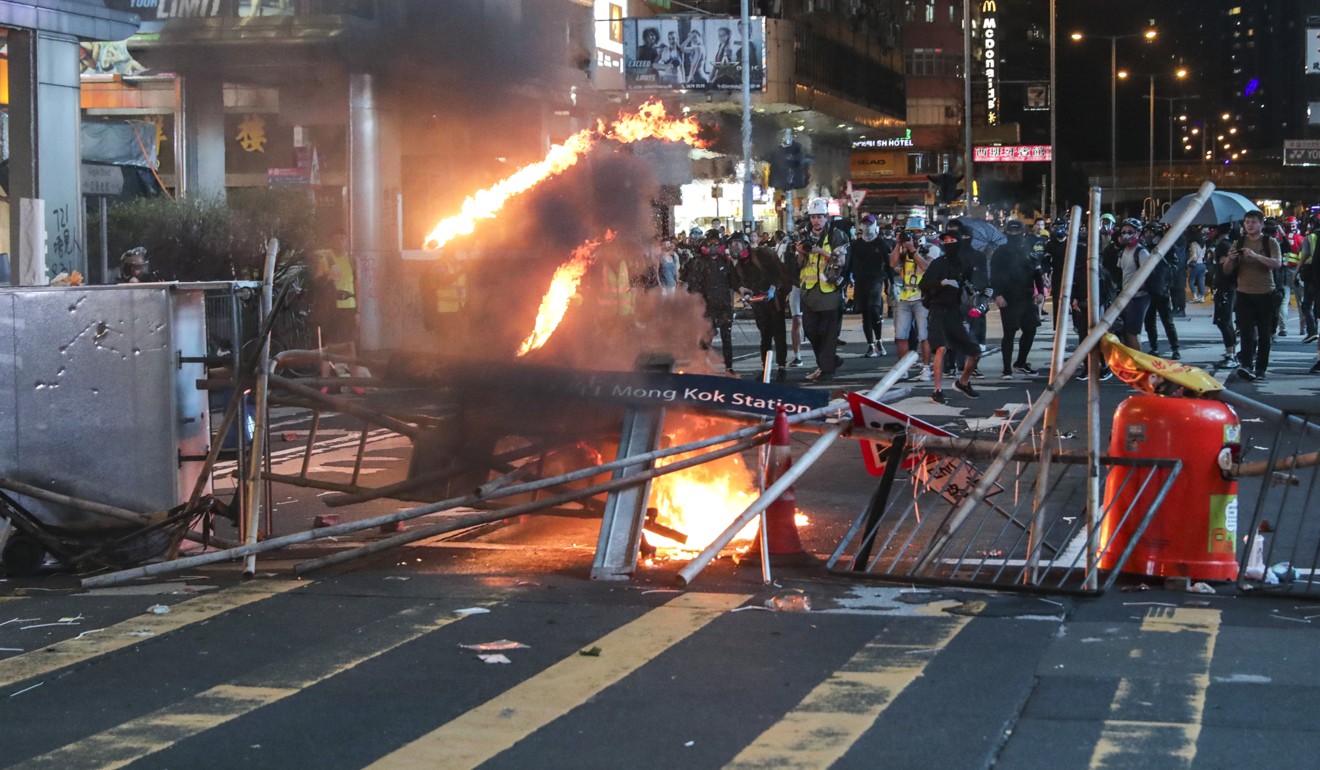 As dusk fell, riot police charged towards protesters along Hennessy Road in Wan Chai and arrested more than 10 people following a stand-off marked by rounds of tear gas and petrol bombs.
One of the petrol bombs hit an RTHK reporter, setting his raincoat and left ear on fire. He was later sent to Ruttonjee Hospital in Wan Chai. An RTHK spokesman strongly condemned the violent acts as he called on all sides to stop their actions.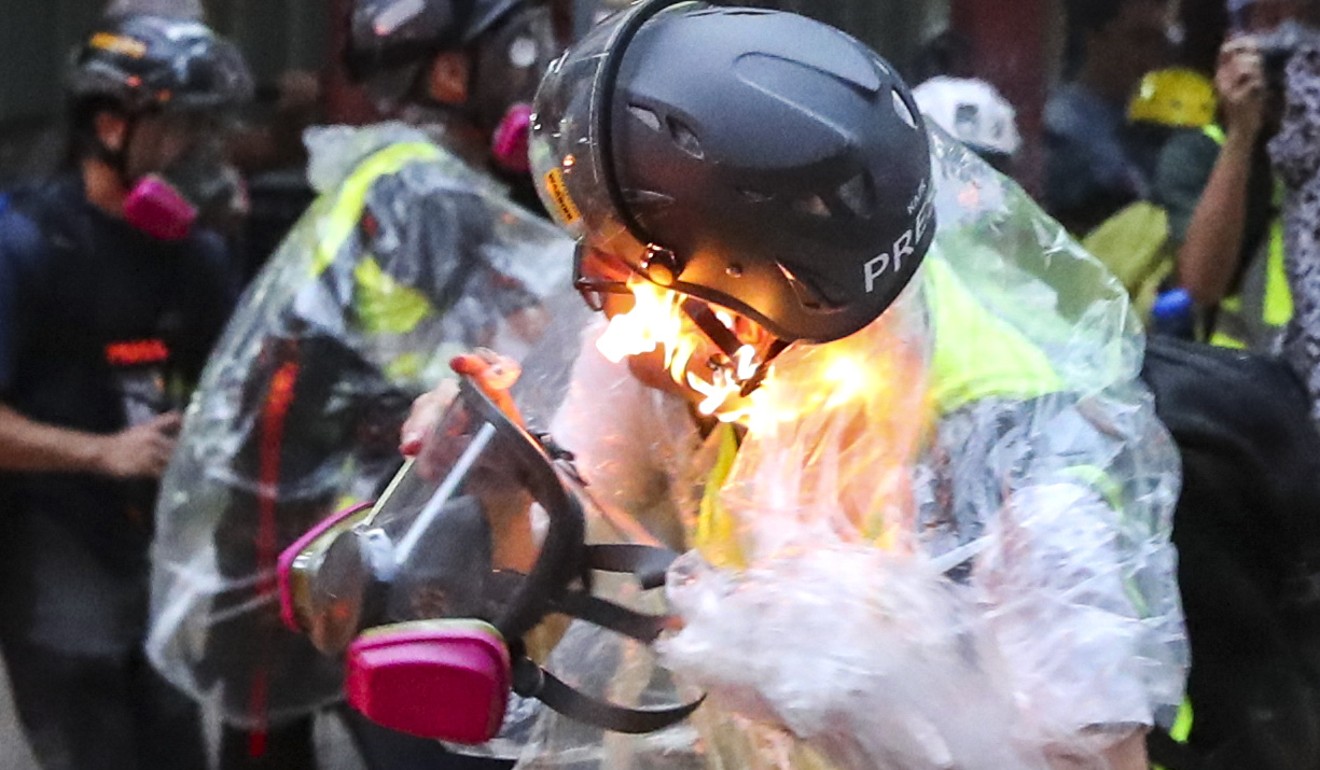 A separate group of protesters, meanwhile, went on a rampage in Kowloon, setting Chinese smartphone shop Xiaomi on Nathan Road on fire, trashing a Fulum restaurant linked to a Fujian clan and vandalising the district offices of at least three pro-Beijing lawmakers, including that of Priscilla Leung Mei-fun and Lo Wai-kwok, both of the Business and Professionals Alliance of Hong Kong.
Earlier in the day, the force courted controversy for reportedly entering the campuses of Chinese University and Baptist University (HKBU) without seeking the schools' permission and a search warrant. Six people were arrested near HKBU on Sunday, but police said it took place outside the campus area.
Local shoppers also
emptied shelves
at supermarkets in a rush for food and supplies and queued up at ATM machines on Sunday as the city's metro system remained half-shut, while major shopping centres closed one day after protests hit multiple districts in the city.
By this coming Tuesday, the anti-government protests, which began in opposition to the now-withdrawn extradition bill, will have passed the four-month mark.
The source close to the government, meanwhile, conceded the decision to invoke the Emergency Regulations Ordinance to quickly implement the anti-mask law had sparked fears among people to draw cash from their bank accounts or convert their Hong Kong dollar deposits into foreign currencies. But this was unavoidable, he indicated.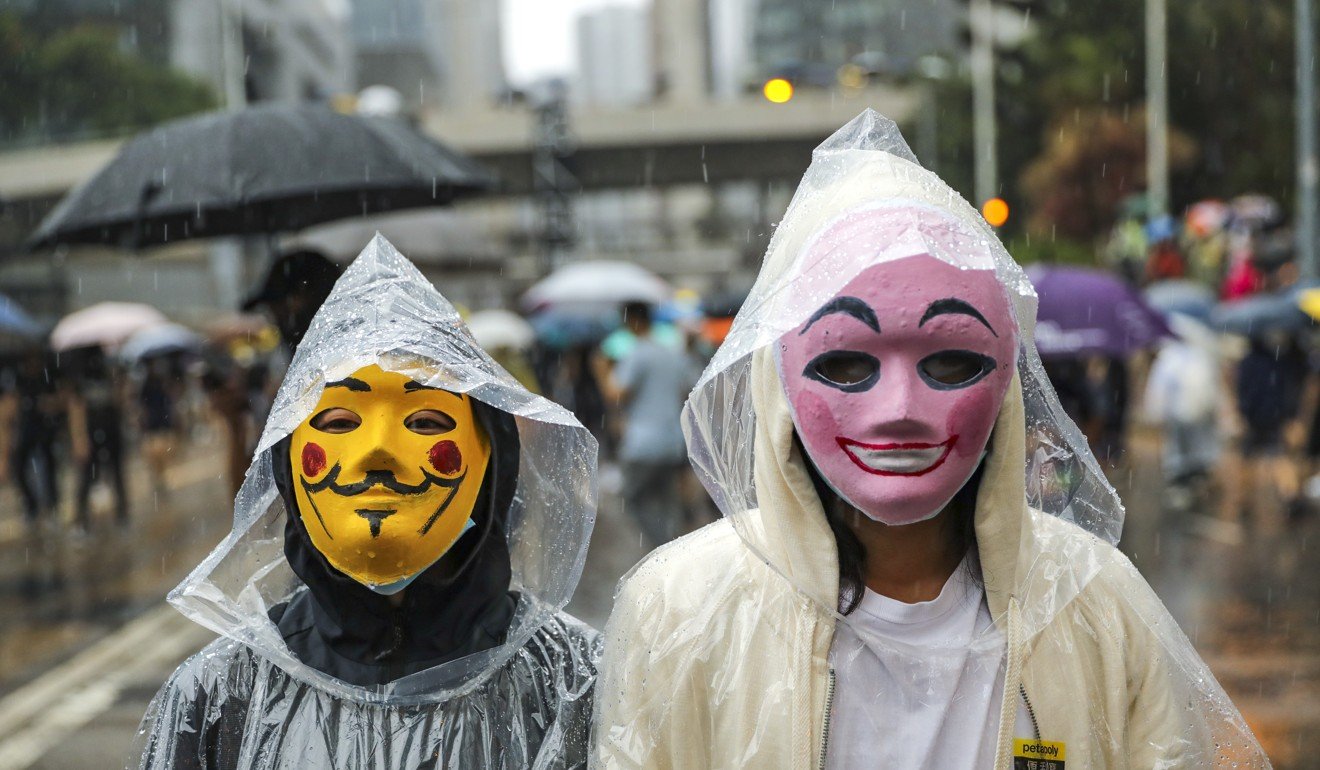 "Such scenarios had already been considered when the administration deliberated on the invocation of the Emergency Regulations Ordinance," the source added.
On Sunday night, the government strongly condemned masked "rioters" for their "lawless violent acts" in blocking roads, vandalising public facilities, MTR stations, banks and stores, hurling petrol bombs at police and attacking other citizens.
"Rioters have attacked other citizens multiple times over the past days, whereas some have allegedly used a lethal weapon today which resulted in severe injury. A journalist also suffered burns after being hit by a petrol bomb from rioters," a spokesman said, as he called on the public not to defy the anti-mask law.
Train services were running at just 39 of the railway's 94 stations on Monday morning. The MTR Corp said the
entire network would be shutdown at 6pm
so the damage wrought by vandals could be fixed.
In a statement, the rail operator "strongly condemned" Sunday's vandalism, adding it had reported the cases to police.
China's state media, meanwhile, continued their
strong support
for the anti-mask law, with a commentary in
People's Daily
saying "while the anti-mask law won't help to catch all the thugs soon, it will deliver a heavy blow to the protesters".
This article appeared in the South China Morning Post print edition as: Protesters defy mask ban as radicals go on rampage