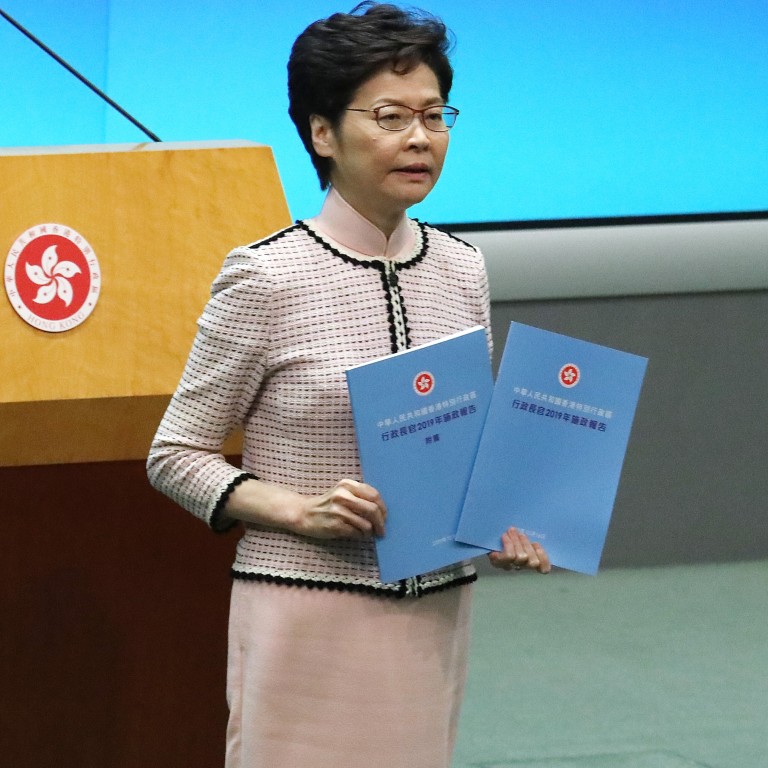 Hong Kong leader Carrie Lam attempts to solve housing crisis in her policy address, but people from low-income group feel they were left high and dry
Lam's policy address focused on solving city's housing crisis by taking steps such as raising mortgage cap for first-time buyers
But low-income people say they had hoped for measures such as rent control, waiver of down payments and interest-free loans for the jobless
Hong Kong Chief Executive
Carrie Lam Cheng Yuet-ngor
announced a host of measures during her policy address on Wednesday aimed at improving citizens' living quality and easing their financial burdens, but some people from lower-income groups who had hoped for a lifeline felt the measures would do little to help them.
The policy address focused heavily on measures to solve the city's housing crisis by raising the mortgage cap for first-time buyers, resuming private land and developing brownfield sites for more public housing. However, those who wanted measures – such as rent control, a waiver of down payments and interest-free loans for the jobless – were left high and dry. The South China Morning Post spoke to three residents about how much they stood to benefit from the measures.
Starter homes renew hopes
Micky Chan got married last year, but lives apart from his wife because they have not been able to afford to buy a flat yet.
"It is a lifetime decision," the 33-year-old optometrist said of buying a house.
"My wife and I were looking for ways to have a greater chance to buy a subsidised flat about four years ago. It turned out that being a family applicant could help. So, we got married last year without any fancy banquet, we just signed papers."
The newlyweds now live with their respective parents to escape from the city's rental trap. But Chan on Wednesday said Lam's announcement of selling 1,000 dwelling units below market price under the second Starter Homes Pilot Project had renewed his hopes of buying a flat.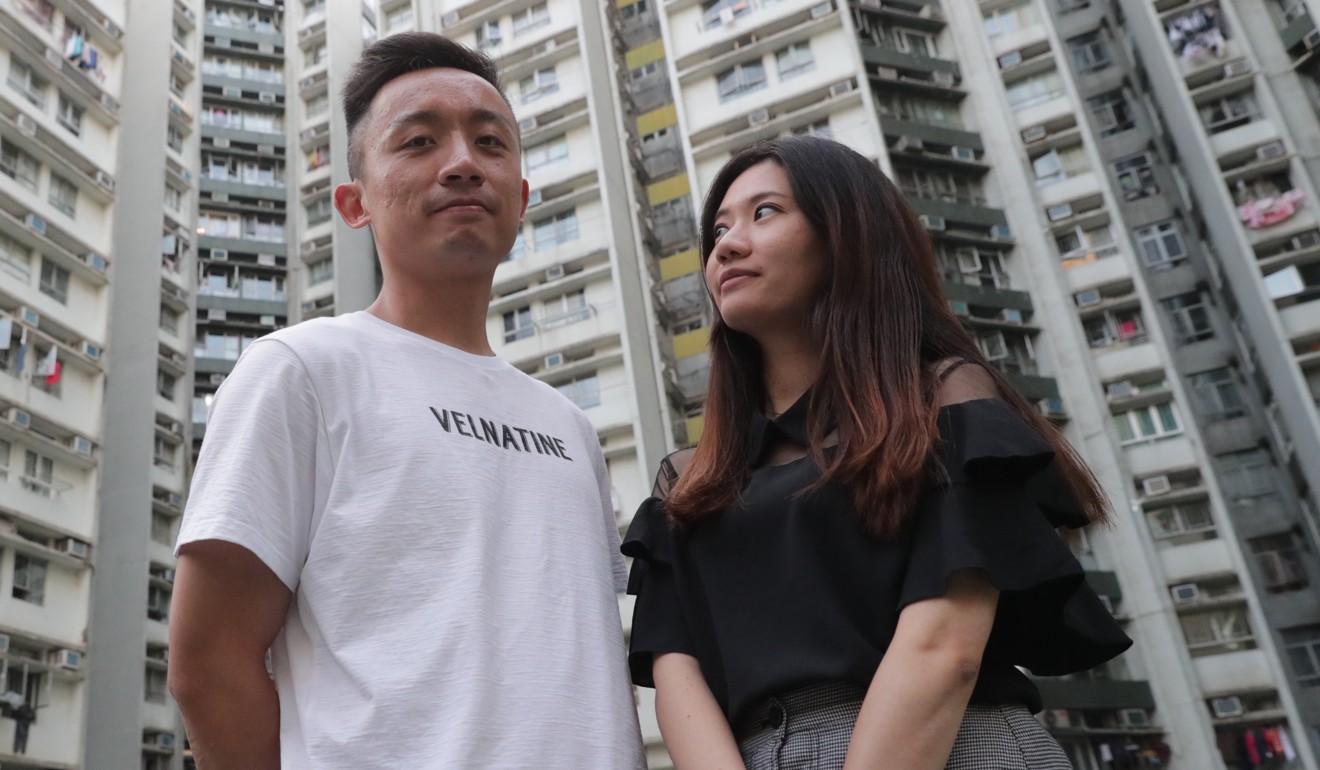 "I am definitely going to apply for it. As long as the economy does not go through too much turbulence, I have hope," Chan said.
He felt the increase in mortgage cap from HK$4 million to HK$8 million (US$1 million) would also help him.
"The new measures will make things easier for first-time homebuyers like me," he said.
Chan, however, felt the higher mortgage cap would also increase his financial burden. "It will be a sort of a stress test for me."
The couple initially tried to apply for the Home Ownership Scheme, but to no avail. Their combined monthly income of HK$70,000 (US$8,922) exceeded the limit for applicants, which was HK$58,000.
"I even asked for a no-pay leave from work to get into the application line," he said.
The couple also failed to get one of the 450 flats in the first Starter Homes Pilot Project, run by the Urban Renewal Authority.
"It was the first time in years that subsidised flats were built for the sandwich class. The location and price were undoubtedly attractive," Chan said.
Chan said he had also begun to look for private homes in the suburbs. "The flat could be farther from the city, but we still want a two-bedroom flat as we hope to have a baby in the future."
Subsidy too little to lift spirits
Lam's announcement on Wednesday of a one-off living subsidy for low-income households has done little to lift 59-year-old Shirley Leung's hopes.
The medical assistant with two children pays HK$8,000 for a flat in a 50-year-old building in Jordan, and has been on the waiting list for
public rental housing
for four years.
Paint and concrete regularly fall from her flat's cracking interior walls, causing health problems for her and her children.
"It aggravates my skin allergies and causes breathing problems for me and my children. But I cannot afford to live in a better place," she said.
Leung moved into the 400 sq ft Temple Street flat in February, after living for two years in a 100 sq ft subdivided flat on Lai Chi Kok Road in Prince Edward for HK$5,800 a month. She had hoped Lam would announce measures like rent control to ease living costs and alleviate Hong Kong's chronic housing shortage.
"The measures she announced today are clear, [many of] those extra housing units are meant to be sold. They are not public rental housing," Leung said.
"The problem is we cannot afford to buy. Living expenses are so high and property prices are also sky-high. How can we save enough of our modest incomes to buy?"
Leung said if the government really wanted every citizen to be a homeowner, then it should have waived down payments for low-income earners.
"That way, I just treat it as paying higher rent. But the government refuses to do so. It just wants to try and make more money."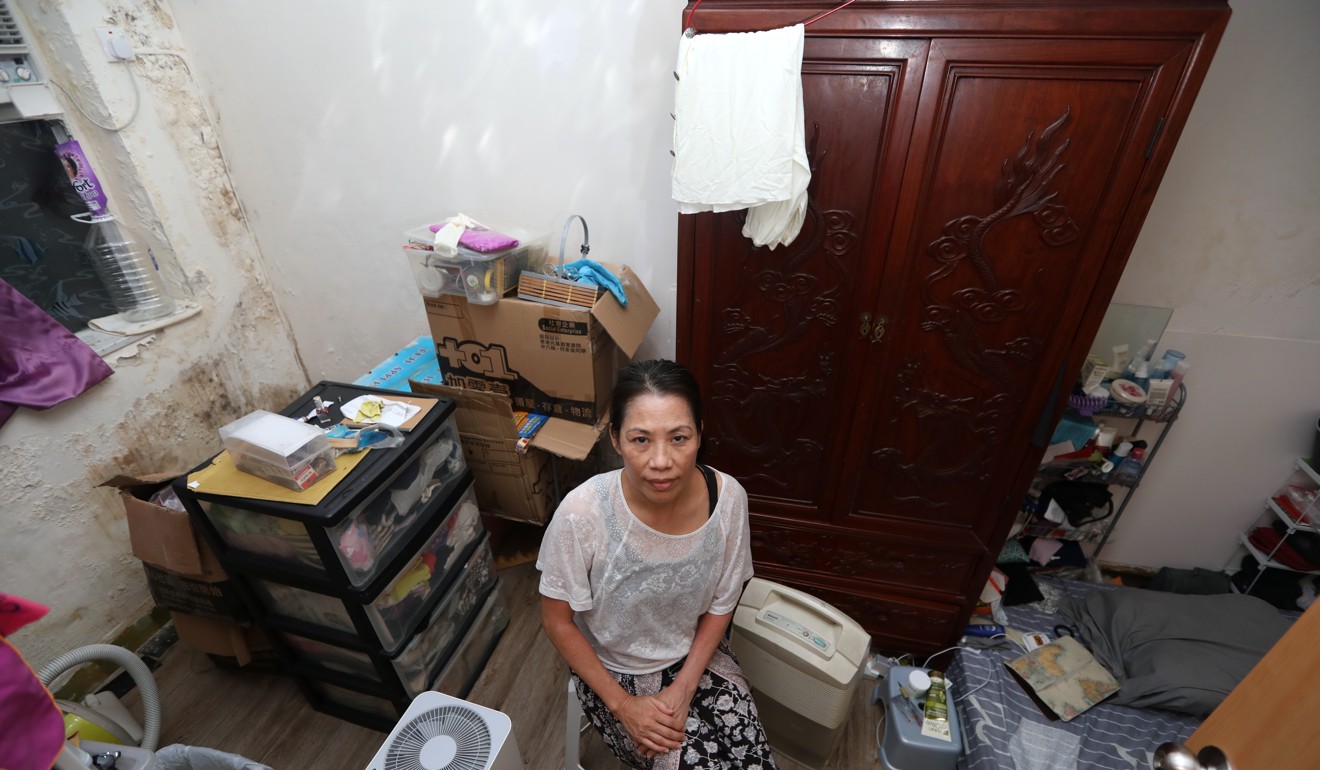 Leung earns HK$16,000 per month (US$2,040), half of which goes to rent. She earlier received a government handout of HK$4,000, but said it was not as important as having a better place to live.
"HK$4,000 is not even enough to cover rent. If I use it to buy food, what happens when the cash runs out? Instead of these small sweeteners, I would rather not have to wait another few decades before I can finally get into public housing," she said.
"The government always says there is not enough land to build homes. But is there really no land?
"The government refuses to build houses on Fanling Golf course, despite public opinion firmly behind it, while allowing property developers to rake in huge profits by sitting on their lands and earning rent, or hoarding it for greater value in future," Leung said.
Tammy Chu Wing-in, community organiser of the Housing Rights Alliance, a local NGO, said that rent control would have brought immediate relief to low-income families.
"Building more public housing, like the Lantau Tomorrow Vision construction scheme, will take time. But rent control in the policy address could bring down the cost of living immediately and allow families to live with dignity."
Jobless and nowhere to turn to
Tour guide Chau Ching's income has been reduced to zero since August, after Hong Kong's
anti-government protests
decimated the local tourism industry.
The 49-year-old single parent was hoping for a lifeline in Lam's annual policy address, but her hopes were dashed.
Specifically, Chau was banking on Lam issuing a one-off cash handout and interest-free loans for the jobless. Neither materialised.
On Wednesday, after Lam's speech, Chau expressed desperation in the face of what she saw as a lack of financial assistance from the chief executive.
"Who can I rely on? I can't rely on anyone. If the government doesn't give us subsidies to solve our unemployment problems, what can I do?" she said.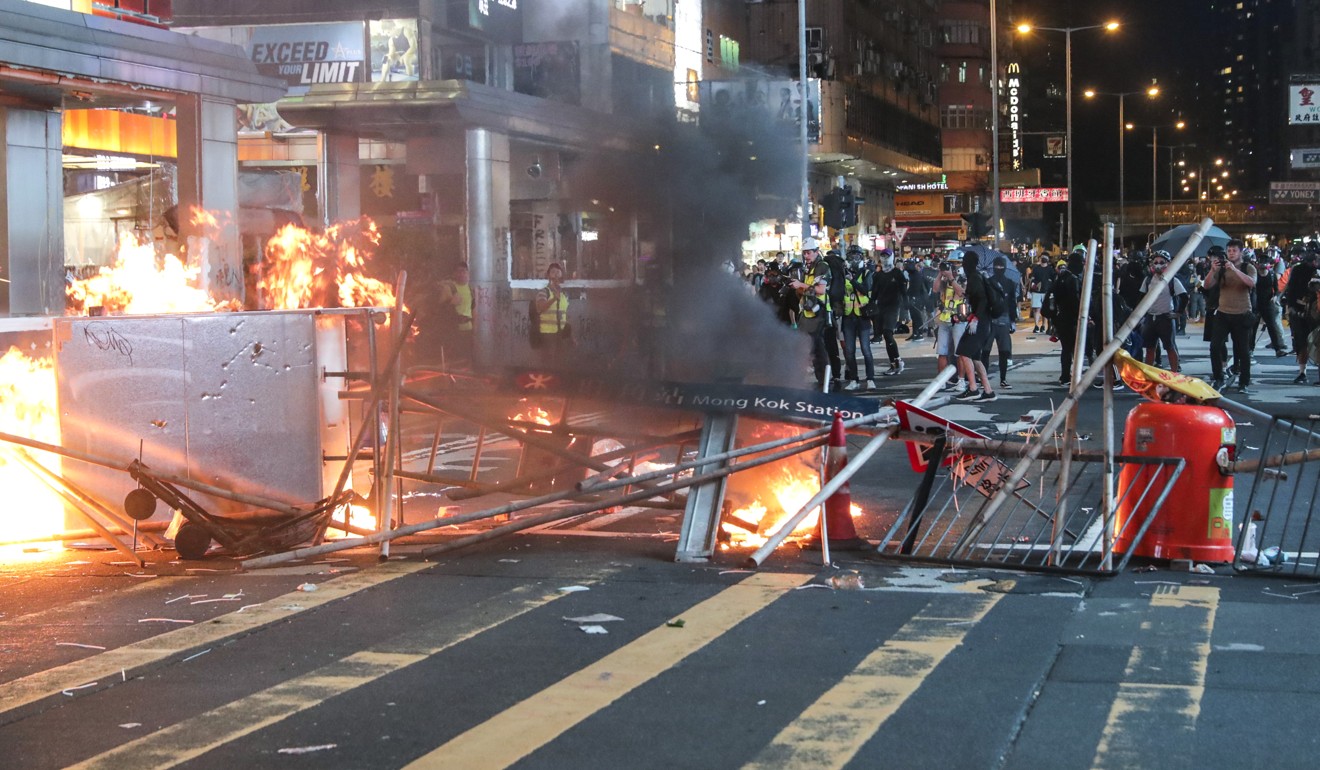 Chau has worked as a tour guide for more than 10 years to support her daughter, who is now in Form Five at a secondary school. Her earnings sometimes topped HK$20,000 (US$2,550) a month before the civil unrest over the now-withdrawn
extradition bill
erupted in June.
Since August, business had dried up, Chau said, and she had been left without a single tour to host. The number of travellers arriving in Hong Kong
plunged 39 per cent
that month compared with August 2018.
Chau has tightened her belt by not eating out and has asked relatives in mainland China for help. She lives in public housing, but said other welfare schemes aimed at covering her daily expenses, including the Public Transport Fare Subsidy Scheme and a HK$2,500 student grant for her daughter, were of little help.
Lam announced in her policy speech that the transport subsidy would increase from 25 per cent of monthly spending to about 33 per cent for those paying more than HK$400 a month on commuting. A cap on the subsidy will also be raised, from HK$300 to HK$400.
But Chau said: "If I don't go out, then how much can it help me? I don't dare go out now anyway."
She said that street clashes between police and protesters made venturing outside worrisome.
"With no income, how can I go out? … Second, there are protests, I always worry – there are clashes here and there."
With an eye on helping Hongkongers like Chau, officials last month announced several avenues of assistance. The government said it would provide a subsidy of HK$1,000 for about 6,000 tour guides taking courses required to renew their licences.
Another training scheme was unveiled for the jobless and underemployed financed with subsidies worth HK$300 million. Yu Pang-chun, chairman of the Employees Retraining Board, which coordinates, funds and monitors training courses in the city, said 50 educational institutions had signed up to offer two-to-three-month programmes in a range of vocational, technological and generic skills, including languages such as English and Mandarin.
Each trainee will be given an allowance of up to HK$4,000 a month after completion of a course, provided he or she has at least an 80 per cent attendance rate.
However, Chau said these courses meant little.
"What does renewing the licences mean to us? We only do it once every three years and it only costs a few hundred dollars," she said.
"For meals and transport, HK$4,000 is not enough. How can this HK$4,000 help me?"