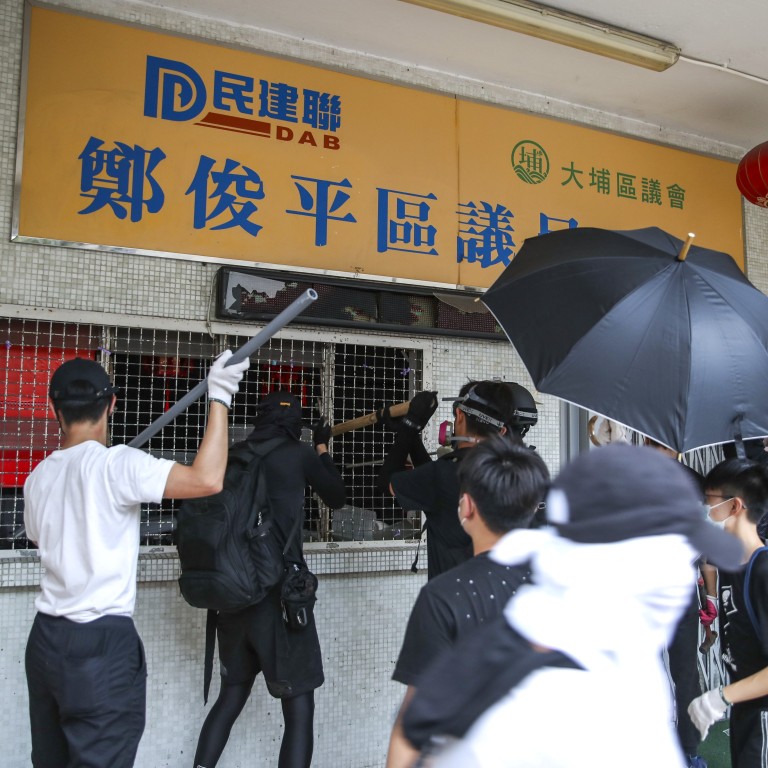 Offices vandalised, volunteers harassed: pro-establishment politicians cry foul ahead of Hong Kong district council elections
In the third instalment of a four-part series, we look at the pro-establishment camp's uphill battle for votes as protests affect voters' mood
Litany of complaints not a ploy to get elections postponed, pro-Beijing candidates insist
The run-up to next month's district council elections has left Hong Kong's pro-establishment camp not only worried about its chances, but also crying foul at being
unfairly targeted by protesters
.
As pan-democrat candidates launch their
toughest challenge ever
to sweep the polls, hoping to secure victory on the back of the city's
anti-government protests
, the pro-establishment camp has complained that its offices have been vandalised and its supporters harassed.
Some in the camp sense that public sentiment has changed so much that voters are not interested in listening to candidates talk about the usual livelihood issues.
Instead, in campaign videos, the city's largest pro-establishment party, the Democratic Alliance for the Betterment and Progress of Hong Kong (DAB), has switched to playing up violent scenes from anti-government protests, which have gripped the city for nearly five months.
The message the party keeps emphasising is its call for reason to prevail, and to ensure a better future for the next generation.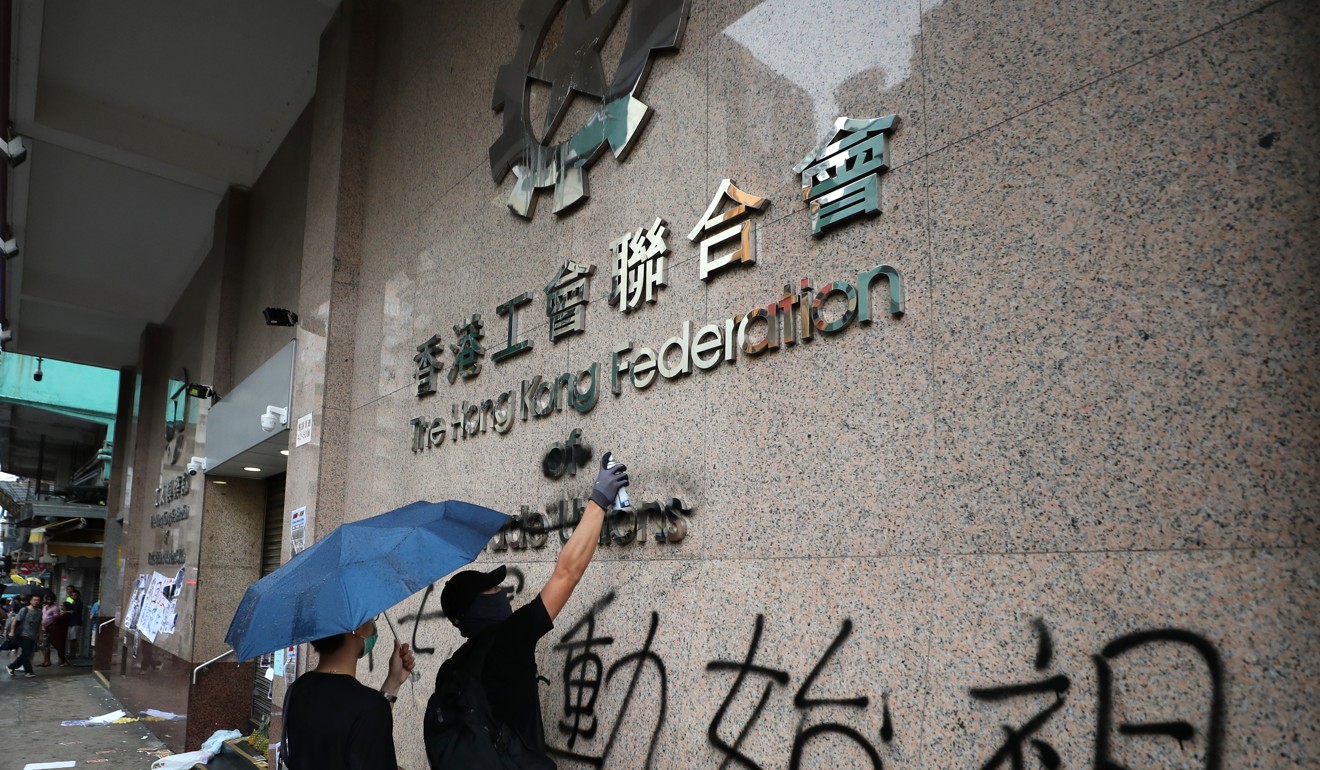 The Hong Kong Federation of Trade Unions (FTU), another large pro-government party, has also come out condemning protest violence, but lately has found itself facing criticism from supporters who say the party had done too little during months of political unrest to help restore law and order.
Feeling the heat of an uphill polls battle is something unfamiliar for pro-establishment politicians, who hold the majority in all 18 district councils and account for nearly 300 of the 421 incumbents. Next month's polls are for 452 council seats.
But, to Hongkongers, being pro-establishment is the same as being pro-Beijing. In the current political turmoil, which has seen protesters attack individuals and organisations with Beijing connections, the pro-establishment political camp has not been spared.
The DAB, which is fielding 179 candidates, has complained that more than 60 of its offices have been vandalised a total of more than 90 times.
"The day I handed in my nomination form, my office was broken into," said party vice-chairman Chan Hok-fung, 43, a full-time district councillor seeking a fourth term in the Kennedy Town and Mount Davis constituency of Western district.
The break-in happened on October 4, the day
the election nomination period began
. Closed-circuit television (CCTV) inside Chan's office showed at least five masked men breaking through the door with a hammer before they disabled the camera.
"The next morning I quickly went and removed my posters plastered in a few shops in the area. I don't want to drag my supporters into trouble," Chan said.
Given the tense political climate and the escalation of violence by protesters against those with opposing political views, he said, many shop owners who supported the DAB had asked the party not to put up campaign posters on their premises.
Chan said party volunteers were also being pressured, and a few were chased and photographed by protesters. Many no longer dared to help run its candidates' street booths.
He is in a three-way contest with pan-democrat Cherry Wong Kin-ching, a financial adviser, and an independent, Mavis Lam Suet-ying, both first-timers.
Chan and FTU lawmaker Ho Kai-ming, 34, said the overwhelming presence of anti-government messages on "Lennon Walls" in several places are an issue, as many of the posters and notes adorning the protest spaces include attacks on pro-Beijing parties and were, in effect, election advertisements.
"These smears are appearing on posters everywhere," he said.
Ho, whose party is fielding 62 candidates, said the pro-establishment bloc had urged the Electoral Affairs Commission to take action.
Meanwhile, former lawmaker Wong Kwok-hing, of the pro-Beijing Federation of Trade Unions, has set up an 11-member "election fairness concern group".
It has urged the Hong Kong government to make sure that peace and rationality return to society soon, so that the district council elections can be held fairly as scheduled on November 24.
Wong said the government should consider invoking the Emergency Regulations Ordinance again to stop violence, after invoking it to impose a ban on masks earlier in October.
Responding to inquiries from the Post, the commission said in a statement that in determining whether certain materials were electoral advertisements, it would consider whether election expenses were involved in producing them, and whether there was an intention to promote or prejudice the chances of any candidate.
It reiterated its commitment to ensuring that elections are held in an open, fair and honest manner.
The litany of complaints of unfairness, vandalism and harassment has led to speculation that
Chief Executive Carrie Lam Cheng Yuet-ngor
and the pro-establishment camp appear to be leaning towards cancelling the polls, knowing that the results are likely to be unfavourable for them.
Chinese University political scientist Ma Ngok noted that in talking up the alleged unfairness towards the pro-establishment camp, Lam and the camp had omitted to mention that some pro-democracy candidates had also been assaulted.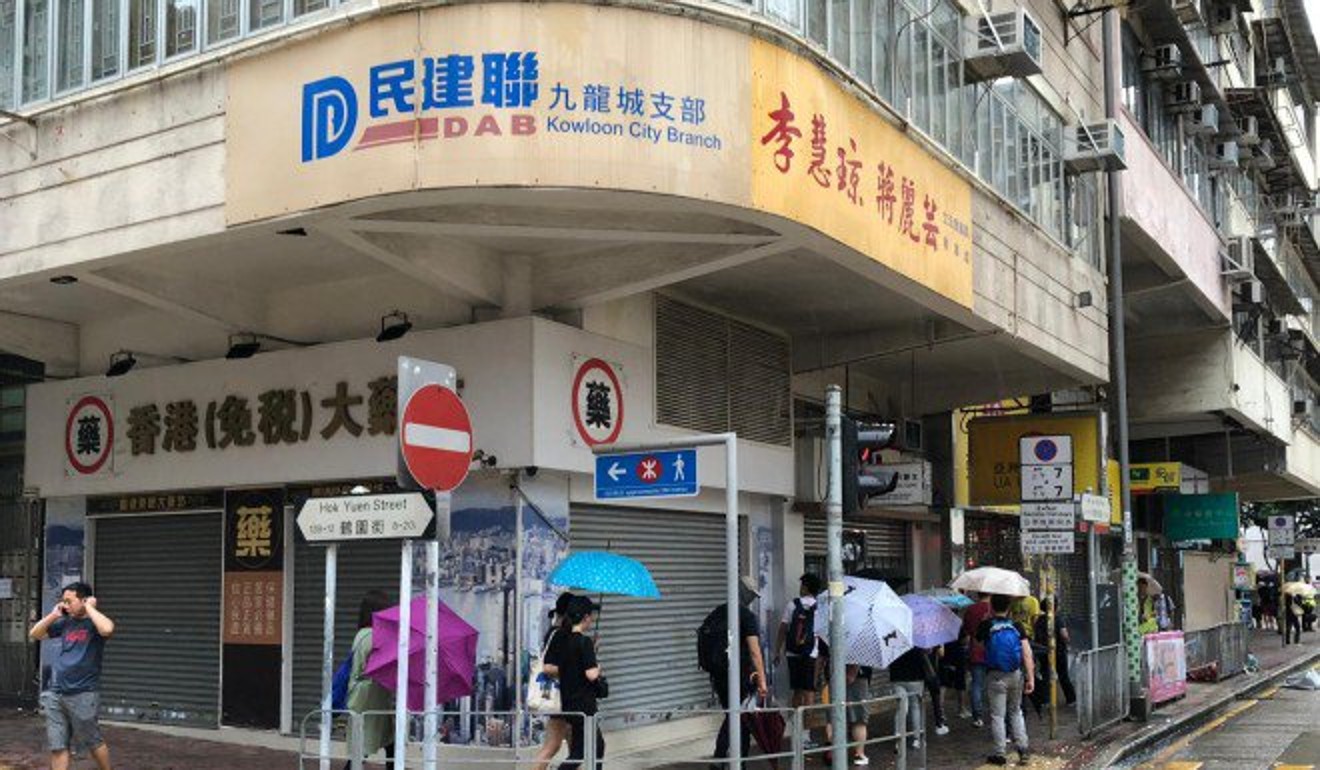 Political scholar Ivan Choy Chi-keung, also of Chinese University, warned the consequences of cancelling the polls would be worse than pushing ahead with it, as it would undermine the credibility of Hong Kong's electoral systems.
DAB's Chan and FTU's Ho insisted they did not wish to see the elections cancelled or postponed, and both said the same thing: "It is better to suffer short-term pain, rather than long-term torture."
Chan said his party colleagues and staff were under enormous psychological pressure, and at least one first-time candidate, Kwong Sing-yu, 26, slated to contest in Shun Tin constituency of Kwun Tong district, decided to pull out at the last minute.
Ho, seeking his third term in Pak Nga constituency in Kwun Tong, is facing challenges from two democrats — the Democratic Party's Chan Man-kin, 54, an incumbent councillor from a neighbouring area, and a former Civic Party member Chan Yu-ming, 39, a software engineer contesting as an independent.
The turmoil since June led veteran pro-establishment district councillor Lanny Tam, 40, to quit the New People's Party at the end of July.
The social worker, who has represented Tsui Lam constituency in Sai Kung since 2008, is seeking his fourth term as an independent because he found himself unable to agree with his party's position on the protests.
"I believe police should be held accountable, but the party seems to be on the same side as them," he said, stressing he quit the party after much reflection, and it was not a campaign tactic to suit the current mood of voters.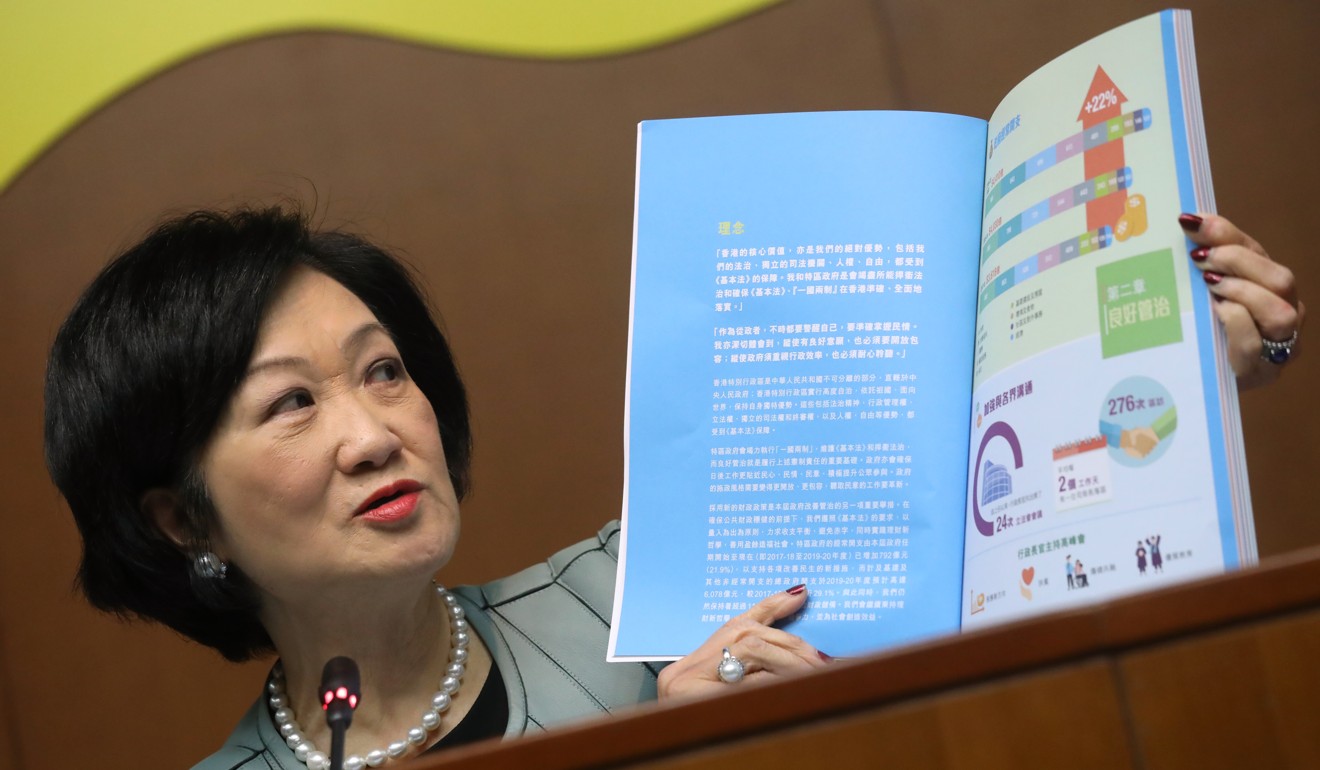 But Tam said quitting had cost him the support of party resources, and pointed out that there were core supporters from both camps who were unhappy with him.
Some new faces of the pro-establishment camp have been mocked by rivals for downsizing or even omitting their party logo on their campaign posters, as if to distance themselves from the party in the current anti-government environment.
Law student Dana Lau She-sing, 29, of the New People's Party, left out the party logo in her online posters for her campaign to run in the Tai Koo constituency of Kornhill Garden.
She brushed off criticism, saying her posters had a tailor-made logo featuring her Chinese name. She is challenging the veteran incumbent, Leung Siu-sun, 67, of the pro-democracy Civic Party, who has served the district since 2000.
Despite the concerns about antagonism towards pro-establishment candidates, Lau is at her street booths twice a day, speaking up about youth issues and the need for change.
"I have declared myself a party member and most of my posters at the street booths have the party logo," she said.
"The party allows us much room for online posters and I don't think the pan-democrats have put their party logo on every single poster either."
In the final part tomorrow, we will look at the difficulties and challenges faced by two novice district councillors who took part in the Occupy protests and are now outnumbered by pro-government rivals in the district councils