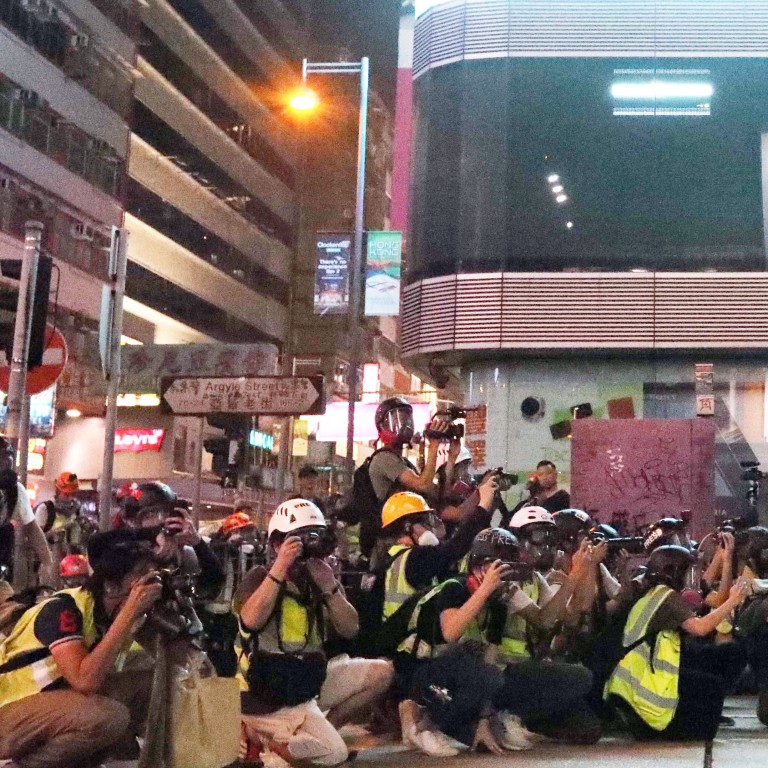 Hong Kong protests: how a Post journalist was hit by projectile during police operation
A video reporter who has covered the demonstrations every Sunday since they erupted in the summer lays out his experience from the front line
A Post video journalist, Chow Man-tai, recounts how he was hit by a projectile on Sunday during a police operation against radical protesters, on another day of street violence in Hong Kong punctuated by tear gas, non-lethal rounds, petrol bombs, fire-starting and the trashing of businesses.
As on every Sunday since early June, I was out filming the anti-government protests gripping Hong Kong at the weekend.
I began working at around 4pm in Tsim Sha Tsui, best known as a bustling shopping district and tourism hotspot.
Protesters had once again gathered there to condemn "police brutality", express their support for the Muslim community and demand greater protections for the public and press.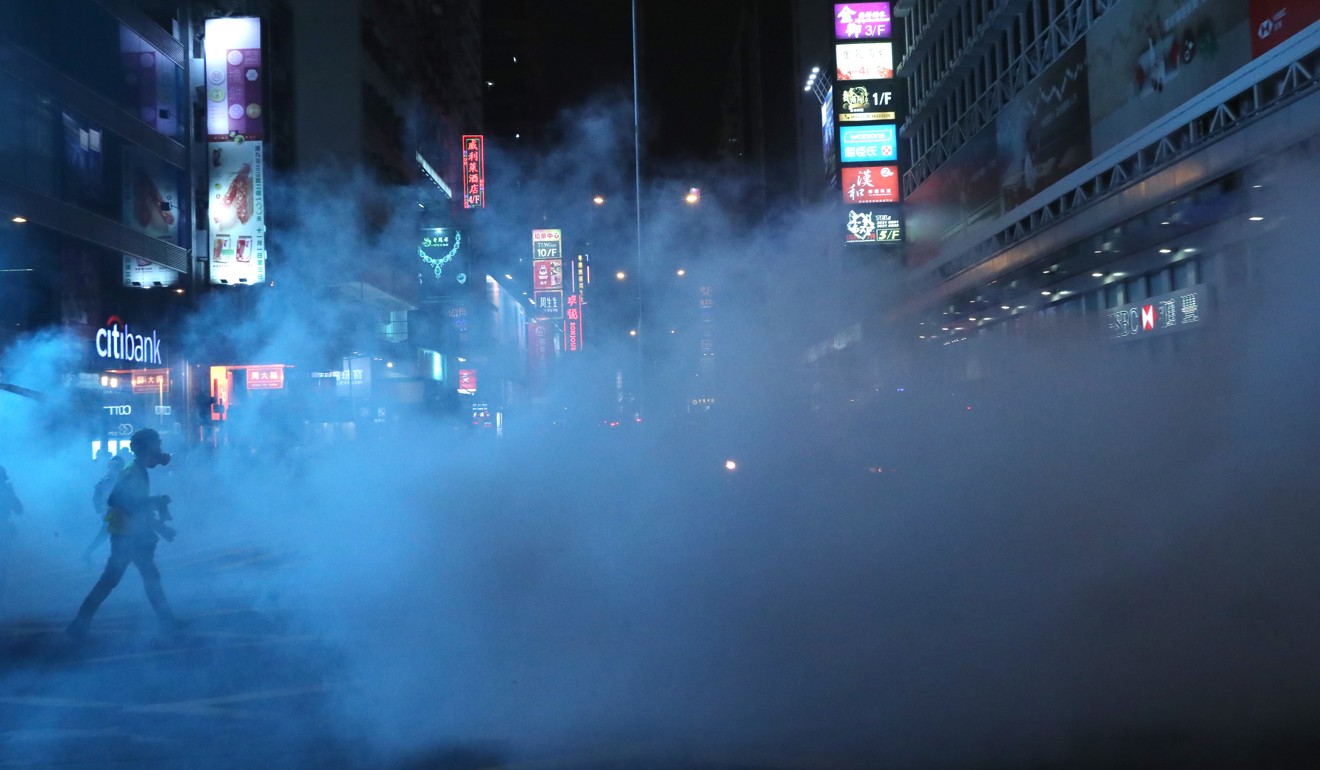 That evening, I followed the crowd of black-clad protesters through the district's narrow streets. They arrived in Mong Kok at about 7pm.
I stood a few paces off the pavement at one of the busiest traffic intersections in the district – where Nathan Road meets Argyle Street – diagonally opposite to the HSBC building.
Frontline reporting over
21 consecutive weekends of protests
had taught me it was safer to stand out of the police charging line and keep to the side when trying to catch closer shots.
Like those around me, I was not expecting violent clashes at that point. There were no petrol bombs or bricks being thrown by protesters.
A few hundred protesters and unmasked passers-by were mostly standing to the side, many of whom were hurling insults at police on the cordoned off main roads.
I was around 30 metres away, facing towards around two dozen geared-up riot police, who had formed a line on Argyle Street next to HSBC.
At about 8pm, one of them fired a tear gas canister, as dozens of officers made their retreat.
Those standing on the pavement began to scream and quickly dispersed. I immediately began filming the clouds of white tear gas.
My camera was focused on the tear gas and the police line that by now was nearly 50 metres away from my position.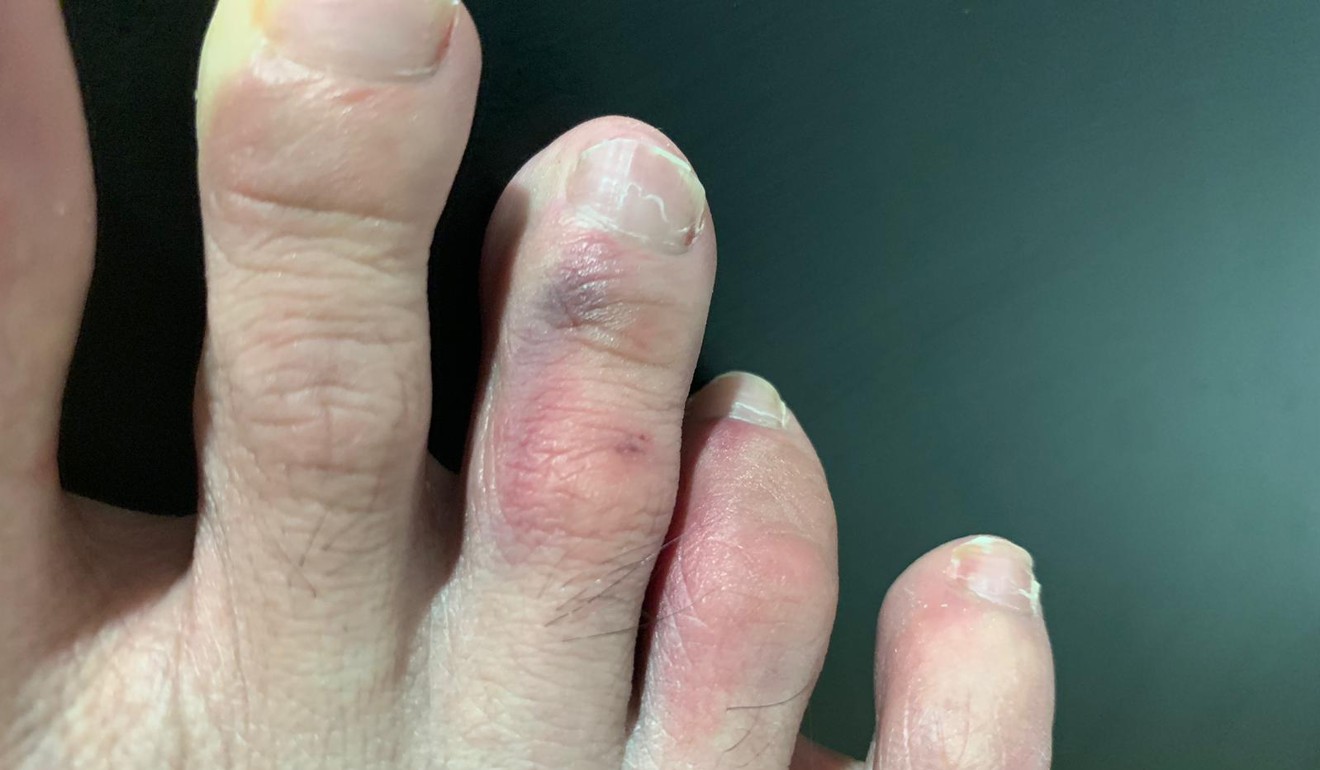 I then heard the sound of a single shot. The next thing I noticed was the pain in my right foot from being hit by a small object.
It was only from watching the footage I had recorded that I learned the time frame of how events had unfolded. There was about 17 seconds between the tear gas round being fired to the sound of another shot. That was when I felt the pain.
I did not see where the shot was fired came from as the tear gas had blocked my line of vision.
Two first-aiders came to my rescue after hearing me cry out in pain. They asked me to take off my shoes and socks and offered me an ice pack for my two affected toes, which were red and swollen.
After being looked after for about 10 minutes, I went back to the office in Causeway Bay to finish working.
In the early hours of Monday, I went to Ruttonjee Hospital in Wan Chai for treatment.
After studying my X-ray scan at about 3am, the doctor told me the bone was not fractured, but he warned my toes would remain swollen and bruised for some time.
The Post has filed a request with police to look into the incident.
Another Post photo journalist was hit on the ankle by an unknown hard object while police and demonstrators clashed on Salisbury Road in Tsim Sha Tsui on Sunday.