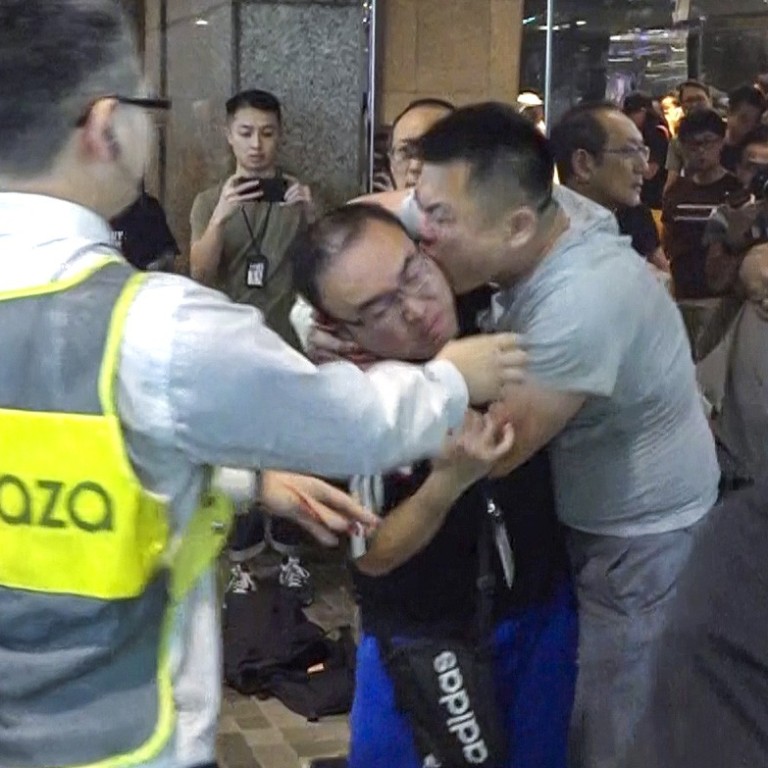 Hong Kong surgeons reattach part of district councillor Andrew Chiu's ear, bitten off by knifeman near Cityplaza mall
Local politician is recovering after an overnight operation to reconstruct his left ear. Two others remain critical in hospital
Five were badly injured in horrific attack outside the Tai Koo shopping centre on Sunday, including suspect who was beaten by crowd
Surgeons have reconstructed a district councillor's ear after part of it was bitten off by a knife-wielding man outside a Hong Kong shopping centre.
Andrew Chiu Ka-yin, who was recovering on Monday after an overnight operation, was among four people seriously injured in the frenzied attack, launched on Sunday night following an argument over politics outside Cityplaza in Tai Koo.
The suspect, who was heard speaking Mandarin, was then beaten by an angry crowd before he was arrested.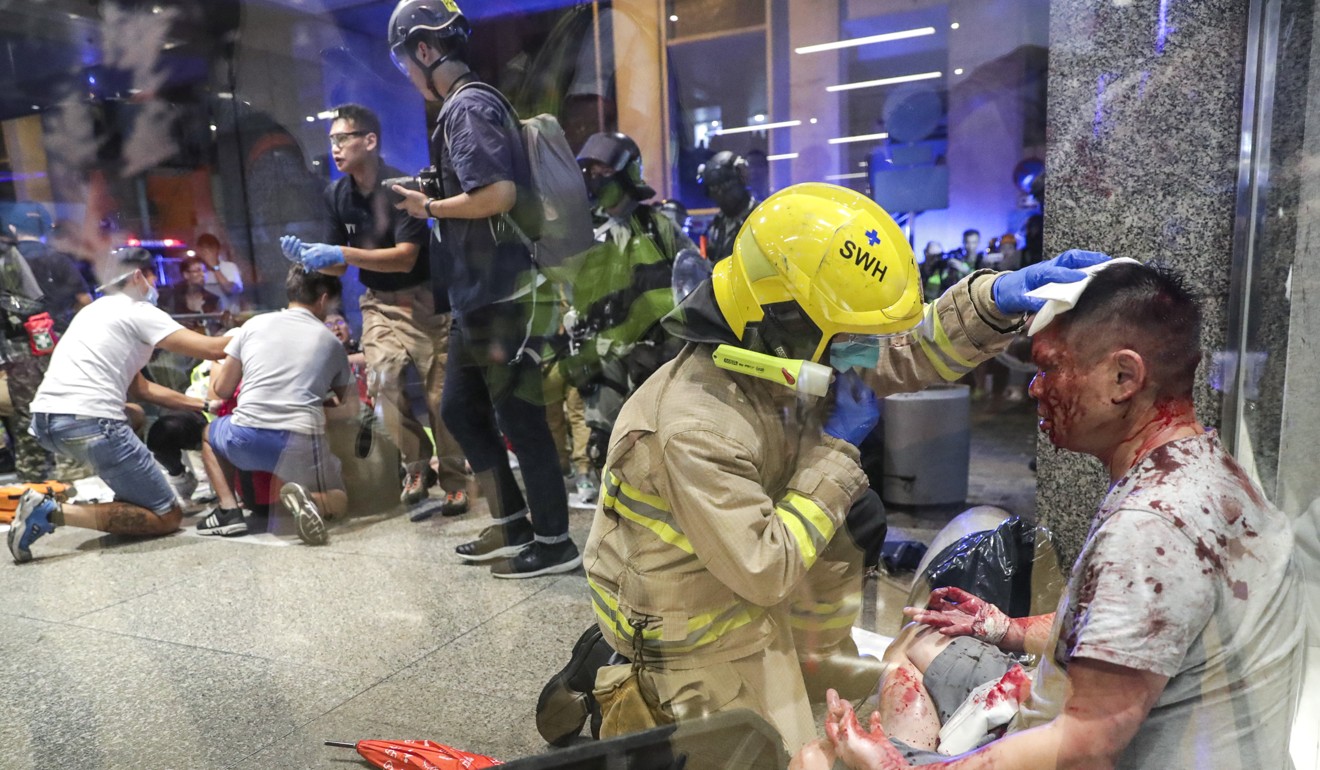 Police said on Monday afternoon that they had arrested the assailant, 48, and two men, aged 23 and 29, who beat him up afterwards.
A medical source said the suspect was a psychiatric patient at Pamela Youde Nethersole Eastern Hospital in Chai Wan and attended follow-up appointments regularly. "The man has violent tendencies," the source said.
The attack took place half an hour after riot police had left the mall.
Five of the injured, including the suspect, were taken to Eastern Hospital, two of whom were in a critical condition, with two serious and one stable, as of Monday morning. A sixth person harmed in the chaos did not need hospital treatment.
A spokesman from the Hospital Authority said that as of 5pm, of the five hospitalised, just two patients remained in a serious condition, after their status was downgraded from critical.
Eric Lee, one of Chiu's assistants, said the councillor, who represents Tai Koo Shing West on Eastern District Council, had surgery at about midnight to reconnect severed parts of his left ear.
"His condition is stable," he said. "The doctor told him to have more rest."
Lee said Chiu was trying to stop the attacker from leaving after the assailant had lashed out at several people with a knife.
On Monday morning, police officers were seen going in and out of the wards of the hospital in Chai Wan.
A married couple had suffered severe injuries during the attack with the husband's condition described as critical and the wife's as serious. The assailant had also been in a critical condition.
Two family members visited the injured couple at around noon. "The wife is conscious," one of them said. "She must be so scared still."
A relative said the husband at the intensive care unit was also awake after having surgery last night. "We just said hello, didn't chat. He looked very tired," she said.
A male victim was seen lying in a pool of blood during the shocking scenes of violence on Sunday night that played out in front of the media, who were in the area covering the protests.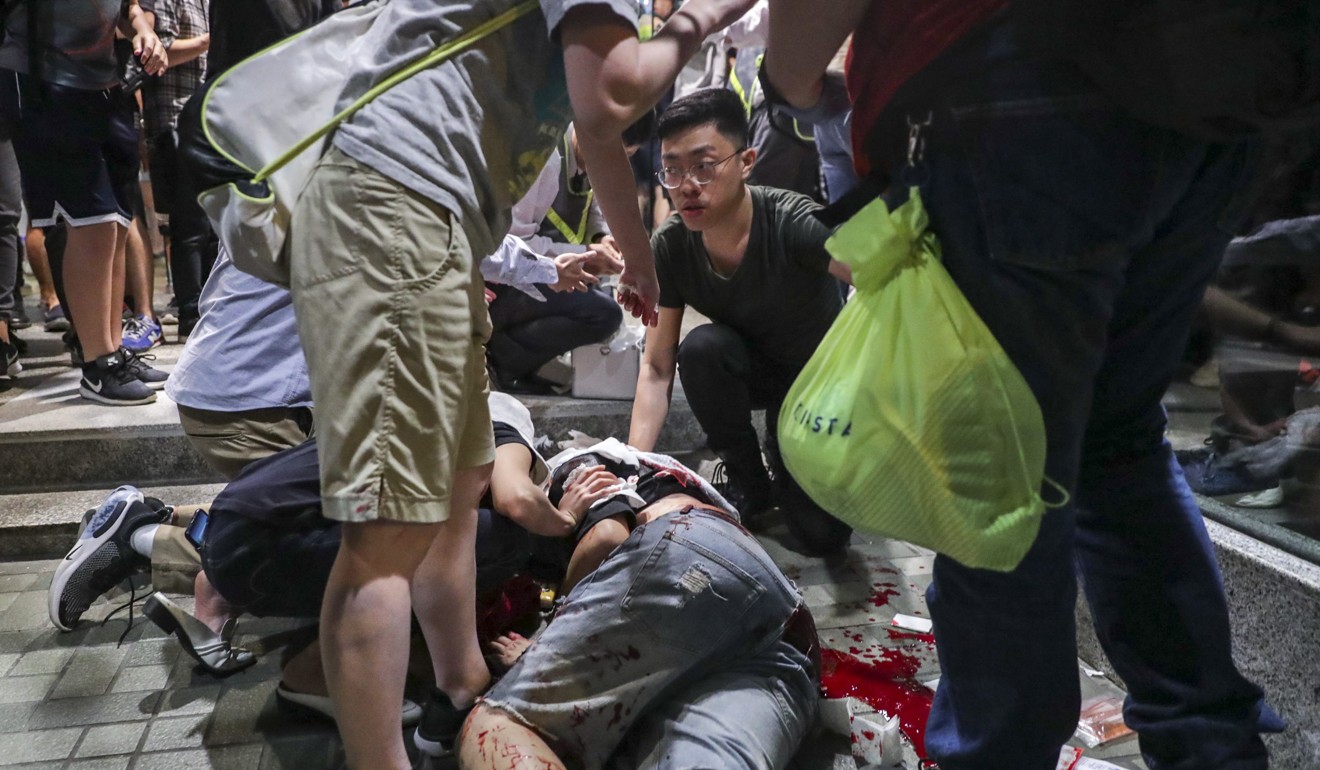 Another victim, who suffered relatively minor injuries, said on Sunday night that she, her sister and her brother-in-law had just left the Cityplaza mall after dinner when an argument broke out with a man, who retrieved a knife from his bag before launching his attack.
Democratic Party lawmaker James To Kun-sun said he spoke to witnesses as he and several colleagues visited Chiu in hospital on Sunday night.
He said they had heard the attacker shouting "liberate Taiwan" before brandishing his knife. "It is believed to be a premeditated attack as he carried the knife with him," To said.
Civic Party lawmaker Jeremy Tam said he hoped the attack in Tai Koo last night was an isolated incident.
"The violence in Hong Kong has actually calmed down a little bit if you compare it to, say, three or four weeks ago, but it's more down to the individual case," he said.
"So I hope it's just an isolated case rather than an escalation," he added.
Additional reporting by Victor Ting
This article appeared in the South China Morning Post print edition as: surgery for politician who had ear bitten off in attack