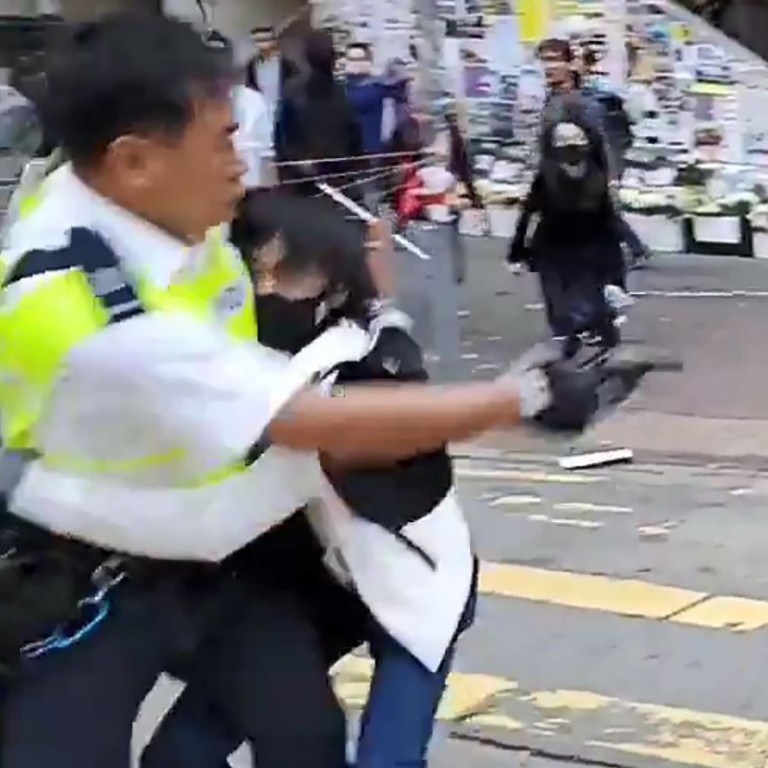 Student shot and man set ablaze in one of the most violent days of Hong Kong anti-government unrest yet
Tear gas, petrol bombs, barricades and pepper spray are used across multiple districts as protesters create traffic mayhem in a bid to spark a general strike
City chief warns that anyone who believes violence will force her government to give in to their political demands is indulging in 'wishful thinking'
Police fired a live round at a protester from close range and a man was torched in an act now classified as attempted murder, as Hong Kong on Monday spiralled into one of the most violent days of the anti-government movement, with clashes raging for more than 16 hours.
The shooting victim, a 21-year-old vocational student surnamed Chow, had a kidney and part of his liver removed to retrieve the bullet and was reportedly in critical condition, while 57-year-old construction worker Lee Chi-cheung was
fighting for his life
on Monday evening after suffering second-degree burns to his chest and arms, as well as head trauma.
Nearly 12 hours after rampaging radicals set up barricades on main roads, lit fires and hurled petrol bombs and bricks at riot police in multiple districts, a grim-faced Chief Executive Carrie Lam Cheng Yuet-ngor dug in her heels at a brief press conference.
She denounced those who believed the violence would force her government to give in to their political demands as indulging in "wishful thinking".
In unprecedented working-hours mayhem as the city entered its 24th straight week of unrest, police fired tear gas in at least 12 locations, from as far as east as Sai Wan Ho on Hong Kong Island, all the way north to Tai Po in the New Territories and Tsuen Wan and Tuen Mun to the west.
At lunch time, the Central business district was blanketed by a grey veil of tear gas as police clashed with black-clad mobs who staged a rally, shouting slogans such as "Five demands, not one less" and "Liberate Hong Kong; Revolution of our times".
Office workers took cover in buildings as others joined forces with protesters to lash out at the police for alleged brutality.
On at least three tertiary campuses, at Hong Kong, Chinese and Polytechnic universities, stand-offs led to the firings of rounds of tear gas early in the morning as protesters corralled dustbins, boxes and water barriers to mount as barricades or set on fire, as they clustered under umbrellas to throw bricks they had dug up at police firing tear gas at them.
At PolyU, protesters went on a wrecking spree, hauling furniture and bicycles out onto the streets and flinging them off footbridges, daubing graffiti on walls and building facades, all to vent their anger at the mysterious death of a fellow student last Friday.
Chow Tsz-lok, a Hong Kong University of Science and Technology undergraduate and a known protester, died days after he fell from a car park near the site of a police dispersal operation, sustaining a severe brain injury.
It remains unclear what caused him to fall but many accused police of pushing him and delaying medical help – allegations the force strenuously rejected.
Police also said CCTV footage showed he was walking alone around the car park not long before he fell.
On Monday, all 11 universities cancelled classes, with 10 remaining closed on Tuesday to repair major damage to facilities wrought by protesters.
While protests that began in early June against the now-withdrawn extradition bill had taken place on weekdays before, those were often in the evenings.
They tended to intensify into full-scale violence on weekends, as many residents settled into the new normal of the city's dual identity – commercial calm on weekdays and chaotic clashes on weekends.
But Monday's citywide escalation of attacks, which protesters had code-named Operation Dawn and hoped would spark a "general strike", dramatically altered that equilibrium as office workers and ordinary Hongkongers were forced to cope with massive transport disruption and, in many instances, faced tear gas and pepper spray.
In Tseung Kwan O, a disabled woman surnamed Choy, 64, was among the thousands affected. She had gone out to buy groceries at a nearby market, but roadblocks and stretches of pavement and roads studded with dug-up bricks left her fearing her wheelchair might get stuck.
"Why did they do that? I don't know. The government does not give in; the young people do not give in. It's best that they stop this," she said as she sat in her wheelchair by the roadside.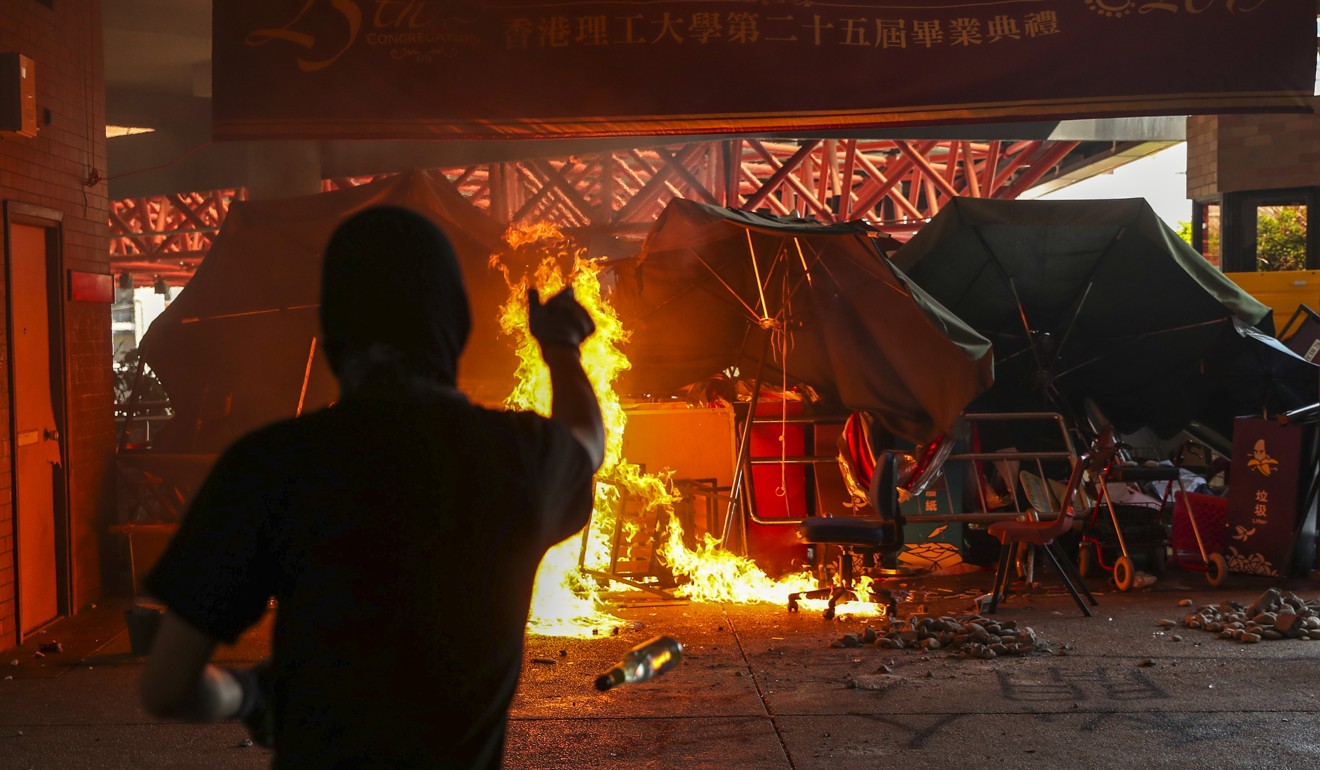 In Sha Tin, dozens of office workers walked to the MTR station after their minibus was stopped on the road. Elsewhere, protesters stopped double-decker buses and spray-painted the windscreens to prevent the drivers from moving the vehicles.
But office worker Johnny Chan, 30, from Sha Tin, said he left home half an hour early as he was prepared for the delays. "I understand why they are doing this though, as we need more radical protest action after Chow's death," he said.
The first signs of trouble had emerged at 6am, when railway staff found objects such as bikes, wooden ladders and poles hurled onto the rail tracks of the East Rail Line.
An hour later, a petrol bomb was thrown at Tung Chung station. Then a fire was lit inside a train in Kwai Fong station. At Heng On station, another blaze was set outside.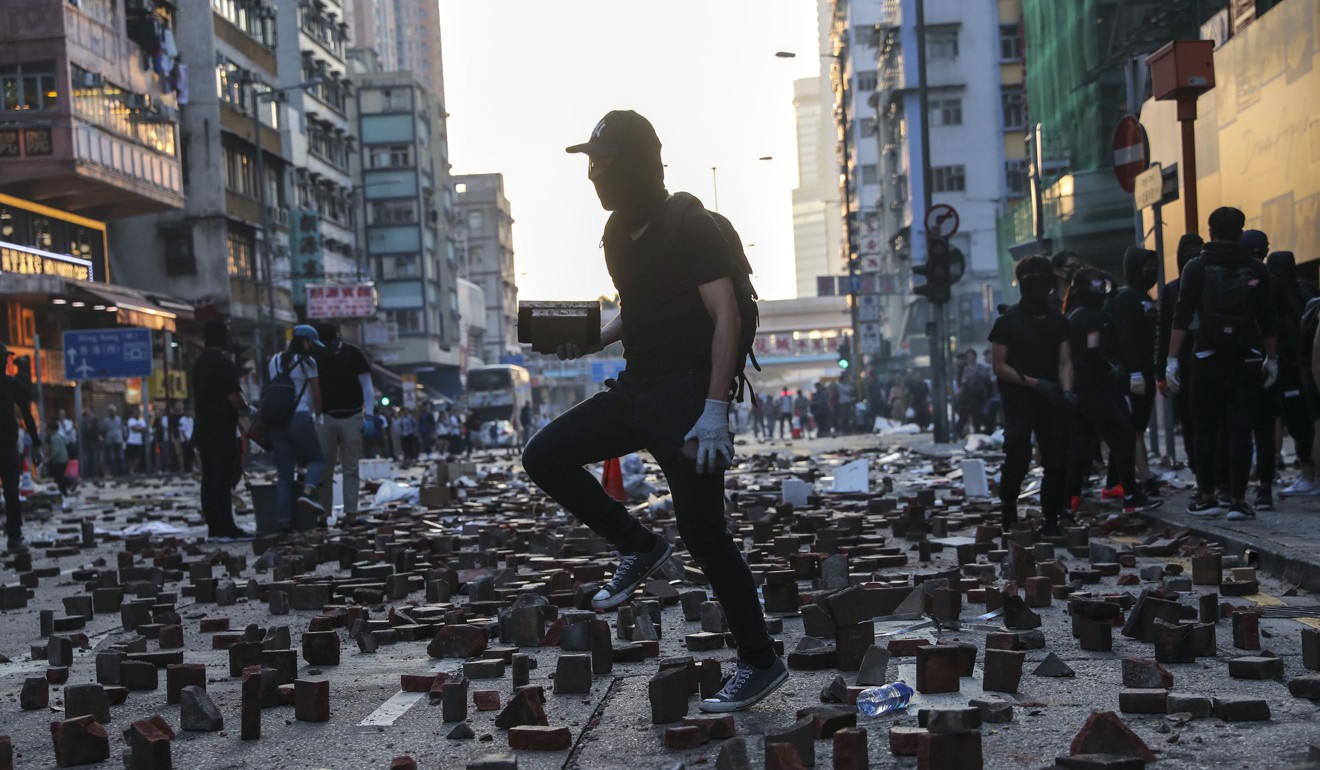 The actions crippled MTR lines in the morning, forcing services to be suspended at 18 stations, before another six closed in the evening.
Protesters appeared to retreat for a while. But as video clips of the shooting in Sai Wan Ho went viral, hordes appeared on the streets again, wreaking havoc on the roads and going after riot police.
In that incident, traffic policemen arrived at an intersection to clear protesters who had thrown polystyrene boxes onto the streets and building barricades.
In tackling the protesters, a station sergeant surnamed Kwan grabbed one of them but was soon surrounded by others.
"The officer pulled out his service revolver as a warning. However, the protester did not stop attempting to snatch the revolver," Chief Superintendent John Tse Chun-chung told a police briefing.
"At that time, the officer believed that it was very likely that the revolver would be snatched and the consequences would be disastrous. Death and casualties would have resulted," he added.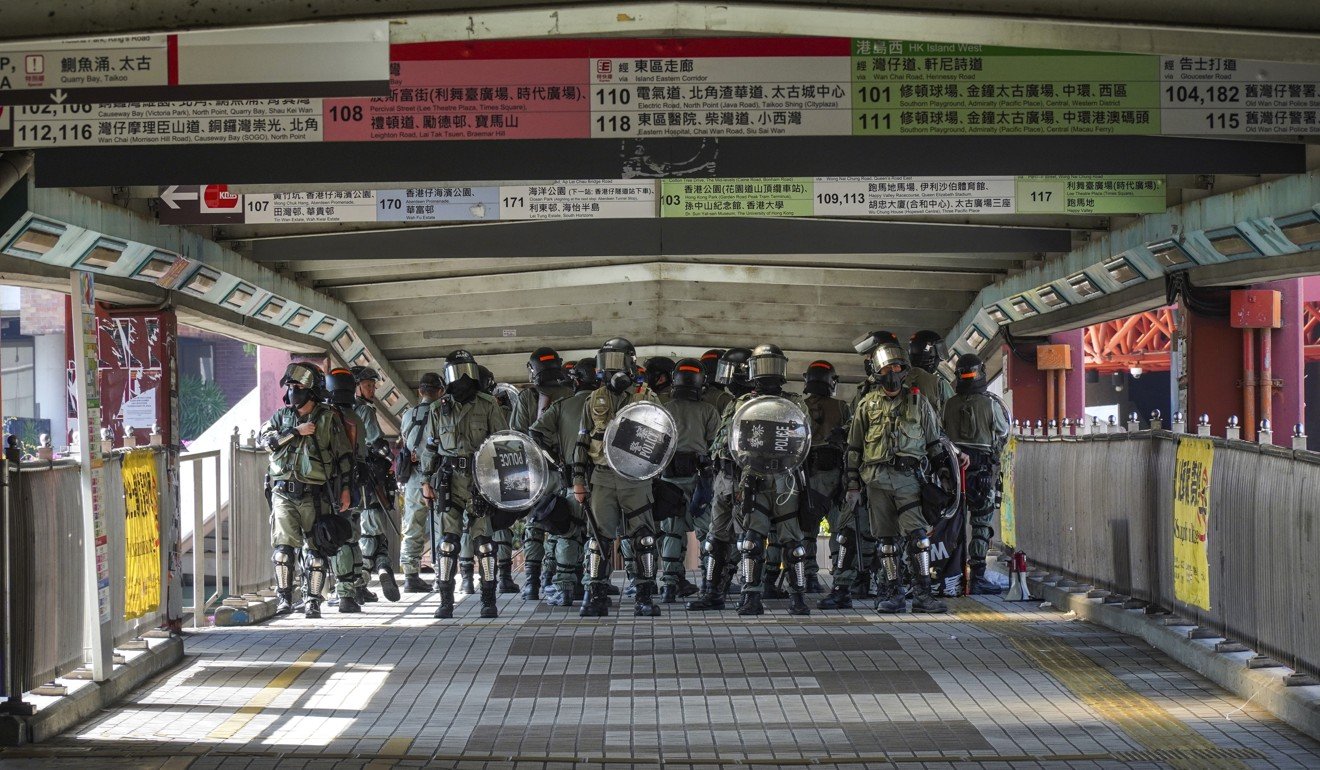 The student, Chow, was shot in the abdomen and later, despite his wound, tried to flee as the ambulance arrived but riot police officers caught him again.
The officer fired three shots, including one that hit Chow. South China Morning Post photographer Nora Tam, who was on the scene, said: "I heard three bangs, which came one after another."
Angry bystanders began demanding explanations from the police but were soon pepper-sprayed. A video showed at least one middle-aged man was clapping his approval at the shooting.
Within hours, the officer who shot the protester was doxxed online, with all his personal and family details leaked and death threats made against his children.
In Ma On Shan at about lunchtime, construction worker Lee chased after protesters who had been throwing objects onto the road.
He was then assaulted and suffered head injuries. He shouted to the group, "You are not Chinese", to which the protesters responded by yelling "We are Hongkongers".
Lee advanced back towards the group and a protester poured flammable liquid on him before he was set alight.
Police have classified the case as attempted murder but no one was arrested. People online began sharing details of the alleged perpetrator, a computer-science graduate.
At a press conference at her office in the evening, Lam described the attack on Lee as a "totally inhumane act that nobody should condone".
Urging everyone to condemn the destructive behaviour of protesters, whom she called the "enemy of the people", Lam vowed they "would never win", despite their continuing acts of violence over the past five months.
"If there is still any wishful thinking that by escalating violence the Hong Kong SAR government will yield to pressure to satisfy the so-called political demands, I'm making this statement clear and loud here: that will not happen," she said.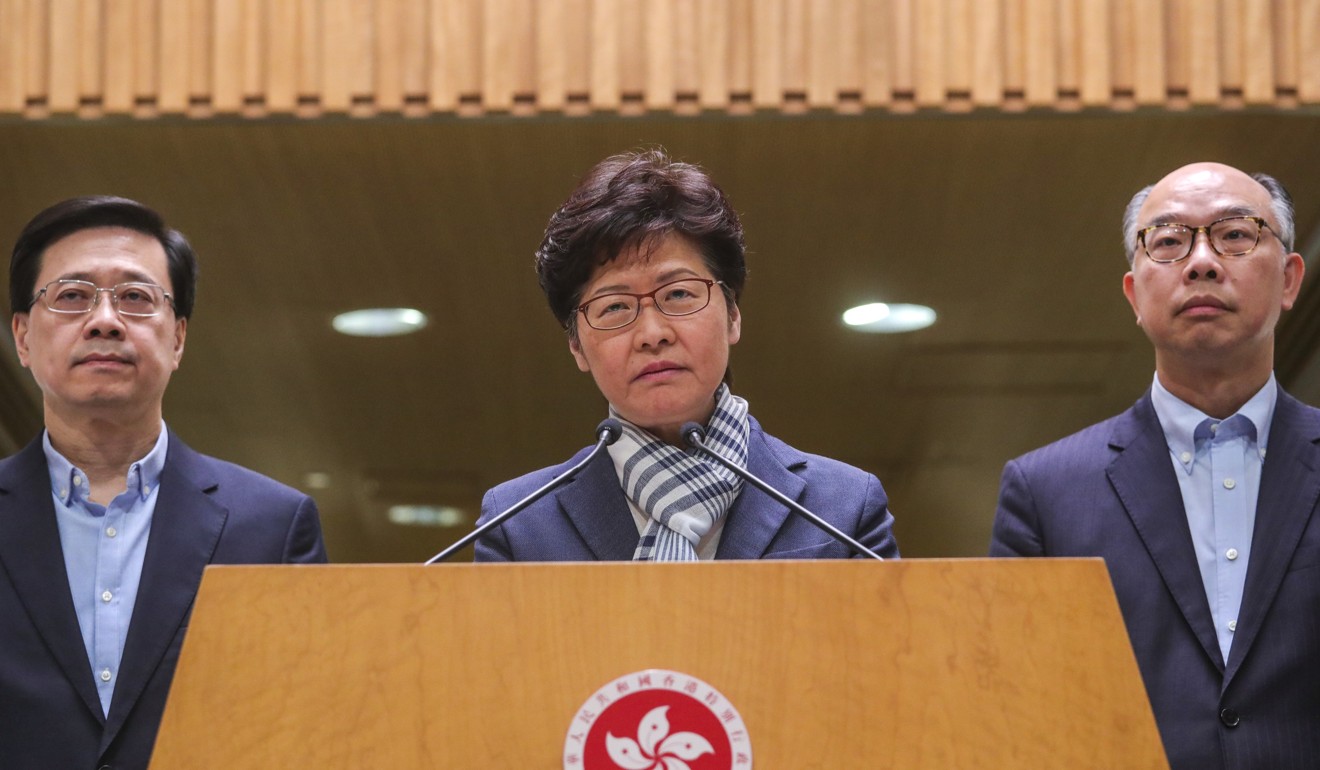 "Violence is not going to give us any solution to the problems that Hong Kong is facing. Our joint priority now as a city is to end the violence and to return Hong Kong to normal as soon as possible."
The Hospital Authority reported that, as of 10pm on Monday (9am on Sunday, US Eastern Time), 99 people had been sent to hospital with protest-related injuries. Two were in critical condition, four serious, 46 stable, seven unclear and 40 had been discharged.
Police said 266 people, between the ages of 11 and 74, had been arrested for protest-related offences since last November 4.
The 11-year-old boy, the youngest to be arrested over the past five months, was taken into custody during an action in Tsuen Wan on Sunday evening, police said.
Two Post journalists were hit during police operations on Monday. Reporter Chan Ho-him was hit in the stomach by a pepper ball as police fired at disgruntled residents in Tseung Kwan O. Photographer Dickson Lee was pepper-sprayed by police at close range at the APM mall in Kwun Tong and went to hospital for treatment.
"We have expressed our strong concern to police about their using pepper spray and a pepper ball on our journalists today," Post editor-in-chief Tammy Tam said. "Journalists must be allowed to carry out their reporting duties without fear of becoming the targets of police action."
Police said they would investigate the incidents.
In another incident, videos of which were widely shared online, a traffic officer was seen ramming through a crowd of protesters in Kwai Fong on a motorbike. He was later suspended.
Clashes continued well into the night in Mong Kok and Tuen Mun, as protesters took on riot police again and scuffled with bystanders who argued with them. In one Mong Kok incident, a man was left beaten and bloodied after a quarrel with the radicals.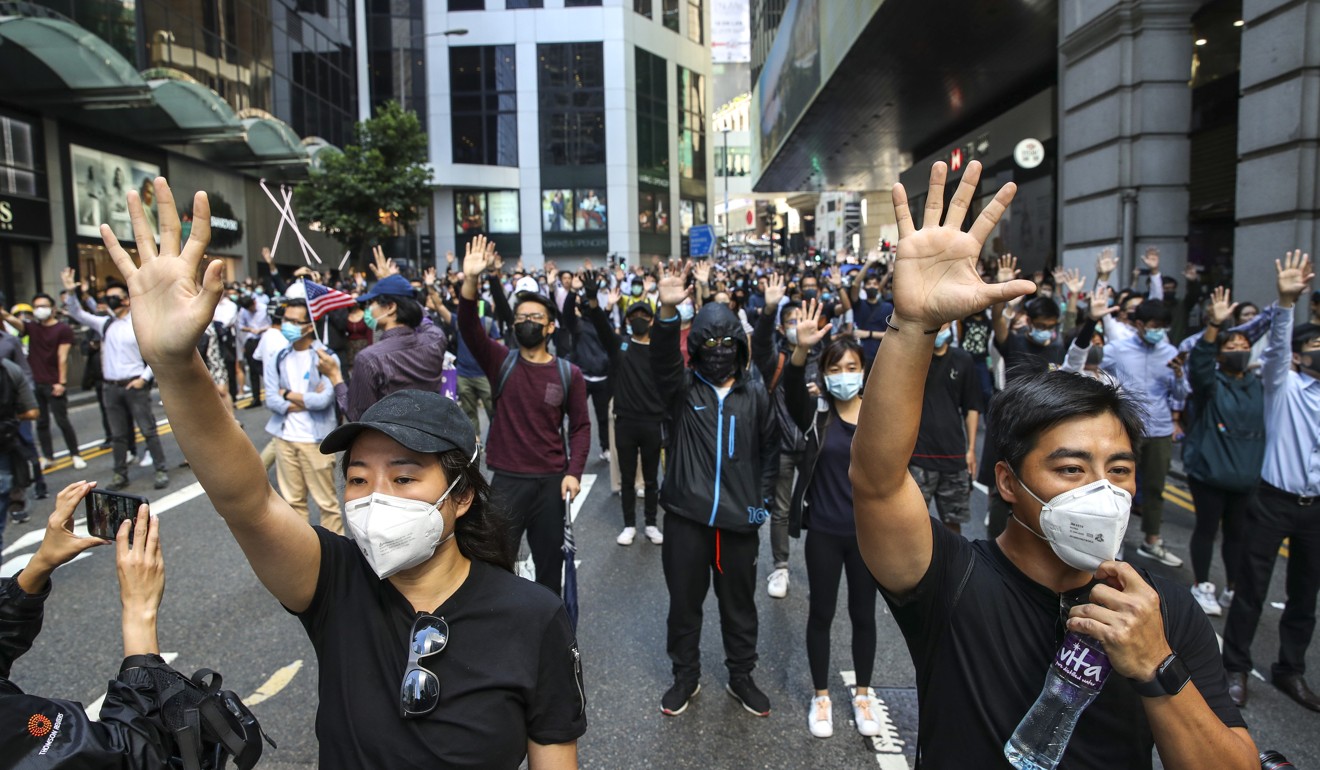 Tam Man-kei, director of Amnesty International Hong Kong, said the firing of live rounds was "clear evidence of reckless use of force", and urgently deserved to be independently investigated. "This pervasive, heavy-handed behaviour shows the police cannot investigate themselves," he said.
The Hang Seng Index had its biggest fall in three months, outpacing other losses in the region, closing 2.6 per cent down at 26,926.55.
Despite the scenes of destruction across the city, Hongkongers on Monday evening also took heart in two video clips showing office workers cleaning up the mess left behind by protesters, in Central and Tin Hau.
The videos showed men and women in office clothes bending down to clear the roads of bricks and put metal road barricades back in their place.
Protesters pledged to repeat their attacks on Tuesday.
Reporting by Sum Lok-kei, Karen Zhang, Chan Ho-him, Phila Siu, Kathleen Magramo, Alvin Lum, Clifford Lo, Chris Lau, Victor Ting, Jeffie Lam, Gary Cheung, Elizabeth Cheung, Danny Mok and Lilian Cheng
Note: An earlier version of this story incorrectly named the victim as Leung Chi-cheung.