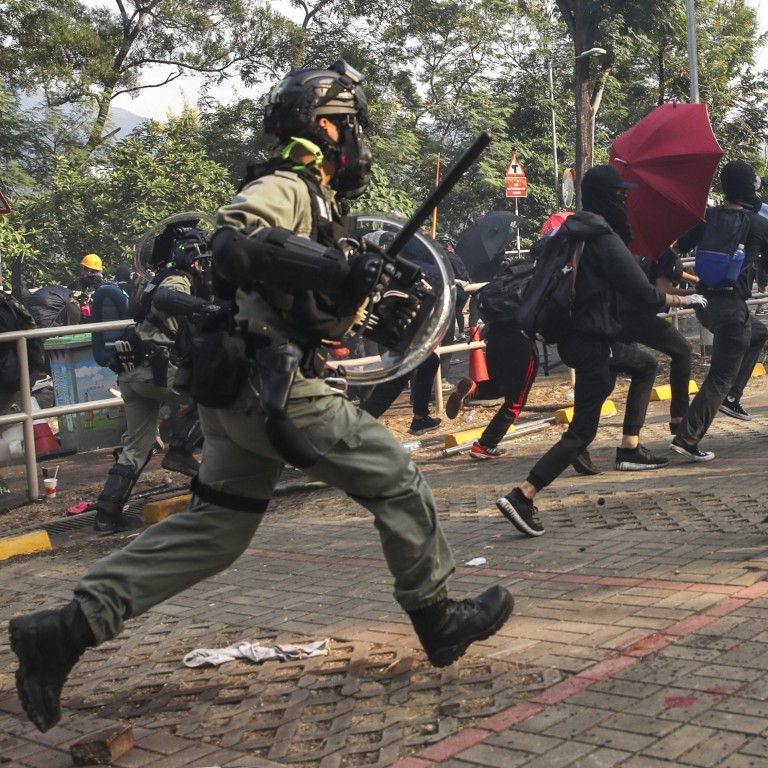 Campus clashes as universities become new battleground in Hong Kong anti-government unrest
Chinese University's Sha Tin site was again plunged into hours-long confrontations between police and demonstrators
Protesters were angered by a student's recent death, and by school bosses' response to citywide turmoil
At noon on Tuesday, a post widely circulated among Hong Kong protesters' groups called in reinforcements for their comrades at three universities, labelling the schools the "most important battlegrounds, which must not be lost".
It was the second day Chinese University (CUHK) was plunged into hours-long, intense confrontations between police and anti-government demonstrators. It was also a day police fired tear gas outside City University as early as 7.20am, and got into a showdown with students at the University of Hong Kong (HKU).
Police said they had every right to enter campuses to make arrests, and the sites should not be safe havens for criminals. But to some students, campuses are like homes and must be duly guarded, even with escalating violence.
"The university is a place for academic freedom. It's not entirely a public place that the police can enter whenever they want," said a CUHK postgraduate student, who took part in stand-offs at the Sha Tin campus on both Monday and Tuesday and wished to remain anonymous.
Protesters started by moving sporting equipment to a roadblock outside the university gym. They later set fire to a trashed car inside the campus and threw petrol bombs.
Police fired multiple rounds of tear gas at protesters as the latter retreated onto the campus. Officers gave chase and continued to fire tear gas at a sports ground.
The stalemate lasted into the night, with university president Rocky Tuan Sung-chi trying to mediate.
The anonymous CUHK student noted that police cited protesters' barricades on Tolo Highway as a reason for the officers' arrival. But he called the police action "totally disproportionate".
"Police only need to clear roadblocks; I don't think they should come in and fire so many rounds of tear gas on the campus," he said. "This does not help them arrest anyone."
At CityU in Kowloon Tong, riot police arrived at about 7.15am to pull down barricades on Cornwall Street outside the institution. They fired tear gas, with several canisters landing near halls of residence, according to two students.
Officers later returned to fire more rounds of tear gas and rubber bullets at student protesters, who had been based on a footbridge connecting a dormitory and the main campus.
Two business students, who helped restore roadblocks in the afternoon and identified themselves as Cat and Kelly, said they "had a responsibility to step up violence to protect [their] home".
Kelly said students' desire to take to the streets over the past days was fuelled in no small way by the death of Chow Tsz-lok, the Hong Kong University of Science and Technology student who succumbed to his injuries last week after a fall inside a car park near a police dispersal operation, and an officer firing live rounds on Monday at an unarmed protester who was also a student.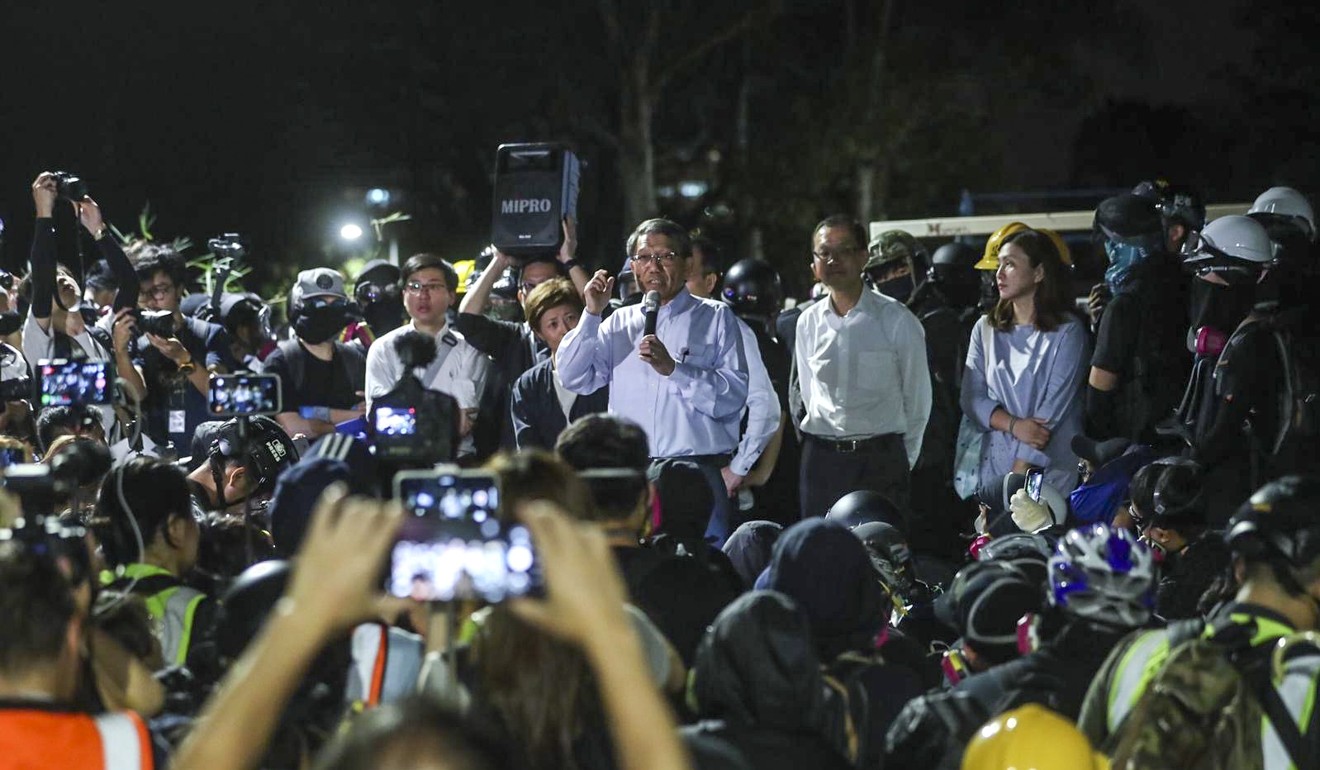 However, a lack of trust in university management may have also prompted students to take matters into their own hands. Cat criticised CityU management for not standing up for students, especially the arrested ones.
"That's why, when police come onto our campus, we students will have to take up the role of [protecting our campus] by increasing violence," Kelly said.
It was the same for an HKU student surnamed Lau, who said he was extremely disappointed that university president Zhang Xiang had condemned the violence of protesters, as well as that of police.
"Zhang doesn't understand what happened, or what he was doing is just for his own interest. Our violence cannot be compared to the police's," he said.
Another HKU student, surnamed Tang, who lived in a dormitory, said students blocked some entrances of the campus with chairs and desks on Monday only to "send a message to urge fellow students to join the class boycott".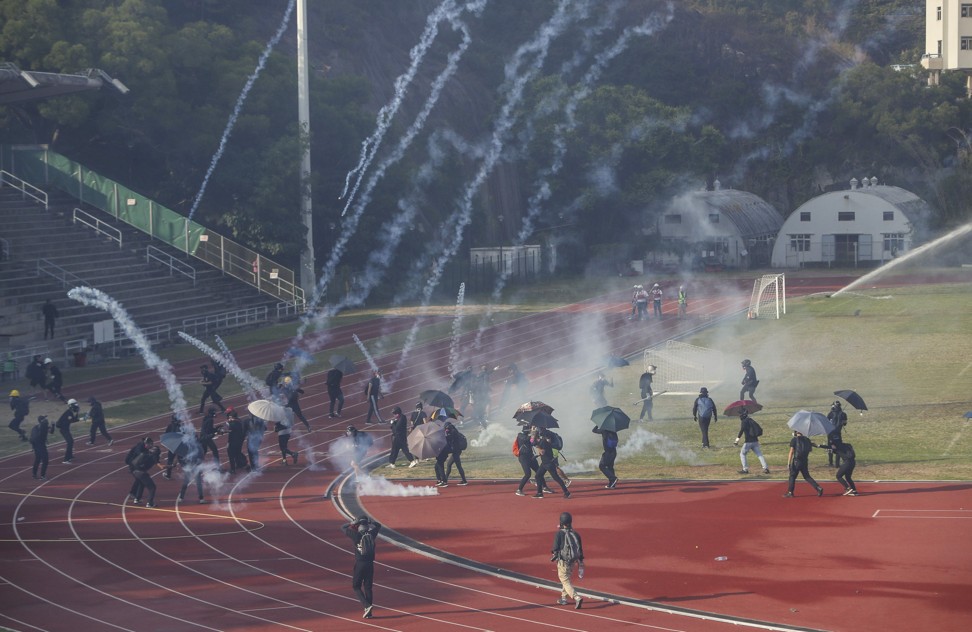 "Police's entry yesterday surprised us," she said. "That's why we decided to continue to set up roadblocks … We escalated our action when the police escalated theirs."
Kong Wing-cheung, senior superintendent for the Police Public Relations Branch, said officers had full legal power to enter campuses and to apply for search warrants for student dormitories.
"I can certainly tell you we are not intending to charge into the campuses, we are just trying to disperse and arrest alleged criminals. Unless you're telling me it is not criminal to throw objects onto highways," he said. "The best scenario would be if these criminals turned themselves in."
He said 30 petrol bombs had been hurled at officers in 20 minutes during a stand-off on the CUHK campus. He showed pictures of students holding bows and arrows.
Near HKU, he said, protesters had thrown chairs from a footbridge onto vehicles passing underneath.
Kong said one of the chairs hit the feet of a motorbike driver, causing him to lose balance, a "near-murder act".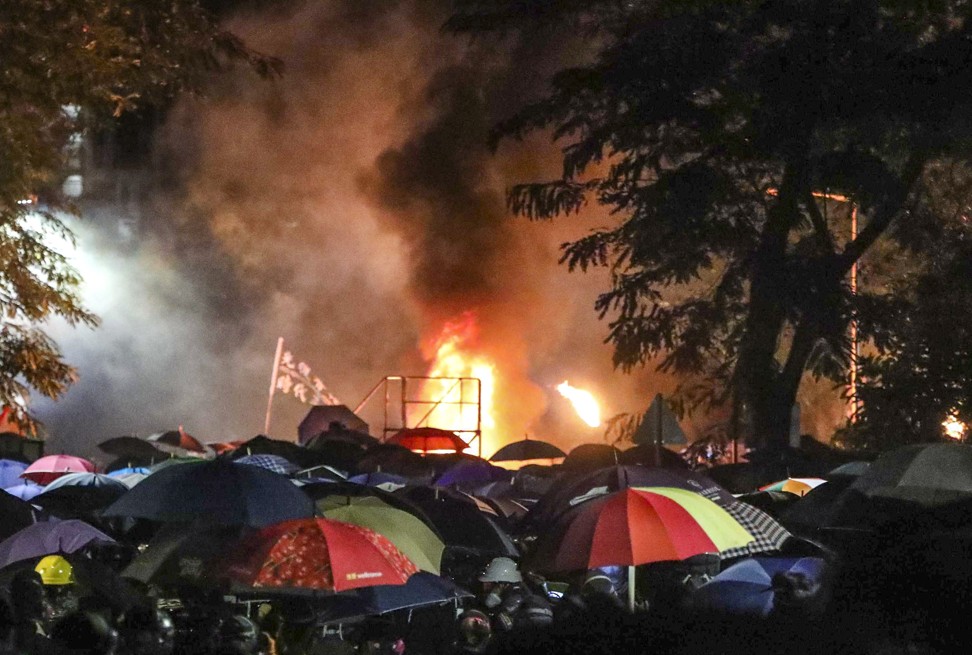 He said groups of masked protesters also dropped objects from a footbridge onto the road near Polytechnic University and threw a petrol bomb onto the railway.
That universities were open to police was part of the message conveyed by Matthew Evans, HKU's science dean, together with several other deans, to student protesters as they urged students to stay safe and not attack officers on Tuesday.
"What is the bigger thing? Is the bigger thing standing here and chucking a rock at a policeman, or, to say, 'I don't need to do that … I will be one of the people who tries to solve the problems?'" he asked.
"What is happening now is not sustainable," he said. "It needs to end, somehow."
"These are kids," Evans told reporters. "They are my students, they are other people's students, sons and daughters of families … I am actually worried."
Additional reporting by Kimmy Chung and Joyce Ng
This article appeared in the South China Morning Post print edition as: Students reinforce 'battlegrounds' at three universities