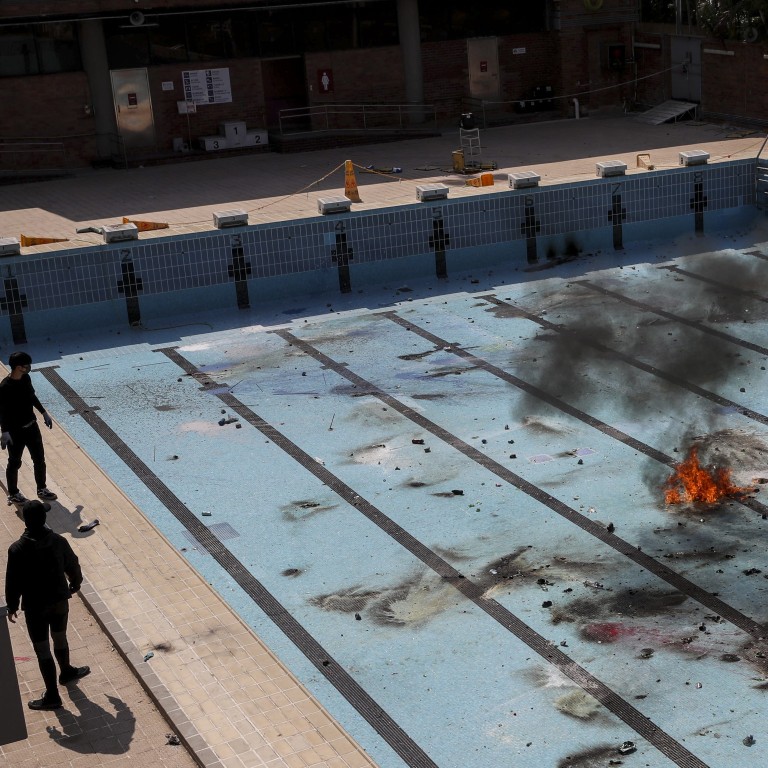 Are Hong Kong's universities becoming 'weapons factories' as claimed by police?
Protesters say they have to defend themselves in wake of intense clash at CUHK on Tuesday
Tutorials held to teach participants how to make petrol bombs, with supplies brought in by supporters and other protesters
Near the 50-metre outdoor swimming pool at Polytechnic University in Hong Kong, a thick scent of motor oil and lighter fluid filled the air, as protesters practised throwing petrol bombs they had made.
On a bridge at Chinese University in Sha Tin, where protesters had set up a makeshift checkpoint guarding against entry to their campus, bags and boxes of petrol bombs were placed on the ground, ready to be deployed at any moment.
Over in Pok Fu Lam, at the University of Hong Kong, student union offices were piled high with bags of clothing, food, first aid material, but also items such as thinner, oil and lighters, as well as notes pinned to a wall showing how to make petrol bombs and nails for roadblocks.
On a footbridge at the campus where protesters had set up an inspection point, materials for petrol bombs and dozens of finished versions of the explosive were scattered on the ground.
"We are using petrol bombs only when attacked by police. It's the last resort to protect the campus," Hui, a 19-year-old student protester – but not from HKU – said.
Such scenes have taken over Hong Kong's universities in recent days, as the tertiary institutions became sites of intense clashes between protesters and police, with tear gas fired on campuses for the first time. Student demonstrators accused the force of invading school grounds, while police said they were entering to arrest criminals.
On Friday, the fifth straight day of citywide protests that have crippled transport routes, City and Chinese universities confirmed that flammable and dangerous chemicals were stolen from laboratories, raising concerns they would be used for making explosives.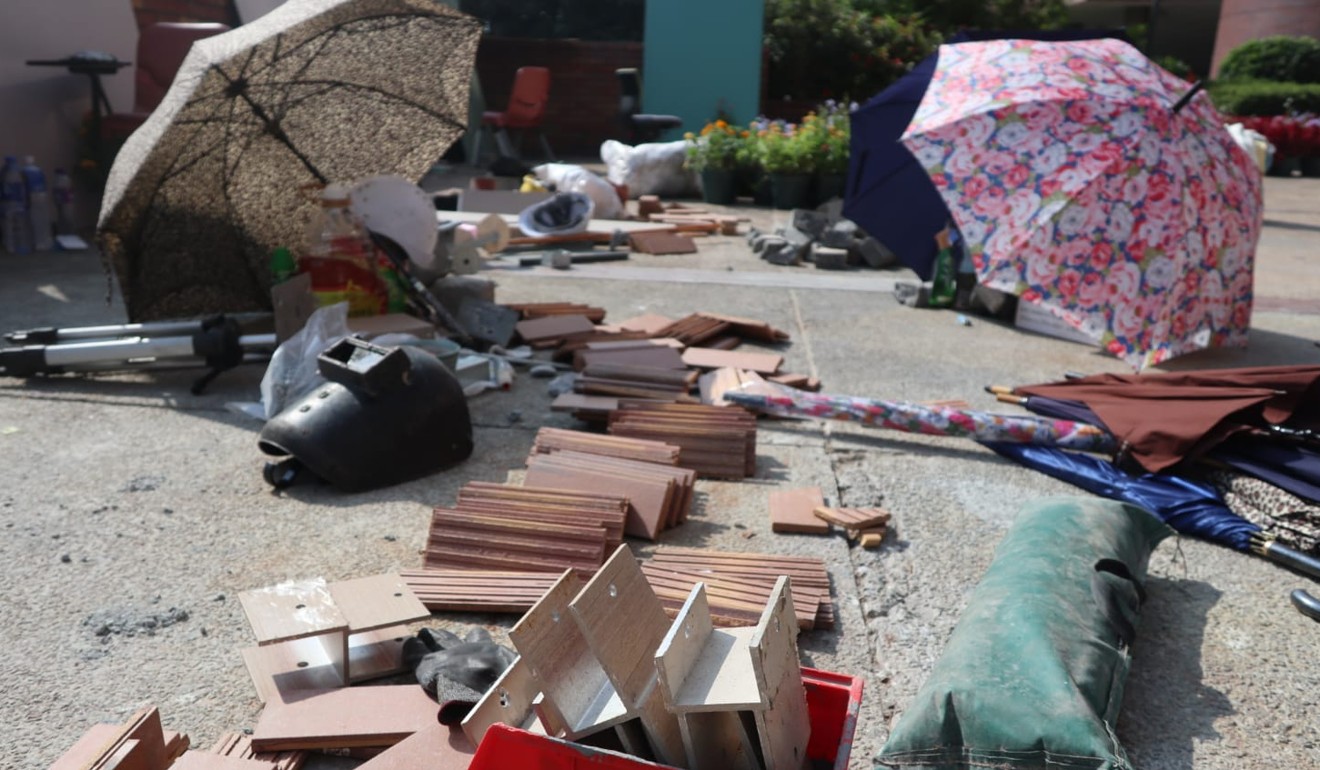 On Tuesday, CUHK became a battleground of intense clashes, where officers fired more than 1,000 rounds of tear gas at protesters, accusing them of hurling hundreds of petrol bombs at police. On that day, at the university's No 2 bridge, a supply chain spanning more than 1km was formed by protesters, who passed petrol bombs and other supplies to the front line.
Others amassed bows and arrows from the campus sports ground.
Over the night, dozens of protesters attended tutorials on making petrol bombs, where they were taught how to mix ingredients and which type of bottles to use. Most protesters wore gas masks as they took turns through the night guarding the bridge, while at least three checkpoints were set up around the campus to search bags and demand the ID cards of those entering.
One of the protesters who guarded a checkpoint said the inspection was needed to prevent undercover officers from infiltrating their ranks.
"As long as those who want to come in are not carrying any guns or batons, they are all free to visit," he said.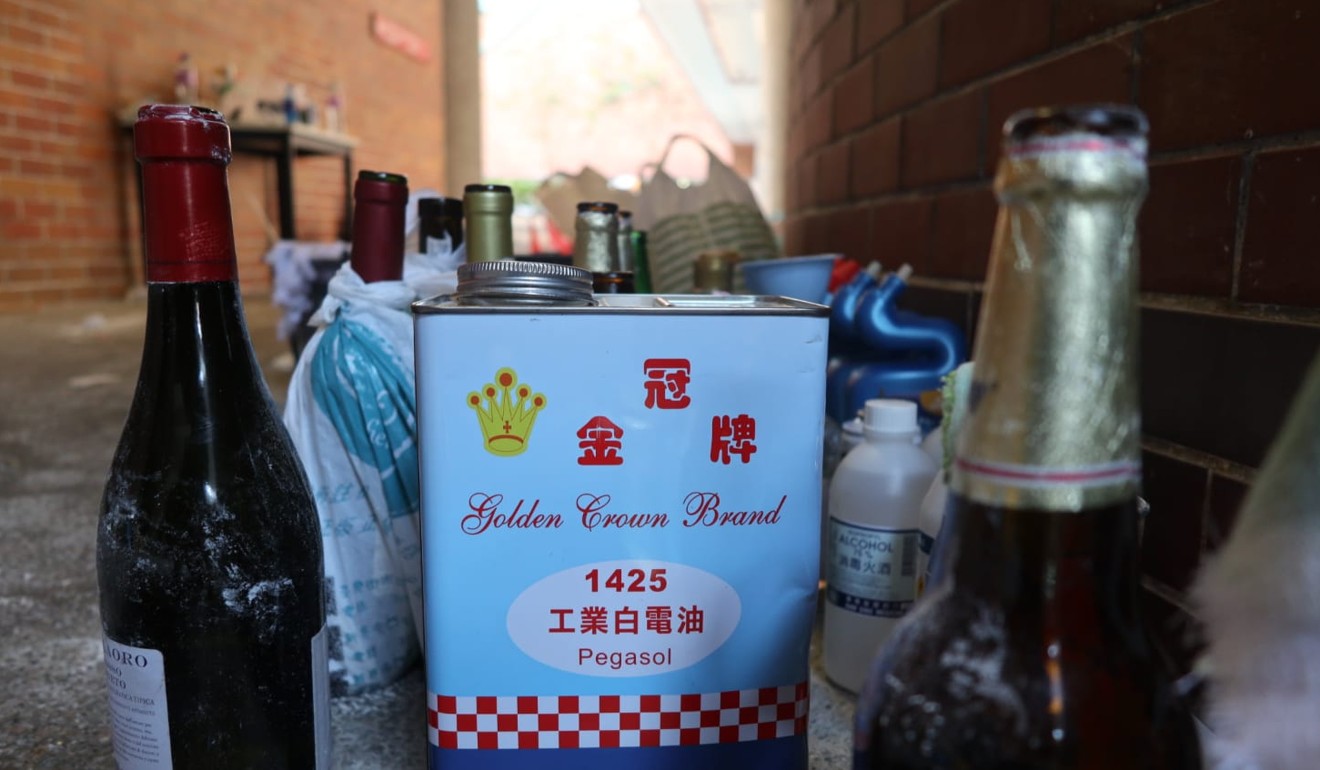 A 15-year-old secondary student who only wanted to be called Nicole, said she had been a frontline protester since August to help put out smoking tear gas canisters and throw bricks. But on Tuesday, she helped make about eight petrol bombs at CUHK for the first time.
"We used some [mixture of] naphtha and motor oil, pouring this into a glass bottle till it was nearly full, and then inserting a large piece of gauze.
"When we made these [petrol bombs] of course we wanted to use them. But it's a [defensive] tactic now so if police don't come in we won't be using them," she said.
Another 15-year-old secondary school student, who had been at CUHK since Monday, said it was "easy" to make petrol bombs as there were formulas to follow, and most raw materials including motor oil were either brought in by other protesters or donated by people from outside.
The number of petrol bombs seen on Friday at CUHK was significantly fewer, and protesters were placing cling wrap around those that remained to avoid contents from vaporising.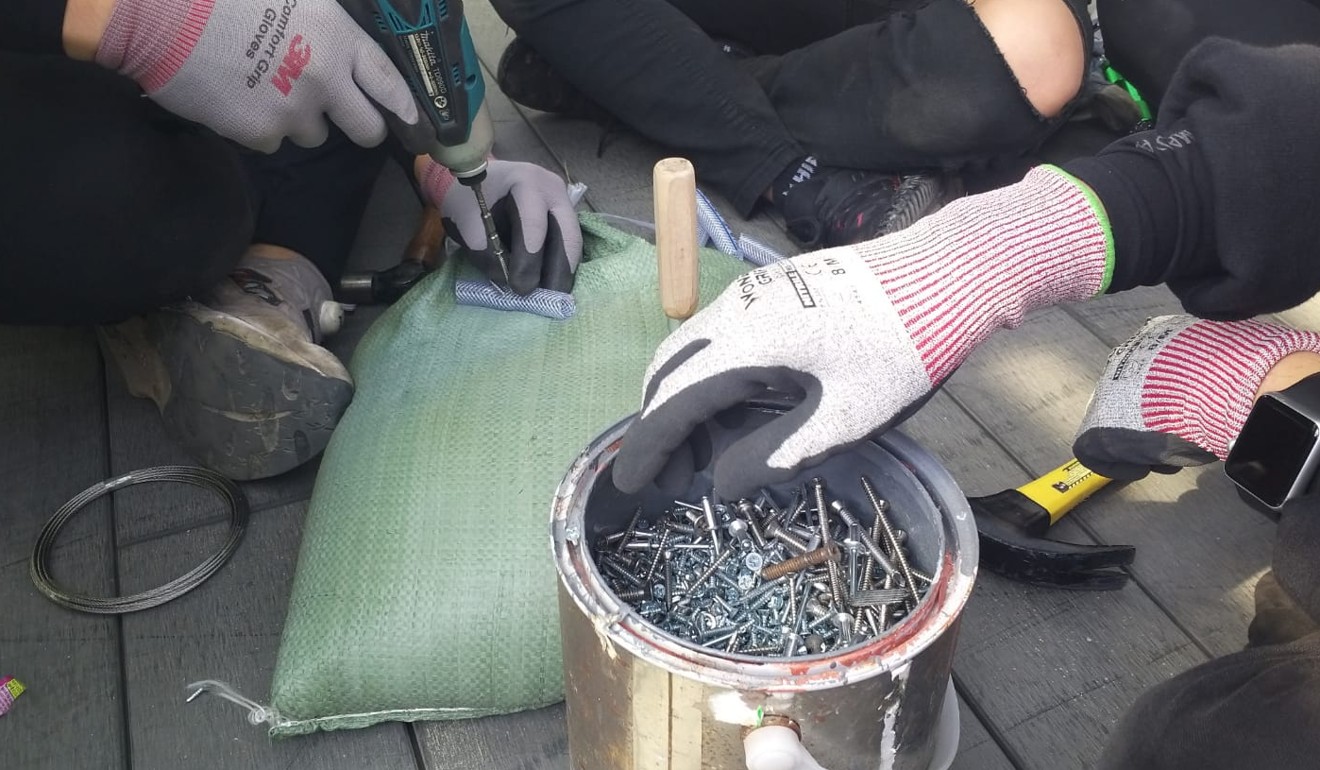 Similar scenes also played out at PolyU, where protesters told the Post there were hundreds of petrol bombs on campus and a security checkpoint set up at an entrance. At one of the footbridges along the campus, a group of students were seen on Friday making nail traps to be placed on the roads below to puncture car tyres.
"I'm not sure where we got these from, maybe someone took it from the construction or engineering faculty. We're just making more because we're bored and police aren't around," one of them said.
Another PolyU student, surnamed Tsang, 21, was stuffing a torn-up cloth into a glass bottle filled with vegetable oil and lighter fluid.
But she denied university campuses have turned into what police described as "weapons factories".
"Making petrol bombs is our basic way to defend ourselves. We cannot just sit around empty-handed while police are storming campuses without warrants and throwing tear gas," Tsang said, referring to the fiery clashes at CUHK.
"I'm not brave enough to light and hurl petrol bombs at police," Tsang said. "But I do help to make them." She added that she learned this while watching others at PolyU.
"I can't deny the fact that I am afraid of being arrested when I'm on the front line, or if I get caught making petrol bombs. But when you're with others who are also being tear-gassed, you become one with them and push through."
Additional reporting by Karen Zhang
This article appeared in the South China Morning Post print edition as: inside the campus 'weapons factories'