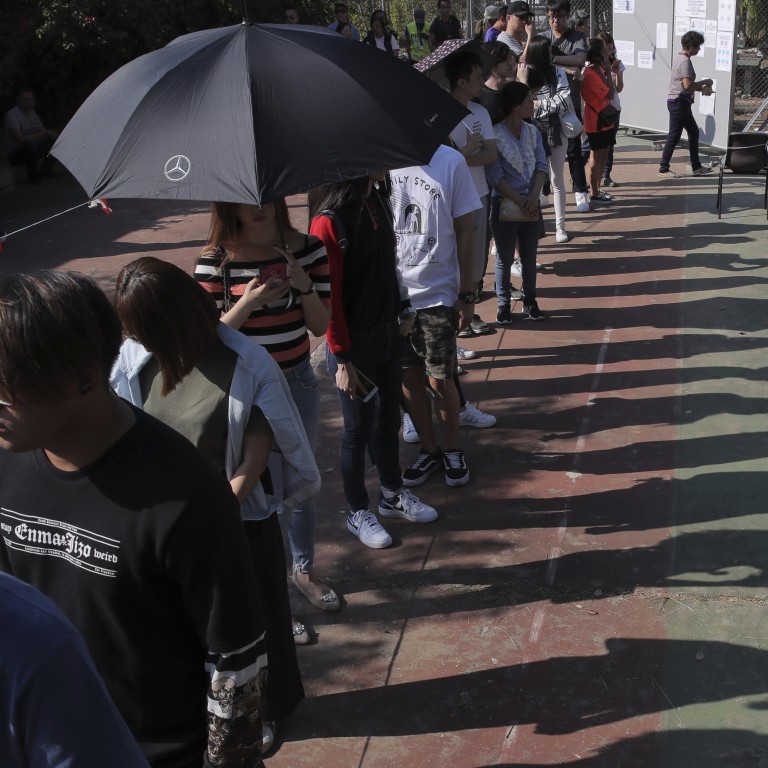 No protests, no violence, no tear gas: not your usual Sunday in Hong Kong, as voters join peaceful, snaking queues
Surreal calm as district council elections turn into 'referendum' on months of political unrest
Some voters want violence to end, others hope to see pro-Beijing camp wiped out
Chef Winnie Leung, 45, joined the long queue outside a Sha Tin polling station on Sunday, waiting to cast her vote for the first time in her life.
"I am apolitical and used to feel my vote was not needed as Hong Kong was peaceful," she said.
But more than five months of turmoil in the city, which saw
anti-government protests
becoming increasingly violent and spreading from the streets to university campuses, made her decide it was time to vote.
Leung, who was with her daughters, aged 18 and 20, said she was angry with the way police had dealt with the protesters.
Over at a polling station in Mong Kok, the queue was about 500 deep at noon. May Ho, 61, said she was there to support pro-Beijing candidate Keith Lee Ka-hin, because she felt he stood against violence.
"My mother, 91, is also coming out to vote after 20 years," she said. "Society needs to return to peace."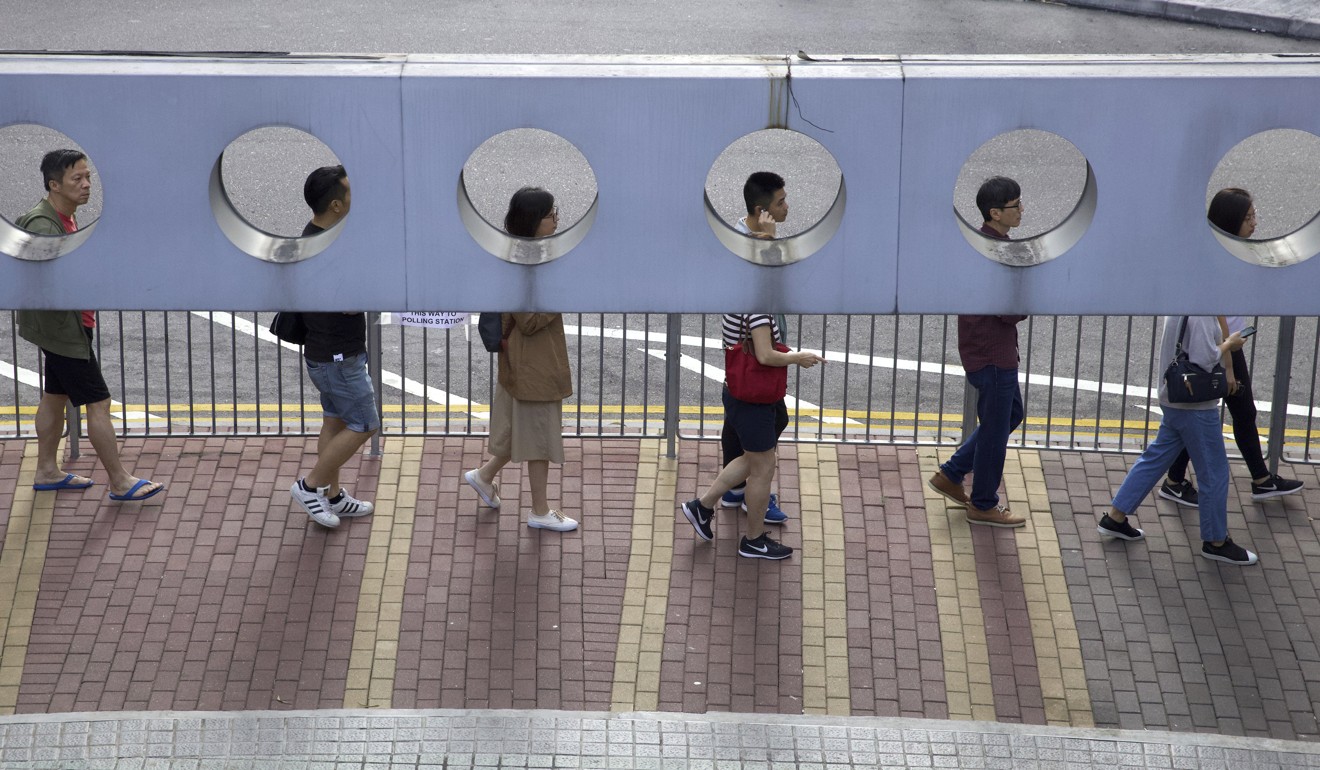 A surreal calm descended on Hong Kong on Sunday as voters appeared in record numbers from early morning to choose 452 representatives for 18
district councils
.
In sharp contrast to so many Sundays over the past months, there were no protests, no clashes between masked radicals and police, no violence, vandalism or tear gas.
From Causeway Bay to Tsim Sha Tsui and Mong Kok, Hongkongers went about their usual Sunday activities, with no hint that these very areas have been regular flashpoints in the unending turmoil.
It was calm even at Polytechnic University in Hung Hom, where some of the most violent scenes played out only last Sunday as a mob rained petrol bombs onto police and set an armoured vehicle ablaze. Out of about 1,000 radical protesters and their supporters, only a few diehards are still holding out on the campus, as police wait for them to emerge.
On Sunday, Hong Kong paused to let elections for its 18 district councils proceed peacefully.
The councils are mostly advisory, deal with municipal matters and have little power. In the 2015 elections, pro-establishment candidates took control of all 18 councils.
This year, for the first time, all 452 seats were contested, attracting 1,090 candidates. There were 4.1 million registered voters, a million more than four years ago.
This year's election was being watched closely by many as a referendum of sorts on Chief Executive
Carrie Lam Cheng Yuet-ngor
and her administration for their handling of the unrest.
An increase in violence in the recent weeks, including attacks on some candidates, led to talk that the elections might be postponed. But it went ahead as planned, without a heavy police presence, and no violence was reported.
All day on Sunday, both the pro-establishment and pro-democracy camps appealed to their supporters to come out and vote.
With news that large numbers of opposition supporters had joined polling queues from early morning, pro-establishment lawmaker Horace Cheung Kwok-kwan of the Democratic Alliance for Betterment and Progress of Hong Kong began issuing "urgent" pleas to his supporters.
Competing for a seat in the Central and Western district council, he hoped pro-establishment voters could still prevail if more of them showed up.
"The traditional wisdom is that a high turnout means the pan-democracy camp can have the upper hand," he said. "But what if it is a super high turnout?"
Civil Human Rights Front convenor Jimmy Sham Tsz-kit, a pro-democracy candidate who was assaulted by a group of assailants during the campaign, said: "For the past few months, some people may not have been able express themselves at the protests, and this is a chance for them to speak out.
"The government should have listened to the people when millions took to the street in June and July. The people of Hong Kong have been very tolerant of the government."
He said the election would "give our judgment on what has happened".
Pro-Beijing politician Junius Ho Kwan-yiu, who was injured in a knife attack while campaigning for a seat in the Tuen Mun district council, was seen moving about with a group of bodyguards on Sunday.
"I've hired bodyguards, but that does not mean I feel unsafe," he said. "I cannot afford to get injured again. I want to serve Hong Kong people."
By late afternoon, it was clear that voters had made history. The percentage of those who cast their votes overtook the 2015 figure, before surpassing the record for the 2016 Legislative Council elections.
Accountant Franky Kwok, in his late 30s, flew home from Beijing, where he works, to cast his vote and help determine the path forward for Hong Kong. He was against the violence that has been rife for so long.
Explaining why he came back, he said: "It is to refuse to be muted by the black terror, say no to rioters and the pseudo democrats. Hong Kong is my home. It used to be a peaceful place and everyone respected law and order. I want the original Hong Kong back."
At the opposite end of the political spectrum was first-time voter and PolyU student Ken Au, 19, who said he had been feeling "helpless and pessimistic" about the anti-government movement recently.
"I want to vote the pro-establishment camp out of the system," he said.
While voting proceeded smoothly on the whole, it was not without some confusion.
In Sha Tin, a 63-year-old woman who gave her name as Ng, said she was shocked when she arrived at the polling station at 9am and an election officer told her that her name was already crossed out from the electoral register.
That meant either that she had already voted, or someone else used her particulars to vote.
"The polling officer asked if I wanted to vote for a second time, but I told him how is that possible? He also asked if I lost my ID card recently. I said I didn't, I just got my new ID card in October after the government told me to renew it," she said.
"The officer said he could let me vote again, but my ballot would be invalid. So I said, 'What's the point?'"
Ng did not vote, but filed a complaint. She said the officer later explained that it was possible that a polling officer had wrongly crossed out her name when someone else turned up to vote.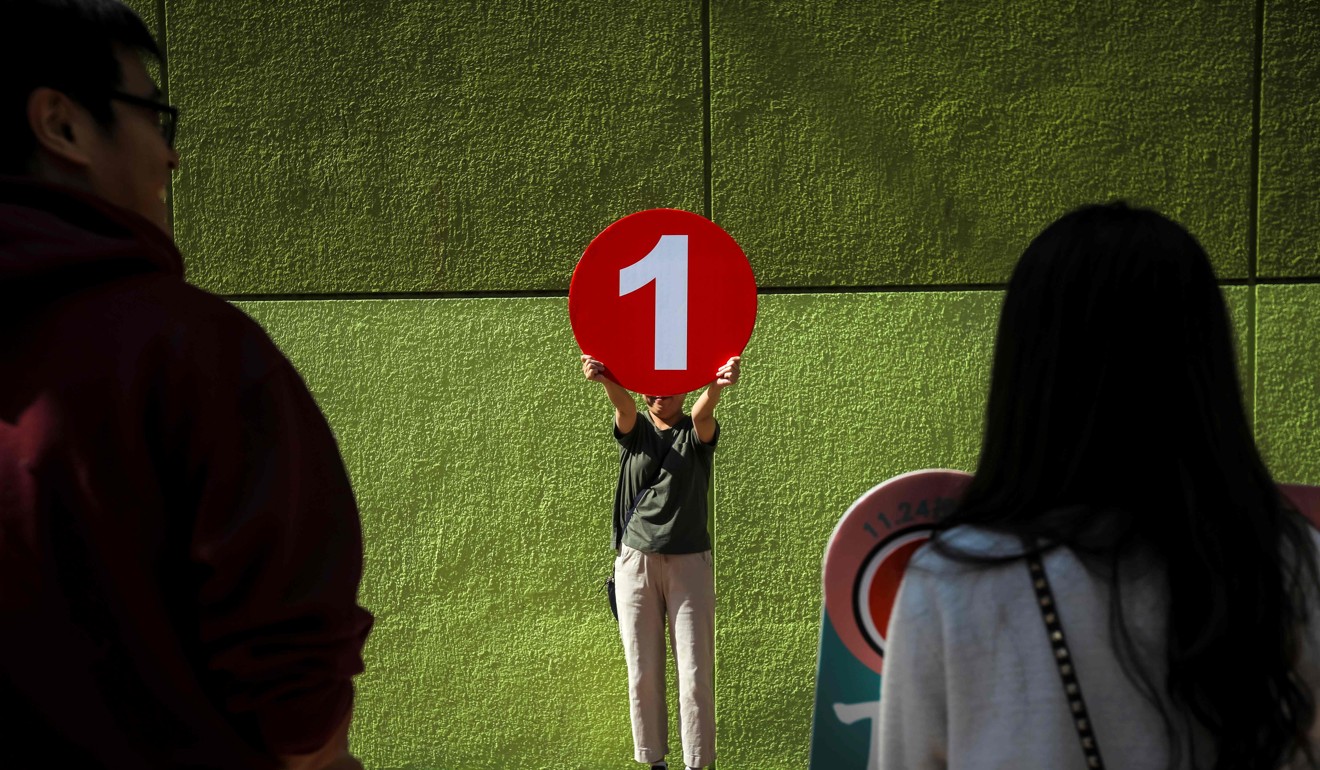 Meanwhile, voters from Pok Fu Lam constituency in Southern district complained of inconvenience as their polling station near the University of Hong Kong was moved for security reasons after recent clashes near the campus.
They had to travel to another polling station at a sports centre in Aberdeen, about five kilometres away.
A teenaged voter, who identified himself as Au, said he and his mother took almost an hour to reach the new station by bus.
"This is so far away, crossing three constituencies from Pok Fu Lam," he said.
At a polling station in Kowloon Tong, Henry Tang Ying-yen, a standing committee member of the Chinese People's Political Consultative Conference (CPPCC), said he was pleased by the big turnout as it showed Hongkongers' view of democracy.
He added: "The background of this election is special, as it is taking place after several months of social unrest. I think many Hong Kong people would like violence and chaos to stop, so that public order can be restored, and we can start to reconcile and rebuild."
This article appeared in the South China Morning Post print edition as: Calm returns to streets, but people are raging