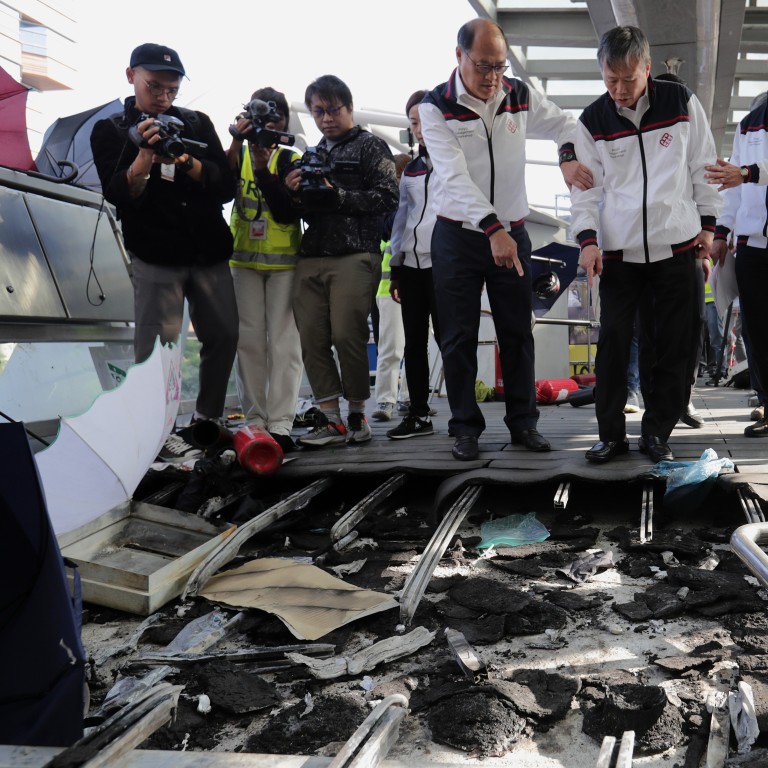 Hong Kong protests: battered Polytechnic University faces six months of repairs as police say more than 10,000 petrol bombs seized from campuses across city
University president Teng Jin-guang reveals that of more than 1,100 people arrested over campus siege, only 46 were PolyU students
Teng says university 'the biggest victim' of latest political storm, which will have devastating effect on teaching and research
A Hong Kong university caught in the crossfire between radical protesters and police will face a substantial bill and take almost half a year to repair, its president said on Friday, calling the institution the "biggest victim" of the current political storm.
Teng Jin-guang, president of Polytechnic University spoke as a 13-day police siege of the campus came to an end. He revealed that of the more than 1,100 people who were arrested after leaving the site, only 46 were registered students at the university. Teng confirmed this included two members of staff but provided no further details.
More than 10,000 petrol bombs had been seized from several universities across the city in the past few weeks, police said.
Teng said: "We are the biggest victim in this political incident. This has had a devastating effect on the teaching and research of our universities."
The school term was suspended and vast damage was inflicted on the university's facilities and laboratories. As soon as police left the campus they had besieged since November 17, nearby roads were reopened, while the campus was guarded by security personnel hired by the university. Only students, staff and authorised people were allowed to enter.
The police withdrawal came a day after they went in to search for evidence and remove hazardous items. A total of 3,989 petrol bombs, 1,339 pieces of explosives and 601 bottles of corrosive liquid had been found, alongside 573 items classified as weapons were seized, the force said.
The weapons included hammers, air guns, 28 bows and about 200 arrows and 12 giant catapults used to launch bricks.
Police described an "assembly line" to make and transfer petrol bombs inside PolyU, while chemicals including strong alkali and acidic substances as well as raw materials which could be made into explosives found inside the campus were "worrying".
Li Kwai-wah, senior superintendent of the organised crime and triad bureau, said: "The whole process was eye-opening for me. There was an entire production line from making petrol bombs to transferring them to the frontline."
Chief Superintendent Kwok Ka-chuen, from the force's public relations branch, said the possible damage by such a massive number of petrol bombs would have been huge.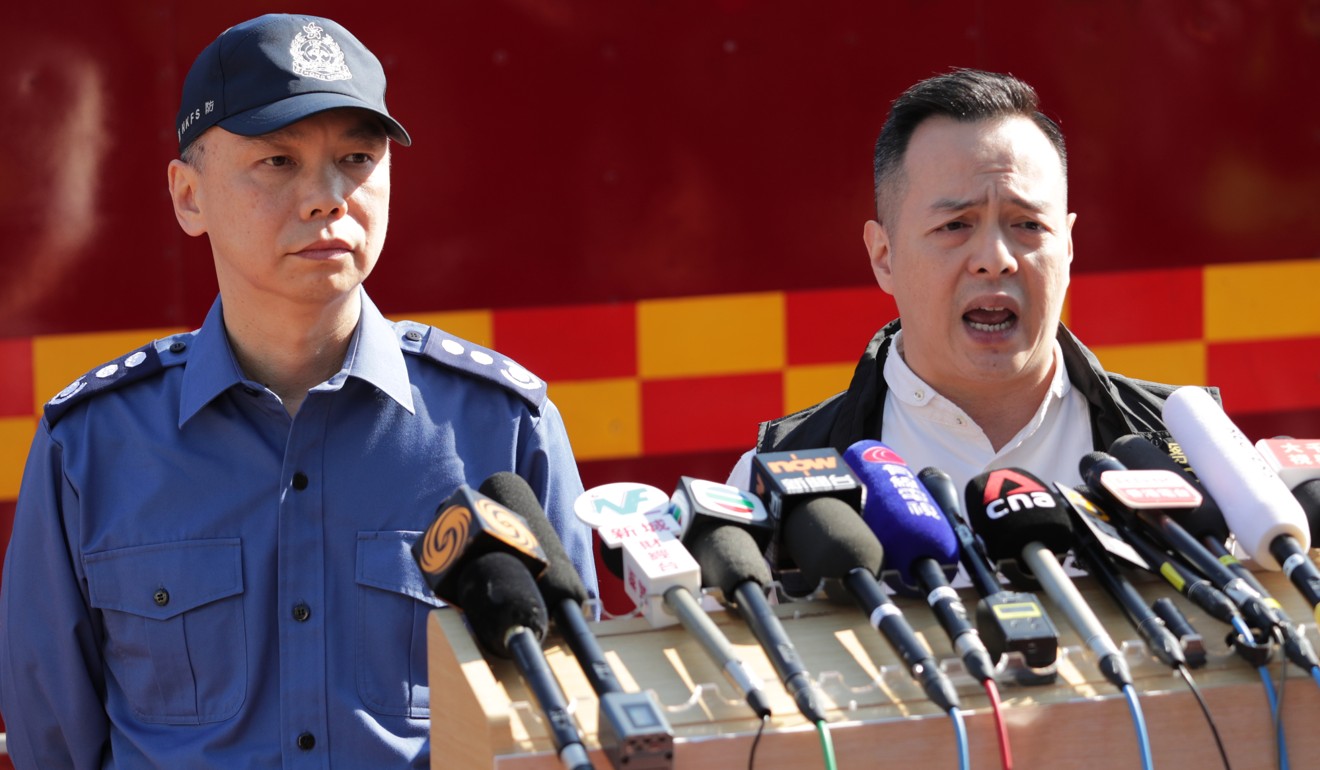 "Try to think about this. If our officers had forcibly confronted these rioters with 10,000 petrol bombs, the damage done to Hong Kong society would be difficult to imagine," he said.
"We hope the PolyU incident can be a turning point of six months of violence that will let Hong Kong society return to peace and rationality," he added.
After police's departure, Teng joined his senior management team to inspect the campus, including the library, which had an overpowering stench, and the canteen, where food had been left to rot and become a breeding ground for maggots.
"The kitchen has to be a priority," Teng told his group, who included the chairman of the university's governing council Lam Tai-fai, a former legislator.
Teng said the university became an unintended victim because it was "strategically close" to Hung Hom's Cross Harbour Tunnel, which was targeted as part of the protesters' plan to bring traffic to a standstill.
He said it could be reflected in the low number of PolyU students recorded when they left the campus.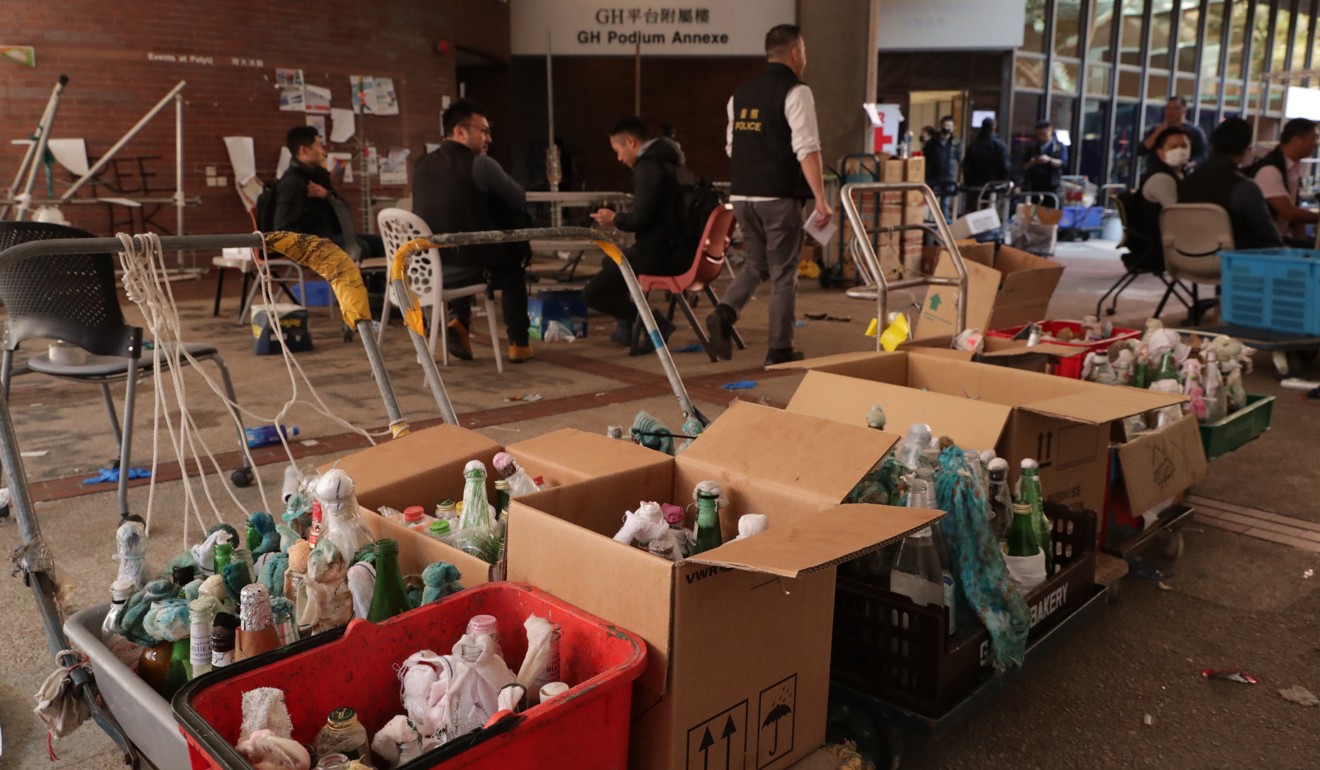 More than 1,000 radical ­protesters and their supporters occupied the campus a fortnight ago, and engaged in fierce battles with police on November 17. They blocked the roads leading to the Cross Harbour Tunnel and started fires on nearby bridges.
The force responded with tear gas, sealed all campus exits and asked all those inside to leave.
Those who left the campus and were aged 18 or above were arrested on suspicion of rioting, while about 300 minors were released but had their details recorded, with police reserving the right to pursue criminal cases against them later.
Those who required medical treatments were later given the same treatment as the minors.
Teng said he found various damage to different buildings which would take five to six months to fix. But he expected the new semester would start as scheduled in January as the campus would be reopened in phases.
The cost was as yet unknown, he said, as they needed to hire professionals to provide an estimate.
Teng said: "Because the damage is very severe, I think the bill to repair the campus will not be small. I think the major part should come from the government."
He urged society to show understanding and support when asked whether he was confident he could secure funding from the authorities.
The government pulled about HK$2 billion in funding proposals to the Legislative Council to build medical and library facilities at three universities, including PolyU in November, after pro-establishment lawmakers expressed dismay that the varsity management failed to control their institutions, which had become battlefields in the protests.
Owan Li, student representative of the Polytechnic University Council suggested that the next semester should not resume until after the Lunar New Year holiday in next February, as students may not be mentally or emotionally prepared after the campus ordeal.
Some students, he said, had also raised concerns over whether plain-clothes officers would be in or around the campus when the semester resumed.
After police lifted the cordon and before PolyU security guards imposed access control, outsiders rushed in to catch a glimpse.
A 36-year-old alumni, who gave his surname as Or, was sentimental. He said he could not have imagined what those inside had been through after witnessing the "absolute chaos".
"It is the same university, but the scene feels so different," said the surveyor, who graduated from the university more than a decade ago. He said police had overreacted.
Additional reporting by Kathleen Magramo
This article appeared in the South China Morning Post print edition as: Trashed university could take six months to repair