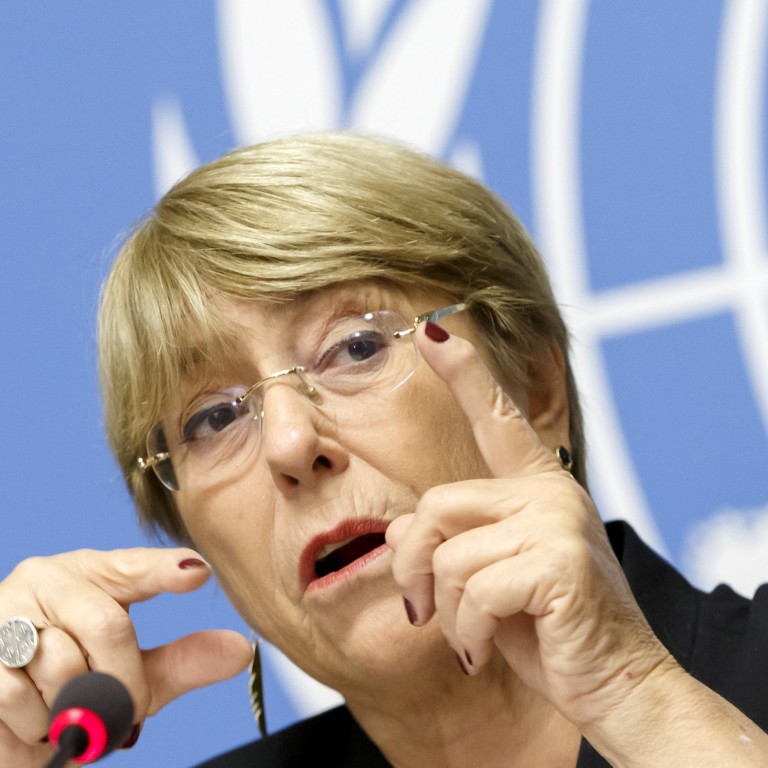 China hits back at Michelle Bachelet, UN human rights chief who called for probe into Hong Kong police's response to anti-government protests
Michelle Bachelet's article, published in the Post, will 'only encourage protesters to use more radical violence'
Mission to the UN reaffirms support for city leader Carrie Lam
China has hit back at the UN high commissioner for human rights for backing an independent investigation into alleged police brutality during Hong Kong's recent anti-government protests, accusing her of inflaming "radical violence".
In a statement issued on Sunday, Chen Yaou, spokesman for China's permanent mission to the UN, launched a scathing attack on what he called an "erroneous article" by Michelle Bachelet, who wrote in
an opinion piece in Saturday's
Post
.
In the article, Bachelet urged the Hong Kong government to hold an "independent and impartial judge-led investigation" into police conduct at protests as part of confidence-building measures. She said the administration led by Carrie Lam Cheng Yuet-ngor needed to prioritise "meaningful, inclusive" dialogue to resolve the social unrest, now in its sixth month.
"It is now time to listen directly to people from all walks of life, to work together with sincere resolve to address their concerns and grievances. Young people, especially, need to be heard," the former Chilean president wrote.
However, Chen emphasised that China "strongly opposed" Bachelet's article, saying she had interfered in the internal affairs of China and would only encourage protesters to use more radical violence.
"The article of the high commissioner, which interferes in the internal affairs of China, and exerts pressure on the government and police of the Hong Kong SAR, will only embolden the rioters to conduct more severe radical violence," he said.
"[The article] violates the purposes and principles of the Charter of the United Nations. The Chinese side has lodged strong representations to the high commissioner and her office."
Chen said the central government would continue to back Lam, adding that the protests had seriously trampled the rule of law and public order, and challenged the "one country, two systems" principle, under which the city is ruled by Beijing but promised a measure of autonomy.
He insisted the police had exercised the utmost restraint under tremendous pressure and made huge sacrifices, while the city government had made great efforts in reaching out to the public.
The unrest began in June, when crowds estimated at more than a million took to the streets to oppose a government bill which would have allowed extraditions to mainland China, among other jurisdictions. The legislation has since been withdrawn, but the protests mushroomed into a wider push for greater democracy and an investigation into the police's response to initial demonstrations, among other demands.
Protesters and police had clashed on numerous occasions, the former regularly hurling bricks and petrol bombs, the latter routinely responding with tear gas, rubber bullets and water cannon.
Chen argued that the unrest was "absolutely not about human rights or democracy".
"In fact, [the protesters] seek to create chaos in the Hong Kong SAR, paralyse the Hong Kong SAR government and seize the administrative power of the Hong Kong SAR with the aim of rendering the 'one country, two systems' principle defunct," he said.
This article appeared in the South China Morning Post print edition as: Beijing blasts UN rights chief's comments on HK