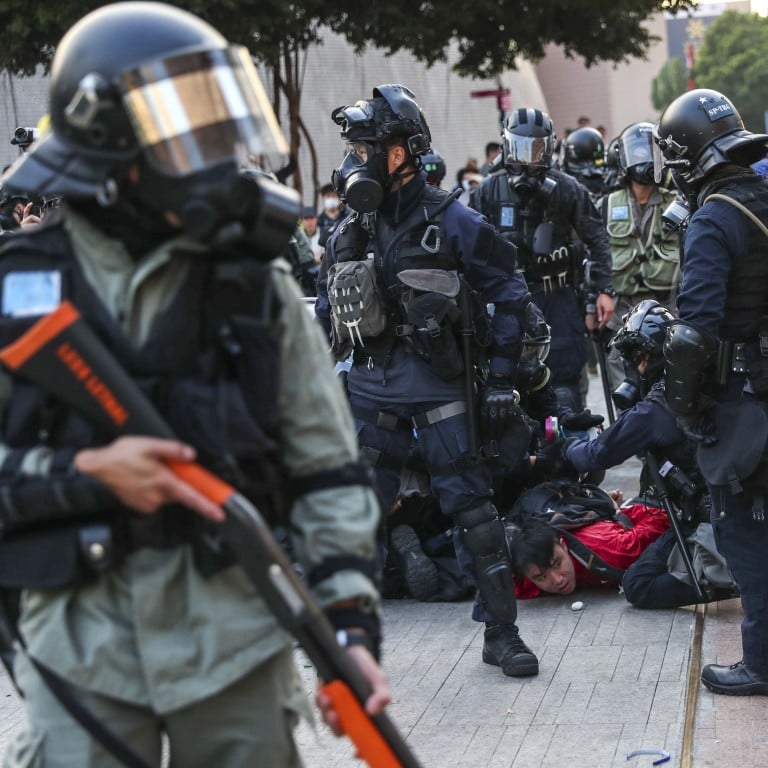 Hong Kong protests: tens of thousands return to streets after days of calm as radicals trash shops with mainland China links
Peaceful march in Kowloon descends into chaos, ending the near-two-week hiatus of extreme protest violence
Rounds of tear gas, rubber bullets fired by police in Whampoa, where mobs smash up stores for their mainland connections
Tens of thousands of Hongkongers returned to the streets on Sunday a week after the pro-democracy camp's landslide election victory, but their procession rapidly descended into stand-offs with police and, by nightfall, mobs once again trashed shops with mainland China links.
After nearly two weeks of relative calm, chaos returned to the Kowloon side of the city by evening, as a group of protesters hurled bricks and police fired tear gas, while radicals set about smashing restaurants and shops in Whampoa and vandalised the exits of the railway station there.
They unleashed the destruction after a peaceful march that began in the tourist district of Tsim Sha Tsui with crowds of protesters, many of them in their trademark all-black gear but also including families with children, streaming onto the waterfront promenade.
An hour after the march began, police said a group of protesters set off smoke bombs that in turn prompted the force to fire tear gas into the densely packed columns of people marching and spilling onto the roads.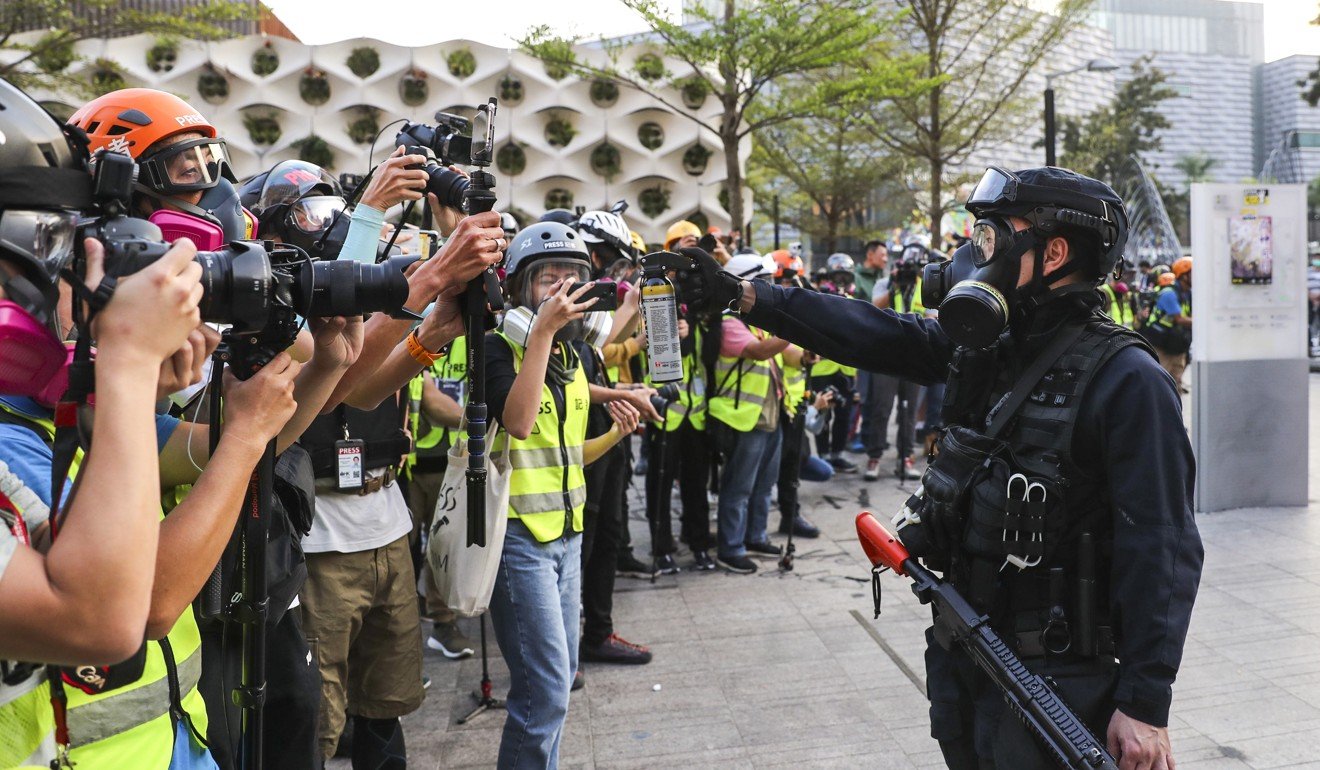 As the evening wore on, stand-offs again erupted between hard-core activists and police in Whampoa, a middle-class residential district next to the march's endpoint in Hung Hom. At least three protesters were arrested.
Among the shops targeted in the district were Japanese restaurant brand Yoshinoya, snack chain Best Mart 360 and China Mobile.
Police fired rounds of tear gas and rubber bullets after masked protesters hurled bricks at officers and blocked the roads. A petrol bomb was also thrown at a police van.
Radicals resorted to those all-too-familiar tactics, which the city had not seen in the days leading up to and in the aftermath of last Sunday's historic district council elections. The pro-democracy bloc won 392 out of 452 seats, in a major blow for the pro-establishment camp.
In Mong Kok, police made a handful of arrests, lining up dozens of people not dressed in the usual protester attire on Nathan Road. Earlier, protesters started a small fire on a side street.
Defiant demonstrators said the massive turnout for the Sunday procession – titled "Do not forget why we started" – showed their determination not just to savour the electoral victory, but also to keep up the protests, which will enter their seventh month next week, until all their demands were met.
"We want to let the younger protesters know that they are not alone," said KC, a 35-year-old man who joined the demonstration with his son, who is in Primary Six.
"We cannot pretend and act as if everything is normal just because the pro-democracy camp has scored a victory in the district council elections."
As protesters poured out from railway stations nearby and began filling the promenade near the water, the crowd members – some of whom waved the American flag – began chanting: "Hongkongers, take revenge!"
According to the Hospital Authority, seven men and one woman were sent to hospital following clashes on Sunday night. On Monday morning, three men remained in hospital, in stable conditions.
The protesters have five demands. The first, which is the withdrawal of the
extradition bill
that sparked the protests, has been met.
But the others have not: an independent inquiry into police's use of force; retracting the riot label for the events of June 12; amnesty for arrested protesters; and implementation of universal suffrage.
Sunday's rally, approved by police, came after a day of relative calm. There was a smattering of small protests on Saturday but tensions spilled over in Mong Kok late at night, when police fired tear gas and pepper spray as radicals blocked roads along Nathan Road, a main artery through Kowloon.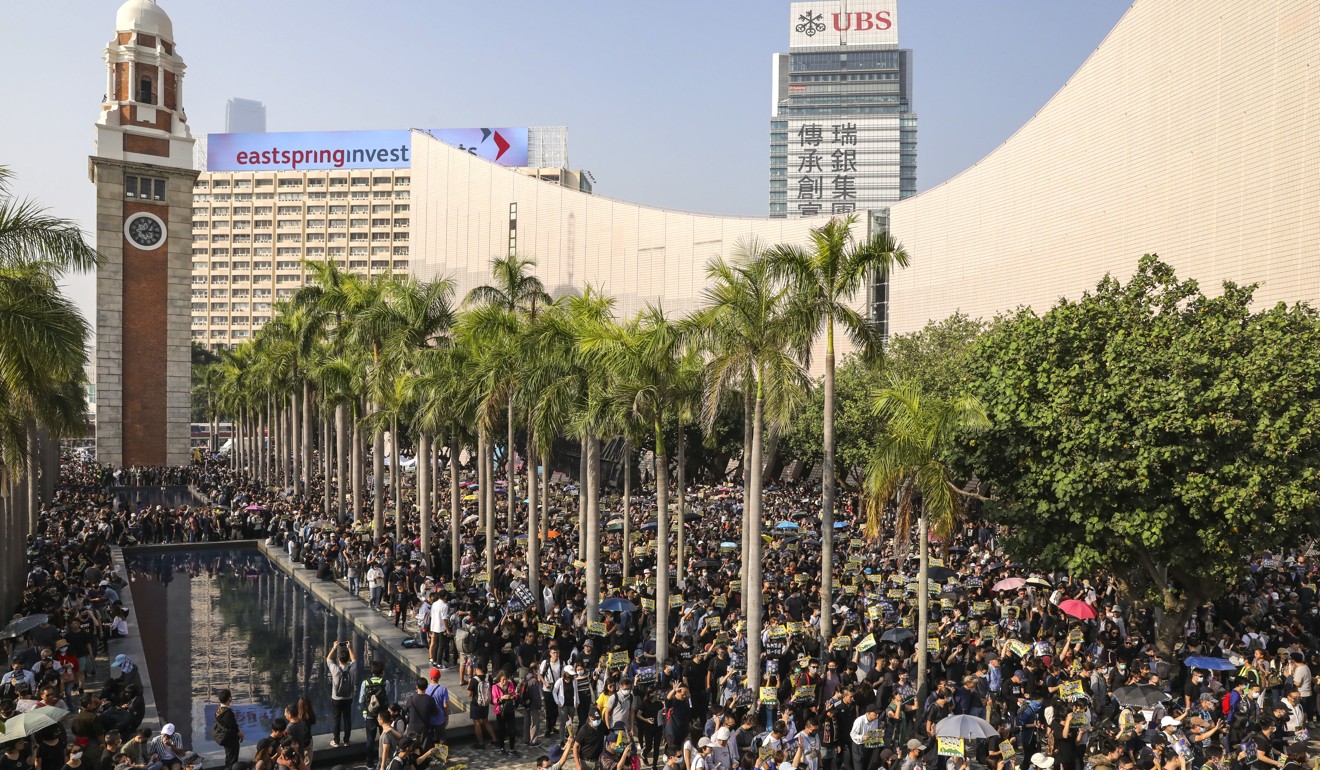 A man trying to clear some barricades was attacked by a masked man who swung a drain cover, hitting the side of his head. The victim suffered serious injuries but was discharged from hospital on Sunday.
Sunday's mass rally at Tsim Sha Tsui was one of three demonstrations that police issued a letter of no objection to.
The earlier events – one to oppose the use of tear gas and the other to thank US President Donald Trump for signing legislation that could impose diplomatic action and economic sanctions on the city – were peaceful and attracted observers in the form of festive shoppers.
While there had been speculation that mass violence would return to the city after the relative calm of the election period, radicals appeared to have kept a low profile – until evening came, bringing with it violence.
At the Tsim Sha Tsui march, tensions soon flared when crowds deviated from the approved 1.2km route and flooded the streets.
Police raised the blue flag, warning protesters they were taking part in an illegal assembly.
Rounds of tear gas and other projectiles, including pepper balls, were fired at the packed crowd, whose number included the elderly and young people. The crowd control measures were targeted at both ends of Salisbury Road shortly before 5pm.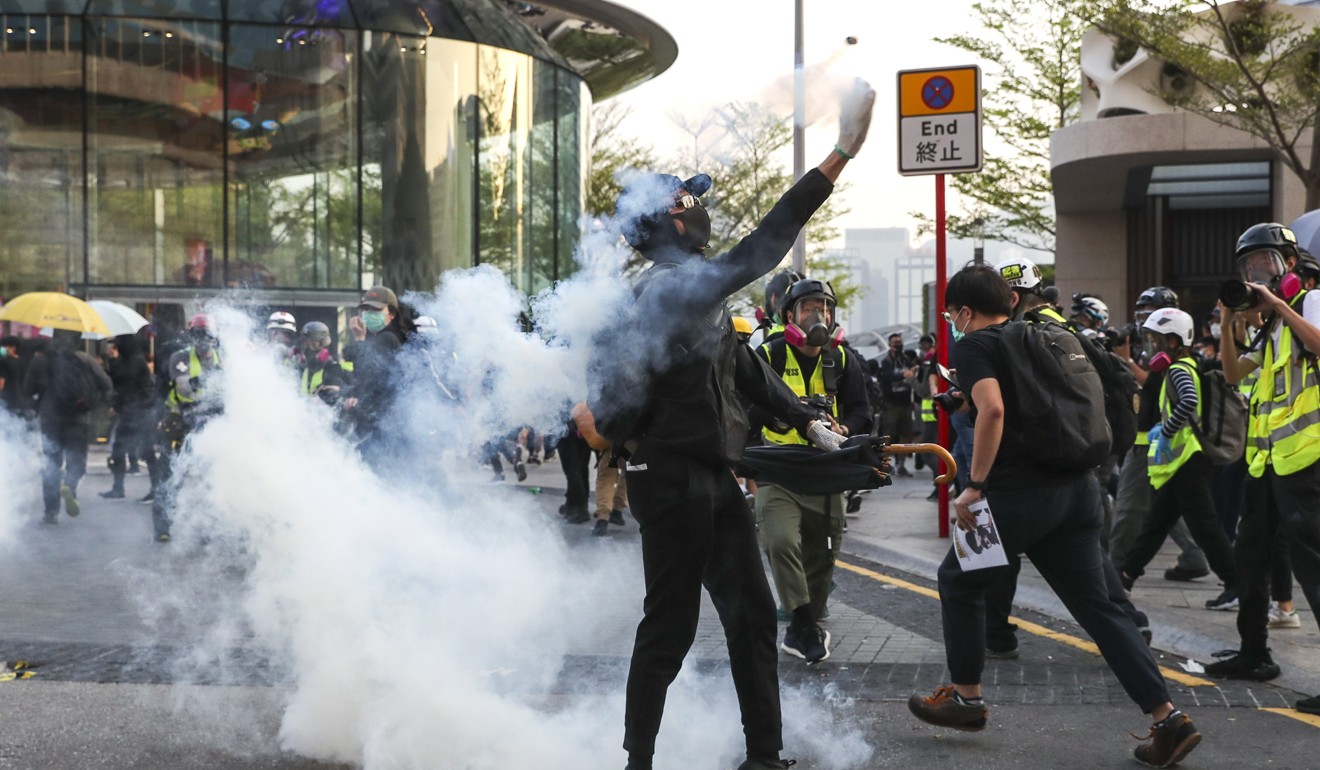 As police urged everyone to leave, a riot officer at East Tsim Sha Tsui railway station was seen pushing over a woman, who was kneeling down pleading with them not to fire pepper spray at people.
The force later said it had deployed the minimum force necessary to stop radical protesters who had thrown smoke bombs.
The organiser of the march, who gave his name as Swing and described himself as an ordinary Hongkonger without any political affiliations, said police called him at 4pm to tell him the march had to be stopped immediately, rather than ending at 6pm, as originally allowed.
Swing said 380,000 people took part in the march, while police estimated an attendance of 16,000 at the event's peak.
Protesters said the calm in the run-up to the district council elections was only for tactical purposes so the citywide polls would not be postponed.
"The government needs to know we are always ready to take action. We are not letting go yet," said Richard Lee, a secondary school student.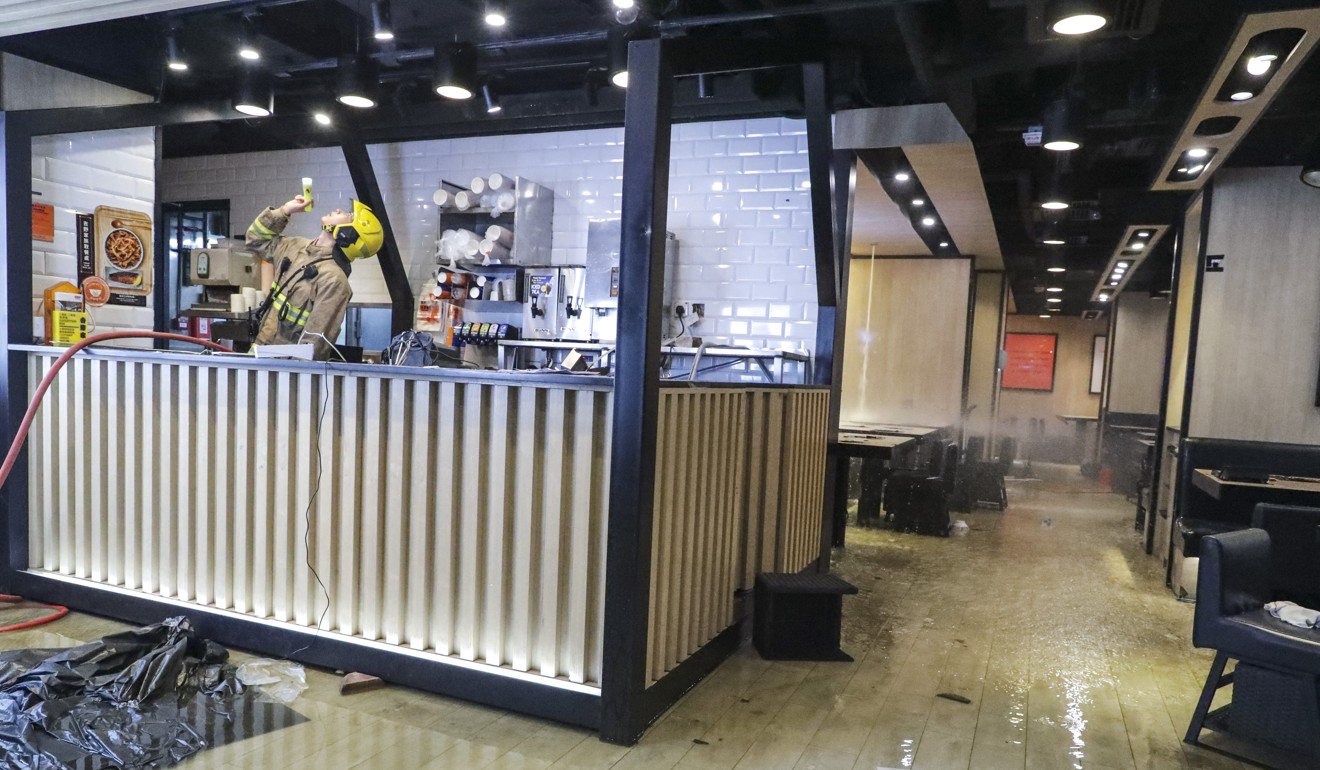 Many participants wore surgical masks and held yellow balloons at the Edinburgh Place gathering. A significant proportion were parents with young children.
They chanted slogans including "No more tear gas" and "Disband the police force" as they marched from the square, through Tamar Park and to the government's headquarters.
November was a particularly heavy month for tear gas deployment, with police launching some of the biggest bombardments of the riot control agent seen since the protests broke out in June.
Later, another group of about 200 protesters gathered at Chater Garden to hail Trump for signing the Hong Kong Human Rights and Democracy Act.
The rally, "Thank You US", organised by a localist group called Hong Kong Autonomy Action (HKAA), saw people waving American flags and marching to the US consulate in Central.
Last week, Trump approved legislation that could impose diplomatic action and economic sanctions against Hong Kong, much to the anger of China, which said the move amounted to meddling in the country's internal affairs.
The law, among other things, will allow Washington to suspend Hong Kong's special trading status based on whether the city retains a sufficient degree of autonomy under the "one country, two systems" framework.
It will also give the US discretion to sanction people deemed to have violated freedoms guaranteed under Hong Kong's Basic Law, its mini-constitution.
While analysts have warned the legislation could hurt Hong Kong's standing as a financial and business hub, those at the rally shrugged off such concerns.
A construction worker, who only gave his name as R, attended the event with his girlfriend – and an American flag.
He acknowledged the act might adversely affect Hong Kong's relationship with mainland China, especially in areas such as commerce.
"But if we don't keep a public discourse going and gain international support, those in power will not change their mind," he said.
Writing on their official blogs, however, ministers made no mention of the potentially punitive American legislation.
Financial Secretary Paul Chan Mo-po, for example, said that while six months of social unrest had seriously undermined Hong Kong's economy and disrupted people's livelihoods, the impact on the city's financial markets remained limited.
Chief Secretary Matthew Cheung Kin-chung also said the city had remained competitive and not suffered a brain drain, saying the perception of talent leaving the city was wide of the mark.
Meanwhile, the MTR Corporation, which has been the target of vandalism as the protests rage, announced that normal services would resume on Monday after almost two months of reduced timetables.
Additional reporting by Laurie Chen
This article appeared in the South China Morning Post print edition as: radicals resort to Violence again after peaceful march