Hong Kong protests: Indonesian journalist who lost her eye while covering action in Wan Chai keen to pursue case against police
Veby Mega Indah accuses police of being slow to probe, refusing to name officer
Police force denies protecting officer, says there are 'legal points to be resolved'
An Indonesian journalist blinded in her right eye while covering an anti-government protest in Hong Kong said she has forgiven the police officer who left her injured.
But Veby Mega Indah, 39, remains determined to pursue legal action to compel the force to name the officer, so that she can initiate civil action and, possibly, private prosecution against the officer.
She is believed to have been hit by a rubber bullet.
"I am pursuing justice in this case not only for me but for all the injured people in Hong Kong who cannot do the same," said Veby, an associate editor of Suara Hong Kong News, an Indonesian-language publication based in the city.
She is being represented by human rights lawyer Michael Vidler and has applied for legal aid to pursue her case.
A journalist for the past 13 years, Veby came to Hong Kong in 2012 and has written regularly about the rights of Indonesian migrant workers in the city.
She became the focus of a story herself on September 29 when she was hit in the eye while covering a protest in Wan Chai.
During an emotional interview on Monday, Veby said she was still surprised that the incident occurred.
She was wearing her press gear that day, and was with about a dozen journalists who were well away from the protesters at the time. Just before the projectile hit her, a reporter behind her was shouting "kei che" – "journalist" in Cantonese.
She recalled collapsing into the arms of a journalist behind her, hearing voices telling her to stay awake, and thinking: "It's going to be my end."
She underwent surgery, but doctors could not save her eye. Discharged from hospital about three weeks ago, she said her ruptured eyeball may have to be removed if it deteriorates.
Wearing an eye patch and still adjusting to her new circumstances, Veby said her perception of depth has been affected, and her left eye gets tired easily.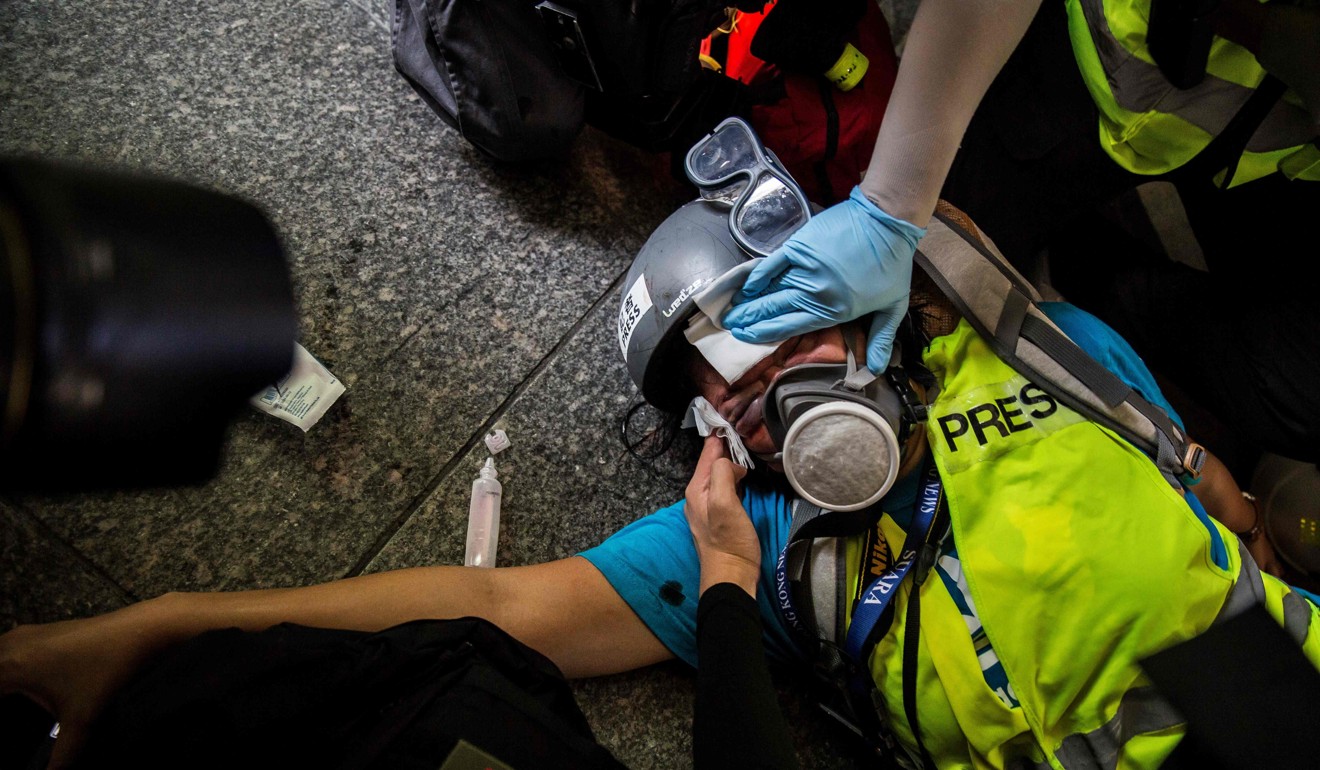 More than two months after the incident, Veby attributes her Christian faith to helping her deal with her feelings about the officer who left her injured.
"My faith tells me that I have to forgive," she said.
Veby said she decided to take legal action after getting nowhere in approaching police. She said she and her lawyer had been asking the police to reveal the identity of the officer in question, but the force had so far refused.
"I hope there will be justice, so the officer who shot me will face consequences according to the law, so police officers understand what they cannot do," she said.
A police spokesman said earlier that the Complaints Against Police Office had "launched a comprehensive investigation", but Veby was not fit to provide assistance at the time.
Last Friday, Kong Wing-cheung, senior superintendent of the force's public relations branch, denied that the officer was being protected, saying that there were "legal points" to be resolved because the case involved privacy issues.
Vidler said they were not given that explanation earlier.
Veby said none of the key witnesses whom she knew were present at the scene had been asked by police to provide assistance. She herself had to volunteer to make a written statement.
Vidler said they were anxious because in cases of private prosecutions, the law required all procedures to be completed within six months.
He said Veby's legal aid application was still pending seven weeks after being filed. The Legal Aid Department said it would not disclose details of Veby's case for reasons of confidentiality.
Tears ran down Veby's face when she was asked if she would return to the frontline of the protests.
"It's one of the things that keep me up at night, wondering whether I can continue to be a journalist," she said.
This article appeared in the South China Morning Post print edition as: Indonesian reporter forgives officer who shot her in the eye