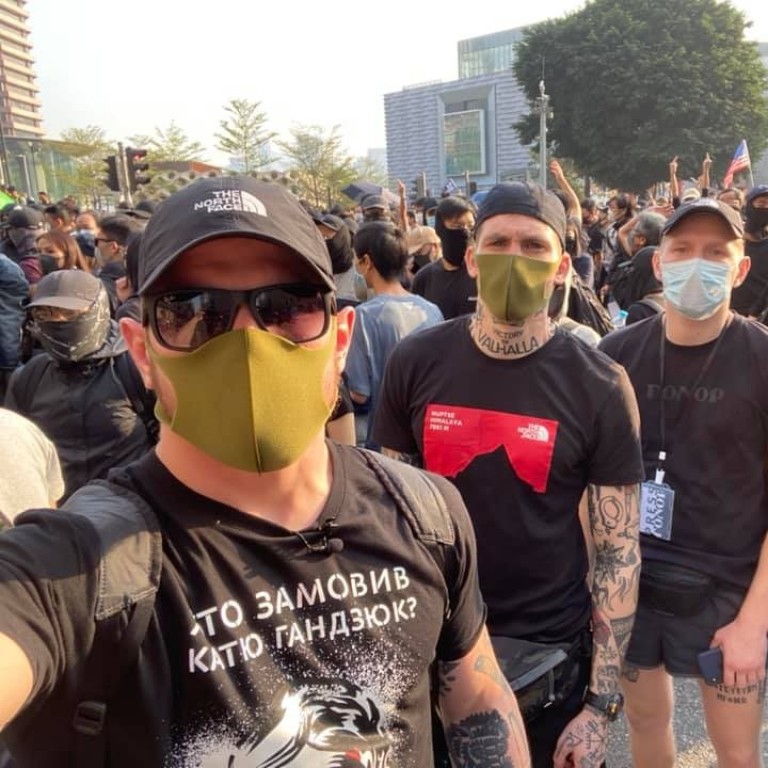 Far-right Ukrainian activists say they were 'only in Hong Kong for protest tourism' as concerns grow they could help authorities delegitimise movement
The four men posed in front of riot police, a burning railway station and at Polytechnic University, the scene of a 13-day siege in November
They also visited Ocean Park where they took videos of pandas and rode on roller coasters
Four far-right activists from eastern Europe were spotted at a recent protest in Hong Kong, sparking concerns they may help bids to delegitimise the movement despite their claims of only being in town for "protest tourism".
But two local scholars argued they could hardly undermine the anti-government protest in Hong Kong, now into its sixth month, which had been leaderless so far.
The four men – from Ukrainian activist group Gonor – were seen at a march in Tsim Sha Tsui on Sunday. They included Ihor "Maliar", a former veteran previously involved in resistance against Russian expansion in Ukraine, and Serhiy Filimonov, a former head of a branch of far-right party National Corps in Kiev.
The US State Department categorises National Corps as a "nationalist hate group", which has been accused of attacking and destroying a Romany camp in Kiev in June 2018.
Filimonov denied the incident was violent. Maliar was previously involved in a racist attack at a football match in Kiev in 2015.
Both are also veterans of the far-right Azov Battalion that has fought against Russia and its proxies since 2014. Critics have linked some members of the battalion to neo-Nazi ideology.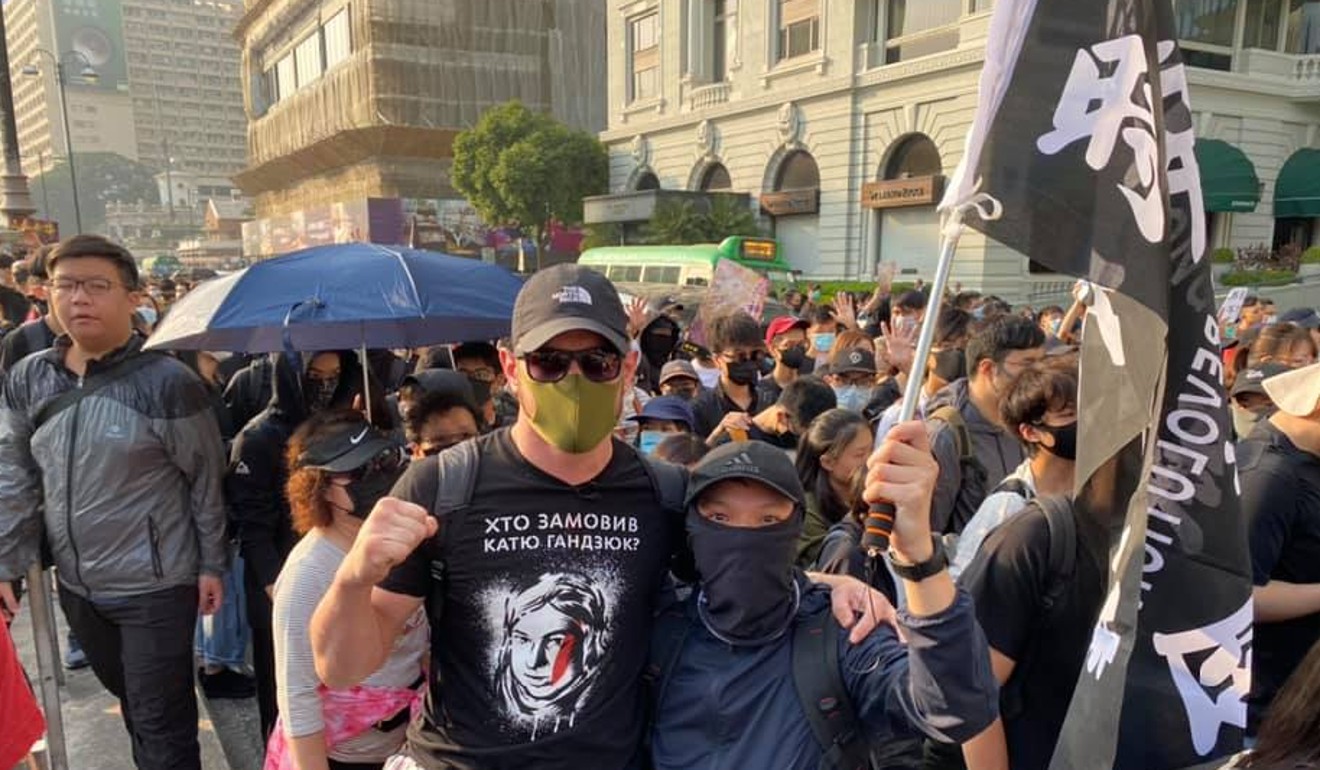 According to the social media profiles of Filimonov and Maliar, the group of four – two of whom wore press passes – had joined an authorised march in Tsim Sha Tsui on Sunday afternoon, which later descended into sporadic confrontations with police in Mong Kok and Whampoa.
They were mostly seen observing or posing in front of riot police or a railway station on fire in Mong Kok on Sunday evening.
They also posed for a picture outside the police cordon of Polytechnic University, which was caught in the crossfire between radical protesters and police and became the site of a 13-day siege in November.
They also visited Ocean Park, where they took videos of pandas and rode on roller coasters.
Filimonov told the Post they had wanted to visit Hong Kong since the Occupy movement in 2014.
"We are here to observe and maybe to learn. We are not here to teach the protesters," he said.
"While we may sympathise with the protesters, we understand that our involvement would only hurt their cause because of negative publicity. We would not want that."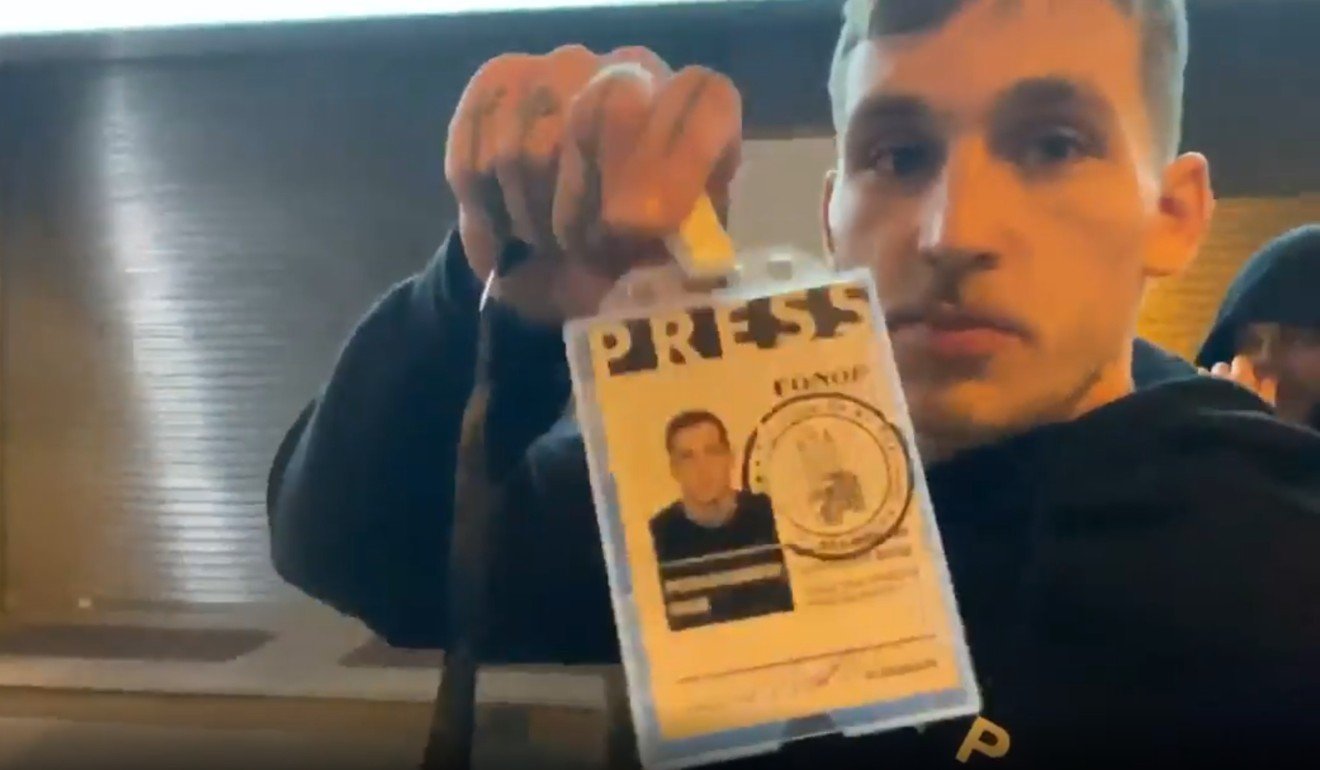 He dismissed the far-right allegations, saying they had not been involved in any activities against minority or ethnic groups.
"We do not approve of discrimination or intolerance," he said.
Filimonov also claimed they were wearing press passes because they would be "writing about the protests in Ukrainian media".
But Michael Colborne, a fellow at the Centre for the Analysis of the Radical Right and a journalist specialising in far-right activism, said Filimonov's track record of far-right and street violence could be used by the mainland or Hong Kong authorities' hand to delegitimise the local protests.
"I think their 'protest tourism' alone is distasteful and dangerous, in what is an incredibly tense and unpredictable environment," Colborne said.
"They may well not be teaching anyone anything or taking part. But the way they're posing for photos, posting videos, and continuously valorising and aestheticising street violence while they pose all hip and cool makes it clear the reason they're there is for themselves."
Wilson Chan Wai-shun, a lecturer at Chinese University's Global Studies Programme, however said the mere presence of individual activists could not affect the entire movement in Hong Kong, or the international perception of the outside world.
"Of course there are moral risks when some of these activists come in town, but some Hongkongers have travelled to Catalonia to support the movement there. Would we say Hongkongers have hijacked that movement?" Chan asked.
"In a leaderless movement, there is little control who can come to the protests, but this does not suggest the nature of the movement itself has changed."
International relations scholar Kenneth Chan Ka-lok at Baptist University said the group was not notorious enough for the authorities in Hong Kong and Beijing to discredit the protest movement.
This article appeared in the South China Morning Post print edition as: 'Protest tourism' lures Ukrainian far-right activists