Macau
Get more with myNEWS
A personalised news feed of stories that matter to you
Learn more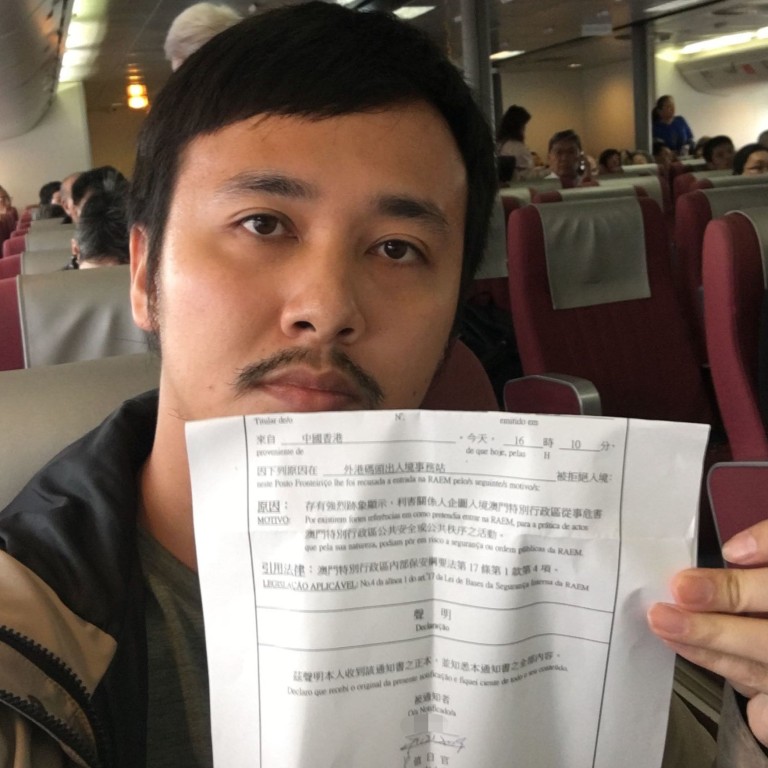 South China Morning Post reporter denied entry into Macau to cover Xi Jinping's visit for 20th anniversary handover celebrations
Senior journalist Phila Siu was detained and questioned for three hours before being sent back to Hong Kong
He was asked to fill in a form providing personal details, including his address, parents' names, marital status and the purpose of his visit
A South China Morning Post reporter assigned to cover Chinese President Xi Jinping's visit to Macau was denied entry on Tuesday on the grounds he might pose a security threat.
Senior reporter Phila Siu was put on a ferry back to Hong Kong after being detained and questioned for three hours on the eve of Xi's three-day visit to the casino hub to mark the 20th anniversary of its handover to Chinese administration.
Editor-in-chief Tammy Tam expressed deep concern and disappointment over Siu's deportation.
"It's extremely regrettable that Phila was treated with such suspicion, and it's unthinkable that he – or any other journalist from the Post – would pose any kind of security threat to any jurisdiction," she said. "I'm also very puzzled as to why he would be dealt with in this manner and denied entry. It makes no sense."
Despite having signed up as a media professional to cover ceremonies from Wednesday to Friday, Siu was stopped and taken to a room by the authorities when he arrived at the Macau Outer Harbour Ferry Terminal shortly before 1.30pm on Tuesday.
On Monday night he had been informed by the Macau government to pick up his press accreditation the following day.
While being detained, he was asked to fill in a form providing personal details, including his address, parents' names, marital status and the purpose of his visit.
Police also asked him for a copy of his press invitation for the handover ceremonies, hotel booking details and company press card. An officer asked Siu whether he planned to meet anyone apart from covering the ceremonies, to which Siu replied he did not.
The officers eventually denied Siu's entry three hours later with a written statement, which alleged there were "strong signs" he was trying to engage in activities that would "jeopardise the public safety and public order" in Macau.
Just before his ordeal, the
Post
on Tuesday had
published two stories by Siu
as part of a series examining Macau's changes over the past two decades of Chinese administration.
Last week, when Siu tried to enter Macau to conduct a series of interviews ahead of the 20th anniversary, police led him to the same room and asked the same questions. But he was let in two hours later on that occasion.
While Siu was barred, senior reporter Bernice Chan from the Post was separately allowed into the city on Tuesday to cover the Michelin Guide Hong Kong and Macau awards.
On Monday, a reporter from Hong Kong's Now TV News
was also refused entry
to Macau after he was stopped and questioned at a new checkpoint manned by mainland Chinese officials on the Hong Kong-Zhuhai-Macau Bridge.