Macau
Get more with myNEWS
A personalised news feed of stories that matter to you
Learn more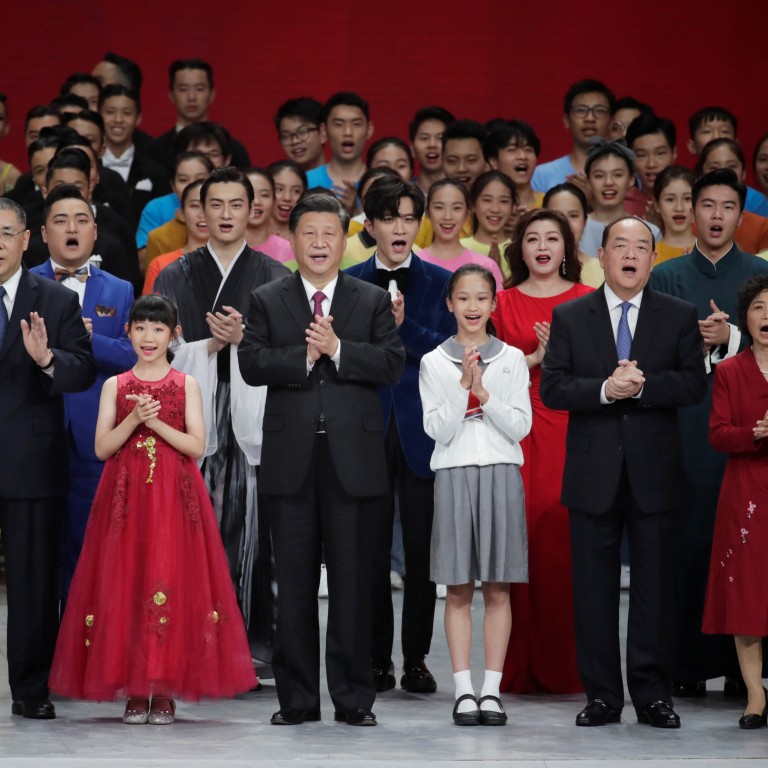 Xi Jinping seen as indirectly lecturing Hong Kong as he tells Macau residents to make 'positive voices' heard and resolve problems with rationality
Xi praises the city's residents for putting their love of the country and Macau before the core values of democracy, rule of law, human rights and freedom
Although he makes no mention of Hong Kong, his remarks are again seen as rebuke of the former British colony, rocked by protests since June
China's President
Xi Jinping
was seen as indirectly lecturing Hong Kong on Thursday as he told the people of Macau to have a clear-cut stand and make their "positive voices" heard in matters of right or wrong, calling on all sides to resolve problems with rationality.
On the second day of his three-day visit in the casino hub to mark the 20th anniversary of its return from Portuguese to Chinese rule, Xi praised the city's residents for putting their love of the country and Macau before the core values of democracy, rule of law, human rights and freedom.
He also complimented the Macau government for understanding the importance of harmony, unity and consultation, as well as avoiding disputes and internal friction.
While he made no mention of Hong Kong, his remarks were once again interpreted as a rebuke of the former British colony which has been rocked by anti-government and anti-Beijing
protests
since June. Analysts said it was clear Xi was deliberately contrasting his strong approval of Macau with his silent disapproval of Hong Kong 's performance in integrating with the motherland since its 1997 return to Chinese sovereignty.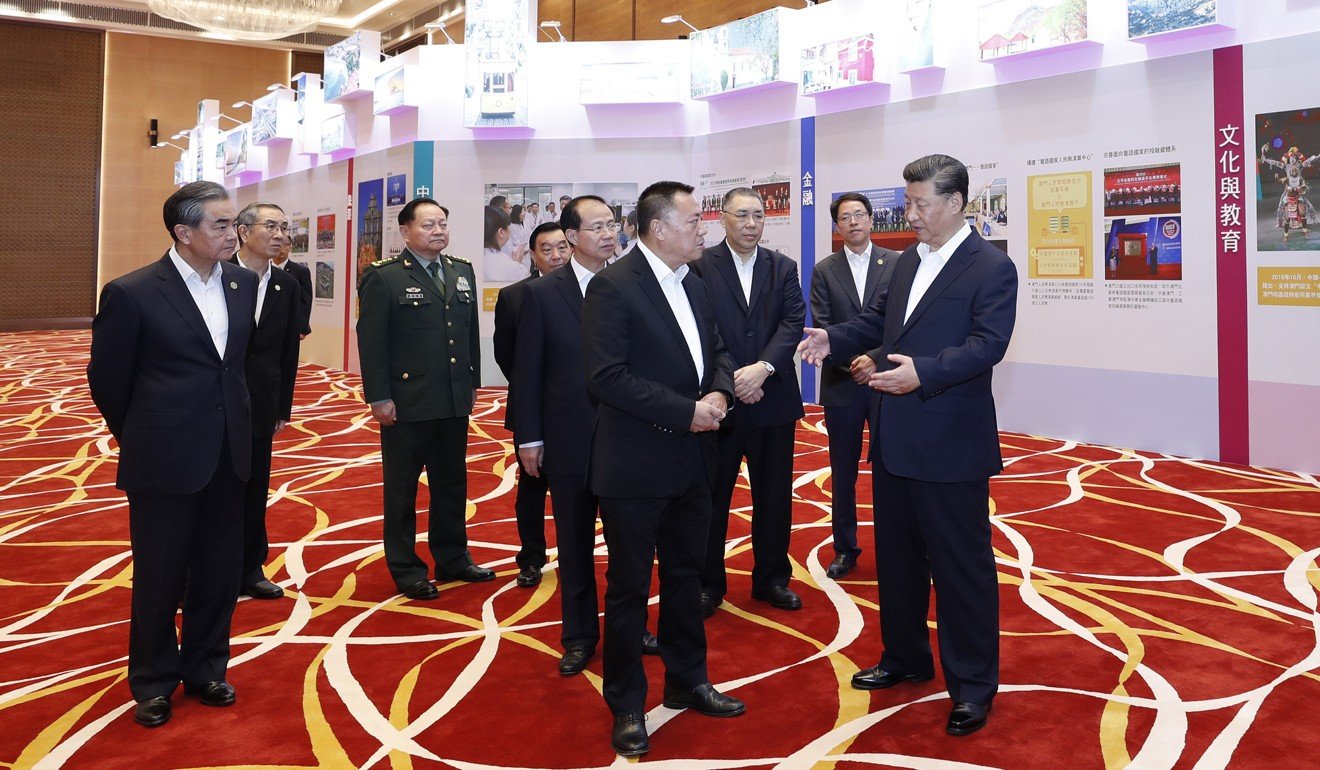 The Hong Kong government revealed on Thursday night that Chief Executive
Carrie Lam Cheng Yuet-ngor
had led a delegation of her officials to meet the president.
According to the official Xinhua news agency, Xi fully acknowledged her commitment and courage in these "unusual times". Lam informed him she would work on restoring public order in Hong Kong as soon as possible.
Addressing about 150 people from all walks of life, including government officials, at the Macau East Asian Games Dome, Xi said: "I hope you can take a clear-cut stand on major matters of principle and sound out positive voices, and become the strong backup force for the chief executive and the government to govern in accordance with the law.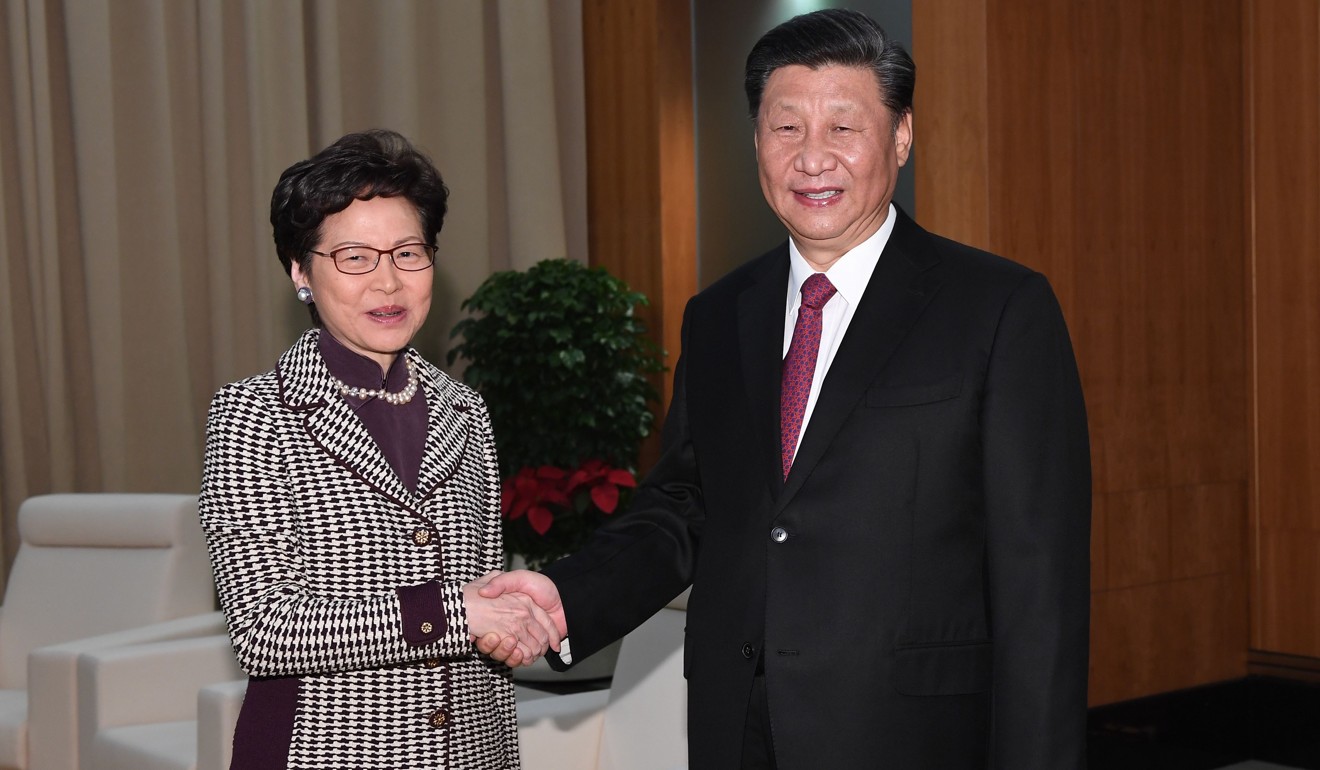 "I hope all of you continue to steadfastly support the chief executive and the special administrative region government and give full support to it to implement reform and resolve thorny issues."
The Chinese leader, visiting Macau for the second time since 2014, is expected to announce new policies aimed at diversifying the casino hub's gaming-dependent economy and developing it into an international financial centre.
Heightened security
for his visit has seen activists and journalists from Hong Kong being barred entry this week.
Xi urged Macau, which was run by the Portuguese until December 1999, to find new growth points in its economy, while promoting inclusiveness and unity to build an even more stable and harmonious city.
He said he was proud of Macau's development over the past two decades, pointing to the 36 million visitor arrivals last year and its per capita GDP of more than US$80,000, the second highest in the world.
Macau's economy is heavily reliant on its casino industry. Last year, about 80 per cent of the government's revenue came from gaming tax.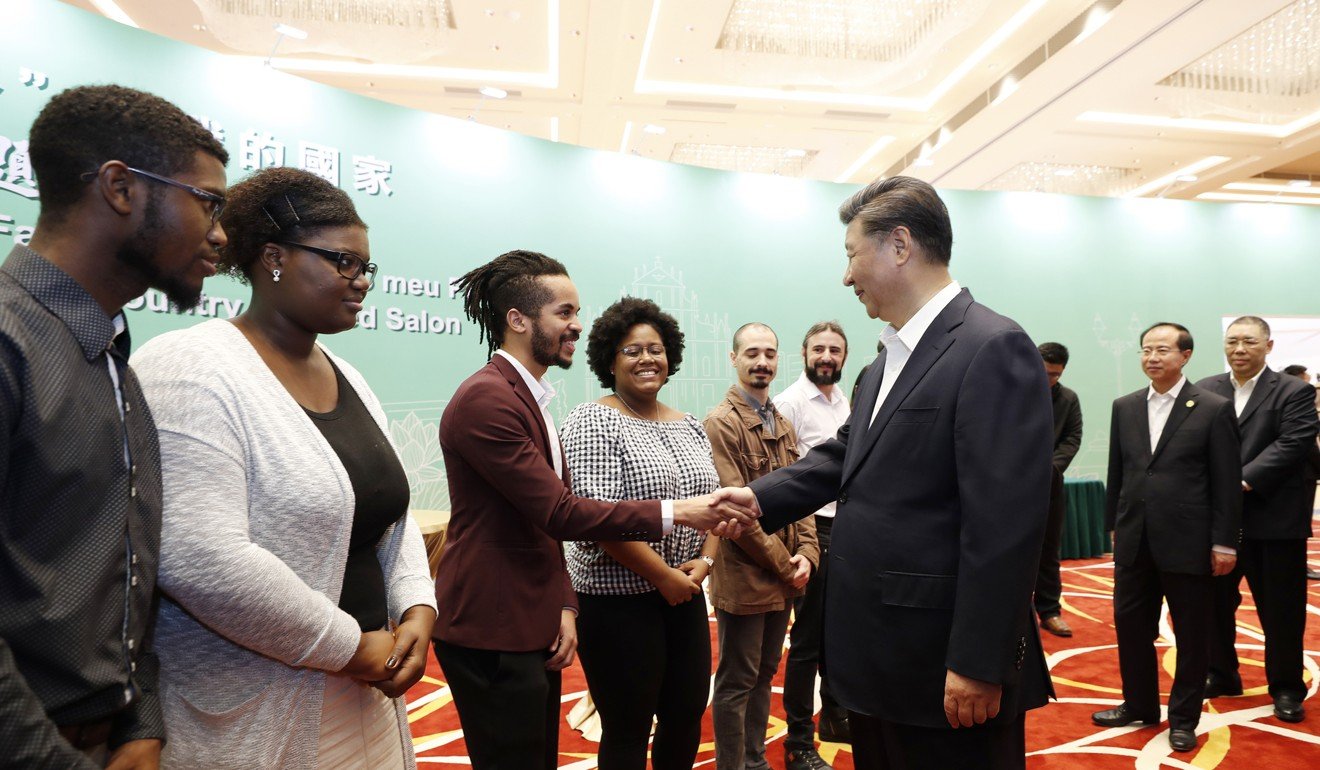 Delivering another speech at a dinner banquet, Xi praised Macau for forming a national security committee last year and for passing its national security bill under Article 23 of the Basic Law, the city's mini-constitution.
Macau saw no large-scale protests when the bill was passed in 2009, unlike in Hong Kong when the government tried to do the same in 2003 and was forced to give up after half a million people took to the streets, fearing their rights and freedoms would be undermined.
"Loving the country and loving Macau has become the core value of the entire society. The government and people from all walks of lives understand that Macau's future and fate are connected with that of the motherland," Xi said.
He applauded the Macau government for implementing "patriotic education" in schools, saying it allowed them to pass on the torch of patriotism and deepened their understanding of the "one country, two systems" principle.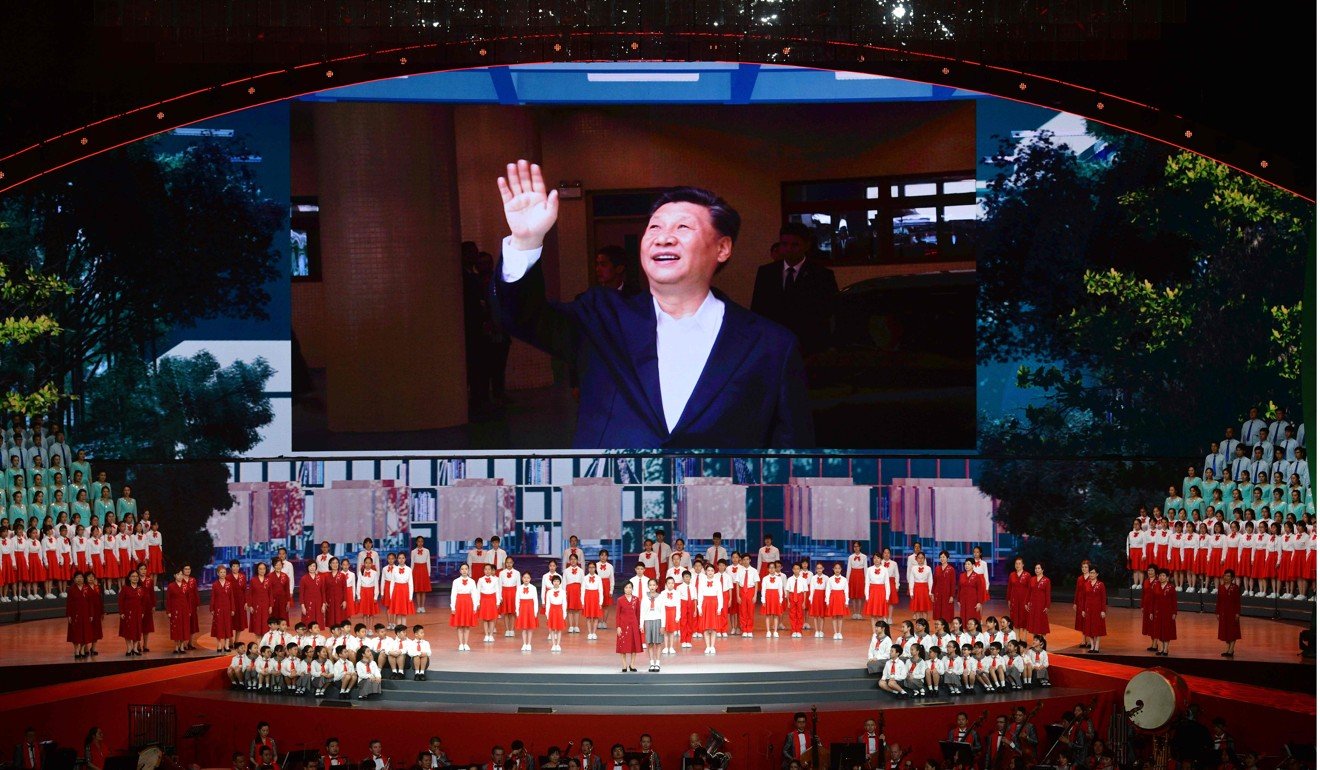 Primary and secondary schools as well as universities in Macau, Xi noted, provided classes on China's constitution and the Basic Law under the one country, two systems principle, which also applies to Hong Kong and promises the two cities a high degree of autonomy.
Xi declared that Macau's executive-led political system had been running smoothly.
Macau-based commentator Larry So Man-yum said Xi was giving Hong Kong a lecture without naming the city. This was especially apparent when Xi talked about the importance of harmony and love for the country, So said.
"Xi was telling Hong Kong what a good boy should be like, and that if Hong Kong could do everything that Macau has done, then Xi would consider it a good boy, too," So said.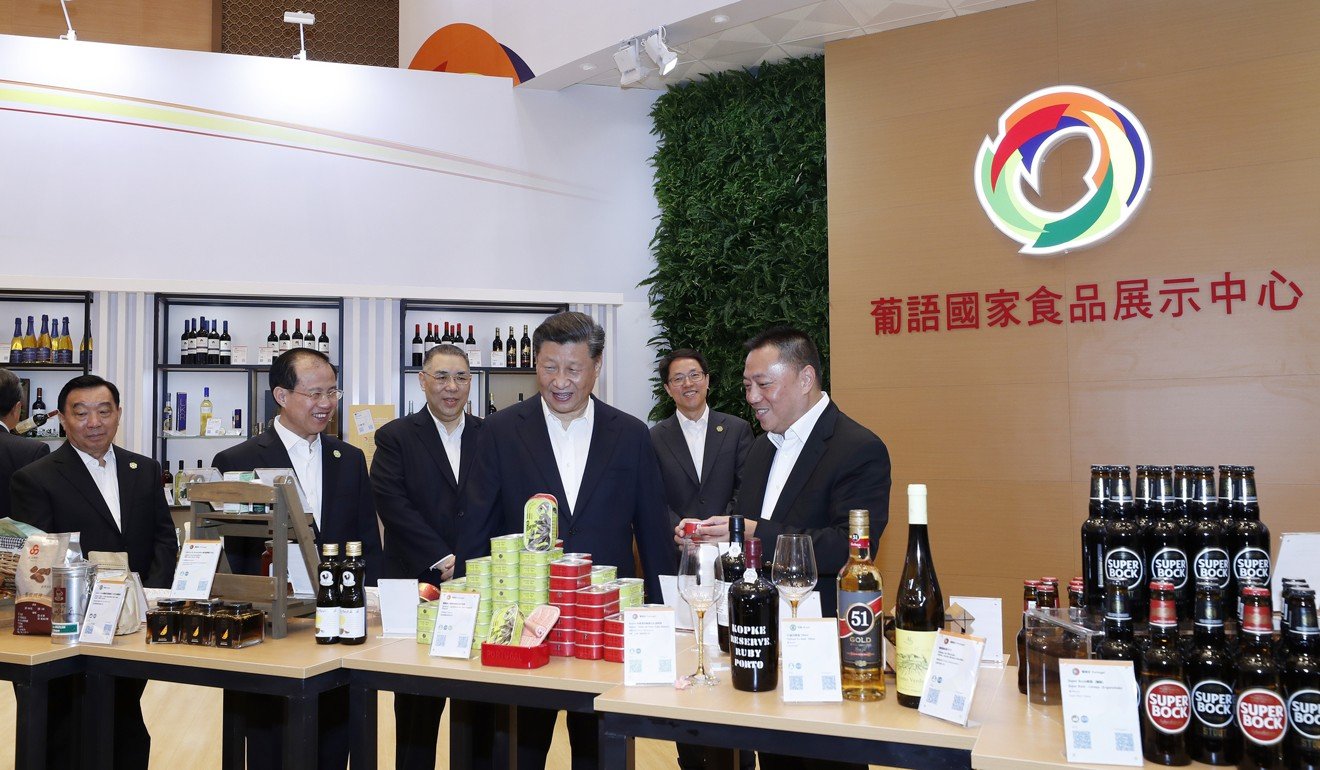 Lau Siu-kai, vice-chairman of semi-official think tank the Chinese Association of Hong Kong and Macau Studies, said Xi had used Macau's experience to illustrate what was meant by full and accurate implementation of the one country, two systems policy.
"In my memory, state leaders have never spelt out the criteria of full and accurate implementation of one country, two systems in such a detailed manner," Lau said.
"In terms of respect for the central government's authority and the operation of executive-led government, Hong Kong has a long way to go to catch up with the achievements made by Macau. The political turmoil in Hong Kong in recent months is more proof of Hong Kong falling short of the central government's expectations."
Lau said he expected both the Beijing and Hong Kong governments to take steps in the years ahead to rectify the situation in Hong Kong.
"Otherwise, it wouldn't be good for Hong Kong and the central government," he said.
Outgoing Macau Chief Executive Fernando Chui Sai-on said the casino hub had shown the world that one country, two systems was working and supported by the people.
This article appeared in the South China Morning Post print edition as: Xi's pride in Macau seen as another rebuke of Hong KongXi's pride in Macau seen as another HK rebuke