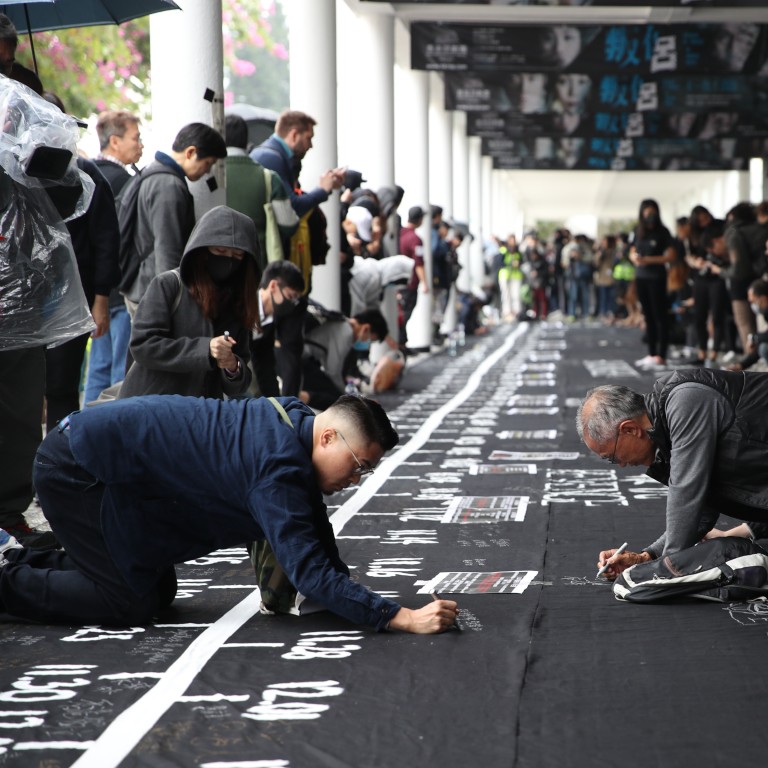 Hong Kong protests: hundreds gather in pouring rain and vow to continue anti-government movement
Event at Edinburgh Place marks key events of the first six months of civil unrest
Young and old say they will fight on until demands are met
Hundreds of anti-government protesters gathered in the pouring rain in Hong Kong on Sunday to pledge to continue a social movement that has lasted for nearly seven months.
The organiser estimated about 4,000 people attended the authorised rally in Central, while police put the turnout at 500 at its peak.
The assembly took place ahead of a march by Civil Human Rights Front on New Year's Day to press the government to meet the core demands of protesters. The front, an umbrella organisation of pro-democracy groups that has arranged some of the campaign's key protests, received a letter of no objection from police on Sunday for the march from Victoria Park in Causeway Bay to Chater Road in Central. Police said they reserved the right to end the march if public order was threatened.
In its application, the front estimated at least 32,000 people would attend.
On Sunday, the usual chants of "five demands, not one less", "disband Hong Kong police" and "Hongkongers, revenge!" were once again loudly heard in Central, as protesters attended the assembly at Edinburgh Place.
They also rolled out a giant black banner that marked the key events in the first six months of protests, which were triggered in June by the now-withdrawn
extradition bill
.
An eight-year-old, who gave her name as Hailey, wrote on the banner: "Hongkongers revenge, Liberate Hong Kong, revolution of our times."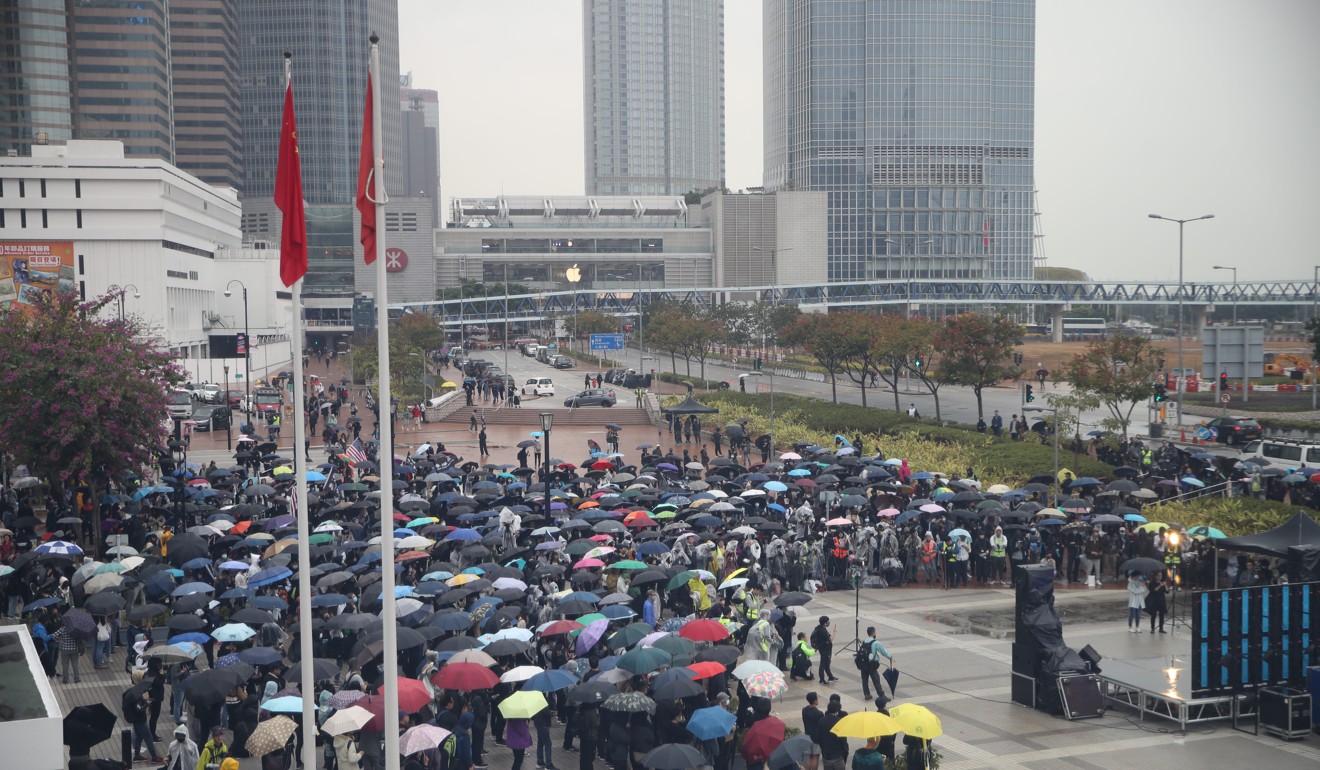 Hailey and her mother said they had attended mass demonstrations together since June 9, when an estimated 1 million protesters took to the streets against Chief Executive Carrie Lam Cheng Yuet-ngor's controversial bill.
"She knows a lot about the protests because of news live-streaming," Hailey's mother said. "Unless she has to do homework or study for exams, we have joined peaceful protests to support the anti-government movement."
Mandy Cheung, who has helped provide supplies such as masks and food to protesters since June, said she was worried some pro-democracy supporters felt they had gained an early triumph in the district council elections last month. Pro-democracy candidates swept the board, taking control of all but one of the city's 18 district councils.
"There are relatively fewer people who come and donate supplies, maybe some feel we have won a battle in the election and do not need to come forward again," she said.
Cheung though was as determined as ever and quit her job in the advertising industry to join the movement full time. "We will carry on our role until the five demands are met," she said.
A 68-year-old retired construction worker, who gave his surname as Chow, said he fled to Hong Kong from Guangzhou in the 1970s, and believed Hongkongers would never accept tyranny and the suppression of their freedoms.
"Hong Kong was able to develop a strong and stable economy because it adopted Western values [like a free economy and human rights]," he said.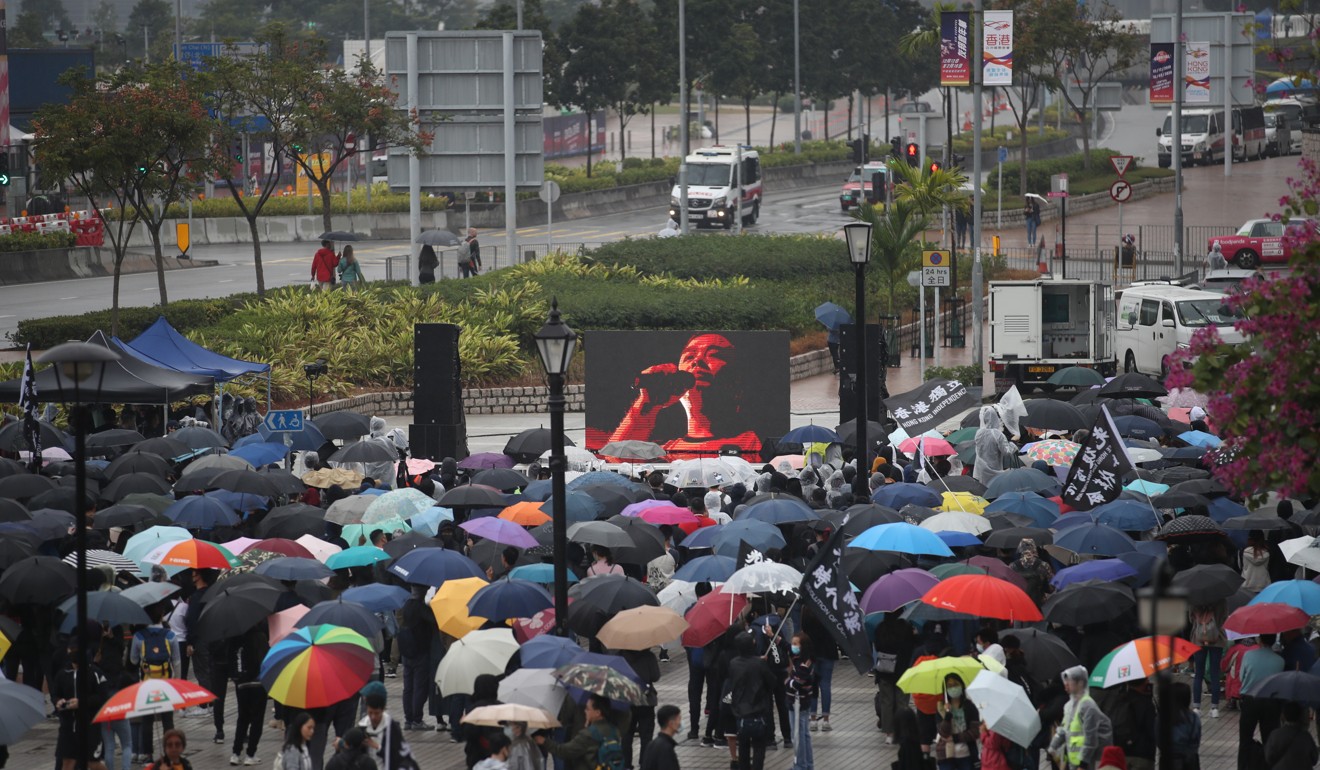 Supporters of the movement took turns to address the crowds, while the organisers played a recorded message from a man they did not identify, who claimed he had been arrested, and had fled the city.
Claiming he was beaten by police before receiving treatment in hospital, the 19-year-old urged Hongkongers to fight on.
"I wish to come back but sadly I cannot," he said. "I really miss all of you a lot, missing Hong Kong a lot. Hongkongers, can you work a bit more? All of you can start by supporting 'yellow shops' and joining authorised peaceful rallies like this one."
The crowd also urged people to join the front's January 1 march, telling each other: "See you in Victoria Park."
The protesters' core demands include an independent inquiry in police actions during the unrest and reforms leading to universal suffrage.
Meanwhile, it was back to business as usual in the border town of Sheung Shui, a day after at least 15 people were arrested in a protest attended by about 300 against so-called parallel traders and shoppers from mainland China.
A mother surnamed Zhou, 30, a resident of Shenzhen, across the border from Hong Kong, said she was in Sheung Shui to buy milk powder and diapers for her eight-month-old baby. She said she had not heard about the trouble on Saturday but would leave "as soon as possible".
"I am a bit afraid. Some security guards have been asking mainlanders to leave quickly after buying things," she said.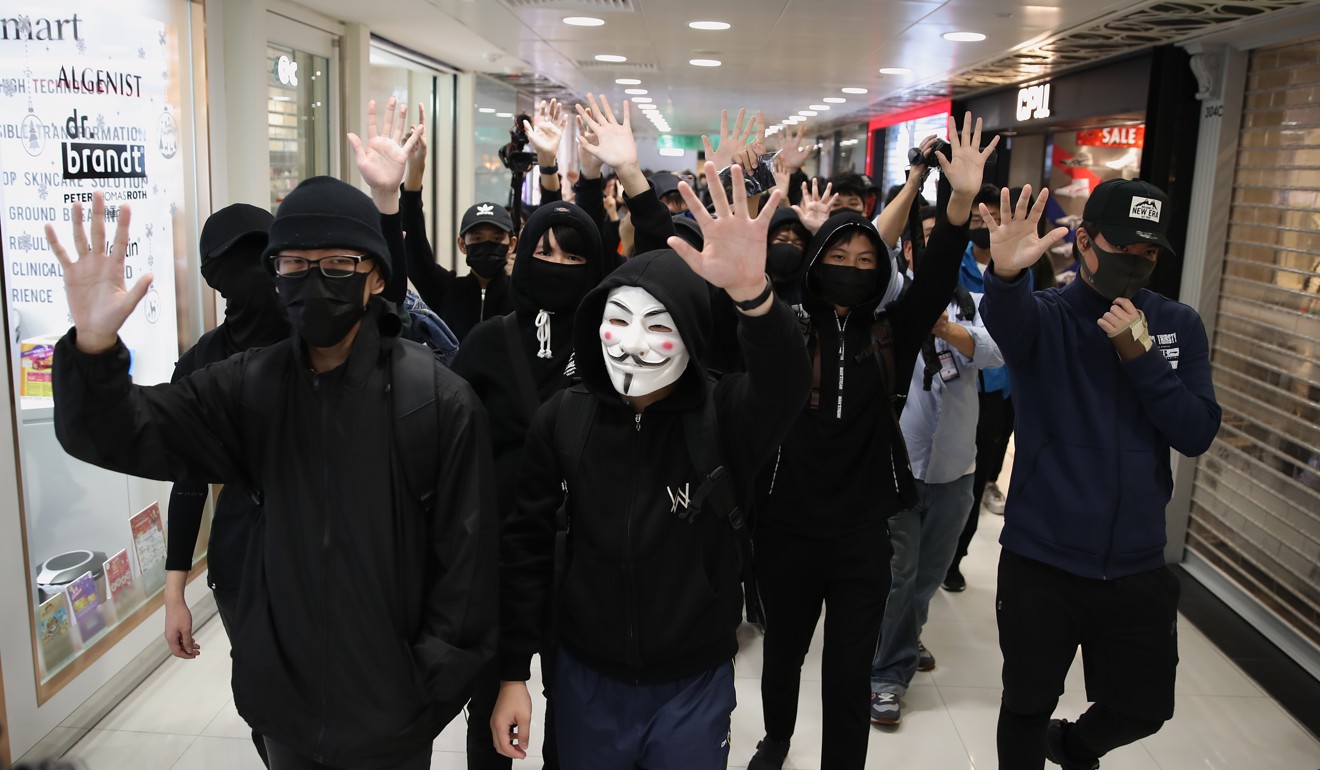 A woman, surnamed Liu, 33, who carried a suitcase with milk powder and snacks, also said she was not aware of the protest but was not deterred from coming to Hong Kong.
"I usually come to Hong Kong twice a month, sometimes three times … Of course, protests will affect shoppers' mood, but goods in Hong Kong are still cheaper," she said.
At 2.30pm, many mainland shoppers with suitcases were seen at Sheung Shui MTR station on their way home – heading back before 3pm, the time the protest started on Saturday.
Dozens of riot police were seen on footbridges in the town. A 12-year-old boy was stopped and searched by riot police officers at about 3.15pm and later let go.
An employee, surnamed Wong, at an outdoor products store in Landmark North, the shopping centre that protesters targeted on Saturday, said although business in December had slightly improved compared to recent months, overall sales had dropped by more than 20 per cent year on year.
"If the general atmosphere, including social issues, protests and other factors, do not change, sales are expected to further drop next year, especially after the Lunar New Year," she said.
This article appeared in the South China Morning Post print edition as: Defiant protesters vow to keep fighting