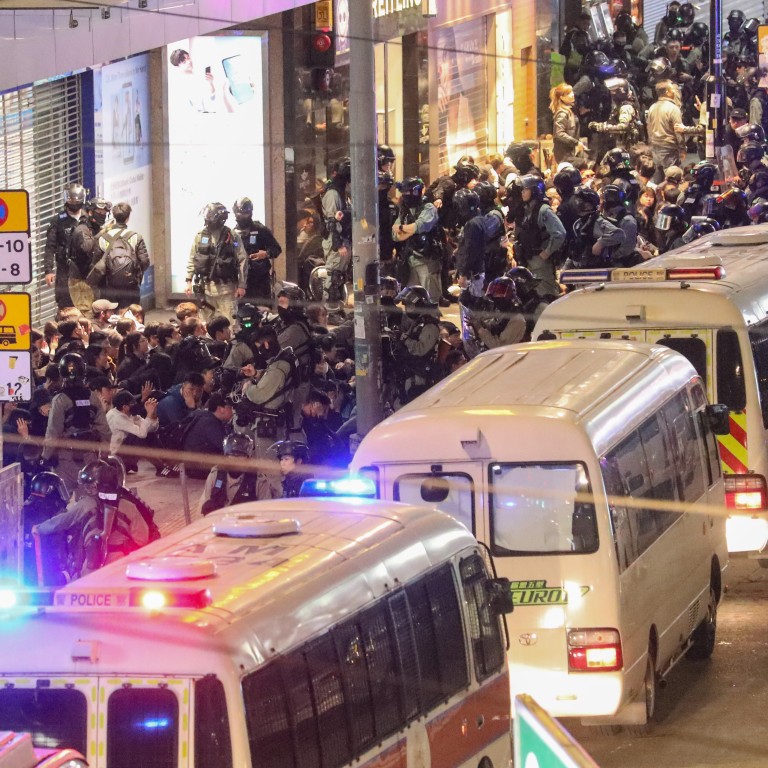 Hong Kong protests: civil rights group accuses police of breaking international law after three observers are arrested
Civil Rights Observer says members were caught up in mass arrests after New Year's Day march
Force denies accusation, saying no one has right to stay in a riot
Hong Kong police have been accused of violating international law and making arbitrary arrests after three human rights observers were among hundreds detained en masse following a march on New Year's Day.
But the force denied the accusation and said that no one – including journalists, first-aiders and observers – had the right to stay in a "riot". More than a third of those intercepted by police in Causeway Bay on Wednesday were released.
Civil Rights Observer on Thursday confirmed three of its volunteers were arrested the night before and said that the move violated the Johannesburg Principles on National Security, Freedom of Expression and Access to Information, which stated monitors should not be denied access to areas when they believed a violation of human rights was being committed.
"It is the first time any of our observers have been arrested since the team was set up in 2018," the group said. "We strongly condemn police for these indiscriminate arrests."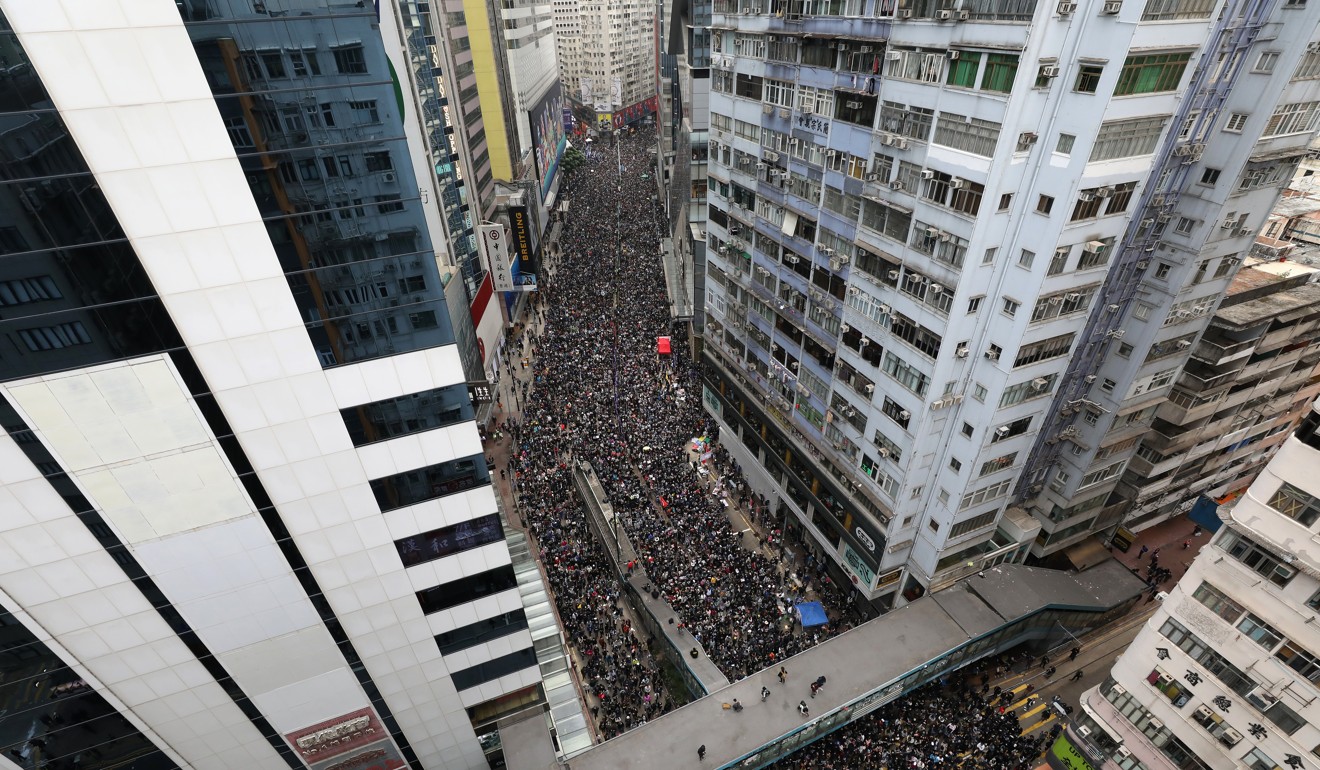 Tam Man-kei, director of Amnesty International Hong Kong, also said the targeting of independent monitors was "especially disturbing" as they were essential to ensure full accountability.
On Wednesday, a march organised by the Civil Human Rights Front was cut short three hours after it started, with police citing violence in a branch of HSBC.
The violence then escalated as radical protesters spilled out into Causeway Bay, Wan Chai and Central, where they vandalised more bank branches, set fires and barricaded roads.
Later, police made mass arrests outside Sogo department store, where at one point around 70 people were seen being made to squat on the ground as they were searched and processed.
Some complained they had done nothing wrong, but were trapped after police cordoned off a sizeable area.
A total of 464 people were intercepted in Causeway Bay, of whom 287 were arrested for unlawful assembly, according to the police. The other 177 were released.
A 12-year-old primary school student and an 81-year-old citizen were among the 420 people arrested on New Year's Eve and New Year's Day.
Eric Lai Yan-ho, deputy convenor of the front, said it was unreasonable to detain people without sufficient evidence then release them hours later.
"They were forced to kneel on the streets. It is unacceptable."
Chief Superintendent Kwok Ka-chuen on Thursday said they had given repeated warnings for everyone to leave the scene.
"No one has the privilege to stay in a riot," Kwok said. "You can claim to be a first-aider [or] a human rights observer. But this does not exempt you from the legal liability of taking part in a riot."
Ng Lok-chun, senior superintendent of Hong Kong Island, denied police had made arbitrary mass arrests.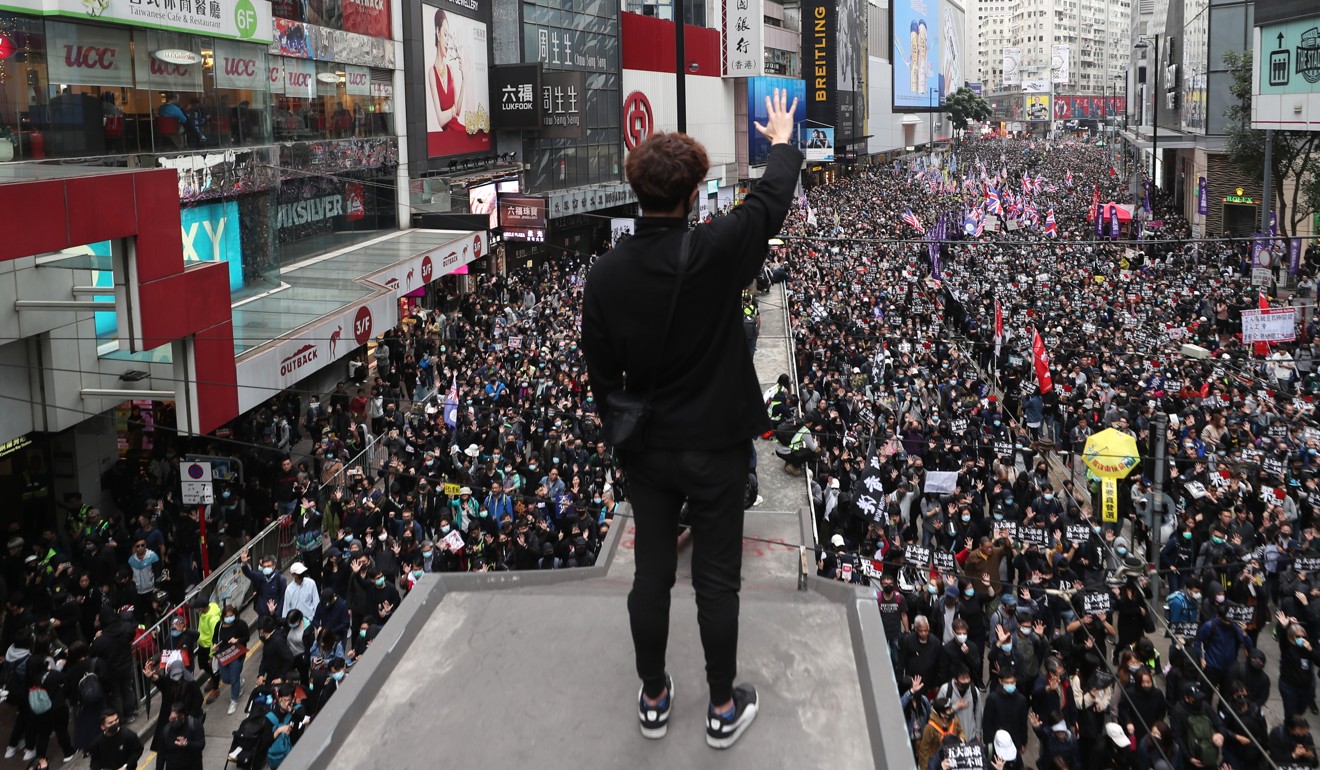 "When we had our first dispersal operation yesterday, rallygoers left. Those who came out again deliberately blocked roads," Ng said.
Police had set up a cordon as they could not be sure whether the arrestees posed a risk to others and also to prevent any attempts to snatch arrested people away, Ng added.
Lai also attacked the force for its "unprecedented and disproportionate" decision to cut short the march, setting an "impossible" time frame of 45 minutes for the huge crowd to leave. He said it had risked a stampede.
"Many people didn't know how to leave safely and didn't take the trains for fear of arrest even though they only marched peacefully."
Organisers were told at 5.30pm to call off the march, but were initially given 30 minutes – then an additional 15 minutes – to disperse the crowd.
"It was the first time a march of the scale of 1 million people was cut short," Lai said. "With only 100-odd helpers and many people still stuck in Victoria Park, it was impossible to disband a procession like this."
The group estimated more than 1.03 million people took part in the march, while police put the turnout at 47,000 in the procession and another 13,000 at the park.
Ng stressed police had only started advancing on Arsenal Street at 6.30pm and fired tear gas at around 7pm, which was 90 minutes after the ending time of the march.
But police had fired the first round of tear gas at protesters at around 5pm, shortly after the HSBC branch on Hennessy Road was vandalised.
In response to an incident during which a police officer forcibly removed the protective goggles of lawmaker Ted Hui Chi-fung and pepper-sprayed him in Causeway Bay on Wednesday night, Senior Superintendent Kelvin Kong Wing-cheung said that Hui had ignored repeated orders to get back on the pavement.
"He refused to cooperate and resisted. My colleagues issued warnings that pepper spray might be used. I don't know if it was because he was wearing goggles, he was not afraid," Kong said. "So my colleagues removed his goggles and used pepper spray to make the dispersal effective."
Hui on Thursday vowed to launch legal action.
This article appeared in the South China Morning Post print edition as: police detentions 'violated global human rights law'