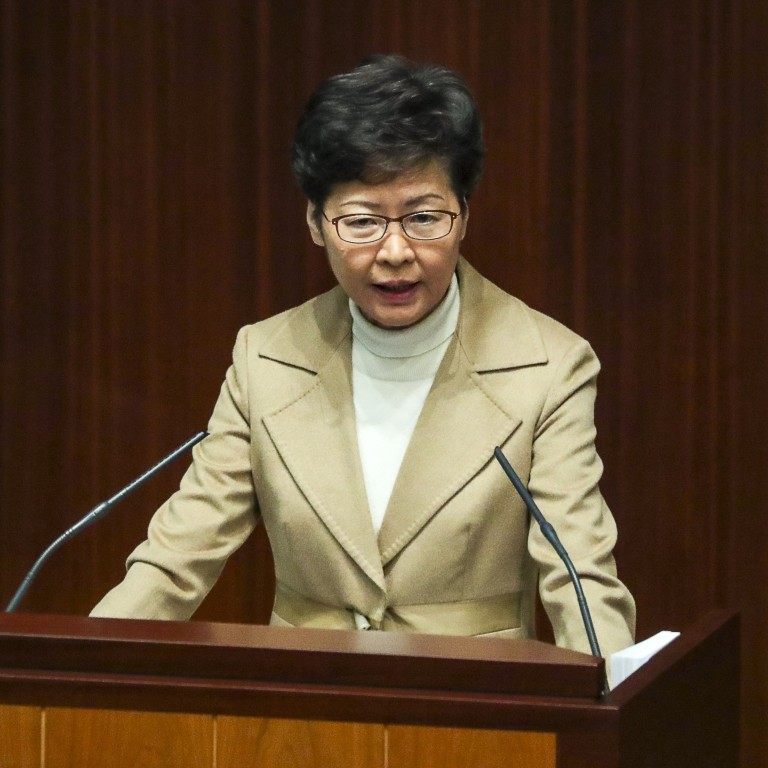 Carrie Lam says Hong Kong capitalism can only survive beyond 2047 if 'one country, two systems' is fully respected
Chief executive warns Hongkongers of the consequences of attacking the way city is governed
Lawmakers thrown out of chamber after Lam is heckled during her first Legislative Council question and answer session of the year
Hong Kong capitalism can only continue beyond 2047 if city residents, especially the younger generation, uphold "one country, two systems", Carrie Lam Cheng Yuet-ngor warned on Thursday.
The chief executive said attacking Beijing's governing principle, which gives the city a high degree of autonomy, put its liberal economic model at risk in the long run.
The agreement between Britain and China for the 1997 handover guaranteed the retention of Hong Kong's legal, financial and political systems for 50 years.
In her first question and answer session of the year at the Legislative Council, Lam said: "I want to tell the young people, who were mostly born after the handover, to treasure one country, two systems … instead of bringing damage to this important system due to misunderstanding.
"Otherwise, they will be creating the situation that they are in fact worried about today."
She added that the principle ensured the city's younger generation grew up, and were educated, in a stable and prosperous environment.
Lam was responding to a question by pro-establishment lawmaker Ann Chiang Lai-wan, who said the city's youth were anxious about their future beyond 2047.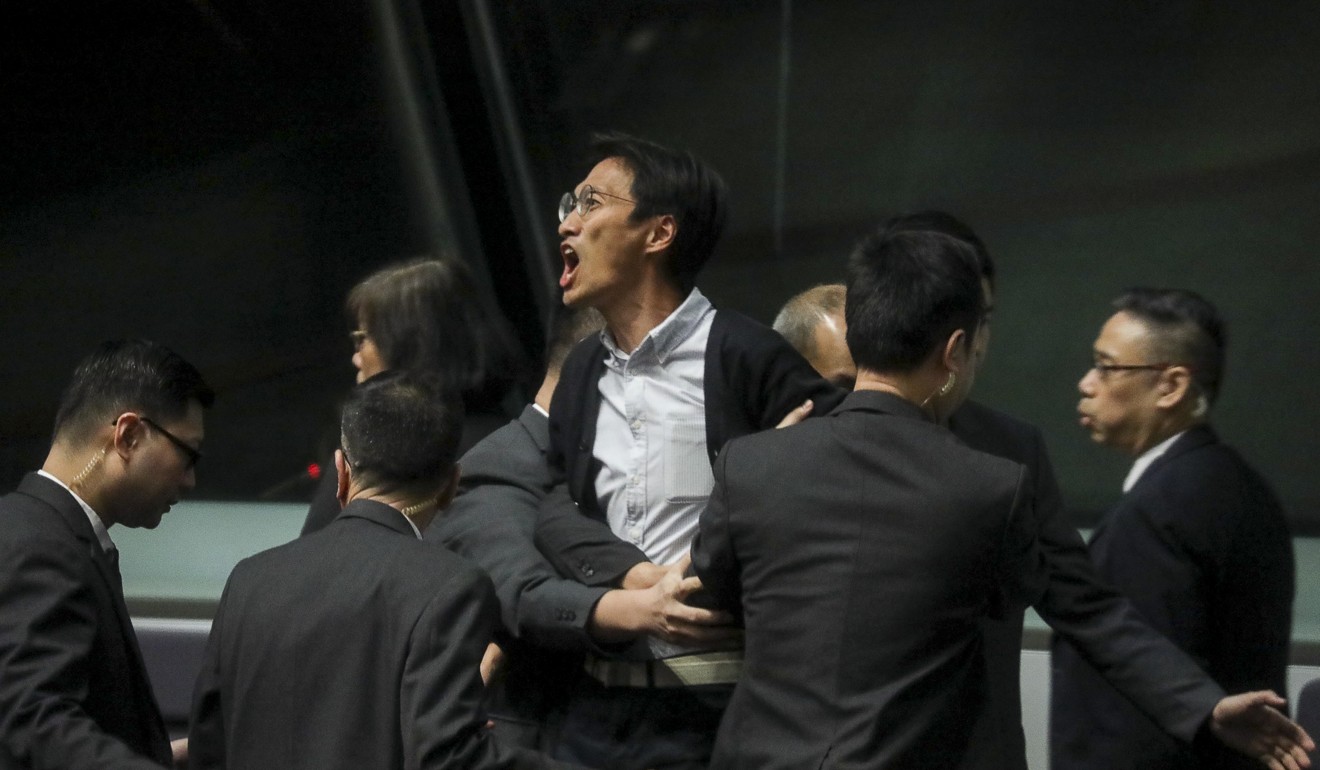 Under Article 5 of the Basic Law, the city's mini-constitution, Beijing promised that Hong Kong's capitalist way of life would remain unchanged for 50 years after it returned to Chinese rule in 1997.
"After 2047, would it become 'one country, one system'? How would you convince young people that it will still be one country, two systems by then?" Chiang asked.
Lam said full understanding and implementation of the principle would give "sufficient ground" for people to believe that Beijing's existing policy would extend beyond 2047.
"We must defend the foundation of 'one country' and respect the differences between 'two systems'. Only with that can one country, two systems progress forward," Lam said.
"If everyone treasured one country, two systems, I don't see that worry [of whether it would continue beyond 2047]."
In her opening speech, Lam said the political crisis had brought "shocking" levels of violence and destruction to the city.
"Numerous inaccurate reports and fake information circulated online has seriously damaged Hong Kong's international reputation for peace, rationality, safety and lawfulness," Lam said.
The chief executive also said she was worried about businesses closing and employees being fired after the Lunar New Year holiday, but said she believed the economy could recover if social order returned.
Lam said the government was close to establishing an independent review committee to look into deep-seated divisions in society and the causes of the ongoing unrest.
The identity of committee members would be revealed next month, she added.
During Lam's speech, pan-democrats protested from their seats.
"Carrie Lam step down," Council Front lawmaker Eddie Chu Hoi-dick chanted, describing her as "useless".
Civic Party lawmaker Kwok Ka-ki challenged Lam, saying the violence was brought on by police's use of force.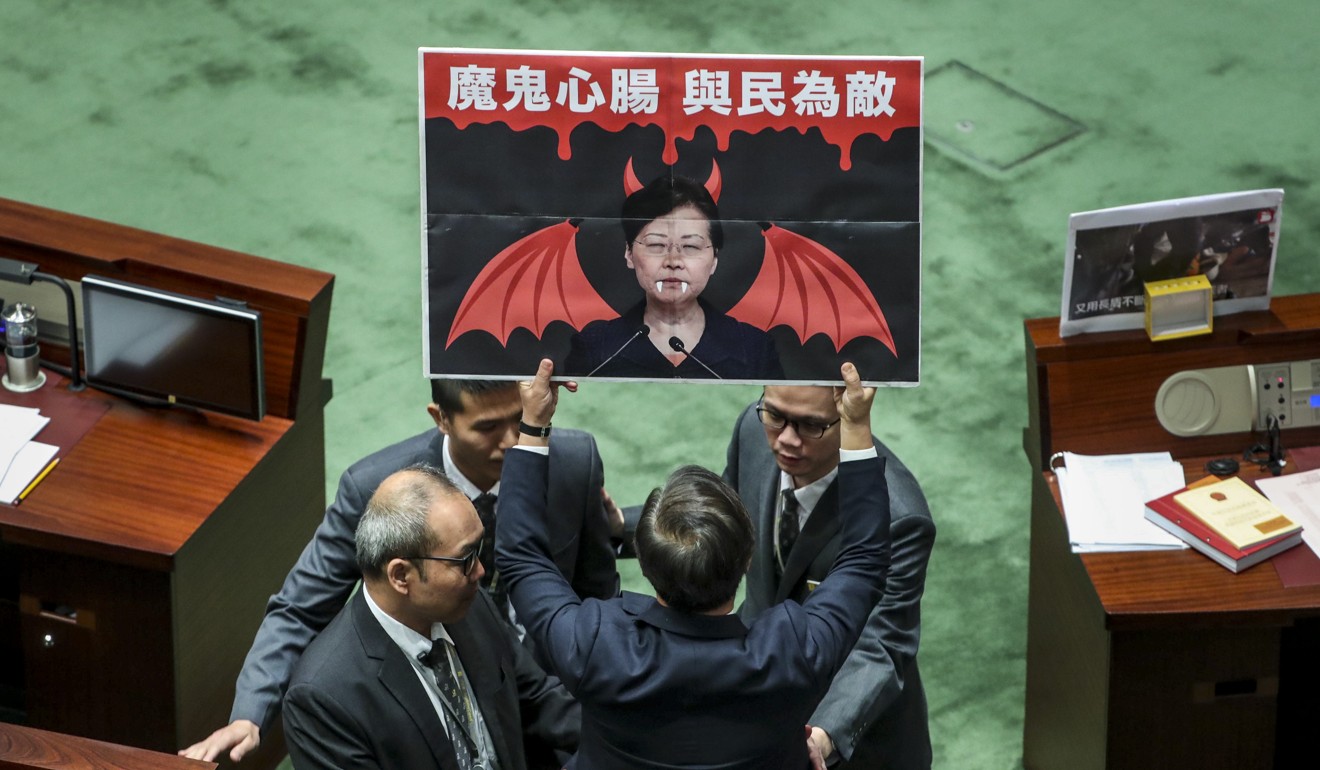 Rejecting allegations of police misconduct, Lam said: "I do not accept people describing the handling of the seven-months-long social unrest as involving police brutality.
"If no one was breaking the law, why would police be enforcing the law?"
Lam was interrupted by Council Front legislator Claudia Mo Man-ching, who called the chief executive a liar before being ejected.
The city's leader had earlier rejected a popular demand from the public to set up an independent, judge-led probe into police's use of force during the protests.
Other unmet demands from the anti-government movement include amnesty for those arrested and a revival of the city's stalled political reform process.
Since last June, activists have held peaceful mass protests to champion their cause, but radical elements have resorted to hurling petrol bombs and other violent attacks, while police have deployed tear gas, rubber bullets and even live rounds.
Legco president Andrew Leung Kwan-yuen expelled Chu and 10 other pro-democracy lawmakers from the chamber during Thursday's session.
Pro-Beijing lawmaker Michael Luk Chung-hung, of the Federation of Trade Unions, was also thrown out, for heckling the Democratic Party's James To Kun-sun.
In the 1½-hour session, legislators also questioned Lam on the city's economy and support for its workforce.
Pro-government lawmakers were also on the offensive, challenging Lam over her handling of the protests.
Eunice Yung Hoi-yan of the New People's Party demanded Lam and her cabinet took a 10 per cent pay cut as a way of taking some responsibility for the political crisis.
"No cabinet member has resigned and you are unwilling to cut ministers' salaries ... how can you convince the public that you are willing to be held accountable?" Yung asked.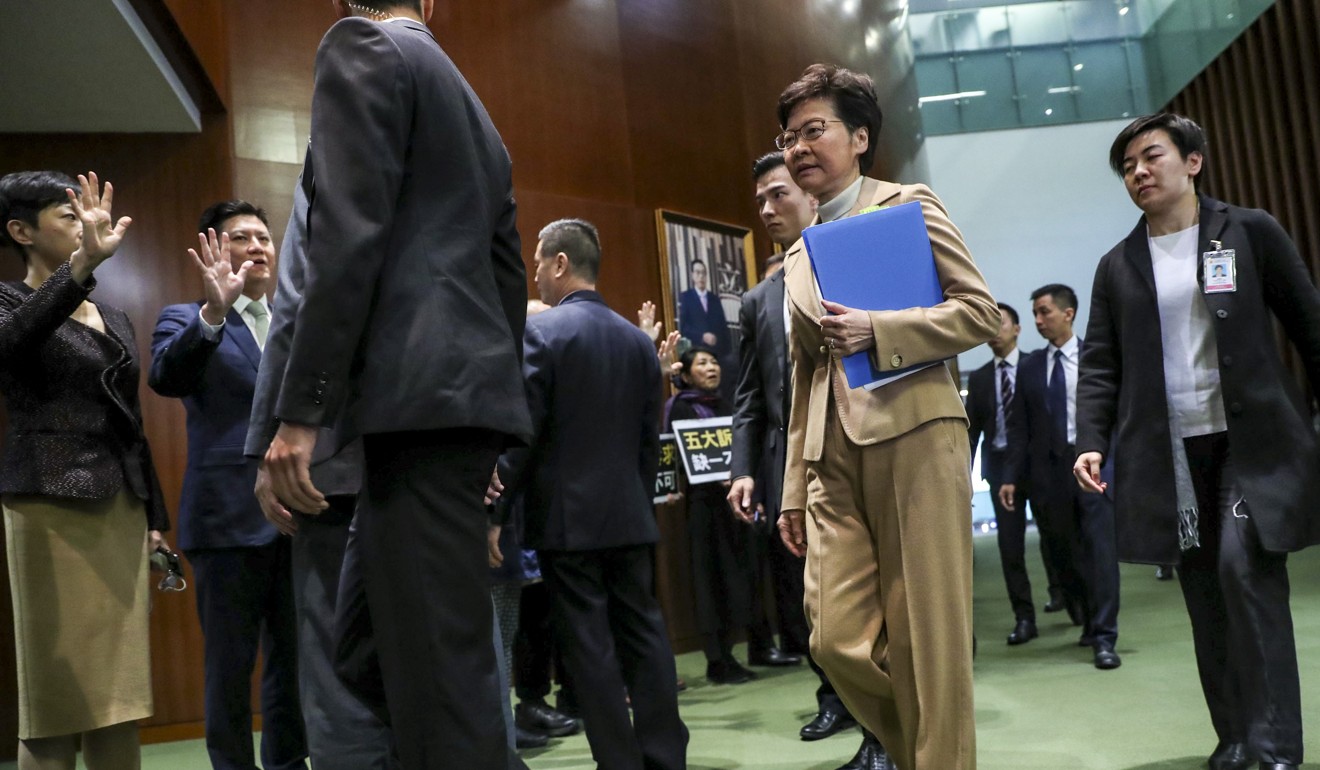 Lam responded that no one had handled unrest on a similar scale before.
"My cabinet and I must deal with the current deadlock if we are to be responsible," she said.
Pro-government lawmaker, Chan Hoi-yan, asked why a new HK$10 billion welfare package announced on Tuesday was not brought forward earlier, saying: "If the government thought there was an urgency to the measures, why not propose them at the
policy address
three months earlier?"
This article appeared in the South China Morning Post print edition as: Hong Kong's special status 'can endure beyond 2047'