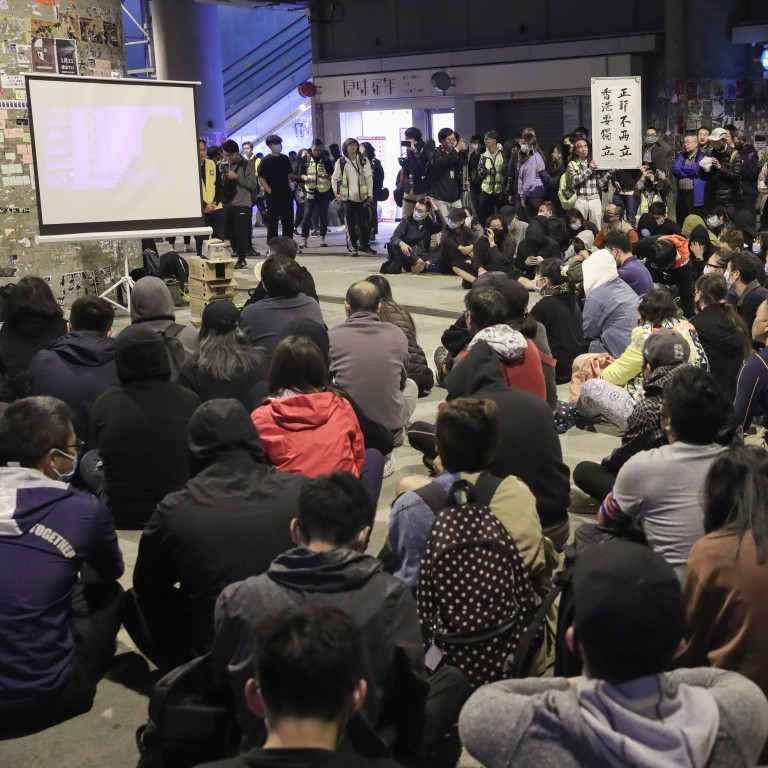 Hong Kong protests: hundreds gather at peaceful rallies to mark Yuen Long MTR station attack six months on
Aside from gathering in Yuen Long, protesters also assembled in railway stations in Causeway Bay, Chai Wan and Heng Fa Chuen to commemorate July 21 attack
A group of white-clad men armed with poles and sticks had attacked protesters and commuters in Yuen Long station, resulting in least 45 being hospitalised
Hundreds of Hongkongers marked the six-month anniversary of an attack by a white-clad mob inside Yuen Long railway station with peaceful rallies on Tuesday, as they remained unhappy about how police handled the incident.
Apart from gathering outside Yuen Long MTR station, which was closed at 3pm, protesters also assembled inside metro stations in Causeway Bay, Chai Wan and Heng Fa Chuen to commemorate the attack on July 21 last year.
The incident saw a group of white-clad men armed with metal poles and wooden sticks attack anti-government protesters and commuters inside Yuen Long station, resulting in least 45 being hospitalised.
Police were heavily criticised for arriving at the scene 39 minutes after the attack started and failing to make arrests on the night. In response, the force said it was stretched thin by a protest on Hong Kong Island the same night.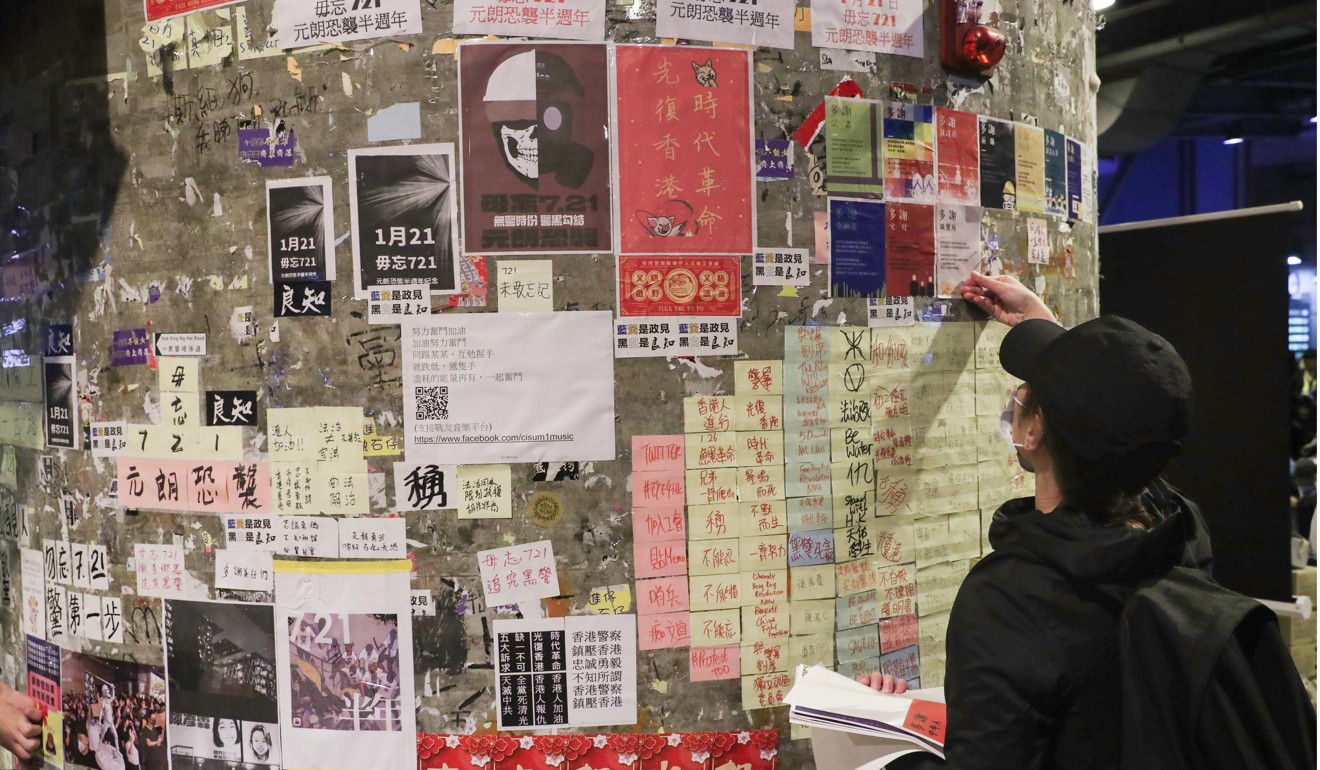 "To ensure the safety of our passengers and staff, Yuen Long station is closed," the rail giant said.
It provided a replacement bus service between Yuen Long and Long Ping stations.
Police had approved a rally outside Yuen Long station organised by district councillors Johnny Mak Ip-sing and Tommy Cheung Sau-yin for which about 100 people gathered at 7pm. The crowd grew to more than 200 about an hour later.
Pro-democracy politicians, who have a majority on Yuen Long District Council, this month set up a working group over the attack. District councillor Fong Ho-hin said his camp would continue to press the government and police for answers.
"They have not explained to us how this absurd thing could have happened," Fong said.
Fellow councillor Kwok Man-ho said some of the attackers identified in news footage and photos had not been arrested.
A Yuen Long resident, who gave his name as Calvin, 36, said he witnessed white-clad men gathering in the area on the night of the attack.
Calvin, a hotel worker, said there were fewer arrests than the number of people involved in the attack.
"The government wants people to forget about the attack to put an end to this," he said.
After the rally ended at 10pm, a group of police in riot gear dashed into a Light Rail station for unknown reasons.
Some district councillors, including Felco Mo Kai-hong, were pepper sprayed at point blank range after officers told them to fall back. Another councillor, Ng Kin-wai, was later arrested.
In Causeway Bay MTR station, a group of about 30 staged a sit-in, yelling slogans and singing the protest anthem Glory to Hong Kong. They placed a banner on the floor demanding "the truth".
At one point, about 60 onlookers joined in and chanted. "July 21, nowhere to be seen," they yelled, referring to police.
Sports administrator Enrico Ho Chun-wai, 30, said he felt the need to come out because he did not want people to forget about the attack.
"People should remember that because of the police's failure to do their job, people got injured as a result," he said.
Ho also accused police of being increasingly biased. While people had been held for putting up protest posters, he said, police had not made any further progress in arresting the Yuen Long attackers.
Since the attack, 37 people – some allegedly with triad links – have been arrested.
Seven were charged with rioting, and police said they were continuing to collect new evidence.
Hong Kong's anti-graft agency, the Independent Commission Against Corruption, also launched an investigation following complaints over the force's handling of the attack.