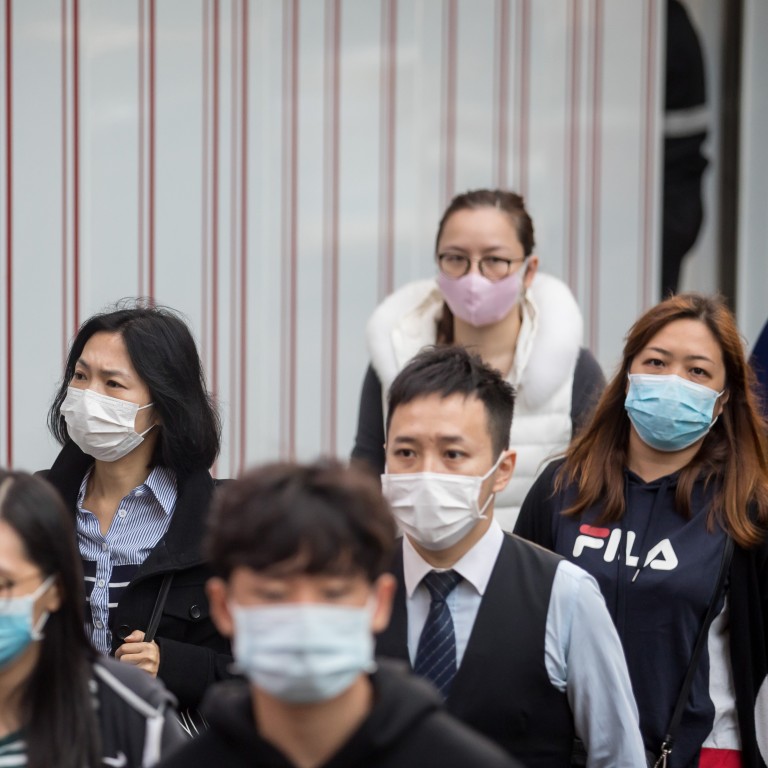 China coronavirus: Hong Kong workers told to stay at home as government and businesses try to stop virus spreading
Hong Kong government asks civil servants to work from home, while sports facilities and museums are closed indefinitely
Businesses extend Lunar New Year holiday and some stop any travel to mainland
Civil servants, bank staff, lawyers, and a host of other private sector employees have been asked to work from home as Hong Kong does its best to minimise the threat of the
Wuhan coronavirus
spreading in the wider community.
On Tuesday, the government said civil servants would stay away from the office until the end of the week, although it would not apply to those who provide urgent and necessary public services. There are about 176,000 civil servants in Hong Kong.
Some government departments have closed their offices and the city's public sports facilities, museums, and libraries, have been shut until further notice.
While Legislative Council meetings will continue on Thursday and Friday, public services at the government's Admiralty complex will be halted and the Transport Department has suspended services such as renewing driving licences, vehicle licences, and applications for international driving permits until further notice.
Businesses have followed suit, with many extending their Lunar New Year holiday, further restricting travel to mainland China, and banning it outright to Wuhan and Hubei province, the epicentre of the outbreak.
Companies have put a variety of other measures in place, with flexible working implemented across several sectors, and employees that have travelled to the mainland over the past two weeks, or have family that have travelled there, told to stay at home for 14 days.
"Except for staff of the departments providing emergency services and essential public services, all other employees of the government are not required to return to the offices but to work at home after the holidays," a government spokesman said.
"The measure will be implemented tentatively until February 2. The government will review the situation before then."
But, Michael Ngan Mo-Chau, the chairman of the Union for New Civil Servants chairman, said government workers did not know if they qualified for the new arrangement.
"Colleagues from various departments are waiting for the government to give clearer guidelines on the definition of non-urgent services," he said.
Eight publicly funded universities have also asked their staff to work from home, while six of them have arranged online teaching during that period.
In addition to allowing employees to work remotely, restricting travel, and ensuring staff that had visited the mainland stayed away from the office, companies took several other steps to protect their workforce, ranging from cancelling public New Year's ceremonies to giving out free masks and hand sanitisers.
Hong Kong property conglomerate New World Development said it would donate HK$10 million worth of face masks, hand sanitiser gels, and sanitising wipes to its staff and low-income families to help prevent the spread of the virus.
In the banking sector HSBC, Hang Seng Bank, and Standard Chartered all instituted similar responses to the crisis, while Singaporean bank DBS opted not to shut its offices in Hong Kong, but has asked staff to wear surgical masks, reduce face-to-face meetings, and physical contact such as handshakes.
Meanwhile, the Hong Kong Association of Banks has encouraged customers to access banking services electronically to avoid crowds.
Elsewhere Citigroup, Credit Suisse, and UBS have asked employees who have travelled Wuhan or in some cases the mainland to self quarantine, while Hong Kong financial adviser Convoy Global Holdings has extended its holidays to February 2, and cancelled all business travel to the mainland until further notice.
Employees and visitors to its offices will be required to wear surgical masks and the company is adopting flexible lunch hours to allow employees to avoid crowds.
While the stock exchanges in Shanghai and Shenzhen are
expected to resume trading on February 3
, Hong Kong Exchanges and Clearing said it would cancel its traditional Lunar New Year opening ceremony on Wednesday morning, but trade would resume as normal on the city's stock exchange.
Firms across Hong Kong's business community have all taken similar precautions, with Goldman Sachs, KPMG, Deloitte, PwC, EY, AXA, and AIA bringing in remote working, extending leave for employees in Hong Kong and Macau, ensuring customer-facing staff wear masks, and asking employees who visited the mainland to stay at home.
Deloitte employees on the mainland have had their Lunar New Year holiday extended, and their return to work is subject to government approval, the firm said.
Meanwhile, the Mark Six CNY Snowball draw that was expected to take place on Tuesday has been postponed until Saturday, with all accepted bets still valid.
Additional reporting by Enoch Yiu, Ryan Swift, Georgina Lee and Lam Ka-Sing
This article appeared in the South China Morning Post print edition as: Employees across sectors urged to work from home