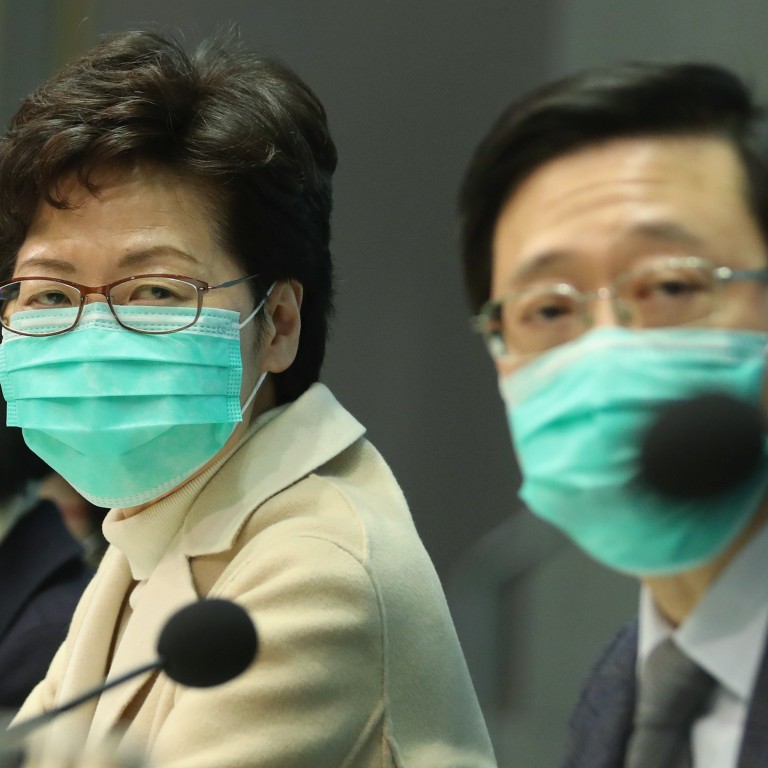 Coronavirus: Hong Kong leader Carrie Lam says total border shutdown with mainland China discriminatory, but will ramp up quarantine measures
City chief says any returning residents who have been in Hubei province will be placed under quarantine, whether they show symptoms or not
Lam also urged local residents to avoid travelling to mainland, a day after 37,000 crossed border north
Hong Kong's beleaguered government on Friday rejected public calls for a total shutdown of the city's borders to protect it from the deadly coronavirus that originated in mainland China, claiming it would be discriminatory, but promised to ramp up immigration restrictions by placing anyone returning from the stricken Hubei province under quarantine.
Instead, Chief Executive Carrie Lam Cheng Yuet-ngor urged local residents to avoid travel to the mainland, given that 37,000 of them had made cross-border journeys just the day before, but she noted that the World Health Organisation had not advised travel and trade restrictions for China even though it declared a global emergency over the pneumonia-like illness that first broke out in the provincial capital of Wuhan.
As the world reacted to the rapid advance of the coronavirus with growing alarm, and Chinese authorities began flying Wuhan residents stranded overseas home on chartered flights, Singapore became the first country in Southeast Asia to
close its borders
to all new visitors from mainland China, including foreigners who had been there over the past two weeks.
In the face of mounting fears that the local government was not doing enough to stop the virus that is confirmed to have infected at least 13 people in Hong Kong and killed more than 210 on the mainland, Lam said anyone who had been to Hubei would be placed under quarantine, whether they showed symptoms or not, and her government would study the use of devices for tracking people asked to isolate themselves at home as a precaution.
"When they enter the city, they need to contact health officers ... and they will be required to stay at our quarantine centres," she said, adding that home confinement would be considered if the current 90 living spaces at holiday camps repurposed as quarantine centres were used up.
"We are studying the use of electronic-tracking wrist devices and positioning technology to help us with monitoring."
The 13th case of coronavirus was confirmed by sources on Friday – a 39-year-old man from Whampoa Gardens in Hung Hom who returned home from Wuhan on January 23.
In her third press conference in six days on the coronavirus epidemic, Lam also announced that primary and secondary schools would remain closed until March 2 or even later, depending on the situation, while civil servants providing non-essential services would continue to work from home for at least another week.
But she stopped short of expanding a partial border shutdown she ordered earlier this week, saying instead that she would discuss tightening immigration controls with mainland authorities.
More than 9,800 infections have been confirmed around the world, most of them in mainland China, surpassing the global total for the Sars pandemic of 2002-03, which was deadlier but spread at a slower pace than the coronavirus.
Lam urged Hongkongers in the danger zone to return home as soon as possible, as mainland affairs minister Patrick Nip Tak-kuen said the government had received 600 request for assistance, involving about 1,300 residents still in 30 cities across Hubei.
Nip brushed off calls to immediately airlift them home, saying many were scattered across a province under lockdown, and rushing them back could increase the risk of cross-infection.
Former WHO official Professor Keiji Fukuda, director of the University of Hong Kong's school of public health, stressed the importance of ensuring that people under home quarantine remained in contact.
"Make it clear that people who are being quarantined are not forgotten, check up on how they are doing ... try to see if any of those people are going to develop symptoms," Fukuda said.
"If all of those things are in place, home quarantine is certainly a practical option for Hong Kong, especially when right now they are struggling to increase the number of physical places for people to be quarantined."
The chief executive also announced that starting from Saturday, departing and transit passengers with fever symptoms would not be allowed to board flights.
Health declaration forms would have to be filled by those crossing the Lo Wu and Shenzhen Bay checkpoints.
Lam had said on Tuesday that flights to and from the mainland would be cut by half, and cross-border bus services would also be reduced, as she spelt out a new containment strategy that included the closure of six relatively smaller checkpoints accounting for 7.6 per cent of passenger flow in 2018.
On Friday she revealed that after the six checkpoints were closed the day before, mainland arrivals at other land and sea crossings were down by 91 per cent. Only 9.7 per cent of incoming travellers on Thursday were mainlanders, she said, reinforcing her message that the main border crossings needed to be kept open for Hongkongers returning home after the Lunar New year break.
She did not mention figures for the airport, which usually accounts for half of all mainland arrivals.
Immigration officers have also checked 355 hotels across the city and found 48 Hubei residents. Fifteen of them have now left Hong Kong, while the others will be required to stay at quarantine camps or leave the city as soon as possible.
Asked why she remained adamant about keeping major border crossings open, Lam pointed out that it was in keeping with the WHO's position that draconian travel and trade restrictions were not necessary, and it was opposed to any discriminatory move to close borders with China or restrict Chinese travellers' access.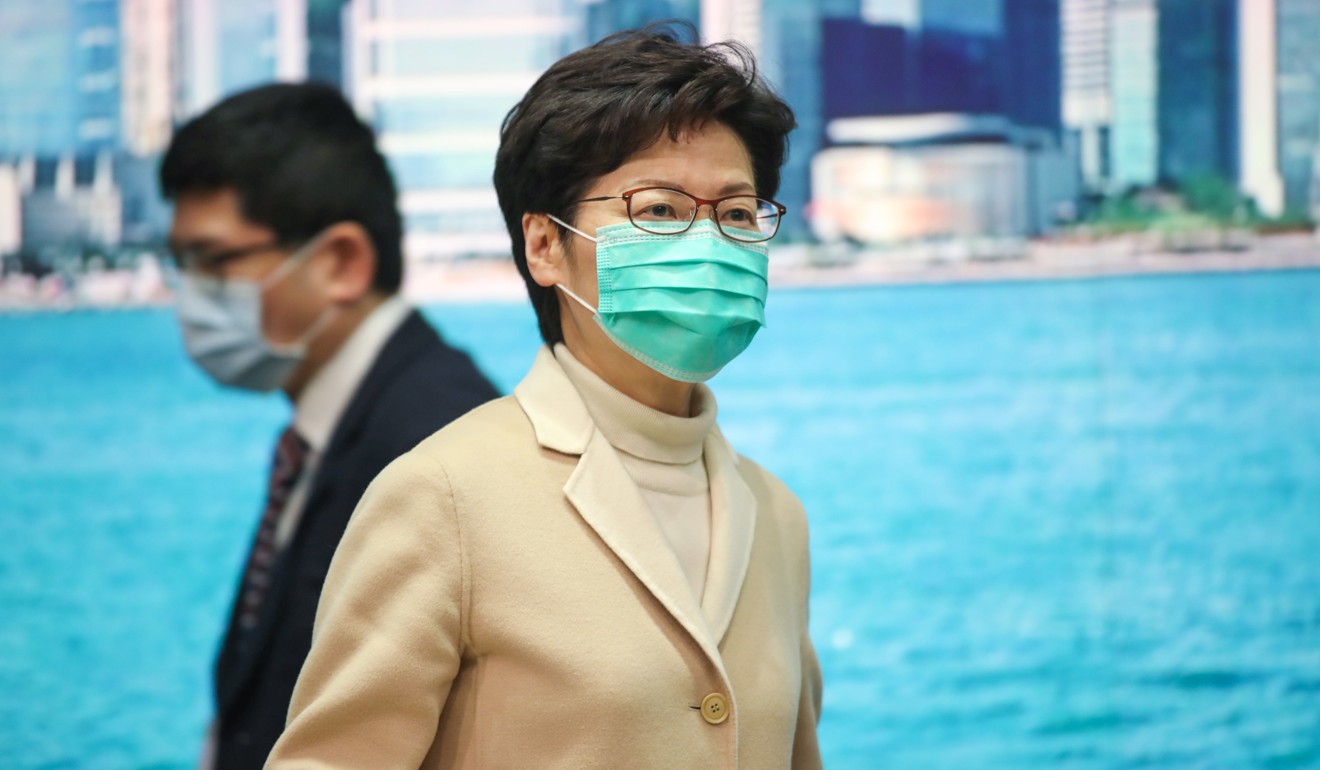 "I also hope that as the whole of society prevents and fights the disease, we can be tolerant, respectful and understanding towards each other, rather than targeting or rejecting a particular group of people," she said.
Lam expressed hope that public hospital staff unions would not follow through with their threat to go on strike if the government continued to keep the borders open.
Lam also noted that her government was discussing with Guangdong authorities the possibility of reducing the number of permits for travellers coming to Hong Kong for business or family reunions.
Opposition politicians blasted Lam for "twisting" WHO guidelines, arguing that a total border shutdown would not amount to discrimination, and citing Singapore's ban as well as the central government's lockdown of Hubei cities as precedents.
"Is the central government also discriminating against Hubei people?" lawmaker Charles Mok said, urging the government to widen the net and quarantine all Hongkongers returning from the mainland, not just those from Hubei.
Pro-establishment lawmaker Ann Chiang Lai-wan, who chairs the Legislative Council's health panel, said Lam should strike a balance between the WHO's advice, and the people's demands.
Meanwhile, the health authorities identified 23 close contacts of the 12th confirmed case – a 75-year-old man who had spent a week on a general ward at Princess Margaret Hospital – with 17 of them sent or to be sent to different facilities for quarantine. Contact tracing was in progress for the remaining six.
Additionally, 81 people were regarded as other contacts relating to this case, 80 of whom were patients who had been in the same ward.
This article appeared in the South China Morning Post print edition as: Lam rules out border shutdown